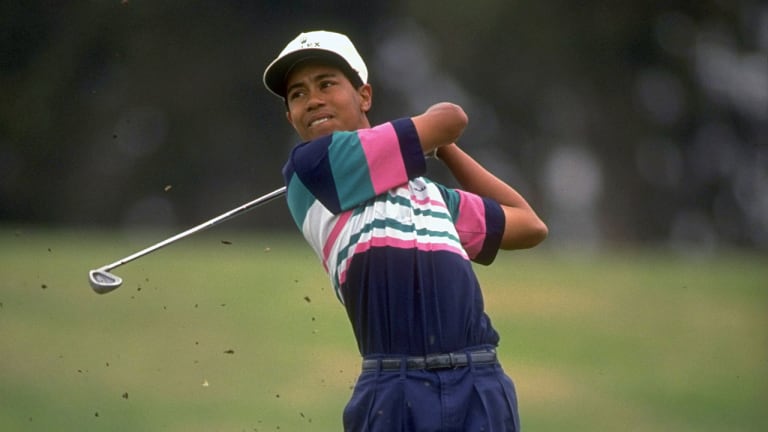 Golf Cub
A mere 15, the precocious Eldrick (Tiger) Woods is already stalking the pros
Standing in the parched fairway on the par-5 18th hole at Los Serranos Country Club in Chino, Calif., last month, Tiger Woods needed a birdie. So, of course, he wanted an eagle. That's Tiger. He had a tight lie, slightly downhill, with barely any grass underneath the ball. He figured his second shot would have to travel 250 yards to clear the pond, another 30 yards to reach the green in two. But there was no way that anyone should hit a wood off that lie. Tiger grabbed a wood out of his bag.
On the 17th green, Tiger's caddie-daddy, Earl, had heard that veteran touring pro Mac O'Grady had finished at eight under par and that a seven-under score also had been posted. Tiger stood at six under. Only two of the 132 golfers who were at Los Serranos trying to qualify for the Nissan Los Angeles Open would gain the field for the PGA Tour event the next week. Earl Woods agonized about whether to apprise his son of the situation. Then, as Tiger pondered his second shot, Earl whispered, "Son, you've got to make birdie."
At the prematurely ripe age of 15 years, one month and 16 days, the ninth-grader was dead set on becoming the youngest golfer ever to play in a PGA tournament. Tiger wasn't thinking seven under. He was thinking eight under. He had come too far to play short.
Legend has it that at age two, Eldrick (Tiger) Woods shot a 48 on the back nine of the Navy Golf Course, in his hometown of Cypress, Calif. When his father senses an audit coming, he admits that his son played from the red tees and that every shot in the fairway was teed up. Uh-huh.
A year earlier Earl had told his wife, Kultida, and anybody else who would listen that Tiger would one day be a star on the PGA Tour. At the time, Tiger was dragging behind him a sawed-off putter instead of a rattle, and conceiving his swing by watching Earl fire five-irons into a net in the family garage. Although his attention span for strained carrots was little more than a spoonful, Tiger would sit quietly in his high chair studying his father's routine. He was a prodigy. "It was uncanny, the way he could emulate my swing," Earl says. "It was like looking at myself in a miniature mirror."
Earl, now 59, might have been a golf prodigy himself. Even though he couldn't tell the six-iron from the nine-iron, he shot a 91 for 17 holes the first time he played the game. He was a natural with a bright future, except for one thing—he was 42 years old. As a young man, Earl never thought much about golf. "I was a black kid, and golf was played at the country club—end of story," says Woods, who now plays to a three handicap. "But I told myself that somehow my son would get a chance to play golf early in life."
The result of Earl's vow, plus a well-intentioned phone call from Kultida, brought Los Angeles television sportscaster Jim Hill to the Navy Golf Course to view Tiger, a tiny diamond in the rough, not long before he shot the 48. Hill filmed Tiger playing a hole and concluded in his 1978 report, "This young man is going to be to golf what Jimmy Connors and Chris Evert are to tennis."
Connors? Evert? Remember, the kid was still in Pampers.
Hill's report transformed Tiger into a celebrity. A few months later, he appeared on The Mike Douglas Show, upstaging Bob Hope in a driving contest. At five, he was featured on That's Incredible.
Tiger was growing up in a hurry, and he was learning about more than golf. One day, at four, he was prohibited from playing at the Navy Golf Course because club management enforced a long-standing rule that children under 10 could not play the course. So Earl took his son to Heartwell Park Golf Club, a par-3 course in Long Beach, where Tiger developed what have become his strong suits—the irons, the short game and the Seve-esque ability to get out of trouble. Rudy Duran, the pro at Heartwell Park, watched Tiger hit all of seven shots before approving him to play there. "That was enough," says Duran, Tiger's coach from age four to 10. "I saw a kid who popped out of the womb a Magic Johnson or a Wolfgang Amadeus Mozart. He had talent oozing out of his fingertips."
At eight, Tiger won his first junior world championship, in the 10-and-under division, with a five-under-par final round at the par-3 Presidio Hills Golf Course in San Diego. By the time he was 14, he had won five age-group junior world titles, two more than any other golfer has won. With the trophies for those and more than 100 local junior titles, the Woods house contains more hardware than your neighborhood True Value Home Center.
"The other guys always ask me before the tournaments if Tiger is really as good as people say he is," says Notah Ryan Begay III, Tiger's close friend on the golf trail. "He has taken on a celebrity status, and most of the guys are afraid of him."
PGA professionals have also contracted the yips around Tiger. The kid played with 21 touring pros in a round at the Insurance Youth Golf Classic, a pro-junior event in Fort Worth last August. He shot 69 and beat or tied 18 of the pros, including Scott Verplank, Billy Mayfair and Tiger's playing partner, Tommy Moore. "I wish I could have played like that at 14," Moore said after the round. "Heck, I wish I could play like that at 27."
Tiger, at 15, plays to a plus-four handicap despite a still boyish 5'11", 138-pound body. With a physique that is hardly more developed than a four-iron and an unquenchable thirst for practice, he frequently pushes himself to the limit of exhaustion. His current mentor is John Anselmo, the pro at Meadowlark Golf Club in Huntington Beach, whom Tiger visits twice a month for tune-ups. On road trips, which have included stops from Paris to Bangkok, Tiger is almost always chaperoned by his father, who retired in 1988 after 20 years in the military and 10 years with McDonnell Douglas. Team Tiger also includes San Diego sports psychologist Jay Brunza, who has taught the ferocious Tiger how to dial down his adrenaline during a round.
"Tiger shouldn't be portrayed as the Robo-Golfer," says Brunza. "He doesn't need motivation from anybody else; his is internal. I don't see him burning out, because golf is pure pleasure for him."
The game is also his ticket to a college education. Tiger, a freshman at Western High in Anaheim, has been fending off the advances of the country's premier college programs ever since he got his first letter from Stanford, at age 13. But can he resist the lure of the Tour when he is already humbling the pros? "I plan to get my degree first," he says, "and then tear up the Tour."
These are brash words from a kid who shaves with tweezers. "With Tiger, anything is possible," says Anselmo, who at 69 has seen golf supernovas come and go for 40 years and is not prone to hyperbole. "I kid his dad that Tiger is not his, but that he comes from another world. I just hope I live long enough to see what's going to happen. It's going to be amazing."
Tiger is reluctant to forecast his potential social impact. He knows that five years have passed since Calvin Peete became the last black golfer to win a Tour event. He is also aware that he could become the role model for a generation of golfers before he's eligible for his driver's license. But he resists being typecast as a racial pioneer. "I don't want to be the best black golfer on the Tour," Tiger says. "I want to be the best golfer on the Tour."
Early in Tiger's round at Los Serranos, where the opening holes are long and offer birdie opportunities, it seemed ludicrous to think that he might play a pivotal golf shot on the 18th hole. On the first four holes, Tiger played like the teenager he is, hitting a tree from in the rough and two cart paths with tee shots, and it appeared he would wind up fourth in his foursome. But then he sank a pair of 15-foot birdie putts at the 6th and 7th holes and chipped in from 40 yards away for an eagle on the 8th. "Don't touch me, I'm burning up," Tiger told his father, his confidence restored.
He went on to save four pars with knee knockers of five feet or more. Then on the downhill, 504-yard par-5 16th hole he cracked a drive 344 yards. Standing 40 yards behind Tiger in the fairway, as he had all day, Hogan Tour regular Brad Gallagher turned to his playing partner, Ron Hinds, and said, "This kid is mean." Hinds, the golf pro at Westlake Village (Calif.) Golf Course, would say later, "You try to avoid envy in golf, but that kid humbled all of us." Tiger pitched his ball onto the green with a nine-iron and two-putted for birdie.
Still, standing over that ugly lie in the 18th fairway, he needed one more miracle. He drew back the fairway wood and swung through, connecting with an awful thud. It was the sound that a weekend duffer hears when he has picked his head up. The ball took one skip on dry land before plunging into the drink. Tiger pulled the bill of his cap down over his eyes. He would finish with his only bogey of the day and a five-under-par 69, three strokes behind O'Grady.
An hour later Tiger sat alone in the parking lot, in the front scat of his father's Mustang, with his head buried in his hands and his thoughts on everybody but himself. What would his parents think? Or his 33-year-old half brother, Kevin, who would have caddied for him in the L.A. Open? He considered Brunza, who was surely thinking about Tiger even while stationed with the Navy in the Middle East. And there was something else.
Earl Woods and Nguyen Phong of the Republic of Vietnam army had fought side by side in 1970 and had saved each other's lives before Phong disappeared. Earl is convinced that his friend is still alive. He looked upon Phong as a man with the strength and the will of a tiger, and he called Phong by that name. When Eldrick was born, Earl nicknamed him Tiger, with the hope that "my son would be as courageous as my friend. I also hoped that someday, somehow, Phong would see the names Tiger and Woods together and make the connection."
These expectations are what Tiger couldn't bear to watch disappear when his ball plunked into the pond at Los Serranos. But he was soon cheered by the argument that if he qualified for the L.A. Open next year, he could still become the youngest golfer to play in a PGA tournament. Bob May, now an Oklahoma State senior, was 16 years, 3 months and 18 days old when he played in the Los Angeles Open in 1985.
Tiger also took solace when he learned that his bid for an eagle on 18 was justified. At the end of the day, John Burckle, the leading money-winner on the 1990 Golden State tour, posted an eight-under 66 to tie O'Grady and gain the second spot in the L.A. Open. Tiger would have needed that eagle to force a playoff.
"Honestly, I felt myself rooting for him," Hinds said. "I was hoping he would get into the tournament so I could watch this awesome kid play against Kite and Crenshaw and those guys. After seeing Tiger play, you can't help but wonder what might have been."
Or what could be.
PHOTO
DAVID
STRICK/ONYX
 Tigeris built like a four-iron, but he packs a surprising wallop.
PHOTO
V.J.
LOVERO
Giving it his best shot at Los Serranos, Tiger narrowly missed qualifying for the L.A. Open.
PHOTO
V.J.
LOVERO
Earl doubles as Tiger's caddie (below), but then he's been urging him on since he was one.
PHOTO
COURTESY
OF THE WOODS FAMILY
[See caption above.]