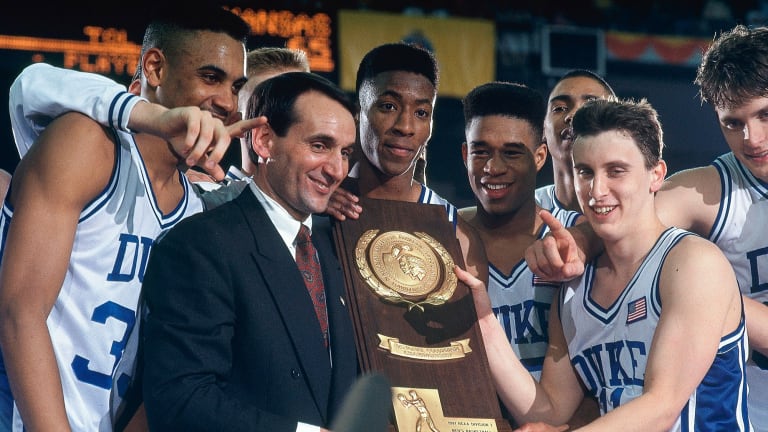 Yes!
Duke did it. The Blue Devils slammed Kansas, after shocking UNLV, to win the NCAA title.
Mike Krzyzewski calls it "seeing the beach," that time in every basketball season when the games have run together, and the practices have, too, and it stays light outside the gym a little longer each evening. It is risky, this business of seeing the beach. Allow your eyes to wander prematurely toward some placid horizon, and you don't win six NCAA tournament games in a row. You don't do what Duke did Monday night in Indianapolis—beat Kansas 72-65 to win a national championship, its first ever in nine trips to the Final Four.
The danger of seeing the beach is all the more acute at a school like Duke, where Krzyzewski conscripts valedictorians and amateur musicians into his cause. "Everything in their lives doesn't hinge on a basket or a rebound," he says. "So they can rationalize when there's a roadblock, when maybe they should stay on the same avenue a little bit longer. For instance, [freshmen] Grant Hill and Tony Lang don't want to get in the way. Sometimes it takes a little prodding, we have to tell Grant, 'When you dunk, you're not in the way.' And Christian Laettner, Bobby Hurley and Brian Davis—we have to tell them, 'Go ahead! You can be good. We don't mind.'"
One rationalization had thrown itself up as a roadblock year after year. It wasn't on the road to the Final Four, for the Blue Devils had reached four of the previous five Final Fours. The problem cropped up once they got to Dallas or Kansas City or Seattle or Denver. They simply couldn't win twice.
Yet this season Krzyzewski could see the road clearing. He discovered that although this Duke team was young, a young team can be more teachable. And if it was a skinnier and smaller team than others he had coached, he found that a runtier one didn't drag as much when fatigue set in—it didn't get "cumbersome," which is how Krzyzewski described the team that reached last season's title game only to lose to UNLV by 30 points.
"When you want to 'see the beach,' you want to see something besides basketball," Krzyzewski said on the eve of the championship game. "I don't feel that way about this team. I want to keep coaching it. I don't want it to end."
Thus Krzyzewski's task—to ensure that the end didn't come too soon—became easier. For an instant after its 79-77 semifinal defeat of previously unbeaten UNLV on Saturday, Duke lost all composure. Hurley confessed that he "acted like a fool," leaping on the back of a teammate. Moments later the Devils received their coach's counsel. "An ordinary team would be satisfied beating UNLV," Krzyzewski told them in the locker room, "but an ordinary team won't win on Monday."
Suddenly Hurley had an explanation for his gymnastics: "I was tired. I'd played 40 minutes. I needed a piggyback ride."
So it was that an extraordinary team won on Monday. From a visibly tired Laettner the Blue Devils got 18 points, 12 on free throws. He was 21 of 23 from the line for the weekend (and 112 for 132 in his tournament career), which helped him win the most valuable player award. From Hill they got eight defensive rebounds and an astonishing one-handed, alley-oop dunk two minutes into the game that set the tone for the evening. From Hurley and Billy McCaffrey they got nine assists and six field goals, respectively. Meanwhile Kansas, so magnificent in beating two No. 1 seeds and a No. 2 to reach the final—mock chalk, Jayhawk!—missed shot after close-in shot. With 8:30 to play and Duke leading by 12, Kansas coach Roy Williams, the former North Carolina assistant, sent five substitutes into the game. "Oh, no!" yelled Duke fans, still sassy about the Tar Heels' elimination by the Jayhawks two days before, feigning horror. "Not the Blue Team!"
The notoriously cocky Duke partisans had suspended such comments for Saturday's semifinal with UNLV. All winter long the fanciful topic in basketball press rooms and coaching salons remained the same. If any team were to beat Las Vegas—and there was considerable doubt that this was even possible—how might it happen? Well, Runnin' Rebel point guard Greg Anthony would have to get into foul trouble. Vegas's opponent would have to use the entire offensive end, to "swing" the ball to stretch the UNLV defense at its edges. A parade of fresh defenders would have to keep Rebel star Larry Johnson sealed in the post. And an opponent would have to hang in until it could take UNLV into the alien environs of the final minute of a close game. Only then would there be a chance.
In the case of Duke, several additional elements were required. Hurley, the point guard, had the flu against Vegas a year ago, and his quickest move came on a sprint to the John. He had to come up big. Hill, a forward, erratic of late, had to get off quickly. And Duke had to banish all recollection of the biggest rout in the history of the NCAA championship game.
Early in the week, Krzyzewski and his players watched a tape of last year's final—but only the first six minutes—to illustrate to themselves the difference between playing with emotion (UNLV) and without it (Duke). Krzyzewski also asked his team to visualize the final minutes of a close game. "Game pressure," Krzyzewski called the circumstances his Blue Devils, who had played a far tougher schedule than the Rebels, could expect if they stayed close on Semis Saturday.
Against Vegas, Duke would only slightly alter its pressure man-to-man defense: Center Laettner would slough off his UNLV counterpart, George Ackles, to help out whoever was checking Johnson inside. Ackles might wind up beating Duke with medium-range jumpers, but the Blue Devils would take that chance.
Krzyzewski also appealed to his players to summon forth some of the substance that sustained his own playing career under Bob Knight at West Point—testosterone. Midway through the second half, Hurley got a bead on Anderson Hunt, the man who had been MVP of the 1990 Final Four at Hurley's expense, and hammered him on a breakaway. "Last year, Hunt dunks that," Duke assistant Mike Brey said. "Then he swings on the rim a little bit, and they come back downcourt smiling. But we fought them the whole way. We matched their aggressiveness."
In this machofest there would also be charges for the Blue Devils to take—as many as 20 at the defensive end alone, the Duke staff figured. Forward Brian Davis took the riskiest charge of all, with 3:51 to play and UNLV leading 74-71, when a driving Anthony muscled in a layup as bodies scattered. "If Greg gets the basket instead of the foul, experience makes no difference," Rebel coach Jerry Tarkanian would say. "How many tight games we played makes no difference."
As it happened, the basket was waved off as Anthony was called for charging and banished with his fifth personal. Hunt suddenly had to bring the ball upcourt instead of spotting up to let it fly. "When your leader goes out down the stretch, it's like your head is gone," said Hunt.
Meanwhile Laettner's mobility and ball handling skills had enabled Duke to pull Johnson away from the basket and open up the middle of the Vegas defense. Duke made so-called flashing moves, sallies and cuts into the newfound fissures in the Rebels' D. With a couple of minutes to play, Brey turned to Tommy Amaker, another Duke assistant. "It would be a shame if we lost this game," he said, "because everything is falling into place."
The last things to fall came with slightly more than 12 seconds remaining: two free throws from Laettner, his 27th and 28th points. They gave the Blue Devils their final 79-77 lead. Moments later Hunt was jacking up a hurried 23-footer as Laettner and Hurley hurtled toward him. "A stupid shot," Hunt called his effort, which glanced benignly off the glass.
Tarkanian thought that Johnson should have shot from the right wing moments earlier, before passing to Hunt. "I'll never know why Larry didn't take that shot," he said. Faced with their only desperate moment in 35 games, the Rebels did what Krzyzewski had told his players they would do. They let game pressure get to them.
UNLV is normally one of the most open of programs, but even the casino host in Tarkanian hibernated on the eve of the Final Four. Perhaps he sensed something in the wind. On Wednesday night, 63-mph headwinds slowed Vegas's charter to Indianapolis, forcing it into a refueling stop—in Kansas City, right next door to the Rebels' good friends at the NCAA. Tarkanian, who had dozed off, awoke with a start. Had NCAA executive director Dick Schultz's private jet flown an intercept mission? "I thought, Oh, god, what did we do now?" he said.
The Rebels slipped in and out of side entrances of their hotel, forswore all autograph requests and had security guards stationed on their floor.
While normally loosey-goosey UNLV withdrew into a tight knot, Duke spent the first five minutes of its Friday practice, which was open to the public, staging a slam-dunk contest. Krzyzewski lamented that his team had been quartered out by the airport, rather than downtown where the Blue Devils could be among their fans. And he played possum, talking up UNLV at every turn: "The more tape you watch of 'em, the more scared you get of 'em." And: "The last time we played Vegas, they beat us by 30. The last time we played North Carolina, they beat us by 22. And I just found out that Roy [Williams] runs the same system as [Tar Heels coach] Dean [Smith]. So what the hell are we doing here?"
Kansas earned its place in the final in a game disfigured by more than 150 substitutions and the ugliness that prevails when the defenses know exactly what the offenses are trying to do. This was because Williams had apprenticed under Smith for 10 years. To counteract the Tar Heels' familiarity with the Kansas attack, late in the first half Williams's players decided to go out and improvise, and the Jayhawks came up with more, and better, shots than did North Carolina, the team from which they supposedly had been cloned. "It came down to the free-lance game, and we did it better," said Kansas forward Alonzo Jamison.
Faced with having to watch a full minute and a half of guys in the wrong shade of blue using his venerable four-corners delay offense to ice a 79-73 victory, Smith was put out of his misery with 35 seconds to play and the Jayhawks ahead by five. Referee Pete Pavia slapped Smith with his second technical foul of the game, which is grounds for automatic ejection. Pavia is in the midst of a heroic fight with cancer, and he can be presumed to know what in life is and is not worth getting steamed up about. But his thumb has also proved to be a quick one. He ran Georgetown's John Thompson from a game in Syracuse last season, Connecticut's Jim Calhoun from a Big East tournament game in March and Oklahoma's Billy Tubbs from last week's NIT final. Injudicious bellyaching earned Smith his first T, late in the first half, as Kansas built the lead it would protect the rest of the way; the second was for leaving the coaches' box while deciding whom to send in for Rick Fox, who had fouled out. "I was asking how much time was left for me to make my substitution," said Smith. "He answered my question with a technical."
As Smith took his leave, he stopped to congratulate Williams. Then he made his way along the length of the Kansas bench, greeting each opposing player as he went, like some uncle at a family reunion. In the tunnel the minicams caught up with him, and here Smith must have realized he was infringing on Williams's moment. He grinned, did his best paparazzi ward-off gesture and strode away. Security guards had to restrain Bill Guthridge, Smith's longtime adjutant and Williams's jogging partner all week, from going after Pavia when the buzzer sounded. But woeful shooting had more to do with the Tar Heels' fate than anything any referee did. "It was like losing to a friend," said Fox, the Tar Heel forward whose 5-for-22 performance was an advertisement for the quality of the Kansas defense.
Outsiders have subjected Krzyzewski to the same easy presumptions as they have Williams. Call it the protègè's curse. "My only pet peeve is when people ask, 'Did you call [Knight] to find out what you're going to do?' " Krzyzewski says. "C'mon, man."
That Krzyzewski would say "C'mon, man" should be enough of an indication that Knight he's not. Certainly Knight would never share with the public so much vulnerability. The Krzyzewski who began this season was, by his own admission, a mess—scarred by last spring's title game and frazzled by a summer of coaching a U.S. national team to a silver medal at the Goodwill Games and a bronze at the world championships. He knew his off-season duties would exhaust him and feared they would adversely affect his Duke team. Thus he left more recruiting and public-speaking responsibilities to his assistants and trusted his players to meet him halfway.
The Blue Devils' first big test came in early January, after they had lost their ACC opener at Virginia by 17 points. "We played like it was our birthright to win," said Krzyzewski. "I hate that. So it was great that they killed us. It gave me a clear course of action."
Krzyzewski discovered that this group took to coaching. "They gave me more than I gave them," he said. "I could make adjustments, and they'd really listen."
None reacted better than Hurley. Last season the Duke staff found his gestures and facial expressions so petulant that they produced a videotape to shock him into reforming himself. With the help of Laettner, who constantly reminded Hurley of how important a point guard's composure is to the stability of the entire team, it worked. Superb throughout the tournament, Hurley was never more poised than for an instant midway through the second half Monday when Kansas suddenly threw its 1-3-1 trap at him. Within seconds he had lofted the most precise of lob passes, just off the rim, where Davis made emphatic work of it. "Last year at this time I wasn't crying," Hurley would say after Duke's triumph Monday. "I was just empty inside. I couldn't even cry because I had no emotion. To tell you the truth, I feel more like crying this year."
"He did what college kids are supposed to do," Krzyzewski said. "He learned from failure."
Krzyzewski's wife, Mickie, calls the family beach house in Pine Knoll Shores, N.C., the Season's End. "It's the light we see in March," she says. "We've always gone there the day after losing in the tournament. I'm afraid I don't know what we do after we win."
As Monday night turned into Tuesday morning, and Krzyzewski walked arm in arm with his family down a Hoosier Dome hallway, the answer was not yet clear. Eldest daughters Debbie and Lindy were on his right; on his left strode Mickie and their youngest, nine-year-old Jamie—whom the players call Mo Minutes, because they think they get more playing time if they let her sit on their laps on the team bus. Together, Family K cut a wide and happy swath, as if plying some yellow brick road from Kansas to...to where?
A tough call. Do you choose one more game in this season you wish would go on forever and spend it with your boys? Or do you repair to the Season's End, with your girls?
"Did you see their faces?" Krzyzewski asked. He was talking about his boys. "They were so happy. Gee, I'd like to do this again. When will we do it again?"