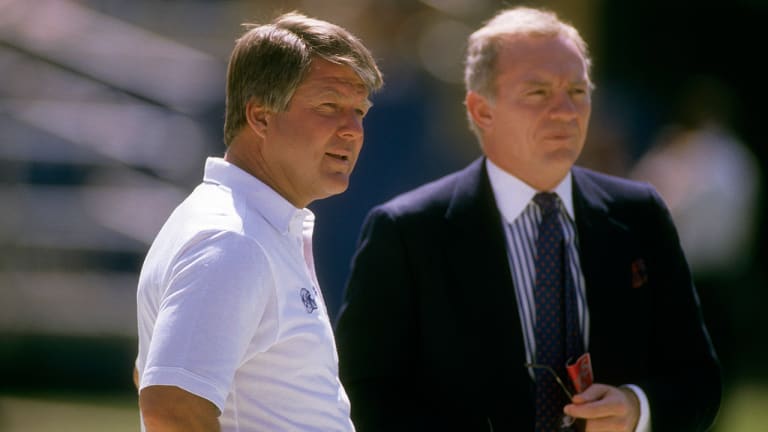 Publish date:
BIG D DAY
The Dallas Cowboys went on the attack in the NFL draft and took all the right prisoners
Tick, tick, tick.... Sunday, 2:41 p.m. CDT, Dallas Cowboys draft room: It is tense in here. Seven men entrusted with the future of a proud franchise sit around a 10- by 10-foot table. Four minutes remain before coach Jimmy Johnson must yell Dallas's choice for the 20th overall pick in the NFL draft into a speakerphone that connects him with the league's draft headquarters in New York. The Cowboys desperately want to trade the pick. They already have drafted two players in the first round, and the next player they want to take is Michigan State linebacker Dixon Edwards, but the 20th choice is way too high for Edwards to go.
The pressure is building; this is why somebody invented speed-dialing. Cowboy director of player personnel Bob Ackles is speed-dialing other teams, trying to get somebody to make a deal for this 20th pick. No takers. Johnson is getting agitated. "We've got to get something done," he says to no one.
2:42 p.m.: Atlanta Falcon general manager Ken Herock calls Johnson, and they dicker. Ackles gets San Diego Charger general manager Bobby Beathard on the line. The Chargers have two picks in the second round, and Ackles wants one of them, plus some lower-round choices. San Diego makes a lukewarm offer.
2:43 p.m.: Herock offers Johnson three picks—one each in the second, fourth and seventh rounds—for that 20th pick. "Is this a firm deal? The two, four and the seven for our one, right now?" Johnson asks. Herock says yes. Johnson pauses to think. He is happy. In five seconds, he will agree to the deal. In three seconds, another phone will ring. But now, the voice of Robert Blackwell, the Cowboys' representative at NFL draft headquarters, comes over the speakerphone with a reminder that time is short: "One minute."
2:44 p.m.: With Ackles and Johnson on phones, Dallas vice-president Mike McCoy picks up the one that's ringing. It's Detroit Lion director of pro personnel Kevin Colbert. The Lions want that 20th pick. "Hold it, Jimmy!" McCoy says. Johnson puts Herock on hold. Colbert offers second-, third- and fourth-round picks. Johnson and Cowboy owner Jerry Jones look at each other and nod. "Let's do it," Johnson says, and then he gets back on the line with Herock: "Got a better deal, Kenny. Sorry."
Thirty seconds. It's getting risky now, because if the Cowboys don't announce a choice before their allotted 15 minutes have expired, or if the team that Dallas trades with doesn't make its choice in time, the next team in the draft order, the Kansas City Chiefs, jumps ahead of them. Dallas and Detroit won't get the language of the deal worked out in time, so Johnson tells McCoy to find out which player the Lions want, and the Cowboys will take him for Detroit, swapping him for the promised three picks a few minutes later. The Lions want Ole Miss defensive lineman Kelvin Pritchett. "P-R-I-T-C-H-E-T-T!" Johnson says with urgency into the speakerphone.
2:45 p.m.: "Time!" Blackwell says in New York as the index card with Pritchett's name written on it is being turned in. "Done deal," Jones says with emotion. The Dallas draft room erupts. Coupled with two earlier deals, the Cowboys have turned one of their first-round picks—originally the 14th overall—into five choices between the second and fifth rounds. Fists pump in the air. Grown men shout. "Whoa, boy!" Johnson whoops. "Now we can pick our guys!"
2:46 p.m.: McCoy walks out of the room. "Oxygen!" he calls. "I'm about to have a heart attack."
When you have the opportunity to control the draft, as the Cowboys did during the first round, and when you're in a hurry to improve, as the Cowboys are, this is what life is like on draft day. Aside from Raghib (Rocket) Ismail's decision to play in Canada (box, below) and the Los Angeles Raiders' decision to take troubled USC quarterback Todd Marinovich with the 24th pick, there were three angles to this draft, and they all involved America's (Retooling) Team.
1) Dallas, with three picks, ruled the first round. The Cowboys were the go-to guys for the rest of the league. Holding the 11th, 12th and 14th picks three days before the draft, Dallas listened to offers and feelers from 21 of the 27 other teams either before or during the first round.
2) Dallas had more to gain from the draft than anyone else in the league. Having stockpiled picks from several of the 29 trades it has made in the past 26 months, the team could go a long way toward deciding its future in this year's draft (10 picks in the first four rounds, 17 overall) and next year's (seven in the first three rounds, 16 overall).
3) Dallas took a bold negotiating step. Holdouts are Jones's cyanide; he can't take them. Jones was so intent on signing all of Dallas's picks in the top two rounds on Sunday that he had six friends—a lawyer from Arkansas and a retired businessman from Montana among them—stationed with cellular phones and contracts in cars outside the homes of prospective high draftees that morning, so they would be able to get signatures right away. The Cowboys were looking for 1991 quality at 1990 prices, and their success would influence how much every NFL team pays its top draftees this season.
So how did the Cowboys grade out? Here's a checklist:
• Indeed, other teams turned to Dallas to make deals, and the Cowboys turned the league on its ear. Last Friday, Dallas traded up for the No. 1 pick in the draft, giving the New England Patriots the 11th overall pick, a second-round pick and three players, none of whom were likely to start in 1991. The Cowboys wanted Miami defensive tackle Russell Maryland, not Ismail, and they would have swapped places with Atlanta, which owned the third pick, if they could have been assured of landing Maryland at No. 3, and the Falcons could have been assured of signing Ismail. Neither event was certain, so Dallas kept the top pick and selected Maryland with it.
On draft day the Cowboys tried to deal the 12th pick in a package to the Tampa Bay Bucs so Dallas could move up to No. 7 and take Tennessee tackle Charles McRae. That didn't happen, because the Bucs wanted McRae. So the Cowboys used the 12th choice to get Tennessee wideout Alvin Harper.
What did happen is that Dallas traded its third first-round pick, the 14th overall, to New England for the 17th overall pick and a fourth-round choice. Next the Cowboys dealt that 17th pick to the Washington Redskins for the 20th overall pick and a fifth-round choice. Then Dallas sent the 20th pick to Detroit for those second-, third- and fourth-rounders.
In the first round alone, Dallas assistant Bruce Mays logged 83 telephone calls on the subject of trading. "I like dealing with them," said Herock, who called or was called by the Cowboys seven times during the first round, "because they're always willing to do something, and they'll give you an answer."
• It's too early to tell what impact the 10 players Dallas drafted in the first four rounds will have on the team, but the Cowboys expect immediate help from Maryland, whom Johnson first signed out of Chicago's South Side in 1986. At the time, Johnson was the coach at Miami, and he had one scholarship left. While Maryland, at 6'1" and 274 pounds, appears too small to be an impact player in the mold of Philadelphia Eagle tackle Reggie White, the Cowboys want him for his quickness, his ferocious play against the run and his ability to be a consistent inside pass rusher.
There's no questioning the value of Harper, who's the latest in the new breed of tall, sleek receivers like Al Toon of the New York Jets. Overall, the Cowboys hope they have added considerable depth to a thin roster.
• Amazingly, Dallas had the signatures of its top three picks on contracts before the front-office people went to bed early Monday morning, and it made deals that other teams will salute. In each case, the Cowboys' network of regional signers moved in and laid some groundwork, meeting with Maryland in Newport Beach, Calif. (headquarters of Maryland's agent, Leigh Steinberg), Harper at his parents' home in Frostproof, Fla., and Edwards at his parents' home in Cincinnati. Then all three players flew to Dallas. Maryland came to terms at 9:05 p.m. on Sunday, Harper at 1:18 a.m. Monday and Edwards at 3:03 a.m.
Maryland signed a five-year, $6.8 million contract, which pays him only $50,000 more than another former Miami defensive tackle, Cortez Kennedy, received last year as the third pick in the draft.
As Jones headed into the Edwards negotiations at 2 a.m., the whites of his eyes were white, his tie was tied and his top button was buttoned. "The NFL's present system of signing rookies polarizes players and clubs," Jones said. "I don't know if this sets a trend. I think we're just trying to do the common-sense thing."
The Cowboys accomplished all of this with the usual college zeal that has marked the Jones-Johnson connection, which was quick to turn the team from bad (1-15) to mediocre-but-coming-on (7-9) in its first two seasons. "No place on earth I'd rather be, and no other job I'd rather be doing," said Jones over dinner with Johnson last Friday. The Cowboy organization is a collection of eager Beaver Cleavers, you might say, with considerable football smarts.
Case in point: In March, the Dallas coaching and scouting staffs went, en masse, on a two-week trip to work out and interview the top college prospects. No other team sends five or six coaches together with two or three scouts to a single campus. But for Dallas, whose coaches have good college contacts—most of them came with Johnson from Miami—this way is best.
Johnson believes that pro scouting is more like college recruiting than most people think. Looking at game tapes and conducting workouts is important, but almost as significant is what you can drag out of coaches and trainers and hangers-on after the VCR shuts off or while the player showers. "Do you think one of my friends in college coaching would sit down with a lot of these other NFL guys and tell them if a player's had drug problems?" Johnson said. "You might eliminate one mistake if you're out two weeks. But if you do, then you've saved your club a lot of money and a draft choice. The athletic ability you can see on film. The skeletons in the closet are going to have to come from a coach or trainer or teammate."
The Cowboy coaches call it "grinding," as in, "Hey, when we go to Michigan State, we've really got to start grinding [coach] George Perles about Dixon Edwards." Which they did. "We've got to be investigative reporters sometimes," said Dallas defensive line coach Butch Davis.
Tenacious digging paid off on a trip to North Carolina State to check out defensive end Mike Jones. The Cowboys liked Jones's athleticism, but one thing puzzled them: He didn't play every play. They asked six Wolfpack staff members about this, and all of them replied that three defensive linemen alternated and that Jones was one of those. Strange, Davis thought, that such a highly touted prospect would be on the bench, especially with a game on the line. Something was fishy. So, 10 minutes before the Dallas staff left Raleigh, Davis sought out one last Wolfpack assistant, who said, "I don't know if he's tough enough. I question whether he wants to hit anybody." Bull's-eye.
The grinding continued late into last week. When the Patriots dealt the top pick in the draft to Dallas last Friday, defensive coordinator Dave Wannstedt and Jones met with Johnson until 2 a.m. on Saturday to make sure Maryland was the player they wanted. Even as late as Sunday night, during what was a busy third round for the Cowboys, Johnson left the draft room to grind a college coach over the phone about a player Dallas was thinking of selecting in the fourth round.
Finally, at about 9 p.m. Sunday, after the league had called a halt to the first day of the draft, Johnson had time to reflect on the 10 new Cowboys. Swallowing a few bottles of beer, he tried to downplay the significance of the day, but he left no doubt about his intended path. "We'll be good, big-time good," he said. "There's no doubt in anybody's mind here. I just want to get our guys together and play the type of aggressive football we're used to playing. I couldn't care less what the people out there think of us."
Well, not exactly. As Johnson talked his bold talk outside the draft room, director of college scouting Dick Mansperger walked by. "Hey, Dick," said Johnson. "I hope this is one of those drafts where they look back in 10 years and say, 'That's one of the best drafts ever.' "