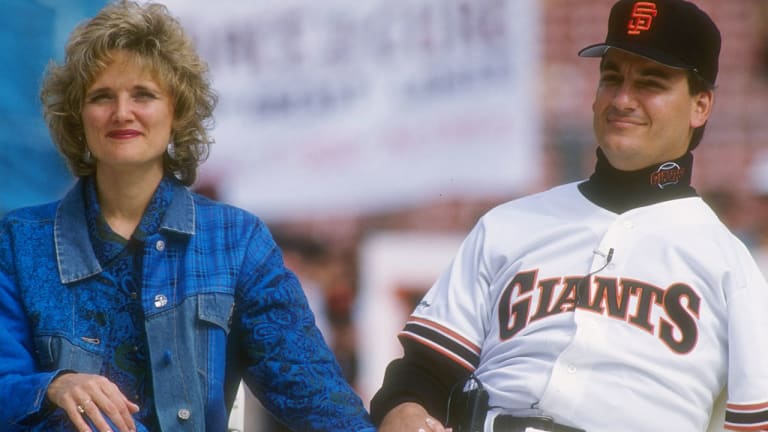 'Let's Make the Best of It'
Ex-Giants Dave Dravecky hasn't lost faith after having his pitching arm and shoulder amputated.
In one deft, shoulder-rolling motion, Dave Dravecky dipped forward and swung his gray suit coat off his left side, where his left arm and shoulder used to be, let the coat slide down and off his right arm and turned to his wife, Janice.
"Could you help me with this, hon?" he asked, perspiring faintly as he loosened the knot of his tie. "Whew! It's hot and uncomfortable in this thing. I'm really wet." Janice opened the top two buttons of his white shirt and slipped her hand inside it, feeling for the clips that fastened a shoulder pad to a harness he wore under the shirt, and watched as he fished out the pad and tossed it on the couch. In a reflex, Dave then reached in front of himself with his right hand, as if feeling for something, and winced. "It feels like my hand's on fire," he said.
"Which hand?" he was asked.
"The left," he said.
So the demon in Dravecky's life had returned; the phantom was back. It was half past 10 last Saturday night, in a hotel room in Orlando, Fla., where Dravecky had just received an award for his 1990 autobiography, Comeback, which detailed his struggle to return to baseball after an '88 operation to remove a malignant desmoid tumor from his left arm, his pitching arm. He did come back, of course, but ultimately so did the cancer. On June 18, Dravecky, a former National League All-Star, had his left arm and shoulder amputated during a 2½-hour operation at the Memorial Sloan-Kettering Cancer Center in New York City, and 25 days later here he was in Orlando making his first public appearance.
Like many amputees, Dravecky was suffering "phantom pain" in the missing limb, sensations quite as vivid and disagreeable as any he suffered in the agonizing months leading up to the amputation. It was, he said, as if his arm were still in the sling in which he had kept it in the last days before the operation, with his hand resting on his stomach.
"Oh, it burns," Dravecky said. "Very hot and painful. A constant burn. Not a throb, but a burning in the fingers and the palm, like someone is taking a match and sticking it right at the end of my fingertips and burning them. And intense pressure. My fingertips feel like pistols, with bullets about to explode out of them. Just explode. I have no idea how long this will go on. I hope it will subside as time goes on. I take painkillers, and they've been helpful. It's tolerable enough right now, so I can think and carry on a conversation, but the phantom is real."
For all that Dravecky has been through, it seems a cruel and unusual fate to end up hounded by a ghost, particularly that of a part of himself he once knew and loved so well. He had only just begun to mourn the loss of it. "I feel like I lost a real good buddy," Dravecky said. "You know, this friend that had been attached to me all those years; that allowed me to do something that I enjoyed more than just about anything on this earth; that enabled me to throw a baseball and put it where I wanted to put it; that allowed me to see a boyhood dream come true—that friend is gone. And all I have left are the memories. And the phantom pains. That's all that's left. There is so much frustration. I love to work outdoors, in the yard. I grab a shovel, I grab a rake, and now I have to think, How do I make this work? Everything needs an adjustment."
Since the tumor was first diagnosed almost three years ago, Dravecky's life has been a long series of adjustments that have grown progressively more painful and difficult to make. When the cancer was discovered, it had already invaded the deltoid muscle of his arm, and the tumor was sitting on top of the humerus bone, between the shoulder and elbow. During an eight-hour operation performed on Oct. 7, 1988, Dr. George Muschler had to freeze—and thus kill—part of the bone in order to cut away the malignant tissue. He also had to remove half of the deltoid muscle. "Outside of a miracle," Muschler told Dravecky, "you'll never pitch again."
Not willing to wait on a miracle, Dravecky worked his way back. In June 1989 he began throwing batting practice to his astonished teammates on the San Francisco Giants and soon built his arm back enough to pitch in three minor league games. He won all of them, including a final outing in Triple A on Aug. 4, in which he pitched a complete-game seven-hitter and won 3-2. That night the Giants recalled him. He hadn't pitched in the big leagues in 14 months when, on Aug. 10, in the single most dramatic baseball game of the season, Dravecky allowed the Cincinnati Reds one hit through the first seven innings. One standing ovation followed another. His teammates sat watching in stunned silence.
"Guys were shaking their heads and looking at him like they didn't believe what they were seeing," recalls San Francisco manager Roger Craig. "I played in five World Series. I saw Don Larsen pitch his perfect game, but I've never seen a game that had as much drama as that one."
Dravecky was pulled following the eighth inning, in which he gave up three hits, including a three-run homer to Luis Quinones. Reliever Steve Bedrosian shut the Reds down in the ninth, and Dravecky got his victory, 4-3. Five days later, while pitching against the Expos in Montreal, the comeback—and Dravecky's career-ended abruptly in the sixth inning when his humerus snapped in two as he threw a fastball to Tim Raines. "I thought I had been shot by a sniper," Dravecky says. "When I let go of the ball, it was like everything went with it—my arm, my hand. The pain was immediate. It threw me on the ground." That October, during an on-field celebration after the Giants beat the Chicago Cubs for the pennant, Dravecky's arm was broken again when someone pushed him from behind.
Any thought of a second comeback ended that fall when doctors discovered that the cancer had returned to the arm. Dravecky retired on Nov. 13, but his ordeal continued. On Jan. 4, 1990, in a second operation, he lost the rest of the deltoid muscle and 10% of the triceps, and began radiation therapy. "The radiation literally burned a hole in my arm," he says. "It started out the size of a dime and ended up about the size of a silver dollar. Then a staph infection set in [and ate away at the arm too]. And my humerus was exposed."
That May, in a third operation, more cancerous cells were found and cut away, and an 18-inch strip of lat muscle was cut from Dravecky's back and wrapped for support around the humerus. That June, he began another series of radiation treatments. For a few months he was forced to suspend his tour of America in which he told the story of his now aborted comeback and how his faith—he is a born-again Christian—had seen him through it.
Dravecky endured nearly constant pain in his arm after breaking it in Montreal, though he tried not to let on. But there was no concealing how sick he felt last September, when he was attending a Christian retreat with Janice in Montana. Dravecky suffered waves of nausea—"At night I would get low-grade temperatures, and I couldn't eat my meals," he says—and in October he spent a week in a hospital, receiving intravenous doses of antibiotics to fight the staph infections.
"We started doing IVs at home and then the veins started collapsing," Dravecky says. "We could only use the right arm and the veins became worn out from the IVs.... All winter, I wasn't doing at all well physically. It wasn't a rapid decline, but a slow, steady decline. I was having a lot of pain with the nausea. It came right from the pit of the stomach. I was extremely tired and lethargic. Every time I started exercising, the staph infections would start up again. And I was losing more and more use of my arm as the days slipped by. The infections weren't getting better. There were strep as well as staph infections, and we were dealing with something we could not control."
Of course, the thought that he might someday lose his arm had occurred to him, but only as a dim, distant possibility. "It's not just my arm," Dravecky told his literary and booking agent, Sealy Yates. "It's my left arm!" To be sure, the irony of what had happened was not lost on him. Of all the things that might have let him down, it was his left arm—the very instrument of his celebrity, the one part of him that set him apart and by which he had defined himself—that ended up betraying him. Says Dravecky: "There were moments when I would be struggling with that stupid thing hanging there, and I would say, 'Enough is enough. Get out of the way!' The golden arm had become a nuisance. A pest. It became The Thing. It got to the point where the only thing I could use it for was to put my socks on and pull my pants on. When I wanted to write, I had to pick up my left arm with my right arm, put it on the desk and have my right hand drag it across the page as I wrote. I couldn't move my left at all, it was so sore. I couldn't play with my kids [Tiffany, 9, and Jonathan, 6]. They couldn't bump my arm or touch it in any way, or I'd have extreme pain."
Late in May, while climbing to his feet off the floor in his house in his hometown of Boardman, Ohio, Dravecky put down his left hand to balance himself and heard a loud popping sound in his arm. Precisely what had happened was not immediately diagnosed—Dravecky thought he might have broken the humerus, though the X-rays showed no break—but it drew him closer to what he saw now as the inevitable end. Two days later, an orthopedic surgeon looked at it and said, "You know, this arm has to be amputated." In fact, as Dravecky saw it, the accident had transformed the limb into a vestigial organ. "It just hung there," Dravecky says. "It hurt so bad, I couldn't tolerate it."
By the time he headed to New York for his fourth operation, a June 18 biopsy scheduled at Sloan-Kettering, he knew what he wanted done. He was tired. He told Dr. Murray Brennan, the chairman of the department of surgery at Sloan-Kettering, that he wanted the arm taken off, even if no cancer was found. Any attempt to save it, Dravecky says, would have required several operations and six more months in the hospital. "Forget it," he told Brennan. "I'd much rather go on with life without my arm than to have to deal with this anymore. I want to move forward." The amputation was necessary, according to a statement issued by the hospital, "due to progressive pain and loss of function."
For Dravecky, 35 years old, the end was a cause for celebration. "It was such a relief," he said last Saturday. "It made me free. Now I can hug my family. Now I can wrestle with my son anytime I want. I don't have to worry about people touching me. Last night, for the first time since I lost my arm, I rolled over and I fell asleep lying on. my stump. I got in a swimming pool the other day, and it was so much fun just playing around in the water without having to struggle with that arm. One of my challenges is to play golf; a pro has offered to work with me on my stroke. Now I have the freedom to experience these things. The second day after the operation, I went into the bathroom at the hospital with my shirt off and looked in the mirror at it for the first time. I thought. Whoa, boy! They did take a lot. Then I said, 'O.K., Lord, this is what you've allowed me to live with. Now let's make the best of it.' "
PHOTO
BRIAN
SMITH
Janice, who also has strong religious beliefs, has helped Dave smile through the sad times.
PHOTO
AP
Dravecky's arm was broken in the '89 pennant celebration.
TWO
PHOTOS
BRIAN
SMITH
Despite phantom pain, Dave can now romp with Jonathan and Tiffany (below, right) and a friend.