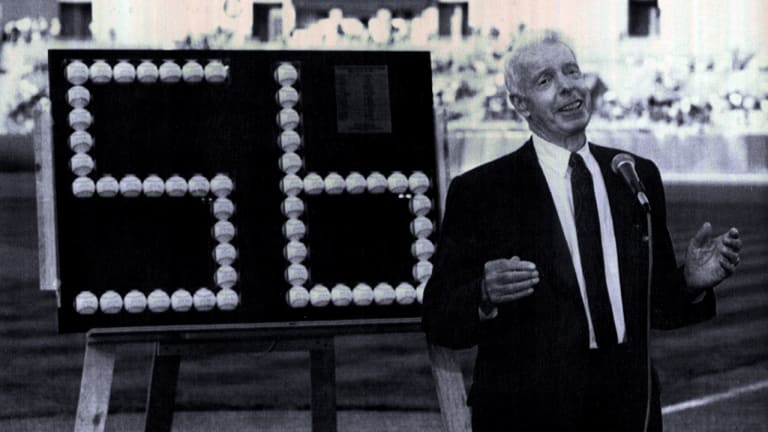 One Good Joe
Even in this anniversary year, Joe DiMaggio is best remembered as a regular guy from the Wharf
It may well be that Joe DiMaggio is having his best year since 1941. The old Yankee Clipper, who learned long ago that the best way for a man to preserve his dignity is to stay out of sight and keep his mouth shut, has been all over the map of late, accepting hosannas on the 50th anniversary of his 56-game hitting streak. Once a sphinx, he has become as accessible as the Material Girl. You see him everywhere: exchanging handshakes at the White House, embracing old rival Ted Williams at Fenway Park, tossing out the first ball at the Oakland Coliseum on the anniversary—July 17—of the streak's end, accepting the gift of a car a few days later at Yankee Stadium. Newspapers across the country ran daily accounts through the summer of the streak's progress, inspiring among more contentious readers disputes with long-ago official scorers—"Shouldn't that ball Appling bobbled in the 30th game of the streak have been an error?"
All of this revived attention has served merely to enhance a reputation already as secure as Abe Lincoln's. And yet every time I see the great man on television or in newspaper photographs, white-haired and somewhat stooped as he approaches his 77th birthday, I can't help thinking of Reno Barsocchini and what a kick he would have gotten out of all this fuss over his pal. Reno, a San Francisco saloonkeeper for many years, was my good friend. But he was DiMaggio's best friend for nearly 50 years. This doesn't mean that the Clipper and I are bosom buddies. We've met, certainly, but he scarcely knows I exist. Reno saw to it that DiMaggio's privacy was never violated, so if I know Joe at all, it is through the eyes of our mutual friend, the saloonkeeper.
Reno, like DiMaggio an Italian-American raised in San Francisco, was from a working-class part of town south of Market Street known when he was a boy as Butchertown, because of the meat-packing plants there. Reno got his start in the saloon business as a child violinist at a Butchertown joint called Dago Mary's. He met Joe some years later while working as a waiter in the DiMaggio family restaurant on Fisherman's Wharf, and the two hit it off immediately. They were handsome, black-haired young guys, catnip both of them to the ladies. The difference between them was that while DiMaggio was even more silent then than he is now, Reno was an all-league gabber. In fact, he liked to talk so much that he had a tendency to say things twice. As best man when DiMaggio married Marilyn Monroe in January 1954 at San Francisco's city hall, Reno was assigned to lead the (at least momentarily) happy couple through a horde of reporters, photographers and star-struck well-wishers. "I led 'em smack into a wall. A wall," he recalled. "It was murder. Murder!"
I met Reno in the mid-1960's when I was working for the San Francisco Chronicle. DiMaggio was a semiregular at the bar Reno ran then on Post Street, and I would drop in there for a medicinal beer after playing racquetball next door at the Ambassador Health Club. Reno's was a haven for aging jocks, and the Clipper, as they all called him, usually reigned in solitude at one end of the long bar, sipping coffee. Nobody there ever bothered him or, save for a select few cronies, ever even talked to him. But Reno introduced me to him one day, and, with Reno urging us on, we held a brief and disjointed conversation on the merits of sportswriter-turned-novelist Paul Gallico. DiMaggio had known him well. I'd just read him. I didn't feel I'd made much of an impression.
So I was pleasantly surprised when four years later Reno invited me to a private party at the bar to celebrate DiMaggio's 56th birthday, that number linked for all of eternity with Joe. I was even more surprised by the crowd that showed up, for aside from a few local sports people, including DiMaggio's New York Yankee teammate Lefty Gomez, most of the guests were ordinary fellows I'd never seen before. I learned who they were when DiMaggio introduced them individually as old friends from his days on the waterfront. The guy sitting across from me, never more than a playground ballplayer, actually wept when DiMaggio described him as "one of the best lefthanded hitters I ever saw."
"Didja hear that?" the man said, gripping my arm. I was beginning to see what people meant when they talked about DiMaggio's "class."
Years later, in another one of Reno's bars, I was chatting with the proprietor when the Clipper strolled in. It was 1983, and Queen Elizabeth and Prince Philip had just been in town, holding court aboard the royal yacht anchored on the Bay.
"Reen, I was on the boat," DiMaggio began eagerly.
"Great, Joe. Great."
"I shook hands with the prince on the receiving line."
"Good. Good."
"And while I was standing there, the prince looked at me and asked, 'Are you the Joe DiMaggio?' I said I was, and he said he'd always wanted to meet me." Reno looked up from washing glasses. "You know, Reen, I think we could've stood there and talked all night." He shrugged. "But there was a long line, so I just moved on."
When Reno died in November 1986, much of San Francisco was there for the funeral at St. Patrick's on Mission Street. DiMaggio and his younger brother, Dom, himself a star for the Boston Red Sox in the '40s and '50s, were pallbearers. Friends of DiMaggio say he hasn't been quite the same since. That in itself tells me more about the man than all of this hoopla over the past few months.
PHOTO
CRAIG
MOLENHOUSE