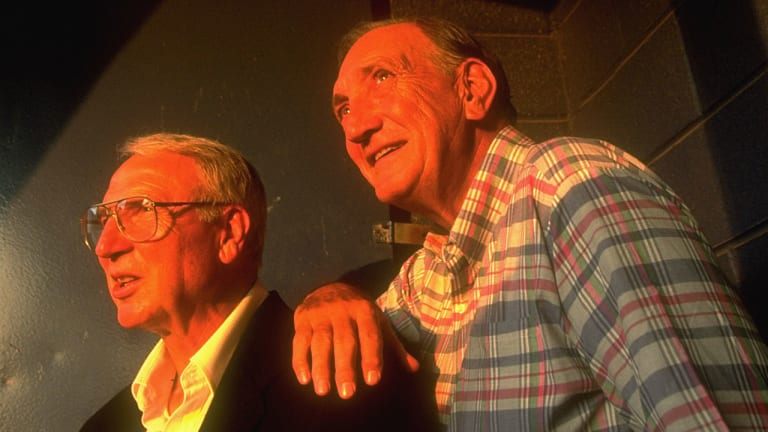 Side By Side
Former Brooklyn Dodger Ralph Branca and New York Giant Bobby Thomson have been linked for 40 years by the most famous home run of them all
It was nearing four o'clock and growing dark on the afternoon of Oct. 3, 1951. There were 34,230 paying spectators, some 20,000 short of capacity, in New York's old Polo Grounds, at 157th Street and Eighth Avenue, hard by Coogan's Bluff and the Harlem River. It was the ninth inning of the third and final game of a playoff series between the New York Giants and the Brooklyn Dodgers for the National League pennant, a series made necessary when the two teams finished a heart-stopping regular-season race with identical 96-58 records. The winner of this game would play the Yankees the next day in yet another subway World Series. This was the Golden Age of baseball in New York: From the end of World War II to the mid-'50s, all three of the city's teams annually contended for the championship. These were the years of Mickey, Willie and the Duke, not to mention Jackie, Big Newk, Campy, Pee Wee, the Brat and the Barber.
There was one out in the last of the ninth, and the Dodgers were leading 4-2. The Giants had Whitey Lockman, who had just doubled in a run, on second base and Clint Hartung, a onetime postwar "pheenom" reduced now to bench-sitting, on third as a pinch runner for Don Mueller, who had injured his ankle half-sliding into the base on Lockman's hit. Bobby Thomson, a late-season hitting sensation, was at bat. Ralph Branca, who had given up a home run to Thomson as the Dodgers lost the first playoff game 3-1 at Ebbets Field, was pitching in relief of starter Don Newcombe. In the on-deck circle was Willie Mays, a 20-year-old rookie who was fearful that if Branca intentionally walked Thomson, Giants manager Leo Durocher would send in a veteran to pinch-hit.
Mays glanced down at Durocher, who was coaching at third, in search of some clue to the manager's plans. But Durocher was busy bellowing encouragement to his hitter, for it was obvious now that Branca was going to pitch to Thomson to avoid putting the winning run on base. "If you've ever hit one," Durocher had pleaded with Thomson seconds earlier, "hit it now."
In the Dodger bullpen, in left centerfield, coach Clyde Sukeforth, 49, was puzzling over the unexpected authority suddenly thrust upon him. Ordinarily, Brooklyn manager Charlie Dressen told him before a game which pitchers to use that day and in which order. This time, Dressen had telephoned "Sukey" from the dugout and asked, "Who's ready?" Sukeforth had had no trouble answering that one. Clem Labine was there, but he had pitched nine innings the day before. And Carl Erskine, who had been warming up alongside Branca, had been troubled all year by a sore arm, even while courageously winning 16 games. This day, Sukeforth remembers, "I didn't see the real good curveball Erskine was noted for." In fact, says Erskine, "I was bouncing it in the dirt. Considering what happened next, that was a good pitch to have." Branca, meanwhile, was "loose and firing the ball," says Sukeforth. He told Dressen that Branca was ready. "Then send me Branca," came the reply.
"That was the first time I picked the pitcher all year," Sukeforth says.
Giants infielder Bill Rigney, who had helped carry the injured Mueller to the Giants' clubhouse in centerfield, was watching the action through the window there, some 500 feet from home plate. "Here we are playing our 157th game," he said to himself, "and nothing has been decided yet." But it looked so bad for the Giants that owner Horace Stoneham, who almost never came to the clubhouse, had left his office upstairs to come down and commiserate with starter Sal (the Barber) Maglie after he was lifted for pinch hitter Hank Thompson in the eighth. Upstairs, Stoneham's 30-year-old nephew and general manager, Chub Feeney, sat staring bleakly out the office window with scouts Tom Sheehan and Carl Hubbell and several of his boss's cronies from the business and entertainment worlds. There was Dewar's White Label Scotch to drink and hot dogs to eat, but these normally robust men were in no humor for refreshments after the Dodgers forged ahead, 4-1, in the eighth. Dodger traveling secretary Harold Parrott had already dropped by to pick up Brooklyn's World Series tickets, which Stoneham had kept in the office with his own now apparently worthless Giants tickets.
"You could cut the gloom in that place with a knife," says Feeney. "I kept thinking to myself, All this effort for nothing. And then we rallied in the ninth. There was hope at least."
In the stands the tension was palpable as Branca took his warm-up throws. Buzzy Bavasi, the Dodgers' new general manager, was seated next to owner Walter O'Malley's teenage daughter, Terry, and just in front of the renowned gossip columnist Walter Winchell, who, in keeping with his reputation, chattered relentlessly. October 3 was the 70th birthday of Bavasi's mother, Susan, a die-hard Dodger fan, and Bavasi had pleaded with some of his players to give her a National League pennant.
Branca was 25 years old at the time. In 17 days he would marry Ann Mulvey, whose mother, Marie (Dearie) McKeever Mulvey, was a 25% owner of the Dodgers. Branca and Thomson, then 27, were both New Yorkers, Branca from suburban Mount Vernon, Thomson from Staten Island. Both came from immigrant families. Branca's father, John, was born in southern Italy; his mother, Katherine, in Hungary. Thomson was himself an immigrant. He was born in Glasgow, Scotland, and moved 2½ years later with his mother, Elizabeth, four sisters and a brother to Staten Island after his father, James, a cabinetmaker building a start in the new country, sent for them. If Thomson came from a large family, Branca's was enormous. Ralph was the 15th of 17 children, two of whom had died before he was born.
Branca and Thomson were tall men with generous noses, and both at one time or another had been nicknamed Hawk. They were extraordinarily intense competitors. Thomson had walked to the plate muttering to himself, "C'mon, you s.o.b., do a good job. Watch and wait, you s.o.b. Watch and wait." Branca, pitching with only one day's rest, wanted to get this pennant won as quickly as possible. If he had a fault, he admits now, it was that no matter how tired he was, he "always wanted the ball."
Neither man suspected that in the next moments they would make baseball history, that they would be the hero and the victim of one of the game's most enduring legends: the Miracle of Coogan's Bluff.
"Has it been 40 years?" Bobby Thomson asks, "I tell you, this whole thing is still just a little bit crazy. I had no idea that what happened back then would still be famous. Hey, look, I'm just a plain old guy." He's 67 now, 68 on Oct. 25, a paper-products salesman living in Watchung, N.J. He is white-haired and bespectacled but still trim and remarkably youthful-looking. He is seated—rather painfully because of recent hernia surgery—in the living room of his fine suburban home.
"It's nice to be remembered," he says, "but looking back on it, I think getting a job after baseball was one of the real satisfactions of my life, because, like a lot of ballplayers, I was poorly prepared to meet the outside world. I'd had only a high school education, and I certainly didn't know anything about the work ethic. Now, after all these years of earning a living, I can look back and feel like I've accomplished something. And so can Ralph. He is a very substantial, successful person, you know. I've always appreciated that man. And I never did feel sorry for him afterward. That's just not the way I was brought up. I do know that he had to get used to what happened back then, but these things have a way of taking care of themselves. I think he did take it kind of hard at first, but he gradually came to accept it. And let's face it, without that moment, we'd both be long forgotten."
Thomson had not enjoyed one of his best games that fateful day. True, he had had a pair of hits and an RBI before the ninth, but in the second inning, with the Giants trailing 1-0 and Lockman on first, he had hit a drive to left that, with his great speed, had figured to be an easy double. He had not taken into account the strong throwing arm of Dodger leftfielder Andy Pafko. Lockman had, however, and when Pafko fielded the ball cleanly off the wall and fired true to Billy Cox at third, Lockman held at second base. Thomson, running with his head down, did not see him there until it was too late. Dodger second baseman Jackie Robinson tagged Thomson out after a brief and embarrassing rundown. Then, in the eighth, a ground ball to third by Pafko glanced off Thomson's glove for a run-scoring single, and another by Cox shot past Thomson to drive in a run as the Dodgers scored three times and took a seemingly insurmountable 4-1 lead. "Pafko's ball was a you-do-or-you-don't kind," Thomson says. "I didn't. Cox's would have killed me if it had hit me."
But the plays might have been made by a brilliant fielder such as Cox himself. Thomson had started the season in centerfield and hadn't made the switch full-time to third base until midseason, when it became obvious that Mays should play center. Thomson had played well at third, and his hitting had improved tremendously, but he was more comfortable in the outfield.
After the disastrous eighth, Thomson says, "There was a feeling of total dejection, but I wasn't going to let what happened before bother me. Actually, I was the fifth hitter in the ninth, and I wasn't sure I'd get a chance. We had been under pressure for a long time by then. The last two weeks of the season, every game meant a little more than the last one. It got so that every play in every game was meaningful."
The Giants had been written off as a pennant contender as early as July, particularly by Dressen. After his team had beaten the Giants on both ends of an Independence Day doubleheader at Ebbets Field, the garrulous little Dodger manager had remarked injudiciously, "We knocked them out; they'll never bother us again." Dressen, a notorious nonreader even by baseball standards, was obviously unfamiliar with philosopher George Santayana's maxim, "Those who cannot remember the past are condemned to repeat it." In 1934, Dressen should have recalled, Giants manager Bill Terry had dismissed the Dodgers by inquiring, "Is Brooklyn still in the league?" only to have the Dodgers knock his team out of a tight pennant race in the last two games of the season.
And yet, for much of '51, the Giants did look moribund. They lost 12 of their first 14 games, and when the first-place Dodgers won the first game of a doubleheader against the Boston Braves on Aug. 11, New York fell 13½ games behind. And then, the next day, the Giants started a 16-game winning streak that trimmed the Brooklyn lead by five games. Thomson, who had been hitting .231 only a week before his move to third base was made permanent on July 20, hit .385 from then until Sept. 15 and .449 thereafter. He was not the only streaker. After a slow 1-for-26 beginning, Mays started hitting, and Monte Irvin would lead the league in RBIs, with 121. The Giants also had three outstanding pitchers in Maglie, Larry Jansen and Jim Hearn.
Entering the final week of the season, the two teams were tied with 94 wins and 58 losses apiece. On Saturday, Sept. 29, Maglie shut out the Braves 3-0 in Boston for his 23rd win. That night in Philadelphia, Newcombe blanked the Phillies for his 20th. On Sunday, the Giants game at Boston was started half an hour early because of threatening weather. Jansen held off the Braves, 3-2, in just two hours and one minute. It was his 22nd and next-to-last win of the season. The Dodgers were still playing in Philadelphia when the Giants boarded the five o'clock train to New York. Brooklyn was down 8-5 in the fifth. On the train, Feeney and Giants announcer Russ Hodges kept track of the score by telephone and relayed developments to the anxious players.
The Dodgers seemed willing to use an entire pitching staff in one game to save their pennant chances. Preacher Roe, having his best season at 22-3, even with a sore arm, started and then was followed by Branca, Clyde King, Labine, Erskine, Newcombe and finally Bud Podbielan. Newcombe, who had pitched a complete game the night before, went 5⅖ innings before handing the ball over to Podbielan. Robinson saved the game in the 12th with a diving catch of Eddie Waitkus's two-out, bases-loaded line drive, and he won it in the 14th with a solo home run.
The Giants were met at Grand Central Station by more than 5,000 cheering fans. The entire city was caught up in playoff fever. The Giants had already performed a miracle by closing such an enormous gap in a month and a half. While the Dodgers had played at a respectable 26-22 won-loss pace from Aug. 12, the Giants had won 37 of their last 44 games, 12 of their last 13 and seven in a row. They seemed to be the reincarnation of manager George Stallings's "Miracle Braves" of 1914, who came from dead last on the Fourth of July to win the pennant and sweep the Philadelphia Athletics in the World Series.
Dressen won the coin toss to determine the playoff schedule. He elected to play the first game at home and, if three games should be required, the next two at the Polo Grounds. He was playing a hunch that left him open to much second-guessing. In the first National League playoff series five years earlier, Durocher, then managing the Dodgers, had taken the opposite course, choosing to play the Cardinals in St. Louis in the opener so as to have the home-field advantage for the rest of the series. As it turned out, the Cardinals negated the strategy by winning two in a row. Dressen was convinced he was in the right this time, and Bavasi supported him. "Charlie's reasoning was that we'd win the first one at home and then have to win only one of two in their park," says Bavasi. "And Charlie was convinced we had the type of team that could win in the Polo Grounds."
History did not seem to be on Dressen's side, however. Branca, who had lost the playoff opener in '46 by a score of 4-2, lost the first game in '51 by 3-1. Hearn, then 17-9, was the winner. All of the Giants' runs came on homers: a two-run shot by Thomson, a solo by Irvin. But the next day the Dodgers made their manager a genius by winning 10-0 in the Polo Grounds behind Labine's six-hit pitching and behind home runs by Robinson, Gil Hodges, Pafko and Rube Walker, who was catching in place of an injured Roy Campanella.
So now it came to a final game between these increasingly bitter antagonists. Indeed, the rivalry between the teams had never been more intense. "The Dodgers were known then for rubbing it in," says Thomson. "They'd be up seven or eight runs in a game, and then Robinson would steal home. When they swept us back in early August at Ebbets Field, Jackie and some of the others pounded on our clubhouse door. I wouldn't want to call them hot dogs, but let's say they were more exuberant than they had to be. What they did was the complete opposite of the way Durocher wanted us to play. He wanted us to let sleeping dogs lie and then beat them on the field. Of course, Leo himself wasn't always like that."
Durocher, in fact, was a ferocious heckler and umpire-baiter, and he was despised in Brooklyn because, after managing the Dodgers from 1939 to midseason of '48, he had made the unthinkable cross-borough jump to the Giants. Dressen, who had been Durocher's teammate with the Reds in 1931 and one of his coaches with the Dodgers until Durocher defected to the Polo Grounds, was seen as a properly obnoxious successor to the Lip. After managing Oakland to a Pacific Coast League pennant in 1950, Dressen had been hired by the Dodgers' new owner, O'Malley, to replace the soft-spoken Burt Shotton, a manager who, like Connie Mack, had refused to wear a baseball uniform. Dressen was not above boasting of his acumen, a trait that many of his players, notably Branca, did not find endearing.
"I was not a fan of Charlie's," Branca says now. "I think he blew the pennant for us that year, because in the last seven weeks of the season, he used only five pitchers [Branca, Roc, Erskine, Newcombe and Labine], and he wore a couple of them [Roe and Erskine] out."
Both starters in the decisive third game were pretty much worn out. Newcombe had pitched 14⅖ innings over the previous weekend and was coming back with only two days' rest. Maglie had had three days off, but he was 34, and he had pitched more innings that year (298) than any pitcher on either team. He had promised Durocher he would go as far as he could, but he figured that wouldn't be too far. Always a slow starter, Maglie gave up a run in the first on walks to Pee Wee Reese and Duke Snider and a single by Robinson. The Giants tied the game in the seventh when a sacrifice fly by Thomson scored Irvin from third.
As early as the fifth inning, Giants second baseman Eddie Stanky thought he detected telltale signs of fatigue in Newcombe. "All we have to do is stay close," he told Rigney. "The big guy is losing it." Newcombe must have felt the same way. Several times during the game he complained to Robinson of impending exhaustion, and each time Jackie rallied him with threats and curses. Then, when the Dodgers scored three in the eighth, Newcombe gathered new strength. Rigney led off the bottom of the inning, pinch-hitting for catcher Wes Westrum. "I took the first pitch, and Newk just roared it through there," says Rigney. "I looked over at Stanky and said, 'Yeah, right, he's really losing it.' " Rigney was gone on four pitches. Hank Thompson, batting for Maglie, grounded back to the mound, and Stanky himself struck out to end the inning.
Jansen, pitching the ninth for the Giants, retired the Dodgers in order. Durocher, trotting over to the third base coaching box for the last of the ninth, called back to his charges, "Well, you've gone this far. Now let's give 'em a finish."
Shortstop Alvin Dark led off with a single past Hodges's glove into rightfield. And then Hodges, an ordinarily impeccable first baseman, did an odd thing: He played directly behind Dark, apparently trying to hold the runner on base, even though a steal attempt at this stage of the game was unlikely, and the next batter, Mueller, was a lefthanded hitter. Dressen made no move to position his fielder correctly. "I think Charlie was just too excited to notice," says Bavasi. "He must have been on cloud nine."
Mueller took full advantage of this miscalculation, guiding a single directly through the space Hodges had vacated. If Hodges had been where he was supposed to be, Mueller's ground ball could have been a rally-killing double play. But now there were runners on first and third, and Irvin, who had driven in 121 runs, was at the plate. But Newcombe got Irvin to foul out to Hodges on his first pitch, a fastball well outside the plate. "Monte was just sick about it," says Rigney. "So I told him, 'Hey, it could've been worse. You could've hit into a double play.' " But Lockman kept the rally alive with a double down the leftfield line that scored Dark and led to Mueller's injury at third. Newcombe was clearly finished, a fact that even Robinson conceded in a conference on the mound. Branca was striding in from the bullpen to pitch to the Giants' next hitter, Thomson.
Ralph Branca is enjoying a bowl of soup at Rosen's delicatessen, around the corner from the baseball commissioner's office in midtown Manhattan. He has come to the city this day from his insurance-company office in White Plains, N.Y., in his capacity as chairman of the Baseball Assistance Team, which distributes funds to indigent former ballplayers, umpires and front-office personnel and their widows. "The end can come quickly for a ballplayer, you know," he says, speaking from cruel experience. "The body is fragile. And so many players have difficulty coping after the money stops." Branca is a large man, perhaps 25 pounds over his playing weight of 225. His long-nosed, sad-eyed face has a deceptively melancholy cast to it. In fact, he is a self-confident man with an engaging wit.
"I still bleed Dodger blue," he says, dabbing at his chin with a napkin. "But I grew up a Giants fan. I think in all of Mount Vernon, there was just one Dodger fan, a fellow named Kenny Hale. Sixty percent of the people there were Yankee fans, 39 percent were for the Giants, and then there was Kenny Hale. I'd pitched and played basketball one year at NYU when the Dodgers signed me. I was only 18, but I could throw hard. I went straight to Brooklyn and pitched a little in '44. Then, in '45, I was 5 and 6 and could have been 11 and 2 if I'd had any support. In '46, I was a starter, but in my first game, the Dodgers' third, I got hit on the arm by a batted ball. Couldn't throw at all for two weeks. Then I got in Charlie Dressen's doghouse. He was coaching for Durocher then, and he wanted me to pitch batting practice while I was recovering. I told him no. In those days, you were just supposed to lay the ball in there in BP, throwing nothing but three-quarter-speed fastballs. I thought I might develop bad habits doing that, so I said, 'Charlie, you can't make a living throwing batting practice.' He wouldn't speak to me for a month after that, and I ended up throwing mop-up relief.
"They finally started me on September 14 against the Cardinals, and I pitched a three-hit shutout and struck out nine. I won my next start, too, and started that playoff game against the Cardinals. If Dressen hadn't gotten ticked off at me, I might've won 12 to 15 games that year. The next year, 1947, I made it out of the doghouse. I was only 21 years old and I won 21 games. Led the league in starts [36], was second in strikeouts [148] and third in ERA [2.67]. I pitched 280 innings and threw seven times in relief. You wouldn't do that with a 21-year-old today."
Branca smiles ruefully. "I'd always pitched well against the Giants, even in that first playoff game at Ebbets Field. The funny thing is, the ball Bobby hit out in that game was to left center at the 350-foot mark. That wouldn't have been a home run in the Polo Grounds. As for the next one he hit...well, that wouldn't have been out in Ebbets Field."
The Polo grounds was, like so many ballparks of its time, oddly proportioned. The foul poles in left- and rightfield were only 279 and 257 feet from home plate, respectively, and in left, the upper deck extended over the lower, so that pull hitters had a better target upstairs than down. But the Polo Grounds was horseshoe-shaped, like a football stadium, and the distance to the fence increased dramatically in the power alleys. Dead centerfield was 483 feet from home plate. The Giants' best power hitters in 1951—Thomson (32 homers), Irvin (24) and Mays (20)—were not dead pull hitters, and many of their longest drives were flagged down in those remote power alleys.
When Mueller collapsed at third after Lockman's hit, Thomson rushed to his side from the on-deck circle. "I wasn't aware the Dodgers had changed pitchers until I started walking those 90 feet back to the plate," he recalls. "People have asked me if the crowd noise affected me. Well, to tell the truth, I felt like I was the only guy in the ballpark. I was talking to myself as I walked down the line, and I'd never done that before."
Branca's first pitch was a fastball down the heart of the plate. Thomson took it. "Ralph was doing just what a relief pitcher wants to do—get ahead of the hitter," Thomson says. The next pitch was another fastball, but this one was high and inside, definitely not a strike. Branca was setting Thomson up for the next pitch he planned to throw, a curveball low and away. But Thomson did not take that fastball inside. Instead, he swung and connected solidly. "I've never hit a ball like that before or since," he says. "I thought it was headed for the upper deck, but I'd gotten on top of it, and it started to sink. When I saw it sink, I didn't think it would be a home run. I thought it might hit the fence."
Pafko, in leftfield, thought the ball might sink even farther, so he raced to the base of the 17-foot-high wall at the 315-foot sign to make the catch. Snider came over from centerfield to take a possible carom. And then the ball disappeared into the lower deck.
When Thomson hit the ball, Ernie Harwell, broadcasting nationwide from the NBC television booth, cried out, "It's gone!" Then, as the ball started to sink, he looked stunned. "I said to myself, 'If that ball drops into Pafko's glove, I'm in deep trouble.' " Next door, Red Barber, broadcasting for the Dodgers on radio station WMGM, said in his no-nonsense manner, "It's in there for the pennant." It remained for the Giants' announcer on WMCA, Russ Hodges, to freeze the moment in time, to capture the pure shock and joy of this baseball miracle:
"There's a long drive...it's gonna be...I believe...the Giants win the pennant! The Giants win the pennant! The Giants win the pennant! The Giants win the pennant!...I don't believe it!...The Giants win the pennant!"
When Thomson finally realized that the ball was gone, he started hyperventilating and uttering peculiar huffing sounds. After he crossed first base, he began dancing "a sort of bunny hop, definitely not my usual home-run trot," he says. Durocher made a grab for him as he passed third, but Thomson held out a hand to ward him off. The frantic manager did step on the back of Thomson's shoe, ripping it, before falling to the turf in Stanley's arms. Thomson took one final joyous leap onto home plate and into the arms of his teammates. Mays was one of the last to reach him. He was so stunned by the sudden change in his team's fortunes that he wasn't even sure the game was over.
Robinson, ever watchful, stayed at his position until he was certain Thomson had touched every base. Then he retreated with the rest of his teammates to the clubhouse in deepest, darkest centerfield. "I was conscious of being a part of history," says Erskine, "so I watched when all the guys came in. Jackie just slammed his glove hard into his locker. Hodges set his gently on the shelf, the way he always did. Dressen tore off his uniform shirt so violently that the buttons flew around the room. And then Ralph came in and sat on the steps leading to the training room, the big number 13 shining on his back. Finally, his head dropped to his chest and his arms fell forward between his knees. There was bedlam next door, but our place was like a tomb."
In the stands, an inconsolable Terry O'Malley wept. "Why is that girl crying?" Winchell asked Bavasi. "Because," replied Bavasi patiently, "she's the owner's daughter."
There were tears in the Giants' clubhouse too, Rigney recalls. "I saw [coach] Herman Franks sitting there with a paper cup full of Scotch in his hands, and he was crying like a baby. 'Why're you crying, Herman?' I asked him. 'Damned if I know,' he said. Then Jim McCulley of the Daily News came over to me and said, 'Now, how in hell do you write this story? You guys were pronounced dead 10 times last month alone. And tomorrow you're going to the World Series.' I'll tell you one thing that game did for a lot of us. It taught us never to say no. Six managers came off that Giants team [Rigney, Dark, Stanky, Westrum, Lockman and Franks], and we all learned that lesson. Hey, you're down 4-1 in the ninth, and Newcombe is pitching for the other guys, and you still win. That game convinced me that it was all worthwhile. I think it showed all of us why we got into the game in the first place."
In time, four Dodgers—Reese, Snider, Roe and Robinson—came into the Giants' clubhouse. "I just want you to know that we didn't lose the pennant," Robinson told the new champs. "You guys won it." This was the same Robinson who had sadistically pounded on the Giants' clubhouse door only a few weeks before. "Coming in there after losing that game showed the class of the man," says Rigney.
On his way home Thomson stopped at the Staten Island fire-house where his brother, Jim, was working. "Bob, do you realize what you did today?" Jim said.
"I guess, Jim, the good Lord must have had something to do with it."
"No, no, I don't mean that," said Jim. "What I mean is that something like this may never happen again."
Feeney, rushing to the Giants' main office at 42nd Street and Sixth Avenue, was startled to see a city gone wild. "People were all over the place, climbing poles, shouting and singing. I thought to myself, This sort of thing just doesn't happen in New York. Other places maybe, but not here."
Branca had dinner that night at Daube's Steak House in the Bronx with his fiancèe, Ann, and the Rube Walkers. They were met by Ann's cousin Father Frank (Pat) Rowley, a priest at Fordham University. Branca recalls, "I said to Father Rowley, 'Pat, why me? Will you tell me, why me?' And Pat said, 'Ralph, God chose you because He knows your faith is strong enough to bear this cross.' That struck home. It was my salvation. I realized that I had done the best I could. The guy just hit a home run. He was better than I was this day. Life goes on. You don't go through it undefeated.... But I don't care what anybody says, that's the most famous home run of them all."
Thomson had dinner afterward with his family at the Tavern on the Green in Staten Island. He was reveling in his newfound glory when, at about 11 o'clock, it occurred to him that he was forgetting something important. "Hey, everybody," he shouted from atop a chair, "I gotta play the Yankees tomorrow."
The Giants ran out of miracles in the series, losing in six games to Casey Stengel's Yanks. It was a Series notable for Joe DiMaggio's final appearance as a player and for the emergence of the two rookies who would carry on his heritage, Mays and Mickey Mantle. Three years later, the Giants would get another chance at a Series title, and this time they would not fail, sweeping the Cleveland Indians. But Thomson wasn't around for that one. He had two more good seasons with the Giants, though none as memorable as '51, and then was traded in '54 to the Milwaukee Braves. In spring training that year, he broke his ankle sliding into second base in a game against the Yankees in St. Petersburg, Fla., and was replaced in the Braves' outfield by a 20-year-old rookie who had idolized him since the miracle of '51. Seventeen-year-old Henry Aaron had heard "the shot heard 'round the world" on an appliance-store radio in Mobile, Ala. He described his feelings in his recent autobiography, I Had a Hammer: "When I heard that home run, I was so excited that I ran all the way home, imagining that I was Bobby Thomson on my way to home plate, where my teammates would pick me up on their shoulders and carry me off in front of thousands of cheering fans." Thomson never had another big season after his injury, and in 1960 he retired to the paper-products business.
After suffering through a long winter as the nation's prize goat, Branca looked forward to the '52 season as a time for redemption. "I must have met 150,000 people who told me they were at that game," he says of the '51 playoff finale. "Some of them said they were right there in Ebbets Field when Bobby hit the home run. I'd tell them they must have the greatest eyes in the world to see that far." Branca had the perfect antidote for all this scorn and pity: He married Ann on Oct. 20 and went on his honeymoon to Sea Island, Ga.
He was ready to begin anew in spring training. But his bad luck had not run out. He and his wife and two other couples were playing Monopoly after practice one day when his chair went out from under him and he fell backward on an upright Coke bottle. It seemed such a silly accident that he was prepared, as apparently were the team doctors, to dismiss it as nothing serious. In fact, the fall threw his back out of alignment, and when he pitched again it was with a tilted pelvis. "I lost my leg kick," Branca says. "I could no longer explode off my back foot." He struggled on the mound for another five years, never winning more than four games in a season. In 1957, at the age of 31, he was pitching in old-timers' games.
Retiring so young was painful enough; suffering the analyses of amateur psychologists everywhere was almost beyond Branca's considerable endurance. "They were saying that Bobby's home run was such a trauma that I couldn't go on," he says. "Ridiculous! If you play sports, you expect to lose some. If I hadn't been hurt, that home run wouldn't have affected me at all."
What the home run has become is a bond between these two amiable and modest men. Branca might have been reluctant at first to join in the commemoration of it, but he got into the spirit soon enough. "I guess you could say the trauma has diminished," he says. "Bobby and I have been good friends for years. He's a good guy. I probably talk to him more than I do to any other ex-ballplayer. We play golf together. We have gone on cruises and junkets with our families. We do card and memorabilia shows. We go to charity events. Just this last fall, we were together at Texas Wesleyan University helping a friend of mine raise money there for a baseball stadium. We sang our song there."
Their song? Why, of course they have one, and they've been performing it periodically since they sang it for the first time at the annual New York Baseball Writers banquet only a few months after the home run. The tune is that of a Tony Bennett hit of the time, Because of You. The special lyrics, Branca says, were written by sportswriters Dick Young and Lou Effrat. Thomson's part goes like this:
Because of you, there's a song in my heart.
Because of you, my technique is an art.
Because of you, a fastball high
Became a dinky, chinky fly.
Now Leo and me-o won't part.
My fame is sure, thanks to your Sunday pitch,
Up high or low, I don't know which is which.
But come next spring, keep throwing me that thing,
And I will swing, because of you.
Here is Branca's part:
Because of you, I should never have been born.
Because of you, Dodger fans are forlorn.
Because of you, they yell "Drop dead!"
And several millions want my head
To sever, forever in scorn.
One lonely bird had a word for my ear.
The only girl, what a pearl, of good cheer.
Host the game, but wound up with the dame.
She took my name, in spite of you.
Actually, something quite wonderful happens to Branca whenever he raises his gentle baritone in this song: It is he, the very essence of the Good Sport, who gets the louder applause. The victim has become the hero. History is funny that way.
PHOTO
AP
Branca's pitch was out of the strike zone, but Thomson still sent the ball into the lower deck.
PHOTO
UPI/BETTMANN
NEWSPHOTOS
Thomson had to run from the jubilant Polo Grounds crowd. No one bothered Branca in his grief.
PHOTO
BARNEY STEIN/N.Y. POST
[See caption above.]
PHOTO
AP
Erskine (right) and Dodger clubhouse man John Griffin sent Branca off to Detroit in '53.
PHOTO
AP
Thomson put on a Brave face in '56 when Snider (left) and Hodges applied some wood.
PHOTO
UPI/BETTMANN NEWSPHOTOS
Robinson (42) could only watch as joyful Giants hung on to each other and Branca hung his head.
PHOTO
WALTER IOOSS JR.