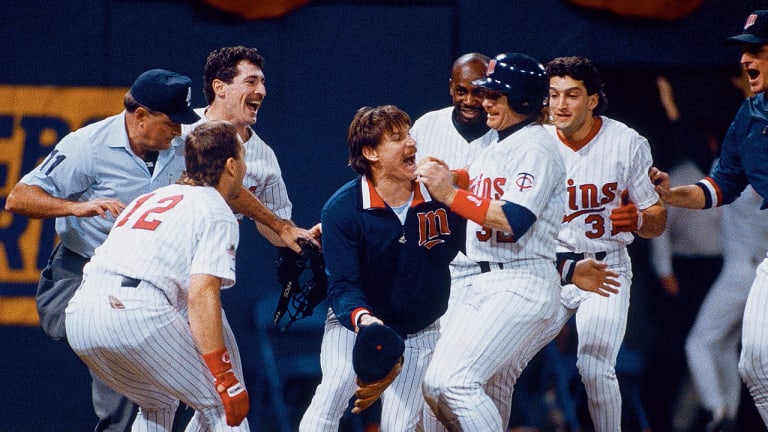 A Series to Savor
In a World Series of delicious drama, the Minnesota Twins barely bested the Atlanta Braves
The truth is inelastic when it comes to the 88th World Series. It is impossible to stretch. It isn't necessary to appraise the nine days just past from some distant horizon of historical perspective. Let us call this Series what it is, now, while its seven games still ring in our ears: the greatest that was ever played.
Both the Minnesota Twins and the Atlanta Braves enlarged the game of baseball, while reducing individual members of both teams to humble participants in a Series with drama too huge to be hyperbolized. There were five one-run duels, four of them won on the game's final play, three extended to extra innings—all categories that apply to the ultimate, unfathomable game played on Sunday night in Minneapolis, in which a 36-year-old man threw 10 innings of shutout baseball in the seventh game of the World Series. Grown men were reduced to tears and professional athletes to ill health in the aftermath of the Twins' winning their second world championship in five seasons.
This was the winners' clubhouse: An hour after Jack Morris beat the Braves 1-0 for the title, Twins pitcher Kevin Tapani broke out in a red rash. "I'm surprised if I don't have ulcers," said infielder Al Newman, slouched lifelessly on a stool. "I think I'll get checked out."
Across the room, Morris lay propped against a television platform, pondering the events of the previous days. "I don't know if it will happen tomorrow or the next day," he said, "but somewhere down the road, they're going to look back on this Series and say...."
Say what, exactly? Morris, like the scribes spread out before him, was overwhelmed by the thought of describing all that had transpired, and he allowed his words to trail off into a champagne bottle. The bubbly had been broken out by clubhouse attendants shortly after 11:00 p.m., when pinch hitter Gene Larkin slapped the first pitch he got from Alejandro Pena to left center, over the head of Brian Hunter, who, like the rest of the Atlanta outfield, was playing only 30 yards in back of the infield in an effort to prevent Minnesota's Dan Gladden from doing precisely what he did: bound home from third base in the bottom of the 10th, through a cross-current of crazed, dazed teammates, who were leaping from the third base dugout and onto the field.
Even Atlanta second baseman Mark Lemke, whose name had become familiar to the nation earlier in the week, was moved, in defeat, by the momentous nature of the game. "The only thing better," he said, "would have been if we stopped after nine innings and cut the trophy in half."
Impossibly, both the Braves and the Twins had loaded the bases with less than two outs in the eighth inning and failed to score. Improbably, both threats had been snuffed with mind-boggling suddenness by double plays. Atlanta was done in by a slick 3-2-3 job courtesy of Minnesota first baseman Kent Hrbek and catcher Brian Harper. The Twins were stymied by a crowd-jolting unassisted DP by Lemke, who grabbed a soft liner off the bat of Hrbek and stepped on second. So by the bottom of the 10th, when Harper, seeing Larkin make contact, threw his batting helmet high into the air in the on-deck circle and Gladden jumped onto home plate with both feet, the switch was thrown on a 30-minute burst of emotion in the Metrodome stands, an energy that, if somehow harnessed, would have lit the Twin Cities through a second consecutive sleepless night.
For it was only 24 hours earlier that Minnesota centerfielder Kirby Puckett had virtually single-handedly forced a seventh game by assembling what has to rank among the most outrageous all-around performances the World Series has ever seen. Puckett punctuated his night by hitting a home run in the bottom of the 11th inning off Atlanta's Charlie Leibrandt. The solo shot gave the Twins a 4-3 win and gave Puckett's teammates the same "chill-bump feeling" Braves manager Bobby Cox confessed to having had in Atlanta, where the Braves had swept Games 3, 4 and 5 earlier in the week to take a three games to two lead into Minneapolis.
Hrbek was reduced to a 10-year-old when the Series was tied last Saturday night; Sunday morning would be Christmas Day. "Guys will be staring at the ceiling tonight," he said following Game 6. "They won't even know if their wives are next to 'em. I know I won't. She won't want to hear that, but...."
Minnesota hitting coach Terry Crowley was reduced to a doddering man in long underwear that same evening, pacing a small circle in the clubhouse, head down and muttering to no one, "It's unbelievable. Unbelievable."
And Twins manager Tom Kelly fairly shed his skin in the aftermath of that game, wriggling from the hard exterior he has worn throughout his career and revealing himself to be, like the rest of us, both awed and addled by all he had witnessed. "This is storybook," Kelly said. "Who's got the script? Who is writing this? Can you imagine this?"
Understand what Kelly and 55,155 paying customers had just seen Puckett do beneath the dome. In addition to his game-winning home run, he had singled, tripled, driven in a run on a sacrifice fly, stolen a base and scored a run of his own. In the third inning he had leapt high against a Plexiglas panel in centerfield, hanging there momentarily like one of those suction-cup Garfield dolls in a car window, to rob Ron Gant of extra bases and Atlanta of an almost certain run.
After the game had remained tied at three through the eighth, ninth and 10th innings, Cox brought in lefthander Leibrandt to face the righthanded-hitting Puckett, who was leading off in the bottom of the 11th. Why Leibrandt? He had won 15 games in the regular season, Cox pointed out later. But Cox may as well have said what was on everybody's mind—that it didn't matter whom he put on the mound to face Puckett. The man was going to hit a home run no matter what. That was the only logical conclusion to his Saturday in the park. Puckett did just that, and the tortured Leibrandt walked off the field, his face buried in the crook of his right arm.
Afterward, teammates filed almost sheepishly past Puckett's locker, some shaking his hand, others embracing him, most of them without any words to say. This 5'8" escapee of one of North America's worst slums—Who is writing this, anyway? Who did imagine this?—acknowledged he was having difficulty grasping the enormity of the evening. "Ten, 30, 50 years from now, when I look at it, it might be different," he said. "Right now? Unbelievable, man. Unbelievable."
Yes, this Series was baseball's most epic tale. It included twin props—the Minnesota fans' fluttering hankie and the Atlanta fans' chopping tomahawk—that grew equally tiresome as the Series grew increasingly enervating. And it was a tale that engaged two teams that, preposterously, had finished last in their divisions a year ago. Yet, similar as they were, the teams had two distinct followings for the Series: The nationally cabled Braves were America's Team, while the Twins became Native America's Team.
After the Twins put a stranglehold on the first two games of the Series, which had opened on Oct. 19 in Minneapolis, by producing game-winning dingers from two bottom-feeders in their batting order—Greg Gagne and Scott Leius? Who is writing this?—the Series went south in geography only. Before Game 3, Native Americans picketed Atlanta-Fulton County Stadium, protesting from behind police lines that the Braves' nickname and the team's tomahawk-chopping fans were disrespectful to their people. Ticket holders approaching turnstiles were implored by placard-bearers to, among other things, "Repatriate remains to ancestral burial grounds!"—which is a difficult thing to do between pitches. "No one," said Atlanta pitcher John Smoltz, "is going to stop this city from having fun right now."
Likewise, no gun-toting yahoo was going to stop Hrbek from having his usual hellacious good time in the ballyard. His mother, Tina, was telephoned at 3:30 a.m. on the eve of Game 3 by an anonymous moron, who told her that her son would "get one between the eyes" in Atlanta. Yet Hrbek, who in Game 2 had leg-wrestled Gant from first base to tag him out and kill a rally, came to Georgia wary of nothing more than...gingivitis. He tipped his cap to the bloodlusting crowd that booed him during introductions, tomahawk-chopped the fans from the top step of the Minnesota dugout and blithely flossed his teeth during live TV interviews. All the while he went one-for-Dixie and found the time to reconcile the joy of playing in the Series with the anguish of a death threat. "This game sucks," he said, "but it's a lot of fun."
Their villain already cast, 50,878 Braves fans showed up for Game 3, the first World Series game ever played within 500 miles of Atlanta. When it finally came time to play ball, y'all, and the first pitch was thrown by 21-year-old Braves starter Steve Avery at 8:38 p.m., flashbulbs popped throughout the park like bursts of white lightning. "I feel sorry for Dan Gladden," said Braves first baseman Sid Bream later of the Twins' leadoff hitter. "He was probably seeing 5,000 baseballs thrown at him."
For each flashbulb, there was photographic evidence for a fan that he or she was present the night the largest cast ever to appear in a World Series game put on the longest-running night show in Series history. When the curtain dropped four hours and four minutes later at 12:42 a.m. after a record 42 players had traversed the stage, Atlanta reserve catcher Jerry Willard would pronounce himself "exhausted." And he was one of two position players on either roster who didn't play.
When Chili Davis, pinch-hitting against Pena, squeezed off a two-run tracer bullet to leftfield in the eighth inning, the game was tied at four. It would go to extra frames and send scorekeepers into a hopelessly dizzying spiral of pinch hitters, double switches and defensive replacements, thus birthing the biggest box score the World Series has ever known.
Before the bottom of the 12th, Braves catcher Greg Olson told Lemke, a career .225 hitter with a dwarflike presence at the plate, that Lemke—a.k.a. Lumpy, a.k.a. the Lemmer—would get the game-winning hit that inning. Olson is a Minnesota native who spent 13 days with the Twins in 1989, during which time he was given the T-shirt, emblazoned with a caricature of Puckett, that Olson wears beneath his uniform to this day. Lemke, having no such talisman to draw upon for strength, pretended not to hear his teammate's prediction. "But I said to myself, 'Ehhhh, I don't think so,' " said the Lemmer later. This recollection came, of course, shortly after Lemke had singled to drive in rightfielder David Justice, who scored inches ahead of Gladden's throw and Harper's tag.
With Lemke's late game-winner, bedlam and then bedtime ensued in Atlanta. The Braves were 5-4 victors, and Lemke, at his locker, looked longingly at a bottle of Rolaids the size of a sweepstakes drum. "I get big-time heartburn," he said as just one of several cardiologically concerned members of the Braves. As Justice put it: "If we win the World Series now, I think you're going to see some guys have heart attacks in here. I really do."
Eighteen hours later, as baseball commissioner Fay Vincent settled into his special overstuffed, faux-leather easy chair along the first base line and prepared to take in Game 4, he needed only a reading lamp and a stand-up globe to look completely at home. And that was all an observer needed to do on this night: Look at home, to the thick and transfixing traffic at the plate. It was there, in the fifth inning, that Harper tagged out Lonnie Smith in a bone-rattling collision and, moments later, put the touch on Terry Pendleton as Pendleton tried to score on a not-wild-enough pitch that bounded in front of home plate.
In the top of the seventh, Minnesota's Mike Pagliarulo hit a solo homer to break a 1-1 tie. In the bottom of the seventh, Smith did the same to retie things. Stomach linings could be heard eroding throughout the stadium before Lemke, who wears a PROPERTY OF UTICA COLLEGE INTRAMURALS T-shirt under his uniform, slugged a one-out triple in the bottom of the ninth. One batter later, Willard emerged from the dugout to pinch-hit.
Willard's parents, Faye and Jerry Sr., had arrived two days earlier from Port Hueneme, Calif. They had driven three straight days to Atlanta, only to see their son sit on the bench during the most populous World Series game ever played. Coach Cox, why don't you play my son? You play all the other kids. On this night, however, Willard would heroically fly out to shallow rightfield, just deep enough to allow Lemke to tag up from third and slide past Harper, who appeared to tag him out as the two made contact. In fact, Harper never laid the leather on the Lemmer, and another page in the epic was turned. "Same two teams here tomorrow," Skip Caray dryly told his radio audience as he signed off following Atlanta's 3-2 win.
Game 5 was a godsend for both teams, though Minnesota wouldn't acknowledge that at the time. The Braves' 14-5 tomtom drumming of the Twins at last broke the skein of hypertense games that had endangered the central nervous systems of all those who had been watching them. On the Atlanta side, Smith tied a Series record by homering for the third consecutive game. On the Minnesota side, Kelly removed oh-fer rightfielder Shane Mack from his lineup and rendered him Mack the Knifeless as well. "We hid the razor blades," said Kelly of Mack, who was so disconsolate after the benching that "he was ready to cut his throat."
After the Twins had taken their Game 5 punishment, Atlanta fans stayed at the stadium to send off their team, and the players enthusiastically embraced the crowd in this love-in. The Braves were fully expected to return from Minneapolis with a world championship, what with Avery pitching on Saturday against Minnesota starter Scott Erickson. The former was so cool that when former President Jimmy Carter introduced himself in the Atlanta clubhouse following Game 5, Avery responded, "Howyadoin'." The latter, meanwhile, had posted a lukewarm 5.19 ERA in the postseason. And yet....
Erickson allowed only five hits in six innings in Game 6, though various Braves scorched balls right at Twins infielders or launched missiles that landed millimeters foul. But give the Twins credit. "If you got any pride at all, and your back's against the wall, you're going to fight your way out," said Puckett, who was raised in the crime-infected Robert Taylor Homes on Chicago's South Side and who fought his way out of Game 6 with two fists. Said the man afterward, "I'll get my rest when I'm dead."
Twins reliever Rick Aguilera picked up the win, just as he had in the dramatic sixth game of the 1986 Series as a member of the New York Mets, cannibalizing the Red Sox and Bill Buckner. What is it about Game 6? Boston's Carlton Fisk hit his unforgettable body-English home run off Cincinnati's Pat Darcy in the 12th inning of Game 6 in '75. And while the Red Sox went on to lose Game 7, they are as inextricably linked to that Series as are the Reds. The same unforgotten status would be bestowed upon Sunday's loser, no doubt. "Whatever happens tomorrow," Puckett said haltingly on Saturday, "it's been a great Series. I mean, I want to win. But if we don't, I'm just honored to be a part of this."
Morris would concede no such thing. "In the immortal words of the late, great Marvin Gaye," he said on the eve of Game 7," 'Let's get it on.' " And that they did, the Braves and the Twins. Morris outlasted the 24-year-old Smoltz. On this night it appeared he would have outlasted Methuselah.
When the seventh game and the Series had finally been bled from the bodies on both sides, when the two teams had stopped their cartoon brawl, raising ridiculous lumps by alternately slugging each other over the head with a sledgehammer, when all of 60 minutes had passed after the last game, Pagliarulo stood wearily at his locker. "This was the greatest game," he said. "How could the TV guys describe it? They had a chance to win—but they didn't. We had a chance to win—but we didn't. Then we did. I kept thinking of the '75 Series tonight. This is why baseball is the greatest game there is."
The greatest game there is. The greatest games that ever were.