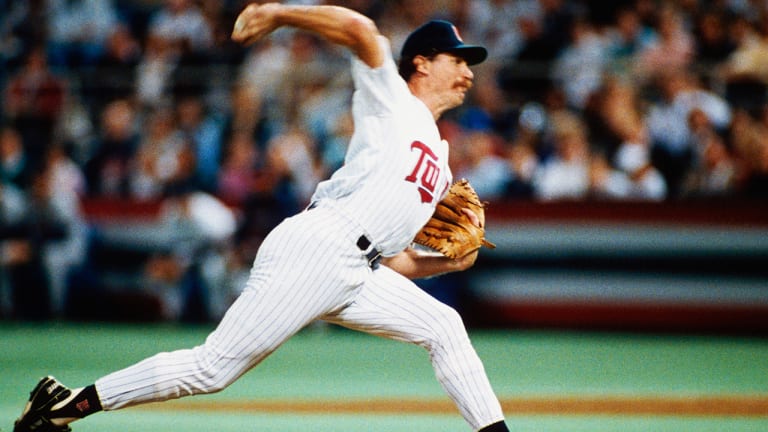 The Man Who Wouldn't Stop Pitching
Two hours after Jack Morris had completed the longest pitching performance ever in a seventh game of the World Series, the Twins' Randy Bush watched Morris still splashing gleefully through the Twins' soggy clubhouse. Said Bush, "I want to know one thing: Who was going to take him out of this game? Who would have had the courage to say, 'Jack, you're done'? I don't think anyone would have done it. If it was T.K. [manager Tom Kelly], Jack would have punched him, kicked him—he might have killed him. He wasn't coming out. He was unbelievable. He would have pitched all night."
Although Morris said he could have gone "112 innings," his mere 10-inning seven-hitter enhanced his reputation as one of the best pitchers in postseason history. He won the MVP award of this 88th Series by starting three games, winning two and allowing three runs in 23 innings. His Sunday-night masterpiece was made more remarkable by the fact that it was his third start in eight days. "He's an animal," said Twins third baseman Mike Pagliarulo.
"I don't know where the strength came from," said Morris, who is 4-0 with a 1.54 ERA in five World Series starts, including two that he made for the Detroit Tigers in 1984. "My arm was alive. I felt real strong, I don't know how or why. Pitching two games on three days' rest, this isn't supposed to happen. The baseball gods in the sky must have blessed me tonight."
They blessed his entire season. Morris, who was born and raised in St. Paul, signed a three-year contract with the Twins in January as a new-look free agent. However, given his 21-32 record and 4.65 ERA over the previous two years for the Tigers, few people outside the Minnesota clubhouse thought Morris, 36, had a good season left in him. But pitching in his hometown rejuvenated him; he won 18 games and taught the rest of the staff how to win. "I dreamed about this year, this night, as a kid," said Morris. "Sometimes this season, I'd still have the little kid inside me. But I had to let it go because I knew I had a job to do."
In Game 7 he outlasted Atlanta starter John Smoltz, who, as a little kid growing up near Detroit, idolized Morris the Tiger. Now a whole generation of Minnesota kids will idolize Morris the Twin. "I said when we got him that he was a horse," said Minnesota pitching coach Dick Such. "Tonight, he was a racehorse, a thoroughbred. He was going to run and run and run and not stop until his heart burst."
The thoroughbred ran into big trouble in the eighth, however, when the Braves put runners on second and third with none out. But Morris coaxed a weak groundout from Ron Gant, then walked David Justice intentionally to load the bases before Sid Bream grounded into a 3-2-3 double play. Morris danced off the field, pumping his fists.
He breezed through the ninth. "After the inning," said Kelly later, "I told Jack I was taking him out." Such walked the length of the dugout to join the discussion. "I stood up for Jack for the first time this year," said Such, smiling. Kelly was persuaded to change his mind—a rare occurrence. Said Kelly, "Jack told me, 'Look, I'm fine.' I told Jack, 'You've done more than anyone could imagine.' Oh, but he didn't want to hear that. So I said, 'O.K., it's just a game. Go after them.' He's the big guy, so, what the hell."
The big guy ripped through the 10th, and the Twins won it for him in the bottom of the inning. During the postgame celebration, the Twins circled the field together. Standing on the rightfield foul line were Morris's sons, 10-year-old Austin and eight-year-old Erik. Morris ran to them and hugged them.
"What makes this so special is they were here to see it, and they are old enough to appreciate it," said Morris. "I hope they're proud of their daddy. They better be. They told me before the game that if I didn't win, they'd kick my butt."
PHOTO
HEINZ KLUETMEIER/CBS
After his marathon masterpiece, an emotional Morris embraced Steve Bedrosian.