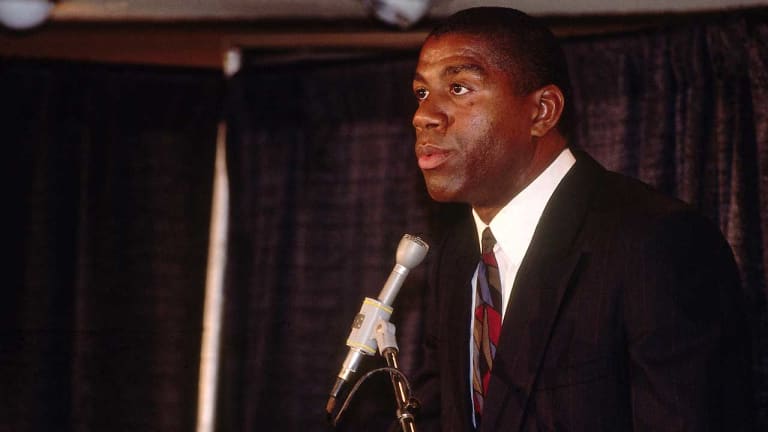 I'll Deal With It
HIV has forced me to retire, but I'll still enjoy life as I speak out about safe sex
Early in the evening of October 25, as I walked into the offices of Dr. Michael Mellman, a Los Angeles Laker team physician and one of my personal doctors, I was more curious than worried. I had been rejected for a life-insurance policy that the Lakers had tried to purchase as protection against a $3 million loan they had given me. The insurance company cited medical reasons in its letter to Laker officials, but it wasn't specific. I asked the company for an explanation, and Dr. Mellman had gotten the reply that morning. He telephoned me immediately at my hotel room in Salt Lake City, where I was resting for our preseason game that night against the Utah Jazz.
"I need to see you in my office," he said. "Today."
I wasn't particularly afraid of the test results, because I was feeling pretty good. I was actually in the best shape of my NBA career and, at 32, was about to start my 13th season with the Lakers thinking that we would be stronger than last season, when we lost the NBA Finals to the Chicago Bulls in five games. I was running three to four miles on a treadmill every day and lifting weights for 30 to 45 minutes. And I had played well during the preseason, especially in two early games against the Boston Celtics and my good friend Larry Bird—I always love playing against Larry, even when it doesn't count—and in Paris at the McDonald's Open, where I was named the tournament's MVP. Everything was working. Yet something was wrong.
As I rode from Los Angeles International Airport to the doctor's office with my agent, Lon Rosen, we discussed the possibilities. Maybe my blood pressure was unusually high, I said, since my father had suffered from that illness for most of his life. Or maybe I had some kind of heart problem, which might have scared the insurance company into thinking that I might have an attack during a game. Whatever my problem was, it never crossed my mind that it would force me to retire from professional basketball.
And I never, ever thought that it might kill me.
"Earvin, sit down. I have your test results," Dr. Mellman said. "You're HIV-positive. You have the AIDS virus."
Suddenly I felt sick. I was numb. In shock. And, yes, I was scared. Dr. Mellman quickly told me that I didn't have AIDS, that I was only infected with the virus that could someday lead to the disease. But I didn't really hear him. Like almost everyone else who has not paid attention to the growing AIDS epidemic in the U.S. and the rest of the world, I didn't know the difference between the virus and the disease. While my ears heard HIV-positive, my mind heard AIDS.
My first thoughts were about my wife, Cookie. After dating off and on since we met at Michigan State, we had gotten married on September 14, and she was now seven weeks pregnant. My biggest fear was that she and the baby were also infected. That would have been more devastating to me than anything I might have to go through in fighting AIDS, the disease with no known cure. Dr. Mellman agreed that she should be tested immediately.
As for myself, I had only one other thought: It's all over.
I was wrong. Twelve days later, after I had undergone a series of tests to verify the insurance company's diagnosis, two of my doctors—David Ho, of New York, and Mellman—came to my house. It was Wednesday evening, November 6. With Cookie sitting at my side, the doctors confirmed the original test results: I was indeed a carrier of the AIDS virus. But by then I fully understood that my life wasn't over. More important, Cookie and I also knew that she had tested negative, which meant that, so far, she and the baby were healthy. I still had something to live for.
We also had learned that the virus was different from the disease. We weren't fooling ourselves; we knew that I would probably contract AIDS within 10 years. But we knew that, with the right medical treatment and a proper diet, I could lead a normal life—until my immune system just couldn't protect me from illness anymore.
The doctors then said that because the physical and emotional rigors of the 82-game Laker season might weaken my immune system, just as the virus would, they were recommending that I retire from pro basketball. I honestly didn't give it a second thought. I responded the same way I have responded to every difficult challenge in my personal and professional life—from the knee injury in 1980 that forced me to miss 45 games to the death of my sister Mary in 1987, when she was only 33, after a long battle with leukemia. "O.K., that's it," I said. "I'll deal with it."
The way I chose to deal with the HIV infection was to go public. Until last week I was just like so many other people in this country: I was ignorant of the reality of AIDS. I hadn't paid attention to the statistics that showed that almost 1 million Americans are HIV-positive, that some 200,000 have AIDS and that more than 125,000 have died from the disease in the last 10 years.
I particularly hadn't paid attention to the figures showing that AIDS is a huge problem in the black community. I didn't know that half of the Americans currently suffering from the disease are either black or Hispanic. Like most other blacks, I was denying that AIDS was spreading through our community like wildfire while we ignored the flames.
To me, AIDS was someone else's disease. It was a disease for gays and drug users. Not for someone like me.
My ignorance could cost me my life, but I wanted to try and ensure that no one else would become infected with HIV for the same reason. The following day I stood at a podium at The Great Western Forum—the place where I had some of my greatest moments as a Laker—and spoke from my heart. I said that because I had tested HIV-positive, I was retiring from the NBA. I also said that I was going to become a spokesperson in the fight against the human immunodeficiency virus and an advocate for practicing safe sex by using condoms.
I also said I was going to beat the disease. And I will.
It had all begun in early September when Lon and I opened talks with the Lakers to find a way to raise my salary—$2.5 million for the 1991-92 season—to the level of the league's highest-paid players. Larry Bird will earn more than $7 million in salary and bonuses this season, John Williams of the Cleveland Cavaliers will make $4 million, and Hakeem Olajuwon of the Houston Rockets will earn $3.5 million. After Sam Perkins signed with us before last season, I wasn't even the highest-paid Laker. Dr. Jerry Buss, the team's owner, and Jerry West, its general manager, agreed that I should earn more this season, but because of the salary cap, which puts a ceiling on NBA teams' payrolls, they couldn't offer me an extension of my contract, which expires at the end of the 1993-94 season. We discovered that a loan was the only permissible way to give me more money, and we quickly settled on $3 million, which I received just before the end of the month.
NBA teams routinely take out insurance policies on their highest-paid players and add to that coverage when their investment in those players increases, and the insurance companies sometimes require the insured party to take a physical. If anything frightens me now, it's the thought of what might have happened to my wife and child had I not negotiated the loan and taken that physical.
In the three weeks between the time I closed the deal with the Lakers and the day I learned I was HIV-positive, my physical condition never changed. I experienced some fatigue upon returning from Paris, but my doctors told me that it was caused by a combination of the stress of the event and jet lag from the 13-hour return trip to Los Angeles. But I never had the flu, as the team announced after I didn't show up for the game against the Jazz on October 25 and then missed the first three games of the regular season.
I was not trying to deceive anyone. I only wanted to make sure that the insurance company's results were correct. "Tests can be wrong," I said to Dr. Mellman, "can't they?" I started a series of sophisticated tests that weren't completed for several days. In the meantime the doctors said that I shouldn't play or even practice with the team, because they didn't know the full extent of my condition. It didn't matter to them that I felt completely healthy. I continued my regular workouts, but I added 300 to 400 long-range jump shots during several late-night sessions at the Sports Club/LA, and I ran full-court sprints and layup and suicide drills. I was trying to stay in shape because, as far as I was concerned, I was going to play again—even with the virus.
When I was first told about the infection, on October 25, I wanted to tell my wife immediately. But she was out with friends that evening—she thought I was still in Salt Lake City—and wouldn't be home until late. When she finally arrived at the house, I didn't mince words. I couldn't. How do you tell your wife that you might have infected her with a deadly virus?
Naturally she was stunned and hurt. And scared. I said she should get tested right away. Then I started to tell her that I would understand if she wanted to leave me and that I wouldn't stand in her way if she wanted a divorce, but before I could get most of the words out of my mouth, she slapped me upside the head and said I was crazy. Cookie is a very strong woman. Marrying her is the smartest thing I've ever done.
Only a few people knew about the original test results: Lon, Dr. Buss and Jerry West, Cookie and my parents back in East Lansing, Michigan. By Monday, November 4, though, it was becoming more and more difficult to keep the secret from the other people who are closest to me—my teammates. I wasn't even showing up at practice, and they were beginning to wonder if something was wrong with me other than my so-called flu. Finally, after practice last Thursday morning, coach Mike Dunleavy told the guys to be in the locker room at the Forum for a mandatory meeting at 2 p.m.
At about the same time I was informing five of my closest friends—Larry Bird, Arsenio Hall, Isiah Thomas, Pat Riley and Michael Jordan—that I was infected with the AIDS virus. Larry cried. So did Arsenic Isiah just didn't want to believe it. Pat and Michael listened in stunned silence.
I also spoke to my son, Andre. He's 10 years old and lives with his mother in Michigan. I'm not sure he understood what I was telling him, but the most important thing, I said, was that no matter what he heard about his father, I still loved him. He understood that.
Later, when I walked into the locker room at the Forum, I could see the look of concern on my teammates' faces. I tried to be upbeat—Byron Scott said I smiled just like I had every day of the nine years we've known each other—but I didn't want to waste any time. I said I had tested HIV-positive and I was retiring immediately. I also told them that they had to go on, for themselves and for me.
Until that moment I hadn't cried. But breaking the news to my teammates was the most emotional experience of this entire ordeal. Everyone was crying, including me. But I wasn't crying for myself. I haven't cried for myself at all, because now there's no fear in me. No fear of what life holds for me, and no fear of death. If I die tomorrow, next year or whenever it might be, I'll know that I've had a great life. I've lived a life that no one could have imagined for me or anyone else. It's been a fairy tale. I still often tell myself, I must be dreaming, so please, don't wake me up.
I told the fellas that this is just another challenge for me. It's Maurice Cheeks in the NBA Finals in 1980 and '83 against the 76ers. It's Larry and Dennis Johnson every time we stepped on the court against the Celtics. It's Isiah and Dennis Rodman in all those wars against the Pistons. It's Michael. It's because of all of those challenges that I'm able to face this newest challenge.
Not that being HIV-positive has been easy to accept. Not when I could easily have avoided being infected at all. All I had to do was wear condoms.
I am certain that I was infected by having unprotected, sex with a woman who has the virus. The problem is that I can't pinpoint the time, the place or the woman. It's a matter of numbers. Before I was married, I truly lived the bachelor's life. I'm no Wilt Chamberlain, but as I traveled around NBA cities, I was never at a loss for female companionship.
Even in Los Angeles I was never far from admiring women. There were just some bachelors almost every woman in L.A. wanted to be with: Eddie Murphy, Arsenio Hall and Magic Johnson. I confess that after I arrived in L.A., in 1979, I did my best to accommodate as many women as I could—most of them through unprotected sex.
I was the one most NBA players looked up to when it came to women. I lived the kind of social life that most guys in the league wanted to lead. Now I'm pleading for every athlete and entertainer who has also been "out there" to get tested and, from now on, to practice safe sex. Guys, get out your hat, your raincoat—whatever you want to call a condom—and wear it. It doesn't matter how beautiful the woman might be or how tempting she might sound on the telephone. I know that we are pursued by women so much that it is easy to be weak. Maybe by getting the virus I'll make it easier for you guys to be strong.
I'm being a man about my past. I'm not running from anyone. As soon as the test results were confirmed, I started calling some of the women I used to date and telling them that I am HIV-positive. Of course, some of them are scared, but I'm hoping that all of them will get tested and that they will all be O.K.
By now I'm sure that most of America has heard rumors that I am gay. Well, you can forget that. Some people started the talk during the NBA Finals in 1988 and '89 when I kissed Isiah on the check as a pregame salute to our friendship and our respect for the game. But actually I've been hearing that kind of talk for a long time.
The most widely known fact about AIDS in the U.S. is that it affects homosexuals and intravenous drug users more than anybody else. But that's changing faster than the rest of us would like to believe. My doctors told me that the number of Americans who have been infected with HIV through heterosexual contact is drastically higher than just a few years ago.
I sympathize with anyone who has to battle AIDS, regardless of his or her sexual preference, but I have never had a homosexual encounter. Never.
I know that won't satisfy some people, but it really doesn't matter what they might say about me. From the jokes down on Wall Street to the Magic-must-be-gay stories that will still circulate, none of it matters. My skin is real thick, and as long as those same people who are telling the jokes and trading stories are getting tested and changing their life-styles and practicing safe sex, I'll win anyway.
That's also how I feel about the young people who have been so hurt by hearing that I tested HIV-positive that they have decided they won't be Magic Johnson fans anymore. On CNN the other day a young boy said that because of my condition he wasn't going to wear my T-shirt. I really don't worry about that kind of reaction, because we're way beyond talking about wearing someone's shirt or being his fan. We're now talking about life and death. If that same kid who takes off my T-shirt then puts on a "shirt" during sex, I've won again.
Thinking back over my career is like watching a 12-year highlight film. Five championships. Ten All-Star Games. Three MVP awards. Great plays. Great games. Great teammates. Great coaches. But there is one memory that has always stood out above all the others: Game 6 of the '80 NBA Finals against the 76ers in Philadelphia, when, as a rookie, I played the most amazing game of my career, and we won our first championship of the Showtime era.
That game, in fact, started what I've always called The Laker Show. It sparked us to become the team of the '80s. We led the series three games to two, but we were underdogs that night because Kareem Abdul-Jabbar, our best player, was back home in Los Angeles with a sprained ankle. We all thought we were going to have to return to Los Angeles for Game 7. We just wanted to give our best in Philadelphia and survive without any more injuries. Still, I wanted everyone to know that we were going to be all right no matter what happened, so during the team's flight east, I sat in 1C, the seat that was usually reserved for Kareem.
By the time the game started, we had no pressure on us at all. I was even trying to keep from laughing out loud as I walked onto the court and took my place in the center of the circle against Caldwell Jones. Here I was, a snot-nosed, no-jumping 20-year-old kid, playing center. Most people remember my 42 points, 15 rebounds, 7 assists and 3 steals that night, and the fact that I played every position on the floor at some point during the game. But what I remember is that every one of my teammates raised his own game to another level. Jamaal Wilkes scored 37 points, his career high. Brad Holland hit three key baskets down the stretch. Michael Cooper's head once hit the floor so hard, it sounded like an explosion. But he got up and played a big role in our victory.
I've probably watched the tape of that game a thousand times. It's almost always in one or another of the VCRs in my house. Whenever I'm down, I watch that game. In the last few days I've watched it more than once.
I'm not sad about my retirement, because from the day I was drafted, in June 1979, I started preparing myself to be able to walk off the court and move directly behind a desk. I always knew that my basketball career could end in an instant. I might blow out a knee or snap an Achilles tendon and be out of the game in the wink of an eye. So I studied the business opportunities offered by my game almost as much as I did the game itself. I wanted to make sure that the day after my departure from pro basketball, whether it was planned or forced, I was going to be busy. I didn't want to wake up that day and say, "What am I going to do?"
In terms of my business interests, I'll spend more time in Washington, D.C., where I am part-owner of a Pepsi distributorship, and I'll continue to manufacture T-shirts and other sporting goods through Magic Johnson T's. I'll also start pursuing my goal of owning an NBA team, preferably in my adopted hometown of Los Angeles.
Since I went public about my infection, the business community has been very supportive. Lon told me that he was faxed messages by corporations—Pepsi, Nestle, KFC, Converse, Nintendo, Spalding and so on—reassuring him about my endorsements, and a couple of companies even offered to make public-service announcements about HIV. He said nobody's backing away from mc. I've heard people say that might change in the future, but it sure hasn't happened so far.
Certainly I'll miss the game. I'll miss the competition, the locker rooms, the sweat, the fellas. I'll even miss the travel and the little injuries that seemed to become big injuries as I got older. But what I'll miss most is something that might seem trivial to most people: the uniform.
That sounds silly, I know. But it was always the uniform that made me feel special—in high school, college and the pros. That's why I never sat on the bench in street clothes for games in which I couldn't play because of an injury. When I walked into the locker room on my first day as a Laker and saw my gold uniform hanging there, I cried. Off the floor I've always been Earvin. But in uniform I was Magic.
Not that I won't ever wear a uniform again. Next September I'll host my seventh-annual A Mid-Summer Night's Magic, a charity event to raise money for the United Negro College Fund. If I'm feeling as well as I do now and my doctors give me the green light, I'll play.
But I might not have to wait that long. Don't count me out for the '92 Olympics in July. If I'm healthy, I might very well be on the floor for the opening tap in Barcelona. I agreed to play in the Olympics because I wanted to be there for my country, something I'd never been able to do before. I wanted to play on the same team as Michael and Larry, something that would give me the kind of high that...man! I get goose bumps just thinking about what it would be like to be on the floor with those guys.
And I want to bring back the gold medal. I've accomplished everything in this game—from a team perspective and individually. I've won championships in high school, college and the pros. And I've won every major award there is. But I don't have an Olympic gold medal. I want it. God willing, I'll get it.
I've never been the kind of athlete who wears his religion like a shield, though I've been strong in my faith since childhood. That faith allowed my to accept the HIV infection when part of me was asking, Why me?
The answer is simple: It's God's way. He is now directing me to become a teacher, to carry the message about the dangers of AIDS to everyone. It's my job to help us all understand that the disease is bigger than we think. I hope that because of my experience people will now learn everything they need to know about the virus.
I know that I'm prepared for this new role, because I've also been a teacher in basketball. I was given the gifts to become not only an athlete but also a businessman, a thinker who could help dispel the myth that most athletes are dumb jocks who can't see beyond the next game. I'm glad that I have earned about $12 million annually in endorsement income in recent years, but I'm happier about the fact that my business success has helped so many young blacks to learn that they can become entrepreneurs, and that if they play ball, they can be both athletes and businessmen.
Now God has said to me, "You've got to let the world know that AIDS is about to become an even bigger epidemic, and you're going to have to teach again."
In everything I've done, He's directed me. This is just another way. Knowing this, how can I look at the infection as anything other than an opportunity to do something that might even overshadow my playing career? Sure, I was convinced that I would never catch the AIDS virus, but if it was going to happen to someone, I'm actually glad it happened to me. I think I can spread the message concerning AIDS better than almost anyone. I'm a super-strong person, physically and emotionally. I'll take it, and I'll deal with it. In the next couple of weeks I'll begin treatment to help prevent the deterioration of my immune system that can lead to AIDS. I have no reservations about the treatment. I'm eager to begin the process that will help me someday to beat this thing.
I had no idea how people would react to my announcement. I had hoped they would react positively, knowing that I could have tried to hide my condition rather than be up front and try to help young people, and especially blacks, to understand that AIDS is more of a threat than they can even imagine.
When I left the Forum, I didn't know that anyone outside of Los Angeles had seen the press conference. I didn't know that it had been broadcast live nationally on CNN and ESPN—and was picked up by many local affiliates of the major networks—until Cookie and I arrived home and the telephone started ringing. My friends were calling from around the country. Some of them said they were going to get tested.
Within the next few days I was floored by the media coverage of my infection and by reports that after my announcement thousands of people entered hospitals and clinics all over the nation and asked to be tested for AIDS. Hot lines were unable to answer all of the calls. Condom sales soared, as did donations to AIDS organizations.
My doctors have said that there are more than 1 million people in the U.S.—many of them black—who are infected with the AIDS virus but don't know it because they refuse to get tested. Maybe that will change soon, even though I haven't even begun my crusade, which I intend to carry all the way to the White House, where I will tell President Bush that it's time to drop the political barriers that have slowed down efforts to find a cure for the disease. Congress can expect a visit too.
In the meantime, I'd like to volunteer for the vacancy on President Bush's National Commission on AIDS, which was left by the death earlier this year of Belinda Mason, who contracted the disease through a blood transfusion.
One of the first things I must do, though, is educate myself. My doctors have given me stacks of literature on AIDS, and I intend to read every word before starting this new phase of my life. In some ways it'll be another fast break, full-force and all-out. I don't want to undersell my message of safe sex, education and research.
The letters, telegrams and other expressions of support I received in the days following my announcement have been overwhelming. They've been as important to me as my doctors and the treatment that I'll soon start receiving. They've been part of my therapy. It will help if people still treat me as they always have. Don't stop asking me for autographs and high fives. I'll still be the same happy-go-lucky guy I've always been, not someone you should be afraid of being around.
Maybe one day I'll be able to help us get this thing under control, and then I can become an example to young people in a different way. Not as Magic Johnson dealing assists on the fast break, but as Earvin Johnson dealing with life-dealing with AIDS.