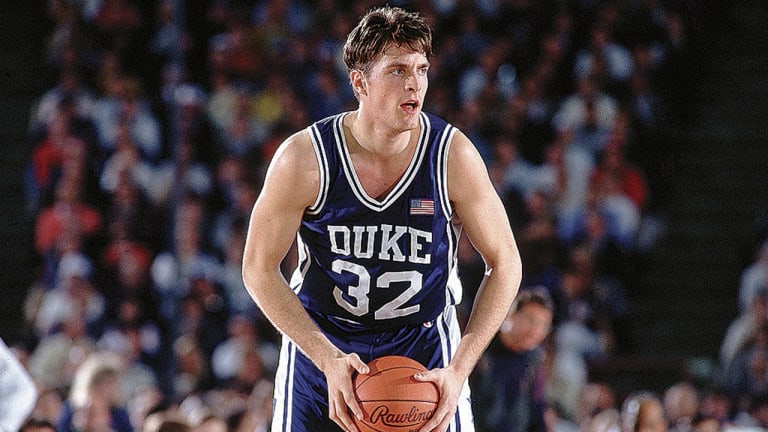 Devilishly Different
Duke's Christian Laettner is pivotman and paradox: agile giant, trash-talking preppy, angelic bruiser
"The 21-year-old...wore a brown leather cap and a blue warm-up suit to match his blue eyes."
—Detroit Free Press
"In talking to [him], you keep noticing the eyes. So blue, so expressive, so often a gauge to his inner feelings.... When he's happy, carefree, the eyes sparkle, gush with warmth."
—Raleigh (N.C.) News and Observer
"He just took my head out of the game.... I just wanted to kill him; in fact I still do—if I saw him now I would try to hurt him."
—ROD SELLERS, Connecticut center
Well, the reviews are, uh, nearly unanimous. Except that hardly anyone can figure out whether Christian Laettner, the 6'11" center of the Duke Blue Devils, is basketball's answer to Rob Lowe and Tom Cruise, or if he's simply low-down and cruisin' for a bruisin'.
The moussed curls combined with the curlicued muscles are partly responsible. Along with those eyes, of course. "Killer blues" is what that same enthralled critic for the newspaper in Raleigh called them, continuing to beg the question: Since O.J. Simpson ceased straight-arming tacklers and coeds in equal measure at Southern Cal, has any athlete on the national collegiate scene been both this good and this good-looking?
Bonnie Laettner, a school teacher in Angola, N.Y., near Buffalo, knew her second son would be special. Bonnie liked Marlon Brando so much that even though she had named her first-born Christopher, she went with Christian on the birth certificate for her next boy in tribute to the characters Brando played in Mutiny on the Bounty and The Young Lions. Luckily for the family—there are two sisters, as well—and for college basketball, the kid was born before the age of The Godfather.
"Ladies and gentlemen...now jumping center for the Blue Devils...Don Vito Laettner"?
"It's nerve-racking when you name a baby Christian," says Bonnie, "because from then on you're always worried that someday he'll wind up behind bars."
Or as a human paradox. Can the little kid who used to spend a half hour in front of the mirror fixing his beloved bow tie and primping for Catholic Mass be the same grown-up guy who now says he "wouldn't mind if other players think I'm some kind of badass"? (See: Brando in One-Eyed Jacks.) Could the sensitive fellow who swept his mother into a hotel ballroom on her 27th wedding anniversary last February to hear him play Moonlight Sonata on the piano be the same haughty guy whose own coach has accosted him for "looking like a jerk"? (See: Brando in Bedtime Story, not to mention Guys and Dolls.)
Bonnie acknowledges that while her husband, George, a longtime printer at The Buffalo News, is "Everyman—sweet, gentle, all those things," Christian "has a whole other side to him."
At the age of 12, Laettner was still skipping down the sidewalk—causing his parents enough concern about his lack of maturation that they held him back a grade. Of course, nine years later, as a college junior, he was smashing his way over and around the alleged leviathans of the current era, LSU's Shaquille O'Neal and UNLV's Larry Johnson, not to mention leading Duke to its stunning national championship. For that, or for something, Laettner was chosen Man of the Year by none other than the Harvard Lampoon—an honor previously granted to such distinguished celebs as Bill Cosby, Robin Williams and Brooke Shields.
Laettner doesn't exactly shy away from such attention. Of the ACC-Big East Challenge series, which ends after three years this season with a mega-clash between national-title contenders Duke and St. John's on Dec. 5 in Greensboro, N.C., he has said, "I love the concept. It's another chance for the nation to sec us." Of his teammates' need for more than points and rebounds from him, he has said, "What they want from me is life."
Whoaaaa. Are we talking screaming diva here, or what? The last page of a progress report written way back when he was rattling the chains in nursery school seems to have been prescient. It read: "Too much self-confidence."
"Of course I enjoy the notoriety," Laettner says. "If I didn't want to be in this situation, I wouldn't play basketball."
But he would still be playing tennis or Ping Pong, or bowling or swimming, or matching skills at the keyboard—or even tossing garbage into the garbage can. "Christian has this hunger for competition I've never seen in anybody else," says Duke coach Mike Krzyzewski.
"Those are just more things I can beat my teammates in," Laettner says.
"Ask him who's got more clothes," says 6'6" Blue Devil forward Brian Davis, Laettner's co-captain and roommate.
"That's only because Brian can get regular sizes," Laettner counters.
"Ask him who got him into silk shirts," says Davis. "Ask him who styled his hair, who told him to go with the sideburns. Christian used to have a 'Bob' haircut. You know, nothing. Then he went with the skateboarder look. Finally, he got nice."
"Yeah, Brian loves my hair now," says the ultrafacetious Laettner.
Imagine Laettner's reaction when GQ approached him after last season and asked him to keep a diary for an entire year, to be published upon his entrance into the NBA next fall—with a cover and pictures of him in the latest threads. "Maybe I'll get an Armani out of it," Laettner says, insouciant as always.
"Don't let him jive you with that modest stuff," says Davis. "I tell Christian he didn't get smooth until he started living with me. He spends an hour posing in front of the mirror. He knows he's the prettiest man walking."
Already, Laettner has planted some indelible footprints into the fabric and history of the NCAA tournament—but those owe more to the grunting, banging, shoving style of his game than to anything pretty.
As a freshman Laettner was still considered something of a clone of teammate Danny Ferry, the 1989 national Player of the Year, until the Blue Devils faced Georgetown and that school's fright-inspiring freshman center, Alonzo Mourning, in the East Regional final at the Meadowlands. Four weeks earlier on the same court, Laettner had missed the front end of a one-and-one free throw opportunity against second-ranked Arizona that would have sent the game into overtime; in practices thereafter he had become steeled as his teammates chanted, "A-ri-zo-na!" each time he went to the line. Against Mourning, all Laettner did was score 24 points, then a career high, and fight for nine rebounds in Duke's 85-77 upset win. "There's no way I thought Christian could do that," Krzyzewski says. "Since that game he's become as tough a kid as we've ever had here."
Though Laettner had another outstanding season as a sophomore, nearly doubling his scoring and rebounding averages (to 16.3 and 9.6, respectively), it wasn't until the NCAA regional final that year that he achieved renown as an established star. With less then two seconds remaining against Connecticut in overtime, Duke behind by one point and in possession of the ball, Krzyzewski glanced at Laettner and Davis after a timeout and yelled, "Special." With that, Laettner in-bounded the ball to Davis, who flipped it back to Laettner, who took a dribble on the perimeter, lunged, twisted, double-pumped and fired the ball true for his 22nd and 23rd points and a 79-78 victory that returned Duke to the Final Four.
Though the Blue Devils were humiliated 103-73 by UNLV in the championship game, Laettner came back last season with a vengeance, banging bodies, trash-talking, and scoring 19.8 points per game. Challenged in his own lair, Cameron Indoor Stadium, by the mighty O'Neal, Laettner took the Shaq for 24 points and 11 rebounds and limited O'Neal to a season-low nine shots as Duke won easily, 88-70. In the NCAAs, Laettner, growing in stature by the hour, scored 125 points in six games en route to the title.
In the Hoosier Dome locker room before that pulsating semifinal with the Runnin' Rebels, who had won 45 straight games, Krzyzewski readied individual tapes for his players for their positive reinforcement. "I don't need to watch any damn tape," Laettner growled in a hardly veiled message to both his coach and teammates. Indeed, Laettner scored nine points against UNLV before the first TV timeout. Then, in showdown time, 12.7 seconds left in the game, Laettner ripped away an offensive rebound and was fouled. After a timeout, he calmly swished both free throws to give Duke its monumental 79-77 upset. In the end, Laettner had scored 28, while leaning on Johnson and helping to limit the consensus Player of the Year to just 13.
Two nights later, playing wobbly-legged between regular rest periods on the bench, an exhausted Laettner scored only three baskets against Kansas, but he made 12 for 12 from the line as the Blue Devils beat the Jayhawks 72-65 for the championship.
"Christian's a guy who won't ever choke," says Krzyzewski, "and that's unique. He's never afraid to make the play, be it a shot, rebound, pass, block, whatever. He wants to be there when the game is decided. Of course, he reads so much Stephen King, he has to be warped. But you've heard of guys who burn to win? This guy's got a forest fire inside him." (See: Brando in A Streetcar Named Desire.)
The funny thing is that even with the off-season addition of 20 pounds (he now weighs 255), Laettner, with his soap-star features and his benign manner, still appears to be made of little more than avocado quiche and a few bean sprouts. He has always fit right in with Duke's image of yuppie, choir-warbling, wimped-out, finesse meisters. "It amuses me that just because I'm white and always looked skinny, I'm supposed to be unphysical, soft, not tough," says Laettner. "I've always done the job rebounding. Being a physical specimen doesn't mean you're any good at playing inside. Positioning, using your head, the mental stuff—that's my game. That's what makes a good inside player."
Blessed with marvelous hands, positioning instincts and a deft shooting touch, Laettner is as versatile as any player his size who has ever laced up a sneaker. "Christian would be a terrific player at any height," says Coach K. Or in Davis's more expressive words: "Christian's 6'11" but he's not, you know, goofy." Still, the quality that really sets Laettner apart is his dominant personality.
It didn't take long after Ferry and his classmates had departed (on the downer of a horrid collapse against upstart Seton Hall in the '89 NCAA semis) for Laettner to take over the mantle of leadership at Duke. "I'd always played with enthusiasm and intensity," he says. "But that game my freshman year against Mourning increased my motivation and moved me to another level. I felt I could control things. The very next week the team stopped playing hard against Seton Hall, as if they were saying, It's O.K., we've had a great year. If Brian and I had been in control, I don't know if it would have been different, but we would have kept the team motivated. Now, if I see satisfied faces in the locker room, I'm jumping all over them."
Around the ACC these days, Laettner is known as a whiner, but as a sophomore he aimed a passel of complaints at his own teammates, significantly the freshman point—or was it pout?—guard, Bobby Hurley. Even Laettner confesses now that he was "sometimes negatively vocal, and that hurt my teammates more than it helped them." Laettner and Hurley continued some serious jawing right up through Duke's first conference game last season, an embarrassing 81-64 defeat at Virginia, after which Krzyzewski gave Laettner a few lessons in "communication skills." The next time out the Blue Devils beat Georgia Tech by 41.
Says Hurley, "The coaches were usually easy on me, but I think Christian saw that the best way to get something out of me was to be hard. He says what's on his mind. He doesn't hold anything back. Since then he's cased up...a bit."
More than a simple extension of the coach on the floor, Laettner occupies a space no other Duke player has, past or present—including Ferry. "He's the fulcrum of everything, the man," says Jay Bilas, who was the Duke center on Krzyzewski's first Final Four team in '86, and is now a graduate assistant coach. "Christian dictates everything this team does, the games they play, the fun they have, the whole mood of the team. He overpowers them with his personality, but there's no resentment, because he's no less hard on himself than on them. I've seen him miss a few shots in a practice drill and get so furious he kicked the ball practically into the upper tier of seats." (See: Brando in The Wild One.)
The Laettner temper emerged late last season as Duke was being blown out by North Carolina in the finals of the ACC tournament. Frustrated, Laettner body-slammed Tar Heel forward Pete Chilcutt on a layup attempt and later unleashed a stream of four-letter invectives at referee Gerry Donaghy, who signaled a technical. "What I got the T for was the nicest thing I said all game," Laettner says.
"I'm just stunned he doesn't get nailed more often," says Davis. "He'd been 'muthering' that ref for ten minutes. But that was a normal outing for Christian. That's who he is. It's just that this time somebody heard him."
Moreover, in the '91 NCAA tournament Laettner's verbalizing on the court—the Blue Devils call the rabid communication among themselves "vocal pressure"—so incensed Connecticut's Sellers during a third-round game that the Huskies' pivotman deliberately smashed Laettner's head to the floor during a scramble and later went looking for him to rumble. Days before, in a second-round victory over Iowa, Laettner was also seen in an unflattering light: After being called for a foul, he appeared to be laughing at Hawkeye center Acie Earl. "I told him it looked bad," says Krzyzewski. "It looked like he was showing Earl up. He promised, Never again."
"It's all in Christian's enthusiasm for the game," says Davis. "He definitely thinks he's the baddest around. He talks so much trash to mc, people haven't heard five percent of what he's got. He doesn't have to write 'Tough' on his back. But fighting? If it ever came to that, yeah, it'd be on. He'd come right at you." (See: Brando in On the Waterfront.)
Actually, college life at Duke has been a natural extension of Laettner's high school career at The Nichols School, a small, rich, mostly white, preppy paradise (coats and ties mandatory) in Buffalo, where Laettner would receive postcards from his teachers on holiday in places like Australia, and where one summer Laettner managed the town's tennis club. Laettner loved Nichols. "I might have Duke on the front of my chest," he told the eighth-grade graduating class last summer, "but I have Nichols on the back. My teammates at Duke get tired of me talking about Nichols."
Transplanted to the South, Laettner, a sociology major, has acquired a soft Carolina minidrawl, a best friend in his black classmate Davis and an air of mystery on the Durham campus, where he is widely perceived to be aloof, arrogant, even nasty and mean-spirited.
"People had a problem with Christian because he would say mean things," says Davis, a politically savvy native of Prince Georges County, Md. "He's direct. He tells you what he thinks of you. He's so strong and secure mentally, he knows he can intimidate people, and he just goes out and does it. But I thought he was very cool. Most white guys make the effort to be cool, but they're full of——. Christian and I had similar tastes in clothes, women and rap music. I didn't have to change the radio station when he walked in. We got close. We'd talk about everything. I've seen Christian cry. We didn't ignore the difference in our color, we learned from it. I couldn't imagine a better situation. In fact, some women have suggested neither one of us could live with anybody else."
Laettner echoes Davis's sentiments. "My problem is being brutally honest," he says. "People don't like that. I'm sure I was insensitive. I'm probably still a jerk at times. But my priority as a freshman was to be good in basketball and play a lot. Not to be the nicest person in the world. I was one-track-minded. I still am."
Being a jerk was one thing. Soon, the rumor began spreading on campus that Laettner was gay. It started when, as some vaguely weird joke designed to shock a few football players, Laettner walked around holding hands with a fellow freshman. "Then it spread because of jealousy," Laettner says. "Look, it made me seem mysterious, and I don't mind that. It made people think twice about me, and I don't mind that either.
"The stereotype of a bigtime athlete is that he's supposed to be able to get a date with anyone he wants and that he 'gets around' [heterosexually]. It's stupid. I wasn't doing any of that. I had male friends. I wasn't seen with any females. I had bigger and better things to do. So now it's I 'get around' and I'm gay. It's so hypocritical. Now Brian and I are supposed to be lovers. So we joke around with it."
It would have remained mere local badinage had not Davis been quoted in The New York Times last March as unabashedly proclaiming, "the two most important things in my life are basketball and Christian.... We know we're not gay. We're so mature we know what being 'friends' is all about. We can tell each other we love each other."
This, again, was simply an echo of Laettner—a comment published in the Raleigh News and Observer—saying, "I spend 95 percent of my time with Brian. I don't want anything else; I don't need anything else.... All I want to do is be with Brian.... That's it: basketball, school and Brian." (See: Brando in Reflections in a Golden Eye.)
Krzyzewski laughingly perceived all of this as a kind of satirical gag on the media in the fashion of the Madonna-Sandra Bernhard late-night talk show stupid bimbo tricks. "These two guys are about as secure in their sexuality as I can imagine," he says.
But Bonnie at home in Angola was aghast. "I told him, 'Christian, this sounds too bizarre. Couldn't you have used a little different phraseology?' " she says. "Of course, then I remembered his sophomore year when we were watching a Duke game at home on television. Brian dunked and Christian ran over and kissed him. I mean, kissed him. Christian's Uncle Fran nearly passed out. It's unbelievable enough that Christian's living with Brian. Now, he can't live without him? My god! Come on!"
While Laettner played on the national team representing the U.S. in the Pan American Games in Cuba this summer, Davis worked at a Wall Street brokerage, and even there he was asked about his relationship with his teammate. "If we worried that we were gay, maybe we'd start believing it," Davis says, laughing. "Christian just doesn't give out his business. To say people don't know or see whether he dates women is not to say he doesn't."
In truth, Laettner cohabitated much of last year with a female senior arts major whom his mother saw only once in Durham before the girl graduated. "Christian has always kept his girlfriends private," says Bonnie. "I only saw her long enough to get the Kitty Litter pan back—she was keeping Christian's cat. I think she really expanded his horizons." (That's Laettner's horizons, not those of the cat, who, incidentally, is a she by the name of Orea, the feminine derivative of Oreo.)
Perhaps the only unfortunate aspect of this l'affaire Laettner is that he does not compete for a Duke opponent so that we could see just how much gleeful fun the upscale psychotics who inhabit the Cameron Indoor Asylum might concoct from it all. As it is, Laettnerologists must be content with keeping abreast of their mystery man's latest sartorial, sexual and basketball choices from afar as he and his Duke teammates seek to repeat their national championship.
Or they might catch the latest video by the R&B band Bell Biv DeVoe, in which the Blue Devils are represented in a cameo appearance by Davis's jersey. It was about a week after Duke had won the NCAA title last spring that Davis got a call from the members of the band, who wanted to challenge the champions to a game. They played, five on five. Duke won. That night the Blue Devils joined the band on stage at their concert. Bell Biv DeVoe won.
"But you know what?" says Davis. "Along with everything else, Christian Laettner...you know...the man can dance!" (See: Brando in Last Tango in Paris.)