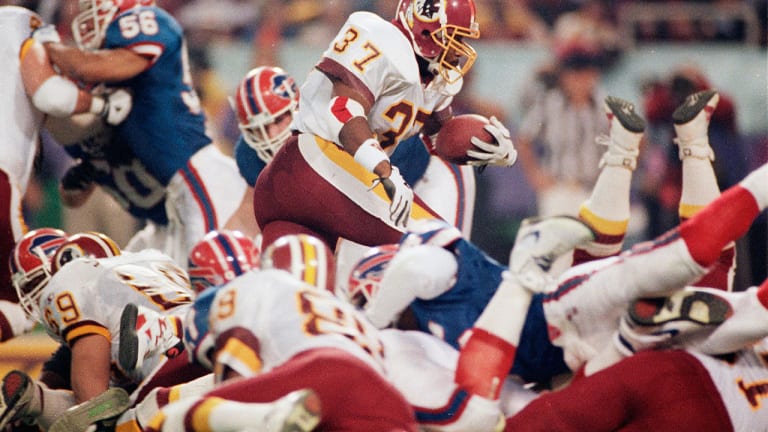 Superb
The Washington Redskins were exquisite in their 37-24 Super Bowl destruction of the Buffalo Bills
The wait seemed interminable—maybe it was because of all the time the out-of-towners spent in the Minneapolis Skyway System (15 miles of clean, elevated halls connected to cash machines) searching for Kirby Puckett or Prince or the store where Prince buys his pants—but now, at last, we have the answers to a number of nettlesome questions.
1) If the Washington Redskins played the Buffalo Bills in the Super Bowl 10 times, with two weeks to prepare, how many times would the Skins win? Answer: nine (10, if Bills defensive line coach Chuck Dickerson were allowed to speak before every game).
2) Does Washington quarterback Mark Rypien have charisma? Answer: Yes, if completing 18 passes in 33 attempts for 292 yards and two touchdowns and winning one MVP award is your idea of excitement.
3) What tool is used to sculpt ice? Answer: a chain saw.
4) Whom would you want standing between you and a riled-up band of crazed assassins? Answer: the Hogs.
5) Who is Brad Edwards? Answer: a spokesperson for the South Carolina Wildlife Commission, who also happens to be Washington's starting free safety. A 1990 free-agent pickup who supposedly was the weak spot in the Skins' secondary, Edwards had four tackles, five passes broken up, two interceptions that he ran back for a total of 56 yards, and the respect of every Bills receiver who wandered past the line of scrimmage on Sunday.
6) What does Buffalo running back Thurman Thomas put inside his helmet? Answer: Well, O.K.,we haven't gotten that far yet.
The thrust here is that the Redskins arc a good team, a very good team—a damn good team. They wont he league championship by crushing Buffalo 37–24 in a game that wasn't as close as the score suggests. Maybe we should reflect on the simple fact of Washington's superiority—and not only over the Bills—for just a moment. The Skins won 17 games this season and lost only twice. They whipped their NFC playoff foes, the Atlanta Falcons and the Detroit Lions, by a combined score of 65–17. They tied the New Orleans Saints for the best turnover ratio during the regular season with +18, and then they went +13 through three postseason games. They have the premier offensive line in the league (the aforementioned Hogs), the best trio of wide receivers (Gary Clark, Art Monk and Ricky Sanders)and the best coach (Joe Gibbs).
"If we'd scored before the half," said Bills center Kent Hull after the game,"we could have won." No, they couldn't have. Washington led 17–0 at intermission, but if the score had been 17–7 or 17–17, the Redskins still would have sucked it up and won. They are a team of remarkable strength and determination. Boring, perhaps, but disciplined and smart. "If the rest of Washington ran as efficiently as this football team, there wouldn't be any deficit," said Skins center Jeff Bostic, while ripping tape off his knees after the game and puffing on a big cigar.
Washington did face one gut-check moment, in the third quarter, shortly after Thomas—who had complained all week about the lack of media respect he received and then missed the first two plays of the game because he couldn't find his helmet (box, page 22)—raced around left end for a one-yard TD to make the score 24–10. Buffalo had been out of sync all day; when quarterback Jim Kelly wasn't missing receivers or having his passes dropped (at least two touchdown throws clanged off his receivers' hands in the first 33 minutes), he was getting clobbered by Redskins defensive linemen Fred Stokes(six tackles, one sack, one fumble forced and recovered), Jumpy Geathers (three tackles, one sack) and Tim Johnson (five tackles), not to mention being pounded by blitzing linebackers Andre Collins and Wilber Marshall (a game-high 11 tackles, one sack, a pass defensed and two fumbles forced).
Thomas had gained only nine yards in eight carries, but on his TD play he scampered untouched into the end zone behind a block by fullback Carwell Gardner that knocked Collins halfway to Prince's mom's house (a tidy dwelling in suburban Golden Valley, hard by a duck-crossing sign). If the Bills had a chance, this was it: Stop the Redskins on their next possession, snatch momentum, and maybe the memory of last year's one-point Super Bowl loss to the New York Giants would vanish like spring snow.
But up stepped Rypien, the big galoot who in the regular season passed for 3,564 yards, finished second in the league's quarterback ratings to the San Francisco 49ers' Steve Young and still received almost no respect. Last week Ryp had been taken to task by various media analysts for being colorless and immobile, for never having won the Big One (of course, he hadn't played in it, either) and for having a bad haircut. But he put all that behind him, and working Washington's newly added no-huddle attack like, well, Jim Kelly at his peak, he confidently marched the Skins 79 yards to a touchdown. During the drive Rypien completed four of seven passes, the last of which was a 30-yarder that landed softly on the outstretched gloves of Clark as he sailed past cornerback James Williams in the right corner of the end zone.
The play was called scram TD, and it made the Bills want to run and hide. For Clark, who wound up with seven catches for 114 yards, the play brought a wide swing in his emotions. Juking his way past Williams, who had attempted to jam him near the line of scrimmage, Clark sprinted hard and looked back over his right shoulder,up toward where a miniature blimp was hovering. "At first I was scared because I knew I had to use my hands, because I couldn't get my chest up there," said Clark later. "Then, of course, elation comes over you."
Because theRedskins were going to win? No. "Because you get to keep the football,"said Clark.
For Rypien the drive was more sweet vindication. Having been brought to his knees by Skins management during a preseason holdout last summer, he had signed a one-year deal worth $1.25 million, about half a million less than he wanted. "It took a lot of nerve," he said last week of his willingness to risk his future worth on this season's performance. But now, as perhaps the most underpaid free agent in the history of the game, he could break the bank.
But there was a lot more going on here than your basic salary drive. Rypien showed once and for all that he could produce when it counted, that he wasn't simply a passenger in a big, fast car. Already he had been severely tested physically. In the second quarter he had been crushed by Buffalo linebackers Cornelius Bennett and Darryl Talley while throwing an in-completion. Rypien lay on the ground, unable to breathe after taking the blow to his ribs, then he climbed to his feet and staggered to the huddle. "I called the play like this," he said later,making his voice into a weak croak. "I couldn't call the signals, and we almost ran out of time."
He did get the play off, however, throwing a breathless and painful 34-yard strike to Clark.Two plays later, Gerald Riggs scored on a one-yard run, and Washington was ahead 17–0.
There should be no question about Rypien's toughness. The fact that he spent his first two years,1986 and '87, with the Redskins on injured reserve can be attributed more to roster manipulation than to rehabilitation. But Rypien was sidelined in 1988 with a shoulder injury and again in '90 with a sprained left knee. Gibbs even admitted last week that when the season started, he wondered whether his quarterback could avoid injury and bring stability to the Washington offense in the years to come. When Rypien sprained his right ankle slightly during practice last Thursday, the Skins for an instant feared that he might not be ready by game time. But by Saturday he wasn't limping or even thinking about the injury. "Last year I got my left ankle shot up before the 49er [divisional playoff] game, and I couldn't feel anything," he said the day before the Super Bowl. "This is nothing."
Those who set his value as an endorser at less than zero—"Rypien scores low in charisma, is only average looking and has a lousy haircut," said an article in USA Today last week, quoting a major advertising agency's "scouting report"—might want to check and see if a wholesome, easygoing 29-year-old man with a doting wife and two small daughters might not be able to sell the public something.The day before the game Rypien had stood on the second-floor balcony of the Radisson South Hotel, the Skins' headquarters, and looked down on the people swirling in the lobby below. He waved and smiled. Many of the folks were part of the crowd of 30 or so relatives who had come from all over to cheer Rypien on. "There's Auntie Pat," said Rypien. "Drove 20 hours from Crowsnest Pass, where my dad was born, 150 miles south of Calgary." He waved at his little girls, Ambre, 3, and Angela, 1. "I'm a family man,"he continued. "I really couldn't care less about the hype."
When told that Kelly had thrown a party on Thursday for various advertising and merchandising bigwigs to introduce them to the potential of Jim Kelly Enterprises Inc.—"We've set the table for Jim to meet and greet corporate America,"is ¬¨¬®¬¨¬£ how Roger Trevino, Kelly's vice-president dent in charge of marketing and development, put it last week—Rypien shrugged with something like distaste."If the companies come to me, fine," he said. "If they don't, who gives a rat's ass? That's not what I came here for." Hey, rodent control companies, you listening?
Rypien only came to win. And the Redskins only dominated from the moment that Brad Daluiso, Buffalo's kickoff specialist, got the game under way with his second kick. Talk about adrenaline rushes—Daluiso had booted his first kick out of the end zone before referee Jerry Markbreit gave him the go-ahead. "I was standing onthe goal line, waving at him to stop," said an incredulous Markbreit afterward. "I couldn't blow my whistle, or he'd think the game had started."
Harry Connick Jr. had delayed the start long enough with a slo-mo, look-at-me rendition of the national anthem—excuse us, NFL, but why wasn't the wee purple one himself, homeboy Prince, doing the honors rather than a guy from New Orleans?—and it crossed one's mind that someday the Super Bowl might become a football-free program featuring entertainers, new TV ads and fireworks. Rypien finally did get the ball, though, and on the Redskins' second possession he took Washington straight up the field, throwing an apparent TD pass to Monk from two yards out. But the call was reversed upon further review (box, page 19), the first time a touchdown had been wiped out in a Super Bowl by instant replay, and the Skins blew the ensuing field goal attempt when holder Jeff Rutledge fumbled thesnap.
No problem. As Rypien would say later, "We knew we could move the ball." In the second quarter the Skins scored on a 34-yard field goal by Chip Lohmiller, a 10-yard pass from Rypien to running back Earnest Byner and Riggs's one-yard run. Kelly,meanwhile, was getting hammered by a Washington defense that blitzed constantlyand overwhelmed Buffalo's offensive line (box, page 17), making the Bills' own no-huddle offense look like a panic attack. After the game, in which he threw a Super Bowl-record 58 passes—of which 30 fell incomplete—and a Super Bowl record-tying four interceptions, Kelly was dingy from his pounding. "I remember some of the game, but not all of it," he said. "I guess I don't remember the parts I don't like."
There were lots of those parts, including his own fumble at the Buffalo 14 late in the third quarter and a punt by Chris Mohr that bounced backward and netted just 10 yards. Then there was wide receiver Andre Reed's temper tantrum just before the half, after the officials didn't call pass interference against Edwards on a play at the Washington 28. Reed threw his helmet down so hard in rage that both ear pads flew out, and the resulting unsportsmanlike-conduct penalty took the Bills out of field goal range.
All week long Buffalo had seemed like the Bickering Bills of old, with defensive end Bruce Smith saying that the racist hate mail he had received this season might drive him out of Buffalo, Thomas claiming he was unappreciated and Kelly worrying that some of his teammates might be jealous because he got a Christmas card from Bills owner Ralph Wilson, and maybe they didn't. Then came Dickerson's ill-timed assessment of the Hogs: Tackle Joe Jacoby was a "Neanderthal" who "slobbers a lot"; tackle Jim Lachey was a "ballerina in a 310-pound body"; and center Bostic was "ugly like the rest of them." The night before the game Gibbs showed the Skins a videotape of Dickerson making the remarks, in case anybody needed further motivation.
But Washington was in able hands with Rypien at the wheel. The Skins' no-huddle attack kept the Bills off balance and wore down the Buffalo defense. Actually, the use of the no-huddle by both teams wore down everybody, and by the end most players were exhausted and dehydrated. Green spent most of the third quarter in the locker room with leg cramps, and before he came back the Bills scored on a 21-yard field goal by Scott Norwood and Thomas's short run to pull within 24–10. But then Rypien connected with Clark on the 30-yard TD pass, and Lohmiller kicked a 25-yard held goal to run the score to 34–10. Kelly threw a two-yard TD pass to tight end Pete Metzelaars and a four-yard strike to wideout Don Beebe late in the fourth quarter, but those scores were just for the stat sheet.
Washington ran up 417 yards to Buffalo's 283. The Bills finished with only 43 yards rushing."I know we're going to be ranked with the Minnesotas and Denvers [both 0–4 in the Super Bowl] now," said Talley. "It hurts."
Out on the empty field, two hours after the game, Annette Rypien watched proudly as a TV sportscaster interviewed her husband. With one eye on Ambre, who was eager to jump on Daddy's lap, she smiled and said, "You talk about hitting the jackpot—Super Bowl win, MVP, new contract?" She smiled more.
"He deserves it," she said after a time. "He deserves the cheers. I don't think a 'nice' describes him. 'Nice' is just putting on a face. He's sincere—a real person."
That he is. And areal quarterback, to boot.