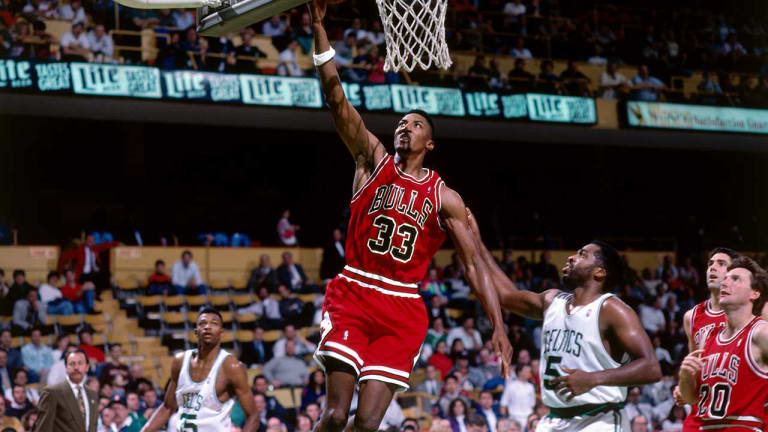 Out of the Shadow
After years of being eclipsed by his teammate Michael Jordan, the Chicago Bulls' Scottie Pippen has stepped into the limelight
He dresses on the fringe of the madness, but Scottie Pippen is not touched by it, not touched at all. He watches the video crews push at each other for space in the visitors' locker room at the Houston Summit, sees the reporters drop to one knee and scribble. There is a shaved head in the middle of that crowd—yes, there it is, the head of Michael Jordan, diamond sparkling in the left earlobe—and words, no doubt, are being spoken. The crowd chuckles. Something funny must have come from the shaved head. Scottie Pippen cannot hear.
He does his own interviews, but at a normal pace. A man shines a light, another asks a question. Pippen answers. Normal. The beat writers ask for an explanation of a certain play or basketball move, in this case a hook shot that Pippen missed late in the Chicago Bulls' 105-102 loss to the Houston Rockets. Pippen explains. He thought he was fouled. The talk no more than 10 feet away could be about anything. What do you think about AIDS, Michael? What do you think about the stock market? Where did you buy that shirt? A child or two stands at the edge of the crowd, staring in drop-dead awe. A linebacker for the New Orleans Saints has appeared, asking for Jordan's autograph on three $20 bills. Isn't that illegal? To sign money? The drummer for ZZ Top is holding two basketballs he would like signed. ZZ Top? The drummer is not interested in Scottie Pippen. He does not even look in Pippen's direction.
"We have a routine," Pippen says.
Yes?
"Horace Grant and I do this every night," he says. "We take our time. We just wait for Michael to get dressed. He goes out the door. Everybody rushes after him. We walk around the side. Perfect."
Pippen has seen all of this for so long, every basketball day for all five years of his professional career, that he can roll with it, use it. He does not fight it. Why even try? He plays on the same team as the most famous basketball player on the planet, a pop icon, a 29-year-old guy who already is described as the best there ever was. To play with the Bulls is to play in this considerable, logo-familiar shadow. In another situation, being selected for the U.S. Olympic team, being named a starter for the NBA All-Star team, stringing together important night-in and night-out numbers in every statistic that is kept, soaring through the climate-controlled air of various arenas, dunking the ball with flat-out abandon, all of which Pippen has done...in another situation this would draw the crowd. In this situation the crowd will always belong to someone else. Fact is fact. The potentate always will be the potentate, with commoners in line to present him gifts. Elvis always will be Elvis, no matter how well Jerry Lee Lewis might sing. Michael always will be Michael.
"Would you like to be him?" Pippen is asked.
"I'd like his bank account," Pippen says at first, loose with his reply. "I suppose I wouldn't mind being him for a day, or maybe a couple of days....
"No, I wouldn't ever want to be him," Pippen says after a moment of thought. "To have to stay in the room all day long, because so many people are waiting outside? To always have the feeling that someone is standing behind you, listening, just recording everything you say and do? No. I don't know how he does it. I can go out. I can walk around. People come up to me for autographs and to talk, but it's natural. They see Michael and they jump. People act as if they've seen a ghost. No, I wouldn't want to live like that."
The crowd now is starting to move. Jordan is dressed. Pippen is dressed. They are a pair of cutouts from the pages of GQ, elegant and chic. The money spent for their silk neckties alone would pay the ransom for at least one hostage in a local kidnapping. Pippen is wearing his glasses, little wire-rim jobs that give him a thoughtful, intelligent look. He has an unusual face, angular and long, a face from a gallery exhibit of cubist art. The glasses are the final touch. He could be an account executive behind a mahogany desk, advising a client to buy or sell or hang tough. He could be an expert witness at a hearing in the halls of Congress. He could be anyone associated with success.
A couple of security guards lead the way through the door, and Jordan follows. Michael! Michael! Michael! Michael! Pippen and his best friend, Grant, neatly edge around the crush. Perfect. The superstar in eclipse escapes again.
He is 15th in the league in scoring. (Michael Jordan is first.) He is 34th in the league in rebounding. (Jordan is not in the top 40, which is as low as the rankings go.) He is 12th in the league in assists per game. (Jordan is 23rd.) He is 15th in the league in steals per game. (Jordan is sixth.) He is 34th in the league in blocked shots per game. (Jordan is 17th.) He is 35th in the league in field goal percentage. (Jordan is 16th.) His height is 6'7". (Jordan's is 6'6".) His weight is 210 pounds. (Jordan's is 198.) His age is 26. (Jordan's is 29.) The numbers do not lie. Scottie Pippen has become a very, very good player. (Very close—heart, be still—to Jordan.)
"You think about it, Scottie Pippen might just be the second-best all-around player in the league," Bill Walton, the broadcaster and former NBA All-Star, says. "Who's better, outside of Michael? Who does more things? Karl Malone, maybe. Maybe not."
You think about it. Pippen has developed the entire late-night video-offer package of talents. He is tall enough and jumps high enough to move inside. He handles the ball well enough to be virtually a third guard, dribbling up the floor in the Bulls offense. He is a point forward, a position not listed in the old textbooks, the modern all-purpose basketball part. What do you want to do? Guard him high, and he will take you low. Guard him low, and he will take you high. Don't guard him for a moment? He is gone, rising over the basket and depositing the ball with a house-call efficiency that makes you remember Dr. Julius Erving himself.
As the Bulls have sailed along in this postchampionship season, looking for a long while as if they might win more games than any team in NBA history, he has been a second whirling dervish for opposing teams to consider. Jordan on one side of the court, Pippen on the other, interchangeable, lethal...how can any defense fully concentrate in either direction? The three honest workmen in the Bulls lineup—Grant, center Bill Cartwright and guard John Paxson—have been around to clean up after any mistakes. The old line about Jordan and the Jordanaires has been forgotten forever. Pippen now sings almost as many lead vocals as the headliner.
"The thing about Scottie is that he's still just scratching the surface of what he can be," Bulls general manager Jerry Krause says. "I think he'll be a better defensive player, although he's not bad now. I think he'll be a better shooter, although his shooting certainly has improved. You look at him...his tools just stun you. He is just now coming into that age range, the late 20's, early 30's, when players are at the top of their games."
"His role here has grown and grown," Bulls coach Phil Jackson says. "As a player starting out, you could see his possibilities. He could rebound yet still dribble the length of the court. He could post up. He had those slashing sorts of moves. You knew he could become a very good player, but you didn't know how good. He played a few times at guard in his first couple of seasons, bringing the ball up against teams with pressing guards, but mostly we used him at small forward.
"As more and more teams pressed, however, we decided we had to become more creative in our response. More and more we had to go to Michael to bring the ball up. We didn't want to do that. We came up with the thought of Scottie as a third ball advancer, of an offense that attacked at multiple points. From that position he started being able to take control, to make decisions. He became a bit of everything. I remember a game on the West Coast last year, early in the season. We were having some trouble. Scottie wasn't shooting well. I told him not to worry about his shooting, that it was beneficial to us but not necessary. I told him that he should be a facilitator more than a scorer. The game was against the Los Angeles Clippers. Scottie went out and had 13 points, 13 rebounds and 12 assists. That's what he can do. We went on to win seven in a row, and that sent us into the rest of the season."
The Bulls always had seemed to have nine tenths of a wonderful team. There always had been the thought that they needed to find that one missing piece. The more the '90-91 season evolved, the more that thought disappeared. Maybe a new piece wasn't needed. Maybe an old piece could simply grow to fill the hole. Maybe Pippen. The playoffs—and the eventual NBA championship—underlined how much he had grown. The pictures showed Jordan kissing the trophy at the end of a long, personal quest for a title, but perhaps no one felt happier or more vindicated than Pippen. This was his statement about how well he could play. Second-best player in the game? Maybe. This was his emergence.
"I needed a championship," he says. "I needed a chance to prove that I was a money ballplayer."
For two straight years, that had been in doubt. He was good, but he seemed too...what? Soft? The seasons had ended with stacks of newspaper clips questioning his motivation. How much did he want to win? How hard was he willing to play?
Two incidents seemed to define the problem. In 1989, one minute into the sixth—and, ultimately, final—game of the Eastern Conference championships against the Detroit Pistons, Pippen left after he was knocked out by a blow to the head from the elbow of Bill Laimbeer. Pippen did not return to the court. The Bulls lost. In the 1990 Eastern finals, same teams involved, Pippen came down with a now famous migraine headache in the seventh game. The Bulls lost again. The pictures the next morning showed Pippen with a large ice bag on his head and a towel over that. The captions indicated that he had scored two points on one-for-10 shooting and had collected only four rebounds. What gives? One year might be curious happenstance. Two years? Two curious happenstances? At the same ultimate moment?
"At the end of both games I felt the same way," Pippen says. "I wanted to say, 'Can we stop everything? Can we play that game over again? Right now?' Of course, you can't do that. How do you explain the things that happen? The time against Laimbeer, I wanted to go back. I asked and asked to go back. The doctor and Jerry Krause wouldn't let me. The headache? I'd never had a migraine headache before. It's very hard to tell people what you feel like in that situation. If I were on the other side, it would be very hard to tell me. And once you get people on your back, it's hard to get them off. I think I've grown up a lot because of this."
"The thing that bothered me was that people questioned Scottie's guts," Krause says. "There's never been any question about Scottie's guts. I rushed down to the locker room after Laimbeer hit him. I heard Scottie begging to go back in. The doctor wouldn't let him go. He said to me, 'It's your decision. You can let him play if you want, but I'm going out the door if you do, and I'm never coming back.' What am I going to do? Go against the doctor?"
The first change Pippen made after the migraine game was obvious. He added the wire-rim glasses. Not for the court, but for the other parts of the waking day. The doctors determined that strained eyes might have been the reason for the sudden migraine. No migraines followed. The second change was inside. What does a player have to do to reach that next level? How does he have to live, as well as play? Pippen decided to listen to some of the older voices—Erving's, Kareem Abdul-Jabbar's—that he always had heard but never followed. He changed his diet, his schedule, his approach. The game, for a young man, begins when he ties his sneakers at the gym. The game, for the mature man, is the focal point of the entire day.
"I do a lot of things different now," Pippen says. "I eat my breakfast, then I don't cat again until after the game. I make sure I get my sleep. I take a nap in the afternoon on the day of the game. Not a nap, really. I lie on the bed. I visualize the game. I think about who I am guarding, the things he likes to do. I think it helps."
Some real-life situations off the court—back surgery after his rookie season, the death of his father during the playoffs in his third season, a divorce after a short marriage to a college girlfriend, one child, now four years old—also have helped him to mature. Who is he? What does he want to be? The character of the adult sometimes is only glimpsed through the mists of youth. The mists lift. The adult stands there in the clear. The adult here wears a championship ring.
"It's amazing how far he's come," his agent, Jimmy Sexton, says. "You think about where he started, this quiet kid from Arkansas who nobody ever heard of. I was just down at Oklahoma State, and one of the assistant coaches, a guy named Russ Pennell, came up to me and said he was in college with Scottie. He was a senior when Scottie was a freshman. Russ said he was watching a game the other night on television and Scottie was just doing everything, and all Russ could think was, Scottie Pippen. I remember when he was handing me my gym shorts and socks."
Gym shorts? Socks?
The often-told story is almost a piece of endearing juvenile fiction from the shelves of the nearest public library. The Manager Who Became a Superstar. Who can read it enough? Who can hear it one more time without one more pleasant smile at the end? Youngest of 12 children from small town in southern Arkansas. Father works in nearby paper mill that sends smells toward town on certain days. Mother raises the kids. Boy wants to be basketball star but does not grow big enough. Starts for high school team only in senior year. Has no college offers but finally is given grant at small Arkansas school to act as manager. Manager! Boy starts to grow. Becomes member of team early in freshman season, star by end. Grows more. Bigger star. Grows more. Bigger. Gets little notice from pros during senior season but goes to one NBA tryout camp and plays well. Another camp. Better. Another. Best. Drafted fifth in entire country. Becomes teammate of Michael Jordan. Becomes rich.
The beautiful part is that the fiction is nonfiction. No name has to be changed to protect the innocent. Everyone is innocent, from beginning to end. Nothing has to be changed at all.
"We used to play at the Pine Street courts," Ron Martin, a friend of Pippen's, says. "We must have been 13, 14 years old. We'd play as late as we could, until this old man would run us off for making noise. We'd play everything. Baseball. Scottie was on the Giants. I was on the A's. We played a million games. Basketball. We'd play one-on-one forever. We were convinced that one of us was going to make the NBA. We just didn't know which one. I was a little bit bigger than him, heavier, stronger, so I used to lean on him. Then...somewhere...he got big on me."
The town was Hamburg population 3,394, one of those places in the middle of no where where everyone know everyone else and not much changes. One kid, Myron Jackson, had gone off and played a the University of Arkansas—Little Rock in '82 and had a tryout with the Dallas Mavericks in '86, but that had been that for bright lights. Pippen was not exceptional. He was just another good kid, quiet, moving through the high school. He was 6'1½" as a senior, starting at point guard Martin, his friend, was a junior shooting guard. The coach, Donald Wayne, remember that Pippen was "nothing tremendous, but good. Not flashy, but consistent." No Myron Jackson, for sure.
When no college called, Pippen asked Wayne for help. Wayne helped. He will hel any good kid who is trying to go to college. He called Don Dyer, his old coach at Henderson State in Arkadelphia, Ark., who had moved on to the University of Central Arkansas in Conway. Wayne did not promise miracles. He said he had a point guard, 6'1½", who would be a good manager under a work-study program, and, well, the kid's parents and brothers and sisters did seem to run sort of large. Maybe the kid would grow. Maybe he could even be a player. Dyer look a chance. The kid grew.
He was 6'3" by the time he arrived on campus.
He was 6'5", 165 pounds, skinny as a minute as a sophomore.
He was 6'6", 185 as a junior.
He was 6'7" by the end of his senior season.
"The surprising thing to me is that he never lost any of his coordination in all of this growing," Arch Jones, then the assistant basketball coach at UCA, says. "He was able to take the skills he had learned when he was smaller and use them when he was bigger. His arms are so long, his hands so big that he really plays like someone 6'10", 6'11"."
Central Arkansas is an NAIA school, a small college, and it had never sent a basketball player to the pros. In 1979 Monte Coleman had moved along to play football for the Washington Redskins, and five years later Wes Gardner had started pitching a baseball for the New York Mets (last year he was waived by the San Diego Padres), but no one from UCA had advanced in basketball. The idea that Pippen could make the jump came only in brief flashes of revelation. Hey! Isn't this kid playing every position on the court? Hey, isn't he dominating these games? Couldn't you project that onto another level? No one knew for sure, and the team did not help, falling a basket or two short every year in that last local tournament, missing the NAIA finals and national exposure in Kansas City.
"I remember thinking at the end of his sophomore season that Scottie had a chance," Dyer says. "I'd seen Sidney Moncrief and Darrell Walker play at the University of Arkansas at the same stage, and they both made it [to the NBA], and I thought Scottie was bigger and better. I called San Antonio and I called Dallas, but no one seemed interested. I knew Bob Bass, then the general manager at San Antonio, now the coach. I told him about Scottie. I see him now, and every time, he says, "I know, you tried to tell me...."
"I always thought he had a chance," Jones says, "but I realized how good he was when I saw him with all of those players at the [NBA] tryout camp in Chicago. Scottie made a move, he came in from the right and banked the ball off the backboard with his left hand. That's a pretty difficult move, don't you think? He did it easy. And when he'd go up the middle? Dunk City."
Chicago was the end of a three-city coming-out party that still is discussed by pro scouts with you-had-to-be-there reverence. There had been some rumblings from superscout Marty Blake about a kid from Central Arkansas, and Krause had listened, and Sexton, the agent, had been sent a newspaper clipping, but none of them expected to see what they saw. Pippen climbed the draft ladder daily in camps in Portsmouth, Va., and Hawaii and finally Chicago. Cash registers rang happily in the background. By the end, Krause was maneuvering in the dark for the fifth pick in the land to take a player who had been projected early as fourth round, third round, O.K., maybe second.
"I'd never seen him until Portsmouth," Krause says. "They come out for warmups. They haven't even shot the ball. Here's this guy, he's got the longest arms I've ever seen. I've always been very big on long arms and big hands. I say, 'Holy——, there's something special.' I look around. Everybody's murmuring."
Krause says he was on the phone with Seattle for two days working a deal. The Bulls had the eighth pick. The SuperSonics had the fifth. Krause was terrified that the Sacramento Kings, picking sixth, would take Pippen. The deal was clinched at four o'clock in the morning the day of the draft. The Sonics would switch places in the first round for assorted considerations if—and only if—someone they wanted was not available at the fifth spot. They would not say whom they wanted. Krause would not say whom he wanted.
On the day of the draft the lines were open between Seattle and Chicago. The deal was not finalized until the Clippers picked Reggie Williams fourth. Williams was the player Seattle had wanted. Krause shouted into the phone that he wanted Pippen. The Sonics took Pippen, then dealt him to the Bulls later in the day for Olden Polynice, the player the Sonics ordered the Bulls to take eighth.
"People always ask what would have happened if he had gone to another team, a team that didn't have Michael," Krause says. "They say 'Well, Scottie would have beer a star right away instead of having to wait.' I don't think so. I think coming here made it easier for him. If he had gone to another team—a kid from Arkansas, from an NAIA school, picked fifth in the draft—the pressure would have been unbelievable. He would have been asked to produce right away. Here there was no pressure. Michael took all the pressure. Scottie had time to grow. He had problems the first year, didn't know how hard practices would be, didn't know a lot of things. He learned from Michael. It was like going to Cincinnati and learning from Oscar Robertson. What could be better?
"I think coming here gave him a chance to be a star. And he took it."
This is another locker room. Dallas. The Reunion Arena. The Michael madness has not yet arrived. The game is still to be played. The batteries in the minicams are still plugged into their chargers. There is a short time to relax. Pippen sits next to Michael. They are wearing expensive suits again. Each is wearing thin Italian loafers and thin white socks. Pippen is trying to figure out his ticket requests for the game. He must have 30 tickets spread on the carpet in little piles of three and four. He changes the piles, changes the seating arrangements. He looks as if he is playing a game of solitaire.
"Look at you," Jordan says. "You need more tickets than me."
"It's near home," Pippen explains. Dallas has always been known as a suburb of Hamburg and Conway, Arkansas.
A stranger coming upon the scene from...well, he would have to come from pretty far...wouldn't know which guy was the bigger star. How could he tell? Which one signed the contract extension at the end of last season, $18 million that will carry him through the 1997-98 season? (Pippen.) Which one has an eight-year Bulls contract and made at least $10 million last season from all his enterprises combined? (Jordan.) Which one is featured in his own shoe commercial, captured in color as he rises ewer a Twilight Zone group of basketball players from the black-and-white '50s? (Pippen.) Which one has made a zillion commercials, has his own line of shoes, his own line of shirts and pants and jackets and what-have-you? Which one, two days earlier, had withdrawn from the NBA licensing program to pursue his own financial interests alone? (Jordan.) Which one is going to be featured in SI?
"Are you going to be on the cover?" Jordan asks.
"I don't know," Pippen says.
"You should be."
(Which one has been on the cover 18 times, once in a hologram that showed him breaking into a smile as Sportsman of the Year?)
Pippen says he has learned a lot from Jordan. How could he not learn? He has watched the madness and seen how nice Jordan is to people, how he gives them time, how he smiles and keeps rolling. The inconveniences of Pippen's life are nothing compared with the inconveniences of Jordan's life. How could Pippen not handle his life when Jordan somehow handles that life? Pippen says he has learned about basketball from Jordan. He cannot be Jordan. Who can? Every other player in the NBA takes what is available on the floor. Jordan takes what he wants. This is Pippen's description of the difference.
He says he likes to play against Jordan in practice. They are a good match. They both like to work hard. Another lesson from Jordan. Work hard in practice. Pippen says he mostly concedes the jumper and tries to stop the drive. What else are you going to do? He says Jordan has to watch out for him because he is quick and can handle the ball. What would happen if they met in a game, one-on-one?
"He's afraid of me," Jordan says. "He'll never play me."
"I'm not afraid," Pippen says. "I'm sure I'd do well."
"Afraid."
"You know who's got what. I'd do fine."
Pippen has played one-on-one with Martin, his boyhood friend. The most recent time they played was during the summer at a camp that Pippen runs at Central Arkansas. Good game, too. Martin, who works for the Veterans Administration in Little Rock, was hitting the jumper and was even with Pippen with one basket left. Pippen rolled past him and dunked. Was that nice to do to a friend? Dunked. Martin says that is the way life goes. Some people keep on growing. Some people stop at 6'3". He says he does not mind, except when he sees Pippen miss some easy jumpers. A pro should not miss shots as easy as that.
The two friends are featured on a commercial for AT&T, a pleasant spot that mentions Pippen's coming trip to the Olympics and his memories of playing basketball when a character named Big Harold was controlling the local court. The commercial has the right mixture of home and going away, making it. Pippen likes to go back to see his mother, who lives in the new house he bought for her, and to see members of his family. He has a couple of brothers who have moved to Chicago, close to the action, but most are still in Hamburg. His brother Billy has a son who is 6'5". Came to the camp. Six-feet-five.
Jones, now the assistant athletic director at Central Arkansas, tells Pippen every year that the key to Pippen's success was drinking the water at the school, which came straight from the Arkansas River. Dyer says he tells the same thing to all the recruits. The school finished second in the NAIA tournament last year. Pippen is not sure what the key was. He simply grew. He worked hard, and he simply grew. He has kept his ears open and continued to grow. He has been blessed. Wayne, his high school coach, tells the juvenile-fiction story to his players. He says the lesson is not to quit. The odds are long, maybe a million to one, but success can come. He has seen it happen.
"All those guys who were out there trying to make it," Pippen says, "I guess they wonder, How did he do it? The answer is, I don't know. I guess it just happens."
He works now with his tickets, trying to figure out arrangements. Who should sit with whom? Who gets the better seats this year? Who got the better seats last year when the Bulls made their annual visit? Jordan talks about golf. He played during the morning, shot a 76 on a tough country club course. The pro at the club even signed his card. See?
The other Bulls are in various phases of dressing for the game. Pippen and Jordan sit. A Chicago sportswriter sees them and joins the group.
"Michael," he says, "you lead quite a life."
"What?"
"One day you're hanging around with Bugs Bunny. The next day, Scottie Pippen."
The joke is a reference to a new Jordan commercial for shoes. The entire English-speaking world must have seen it by now. Jordan and the cartoon rabbit play basketball against a bunch of louts. Bugs zips all over the place, dropping an anvil off the basket, pulling the shorts of one lout, cajoling the rest of the louts to run into each other. Pippen doesn't hear the joke.
"What'd he say?" Pippen asks.
"He said one day I'm hanging around with Bugs Bunny," Jordan says, "the next day I'm hanging around with you."
Pippen smiles. Bugs Bunny? Bugs Bunny. He thinks about life with the man with the shaved head. (Who'd you expect? Elmer Fudd?) The louts of the basketball world await. Tonight they are dressed in the uniform of the Dallas Mavericks. The festivities are about to begin.
The fringe of the madness? Well, Doc, the life ain't so bad.
PHOTO
JEAN MOSS
TWO PHOTOS
MANNY MILLAN
THE WRITERS ask Pippen about basketball. The talk 10 feet away could be about anything. What do you think about the stock market, Michael?
PHOTO
NATHANIEL BUTLER/NBA PHOTOS
PIPPEN HAS developed the entire late-night video-offer package of talents. He is a point forward, the modern all-purpose basketball part.
PHOTO
ANDREW D. BERNSTEIN/NBA PHOTOS
[See caption above.]
PHOTO
JOHN W. MCDONOUGH
[See caption above.]
PHOTO
JOEY IVANSCO
PIPPEN LIKES to go back to Arkansas to see his mother, who lives in the new house he bought for her.
PHOTO
JOEY IVANSCO
MARTIN and Pippen now team up in a TV commercial that recalls their days on the Hamburg playgrounds.
PHOTO
JOHN W. MCDONOUGH
"MICHAEL took all the pressure," says Krause. "Scottie had the time to grow. What could be better?"