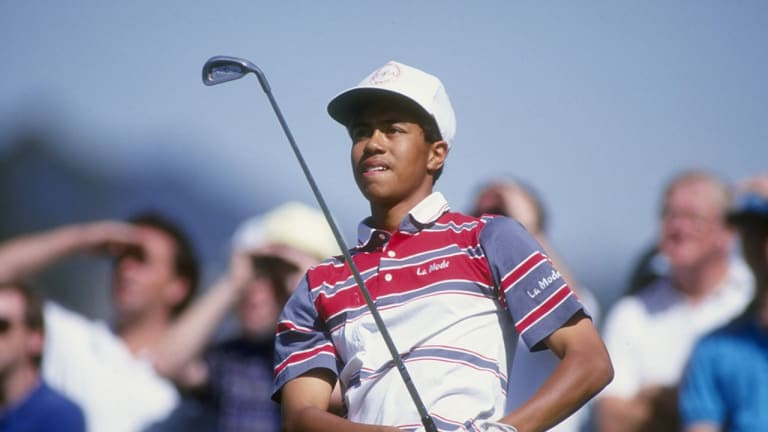 'You the Kid!'
Tiger Woods, 16, proved he could make the grade, if not the cut, in his PGA Tour debut
The first tee at Riviera Country Club, on a cliff 75 feet above the fairway, looks more like a jumping-off point for hang gliders than a starting point for golfers. And yet it's a great place from which to launch a drive...or a career.
High school sophomore Tiger Woods did both last Thursday when he teed off in the first round of the Nissan Los Angeles Open. At 16 years and two months, he became the youngest golfer ever to play in a PGA Tour event—a man-cub among men in a sport that favors the long-in-the-tooth over the teething.
Tiger, the 6'1" reigning U.S. Junior Amateur champion, stepped to the tee weighing only 140 pounds, and this was following a meal earlier that week of seven pizza slices and a vanilla ice-cream cone. On a typical Thursday morning he would have been sitting in the third row of Glenn Taylor's advanced geometry class at Western High in Anaheim, laboring over angular and perpendicular bisectors. "It's sort of like what he's doing on the golf course," Taylor said after that day's round, "except that out there Tiger's doing it all in his head without a compass."
Beginnings are instructive. Wednesday, in the pro-am, a nervous Tiger had deployed a driver at the majestic 1st tee and hit a high, sweeping hook into the corporate tents, out of bounds. The following morning, in front of a gallery that included hundreds of enthusiastic supporters, he went with his three-wood and spanked a crowd-pleasing 280-yard draw out over the cliff, the ball stopping in the first cut of left rough on the 501-yard par-5. "I was so tense I had a tough time holding the club," Tiger said later. "It was like rigor mortis had set in."
From there Tiger drilled another three-wood to the middle of the green and got down in two putts for a birdie. On leader boards around the course, the score went up: T. WOODS, -1.
"That was neat," he said afterward.
Following that cue, let's put the events of Tiger's week into two categories:
•Neat—Playing in the pro-am with pro Gary Hallberg and actor Peter Falk (Tiger wisely averted his eyes when TV's Columbo cranked up his slow-ratcheting backswing)...getting an encouraging pat from golf legend Sam Snead...being followed by enthusiastic galleries of 3,000 on Thursday and Friday...seeing a GO GET 'UM TIGER sign held by a spectator...hearing fans shout "You the kid!"...shooting a first-round, one-over-par 72 to get within reach of the 36-hole cut...and walking onto the final green late Friday afternoon to a rousing ovation. ("More than a thrill," Tiger said.)
•Not so neat—The distractions of gallery movement and noise ("I've never had a gallery," Tiger said. "I wasn't used to it")...television cameras in his face between shots...former Masters champ Sandy Lyle, when asked if he knew anything about Tiger Woods, responding, "Is that a golf course?"...the swing arrhythmia that made Tiger wild off the tee ("I wanted to walk out there and hand him a course map," said Jay Brunza, Tiger's personal sports psychologist)...and a 75 on Friday to finish the two rounds at five-over-par 147 and miss the cut by six shots.
"It was a learning experience," Tiger said, relaxed and smiling, when it was over, "and I learned I'm not that good."
Huh? O.K., 17 strokes separated Tiger from second-round leader Davis Love III, who was 12 under. But he was just 12 strokes behind eventual winner Fred Couples, the 1991 PGA Player of the Year. And although Tiger was off his game—he hit only 10 of 36 fairways though he is normally consistent off the tee—he outscored 15 seasoned players, including two-time U.S. Open champion Andy North; Andrew Magee, who won two tournaments last year; and 42-year-old Mitch Voges, the current U.S. Amateur champion. Not exactly a confidence crusher, now is it? More important, Tiger showed that he knows how to scrape it around when he doesn't have his "A" game, which is the mark of a golfer as opposed to a ball striker.
"He was playing Army Golf: left, right, left, right," said his father, Earl, who had his son swinging a sawed-off putter in the garage at age 10. Ten months, that is. "But he was getting up and down like a thief. He recovered and made pars from positions that Riviera hasn't seen in a long time."
There was, for instance, the par Tiger made Thursday on the par-4 number 2, when he snap-hooked his drive between a row of oleanders and the practice-range fence. Trying to chip to the fairway, he caught the edge of the cart path—the ball bounced back toward him—and wound up lying two, still 170 yards from the green and behind a massive tree. With his backswing impeded by branches, Tiger still was able to hit a high, improbable hook with an eight-iron. The ball swept home like a boomerang and bit four feet from the hole.
"I hit eight greens and shot 72," Tiger said jokingly after Thursday's round. "What does that tell you? I was getting up and down like a champ."
Maybe it told more. With his scrambling, Tiger displayed composure and imagination—not to mention the technical skill to maneuver the ball in unconventional ways. (Retaining such a deft touch isn't easy when you've grown five inches in two years, which means the club you used on a particular shot yesterday might not work today on the very same shot.) "He plays the mental game like he's been out here seven or eight years," said his caddie, Ron (Graphite) Matthews, a veteran bag carrier.
"He's remarkably mature," added 28-year-old Tour rookie Bobby Friend, who, along with second-year player Dicky Thompson, 34, played with Tiger both days. "It was kind of a zoo out there, but Tiger got the ball up and down from some unbelievable spots. I'd say his game is on the level of a good college player, possibly an All-America."
Tiger's fans went further. "He's the next Nicklaus, maybe better," raved one spectator on Wednesday as Tiger cut the corner with his driver on the tree-lined 18th in the pro-am. "There walks the future of American golf," gushed another on Friday when Tiger saved a miracle par on number 6 with a twisting, downhill eight-foot putt.
The touring pros, while conceding that Tiger may be the best junior golfer ever—he has won a record six junior world titles—steered away from hyperbole. They noted that Doug Clarke, who won the Trans-Mississippi Amateur at age 17, never made it on the Tour and now gives lessons at a driving range in Del Mar, Calif. And there's 23-year-old Bob May, who, before Tiger, held the record for youngest player in a Tour event (16 years, three months and 18 days) but failed to earn his PGA Tour card last fall and now toils on the Asian Tour. Even Hallberg, a four-time college All-America, was once billed as the next Nicklaus—but has fallen 18 majors short.
Moreover, Tiger is already nursing a sore back caused, in part, by growing pains. On Thursday, Tiger pulled a back muscle on the par-5 11th as he struggled to escape from the rough on a severe uphill lie. The injury was treated after the round and iced throughout the evening.
"Tiger's got all the tools to be a star, but only time will tell," said veteran Mark O'Meara, who played a practice round with Tiger in January. "I told him to have fun. There's no rush to get to the Tour."
Fellow pro Steve Pate agreed: "He's got a great swing, and maybe he'll be a world-beater, but he's only 16. There's no way to predict what he'll be a few years from now."
Still, if early success is no guarantor of future stardom, neither is it a hex. And by granting Tiger the spot in the L.A. Open he almost won through qualifying a year ago, the tournament committee gave the public a chance to see golf's latest Boy Wonder while he is still a boy. Judging by last week's turnout, the typical Tiger fan is a young, or old, white, black or Oriental man, or woman, and wears either a designer polo shirt or a Spike Lee-inspired X baseball cap, or both. When Tiger spun a wedge close to the pin on one hole, a spectator with a smoky voice cackled at the ball, "Take a seat, baby!" and then added, "He put a karate chop on that!" (Not everyone, unfortunately, was so adoring. Woods, the only black player in the field, was followed by several security guards, dispatched in response to three threatening telephone messages left earlier in the week for tournament chairman Mark Kuperstock. The anonymous caller used racial epithets to express his displeasure at Kuperstock for granting an exemption to a minority player.)
The tournament also provided Tiger with something unique: the opportunity to define himself in ways that the junior golf circuit does not allow. For instance, when asked for autographs at Riviera, he complied with a simple "Tiger." This suggests that his ears won't perk up anymore if you say "Eldrick," and reveals a certain marketing savvy. He also tried out, although tentatively, the Tiger Paw—a felinelike clawing gesture used to punctuate the dropping of a key putt.
Watching, and approving, were Earl and his wife, Kultida, who raised their son in Cypress, Calif., 40 miles from Riviera. Earl, a 60-year-old former Green Beret lieutenant colonel, had dubbed his son Tiger after an officer with whom he served in Vietnam. The proud parents walked nearly every hole with their son, even though Kultida, who was born in Thailand, commuted two hours each evening to the family's home to walk and feed Tiger's new puppy, Joey. On the course Earl listened through earphones to tapes of light jazz. For him, the role of spectator was obviously a pleasant agony.
"Don't you ever do anything simple, Tiger?" he asked no one in particular when his son flew the 7th green on Friday and needed relief from a marshal's chair. Later, watching Tiger dispatch an errant tee ball, Earl shook his head and said, "I know how he can hit the fairway—just hit his one-iron 260 yards!"
If reading the old man was a cinch, reading the son wasn't. Tiger showed a shy grin when acknowledging cheers, but muffed shots had him walking around with his hands linked behind his head like a POW. Often he strolled off by himself to hang his head and ponder.
Did that mean he wasn't having fun? Hardly.
"I think these were the best two days of my life," he said on Friday, as the sun sank behind the Palisades. "I really do. Even when I hit a bad shot, people clapped."
More likely, Tiger's subdued tenor is derived from his awareness that he has embarked on a race that does not always go to the swiftest. Before he turns pro, he says, he wants to win a U.S. Amateur title, play in the Walker Cup, conquer his hummingbird metabolism in order to add weight, lead some lucky college team to the NCAA championship and get an accounting degree. And, oh, yeah, he had a high school match Monday against Gahr High in Anaheim.
"I've got a lot of growing to do, both physically and mentally," Tiger said before leaving Riviera, "but I'll play these guys again—eventually."
He understood: In golf, it's not how fast you get good—it's how good you get.
PHOTO
ROBERT
BECK
The Riviera's majestic first tee was a suitably scenic canvas for Tiger's first PGA stroke.
PHOTO
ROBERT
BECK
Though only 140 pounds, Tiger proved that his chances of success are far from slim.
PHOTO
ROBERT BECK
Earl, architect of Tiger's success, took in the sights—and all that jazz—from the gallery.
PHOTO
ROBERT BECK
After Thursday's historic round, Tiger led the field in recognition.