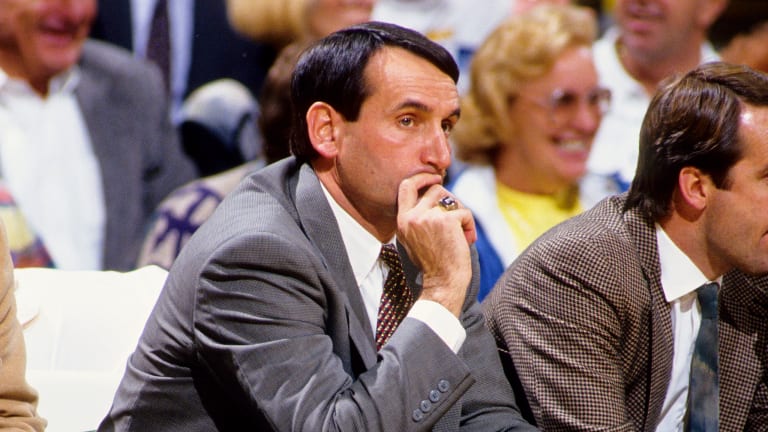 BLUE ANGEL
Duke coach Mike Krzyzewski's divine spirit and working-class ethics have forged an exemplary college basketball program
"You all right?"
It was an odd thing for a coach to say to a player who was about to shoot two hugely important free throws. It was an odder thing still for a coach to say to a player who on seven previous occasions that evening had launched the ball from the foul line into the ether of the Hoosier Dome and smartly through the hoop. Given the circumstances—12 seconds to play against mighty UNLV, tie game, a national title in the balance—it may have been oddest of all that the player, Christian Laettner of Duke, grinned back.
Let the coach, Mike Krzyzewski, explain: "Two years earlier we had met as a team after losing to Seton Hall at the '89 Final Four in Seattle. I was determined not to lay any guilt trips on the players, not to let them leave that room feeling down. I told them we were staying through the championship game to celebrate what they had accomplished. Then I looked at my seniors and I started to cry.
"Laettner is sitting right in front of me. He's only 19. He's bewildered. I'm not sure he's ever seen an adult cry. And later that night—it must have been 11 o'clock—I'm watching tape in my hotel room and there's this knock at the door. It's Christian. He wants to know if I'm all right. He sits down, and I tell him how proud I am of what they've done and how we would build on it. And again he says, 'Are you sure you're all right?' When he gets up to leave, before he shuts the door, he turns and says, 'You sure you're all right?'
"I threw a pillow at him and said, 'Get out of here.' "
Let other coaches throw chairs. Krzyzewski, the man from rigid and proper Duke, schooled at West Point, purportedly cloned from Bob Knight, will throw pillows. When the NCAA tournament gets under way next week, Krzyzewski will be trying to guide the defending national champion Blue Devils, 25–2 and ranked No. 1 all season, to their sixth trip to the Final Four in seven years. To all but the finicky few who believe that a coach fails unless he wins it all every time, Krzyzewski's record is unassailable. "He's the best in the business right now," says Georgia Tech coach Bobby Cremins. "He's a great coach and a much better recruiter than people give him credit for. I mean, the Final Four four years in a row, plus a national championship? It's totally ridiculous."
Krzyzewski has one thing going for him that few other coaches have and that none can acquire by studying tape or spending time at clinics. He's a most fortuitous fluke of demography. He grew up in what might as well have been Depression America, upstairs in a sparsely furnished brick two-flat in a Polish neighborhood of Chicago. His parents hoarded what little they had in order to do better by their two boys. ("In my mom's closet there were always two dresses," Krzyzewski says. "They were clean, they were in great shape, but there were only two. My parents were people who never had anything, but they had everything.") Yet he is a card-carrying baby boomer who attended Army as a member of its most restless class, the class of 1969, one that kept a nervous eye on Southeast Asia. Thus even as Krzyzewski relates like some touchie-feelie big brother, he's a schoolmaster preaching hoary precepts out of a simpler time, someone who can hammer home a standard coaching exhortation like "Give me the best that you've got" by playing an Anita Baker tape in the locker room. Imagine McGuffey's Reader on laser disc.
This peculiar generational straddling act goes a long way toward explaining how Krzyzewski has risen to the summit of his profession. It's not, however, why the Blue Devils won that national title last spring. (If there's any distinction Krzyzewski is both adept and relentless at drawing, it's the one between winning titles and being a successful coach.) Four times in five years he had gone to the Final Four and fallen short; but he had understood long ago what can be learned from falling short, and he had internalized those lessons even as pundits breezily concluded that it was his fate to be there at the end and preside in gentlemanly fashion over a loss, like some latter-day Bud Grant or Gene Mauch. Couldn't win it all—just as he supposedly couldn't coach in the Atlantic Coast Conference, couldn't recruit in it, couldn't make that Knight shtick work, and had a name that couldn't even be pronounced, for goodness' sake. (It's shuh-SHEF-ski.)
He broke through at the '91 Final Four in much the same way he had overcome back-to-back 17-loss seasons at Duke in 1982 and '83 (one of those 34 defeats, a 17-pointer at Princeton in December '81, left him crying in the shower) and much as he had risen above a washout recruiting year in 1981, an epic oh-fer that remains unmatched in the annals of player procurement. In each case after flubbing he retooled and tried again, and if he flubbed again, he tried again until he got it right. "How did he get to be where he is?" says his wife, Mickie, who shares his innocent steeliness. "He just worked at it. Yeah, it's a clichè. But there are so few people who are real clichès."
It's an article of faith with Krzyzewski that failure and success are connected like cause and effect. "That's why losing at the Final Four has never been a bother to me," he says. "There was a bigger thing there. It's because we reacted the way we did after we lost that we came back. If I'd acted like an——after we lost, why would they want to come back?"
The face looks as if someone has taken a diamond cutter's tools to a chunk of marble. It is abruptly faceted, with sharp lines of nose, cheekbones and hairline, and it looks as if it has come from a faraway country or time. The surname bespeaks that: There would be no fudging of the family name to speed Krzyzewski's grandparents through immigration or hasten their assimilation into American life. Only the grandson's adenoidal voice seems at odds with his forceful mien.
Leaving the neighborhood was Krzyzewski's first big step. Even in the late 1960s, one didn't do it lightly. Polish-Americans gave one another copious amounts of love and support, but for those who struck out on their own and did no better than muddle through, there was much I-told-you-so clucking back along Damen Avenue. "You could go to college," Krzyzewski remembers, "but you couldn't go away to college."
Not that Mike much wanted to venture beyond the neighborhood, with its well-swept streets and tiny, flower-festooned lawns. He was king there, the best basketball player in his age group and one of the best baseball players. With their parents always working and frequently speaking a language the younger generation didn't understand, Krzyzewski and his buddies took responsibility for their own amusement. In the summer they would put in a day of playing at the Columbus schoolyard, disperse briefly for dinner, then muster again until all hours. "You wanted to be on Mick's side because of his confidence," recalls Dennis Mlynski, one of the gang that called itself the Columbos. "He didn't scream for the spotlight, and he made you play better."
"Maybe," Krzyzewski says, "they mistook leadership for confidence. I just wanted to get things going." Krzyzewski was the one who would challenge the Hispanic kids from the adjacent neighborhood to a game, the one who asked the nuns at his school, St. Helen's, to establish an eighth-grade basketball team in a local league. The sisters had no interest in such earthly doings, so Krzyzewski did the next best thing, organizing games himself.
As he made his way through Weber High School, even as he led Chicago's Catholic League in basketball scoring for two years and served as president of his senior class, Krzyzewski didn't have beyond-the-neighborhood confidence. So when Knight, the young coach at Army, made overtures to him late in his senior year, Krzyzewski was a reluctant listener. "He just wasn't military-minded," says his brother, Bill, now a captain in the Chicago fire department. "If someone told you you had to put in five years after graduation, you'd probably think twice."
The boys' father, William, operated an elevator downtown in Willoughby Tower, ferrying prosperous Chicagoans to and from their offices. There was a distance to him, an air of soldiering his way through life. "He talked about me a lot, but hardly ever to me," Mike says. "I knew my dad loved me. He just let me have my freedom." The boys' mother, Emily, scrubbed floors at the Chicago Athletic Club. She baked chocolate-chip cookies to die for, always three chips to a cookie, and threw out the whole batch if it didn't turn out just right. More than most parents in the neighborhood, the Krzyzewskis saw the socially prominent up close—William where they worked, Emily where they played. And so Mike's parents gave him a push. One day they staged a dialogue in the kitchen, knowing he could hear them in the next room.
"I can't believe he's not taking this opportunity," William said. "Can you believe he's not taking this opportunity?"
"If only we'd had such an opportunity," said Emily.
"How can he be so dumb as to pass up this opportunity?" said William.
With his neighborhood buddies telling him to stay and his parents telling him to go, Mike took his teenage jitters out to the low-slung fence in front of the Mlynskis' six-flat. "All we knew about West Point was, that's where presidents go," Mlynski remembers. "And we couldn't relate to that." The Columbos assured Mike he wouldn't be abandoning them if he signed on.
At West Point, Krzyzewski constantly wanted to quit. The entire U.S. Military Academy seemed to be set up so he would fail. On an overnight trip his freshman year, Krzyzewski pitched a tent for the first time. The other cadets dug ditches around their tents, the way they'd learned in Boy Scouts, but Krzyzewski didn't know better and nearly floated away that night when it rained. He also flunked phys ed as a plebe. ("People think it's black kids who can't swim," Krzyzewski says, "but it's city kids who can't swim.") Yet by the end of his first year he wasn't merely swimming, he was leaping blindfolded into a pool from a 20-foot-high tower while wearing fatigues and boots and carrying a rifle. "At West Point," he says, "I learned how to grow from having my ego hurt."
The lesson carried over to basketball. The first thing Knight told Krzyzewski was to forget about shooting. The drives and garbage opportunities that made him a high school scorer wouldn't be available in college. "Most kids say, 'Here I am, play me,' " says Knight. "We told Mike he would have to play defense and handle the ball. Obviously Mike listened, because he ended up playing."
His senior season during a holiday tournament at Kentucky, Krzyzewski, despite a hemorrhaging eye, dropped in two free throws to beat Bradley. The next evening Knight kicked in a locker and spat on the runner-up trophy after Army lost to the Wildcats and Dan Issel. "Over the two weeks after that, we lost another four in a row, and I was captain," Krzyzewski recalls. "It was the toughest period of my life as a player. I didn't understand what was happening, and I felt responsible for what was happening."
Krzyzewski eventually helped the team right itself. On March 1, 1969, after Army defeated Navy, he got the game ball—and a phone call that his father had suffered a cerebral hemorrhage. By the time Knight and Krzyzewski got to Chicago, William was dead. A few months later, four hours after Mike was handed his diploma, he and Mickie Marsh were married in the Catholic chapel at West Point.
Mickie and Mike's first date, two years earlier in Chicago, had been a Martha and the Vandellas concert. "I learned from Mike that I was his third choice," Mickie says. "Of course, I was determined never to be his third choice again. But I was fascinated that he would tell me I was his third choice. It made me want to know him that much more. He believed that whatever the consequences were of telling me the truth, they were less painful than lying to me."
Mike hadn't been entirely truthful. Not sure how his military pedigree would go over, he had told her that he attended "a trade school in the north." There were other potential incompatibilities. Mickie, raised a Southern Baptist, had heard that Catholics hid guns and gold in their basements and that the pope intended to take over the world. Mike had grown up believing that anyone not raised Catholic would go straight to hell. Somehow each was perceptive enough to see that they had been raised essentially alike.
Krzyzewski spent three years coaching Army-base teams abroad, then two years in Belvoir, Va., as basketball coach at the U.S. Military Academy Prep School. In 1974 he quit his commission to work for Knight as a graduate assistant at Indiana. That same year Army suffered through a 3–22 season, and in the spring of '75 the head coaching job at West Point opened up. Before members of the selection committee could hold his decision to leave the service against him, Krzyzewski turned it to his advantage. He wanted to be a college coach so much, he told them, that he had left the military to do it. Here was a chance to give back to the academy what he had learned from it—prudent risk-taking, teamwork, leadership. The officers bought his argument, hiring him from among 120 applicants.
Krzyzewski had several good seasons at Army, including NIT appearances in 1977 and '78. But he had just completed a 9–17 season in 1980 when Duke athletic director Tom Butters began looking for someone to replace Bill Foster, who had resigned only two years after he guided the Blue Devils to the NCAA title game. The Durham papers, certain that the new coach would be chosen from among Old Dominion's Paul Webb, Bob Weltlich of Mississippi and Duke assistant Bob Wenzel, declared that his surname would begin with W. It did, Butters kidded reporters before introducing his choice, "Coach Who?" Then he called Krzyzewski "the most brilliant young basketball coach in the country." That was the sentiment of Knight, whom Butters had consulted, and Butters desperately hoped that Knight was right. The next morning's headline in the Duke student newspaper, The Chronicle, read THIS IS NOT A TYPO.
Krzyzewski spent his first few seasons patiently correcting the pronunciation of his surname and making humorous references to his ethnic background. There were few other reasons for him to be light. He stuck with a man-to-man defense, even against more talented ACC teams, and was quick to yank players who made mistakes. Meanwhile, national titles won nearby, at North Carolina in 1982 and N.C. State in '83, cast an unflattering light Duke's way. "[Mike] was thin-skinned," says Keith Drum, who covered the ACC for the Durham Morning Herald. "He could be stubborn, and he wasn't very patient. There's no way what he'd done previously prepared him for the ACC."
The higher stakes of big-time basketball were nowhere more evident than in recruiting, and during Krzyzewski's first season Duke went after Uwe Blab, Chris Mullin, Jim Miller, Bill Wennington and Rodney Williams, only to lose out with each. There was a tragicomic quality to Duke's fecklessness. Krzyzewski gave a speech at Williams's high school awards banquet in Daytona Beach; Williams didn't show up, though, because he had signed with Florida that afternoon. One night Duke assistant Bob Dwyer drove to Princeton, the West Virginia backwater where Miller lived, to deliver a letter of intent to the high school coach for Miller to sign. The coach reached Dwyer in his motel room the next morning. "Sorry," he said, "Jim's decided to go to Virginia."
It felt, Krzyzewski has said, like losing five straight one-point games. "It was our fault," he says now. "It wasn't bad luck or someone cheating against us. We were recruiting too many people. Taking responsibility is the great lesson of West Point. They don't expect you to be perfect, only to be honest with yourself."
The next year, when Krzyzewski signed the breakthrough class of '86—Mark Alarie, Jay Bilas, Johnny Dawkins and David Henderson, who would take him to his first Final Four—a number of Foster's holdovers remained on the team, and some of them took to barking in the locker room to indicate their belief that the coach had relegated them to the doghouse. "This guy will never be successful at Duke," one of them said. "He doesn't know how to coach. He doesn't know what he's doing. He's running the program into the ground."
After that loss to Princeton in '81, a friend had put together a plaque with the date and score and a legend reading A POINT OF REFERENCE. It sat on Krzyzewski's desk for the longest time. But most people believe Duke's nadir came at the 1983 ACC tournament. The Blue Devils lost to Virginia by 43 points in the quarterfinals and heard Ralph Sampson complain afterward that they had played dirty. In the Duke hospitality suite, Mickie overheard the boosters grumble about the need to fire the coach. That night she remained in the sanctuary of her hotel room rather than join her husband for dinner. "Here's to forgetting tonight," said Johnny Moore, one of Duke's publicity men, raising a glass that evening.
The lines sharpened even more on Krzyzewski's lapidary face. "Here's to never forgetting tonight," he said.
Dwyer mentioned that there was still time to pursue Tom Sheehey, a high school All-America who was unsigned.
"No," said Krzyzewski. "We're gonna do it with this group."
He would give those young men fatigues and boots and rifles and teach them how to swim. That night's losers would go 37–3 as seniors in 1986. Sheehey would go to Virginia, and Duke wouldn't lose to the Cavaliers again for seven years.
Butters gave Krzyzewski a five-year contract extension in January 1984, after three straight conference losses. It didn't play well with many restless alumni, and angry letters continued to arrive at the AD's office. "I still have the letters," Butters says. "Now I get letters from the same people, wanting to make sure I'm paying him enough."
Duke basketball has come to represent the wishful public-service-announcement version of college athletics. It is the most collegiate of programs, only partly because virtually all players who pass through Durham wind up graduating. Krzyzewski, who frequently lectures on teamwork and motivation to rapt audiences at Duke's Fuqua School of Business, is a 45-year-old Mr. Chips. He has such rapport with the students that he could chew them out for not cheering hard enough after a narrow home win against Maryland on Feb. 20. Duke's recruiting is so efficient that those who study such things liken it to a fraternity rush. And when the team gets around to playing basketball—it's What They Do, after all, even if What They Do often gets lost in the gushy praise for How They Do It—the offense has no rigid roles to hold players back. "If you put a plant in ajar, it will grow to take the shape of the jar," Krzyzewski says. "Let it grow by itself, and it may grow so 20 jars can't hold it."
Nor is it great theater when Krzyzewski coaches. Histrionics like those of many sideline dandies would distract him from the business of seeing what's unfolding inside his players' heads. When Duke visited Boston University in January, the overmatched Terriers did the only thing they could do, which was hammer the Blue Devils inside. Krzyzewski noticed irritation in Laettner's body language. "So, you think you're too good to get fouled?" he asked his star. Laettner shaped up.
Duke has been held up so conspicuously as a redoubt of virtue that, to some cynics, the team has fallen off the good end of the scale and resurfaced at the other end as repellently unctuous. Krzyzewski has always distanced himself from the simplistic characterizations made by the press, which began in 1986 when "smart" Duke faced "dumb" Louisville in the NCAA title game and recurred ad nauseam at the past two Final Fours when the Blue Devils met devil UNLV. But if such invidious comparisons are drawn, they ought to be qualified. Paradoxically, "easier" young men such as Duke's present certain difficulties. The better off the youngster, the more likely he is to have high-powered and sometimes meddlesome parents. UNLV coach Jerry Tarkanian doesn't get calls on Monday mornings from fathers complaining that Junior isn't getting enough minutes at his natural position. Too often, sadly, the players have no fathers to place such calls. At UNLV the transfers come in; at Duke they are more likely to go out, as did former swingman Billy McCaffrey, who at his family's urging transferred last summer to Vanderbilt for more playing time.
"A lot of parents live their lives through these kids," says Krzyzewski. "Sometimes I wish they'd give them a chance to breathe. A kid should have a chance to question things and try to find out who he is, but a lot come here having had it determined for them who they are. Say a player comes into my office and says he's confused because he just made love to a girl for the first time. He feels incredibly good. He feels incredibly guilty. See, I don't expect them to be perfect. I wasn't. There may be people who love them more than I do, but there aren't people who love them the way I do."
Notice how little this conforms to the pedagogy of the Bob Knight School of Coaching. Knight has been the dominant figure in Krzyzewski's career, and Krzyzewski may never break free in the public's mind. "I value Coach Knight very much," says Krzyzewski, whose only absence from the Final Four in the past six years was in '87, when Indiana beat Duke in the Sweet 16. "He's been a tremendous influence on me, mostly in good ways. And there are some things I don't do as a result of being influenced by him. But to keep bringing him up doesn't give credit to the others who've helped me—my mom, my brother, my wife, my AD, my assistants, my buddies. I've been a head coach for 16 years, and I don't go over every game plan with Coach Knight."
People grasp foolishly and unavailingly for the Knight in Krzyzewski, in spite of all the evidence to the contrary. It isn't so much that Krzyzewski would rather watch one of his daughters' dance recitals than go on a fishing trip, or that he might cry when a sentimental song comes on the radio. The biggest difference between Krzyzewski and Knight, whose misogynistic excesses are well chronicled, is the role of women in their lives. "[Mike's] is certainly an all-consuming career," says Mickie. "But it's our career. If it were only his, we'd always be at odds." Mickie acts as her husband's business manager, and she and their daughters—Debbie, 21, a junior at Duke; Lindy, 14; and Jamie, 10—make most of the road trips and ride the team bus. "It's probably one of the slickest things he's ever done, and it speaks to his intelligence," says Mickie. "Some people may ask, 'What's the point here? Is this The Cleaver Family Plays Basketball'?' But he never really knew his father, and he wants to make sure he's not a remote figure to his own kids.
"Basically, he doesn't know a thing about women. He didn't have any sisters, and he went to an all-boys high school and to West Point. He's constantly baffled by our daughters. But he comes home to a lot of pink and lace and ruffles."
You see, there never was any Knight shtick. "Over the past few years I've sat for a lot of profiles," Krzyzewski says. "People have wanted to know who I am. It's funny, because my first five years here, nobody wanted my time for any profiles. They knew who I was. I was West Point, Coach Knight, the guy who would come in with pistols blazing, driving a Jeep. Why do any research? They had me pegged."
The press has nursed a need to force the curvilinear student into the mentor's square hole, and that's why the episode with the student newspaper still comes up. It was profane, and on the surface it seemed so totalitarian, so Son of Knight: In January 1990, the Chronicle indulged in an old tabloid sports-section gimmick, assigning a "midterm grade" to each Blue Devil. Though none received anything lower than a C plus, Krzyzewski called the responsible reporters and editors into the locker room and, in front of the team, delivered a blunt eight-minute dressing down. One of the students captured Krzyzewski's remarks on tape, and when the real-world Durham Morning Herald published a transcript, the coach became the consensus heavy.
Distraught, Krzyzewski broke down in his boss's office. He apologized to Butters for having embarrassed the school and to the Chronicle staff for his language. He had always thought of student journalists as peers of his players, and in happier times he had treated them as such, granting them access that other reporters never enjoyed. The way he saw it, if the Chronicle staff was professional, that meant his team was professional—and Krzyzewski knew that wasn't true. Duke thrilled him because he believed every student was there to learn and every opportunity to teach was worth seizing. "I wasn't trying to control the press," he says. "I just wanted to say, 'Here are the kids you're grading. Here are their faces. When you write, you're writing about people.' My language wasn't good. But I was disturbed that we had gotten to the point where their fellow students were instruments of entertainment and ego indulgence."
It still bothers Krzyzewski that after apologizing, he never got an apology for having been taped. But that's not what bothers him most. What bothers him most is that one of his players, Greg Koubek, got a B. "Koubek," Krzyzewski says, "deserved an A."
It seems remarkable, given the apparently perfect match of man and place, that the Chronicle incident drove Krzyzewski to consider leaving Duke before all the failures could accumulate into the critical mass of a national title. To be sure, other disappointments during that 1989–90 season contributed to his dissatisfaction. For the first time some of Krzyzewski's players stumbled academically. One flunked out, two more didn't graduate on time, and a fourth, Phil Henderson, still hasn't earned his degree. (Until he does, Krzyzewski won't permit the raising of the 1990 Final Four banner in Cameron Indoor Stadium.) The final game of the regular season, a nationally televised 12-point loss to North Carolina at home, shook him too. He could deal with the whupping UNLV would dole out a month later in Denver, for that would be a simple matter of getting beaten. But against UNC he felt his players had quit on him. Mickie spent a good hour in the locker room afterward, helping Mike through the betrayal he felt. When the Boston Celtics came calling over the summer, he gave them a listen.
Butters helped him see once again that just because you can do better, it doesn't mean you've done badly. Years from now, looking back, where will Krzyzewski have counted most? With 29-year-olds in Boston or 19-year-olds in Durham? "I realized I'm not just a basketball coach," he says. "And if I were in the NBA, that's what I'd be. I want to be a teacher and work with kids and see them grow up. What's neat is that I can win a lot of basketball games while I'm doing that.
"The game is important, unbelievably important, because it's people stuff. But whether or not we beat Vegas isn't unbelievably important. If we do it, it's usually the result of some really neat things. If you've given everything and lost, you should feel good. After we lost to Vegas by 30, I had a hard time getting people to understand that we didn't need psychiatric care. Two years later, looking back, what I thought then is still true. We were just a year early."
Last spring as Duke moved through the tournament field, Krzyzewski started to play a mental game. He would incant to himself Duke's record if the Blue Devils were to defeat the opponent at hand. O.K., we win this one and we're 31–7. It was a device—O.K., this one makes us 32–7—to keep from prematurely dwelling on the grail of a title. "As a result I portrayed a more confident image to the team," Krzyzewski says. "I knew I couldn't be the weak link for this group." One by one by one, he took the games. He was so disciplined that not until the summer, when he and Mickie had repaired to Season's End, their beach house at the North Carolina shore, did the vista of what the team had done open fully. It struck him while reading the paper. Suddenly he put it down, turned to Mickie and said, "We won it! We really won it!" He grabbed a bottle of wine and his bride—first choice now—and together they watched tape of the six NCAA victories.
Seeing Laettner at the line with 12 seconds to play reminded him anew. As a freshman Laettner had clanged a one-and-one late in a regular-season game against Arizona, with Duke trailing by two. "He shot it long," Krzyzewski remembers. "He wanted it too much." But it wasn't Laettner's reaction that lingered most vividly from that Arizona game. It was the reaction of Danny Ferry, whom Laettner was being groomed to replace. "Danny had so much invested in that game," says Krzyzewski. "He was a senior. If Arizona won, Sean Elliott would get a leg up on Danny for Player of the Year. Yet Danny's first move was to go up to Christian and tell him it was all right, so Christian wouldn't feel he lost the game. What Danny did was a selfless act, a great act. And I'm sure that's why Christian made those free throws against Vegas."
You all right? If anyone were to ask that question of college basketball these days, the game's only truthful answer would be that it's ailing. Yet Krzyzewski's Blue Devils are college hoops' great hope, the team that's "doing what has to be done," as Knight puts it, "and doing it with college students."
That's What They Do and How They Do It. As for Who He Is, well, that may depend on when you catch him: on whether he's cutting down a net or having a good cry or screwing up today so he can hammer somebody tomorrow. But count on Krzyzewski to fall somewhere between old-style Chicago ward heeler and New Age campus faith healer, between laggard and outrider—nothing more, nothing less, than exactly what the game needs right now.