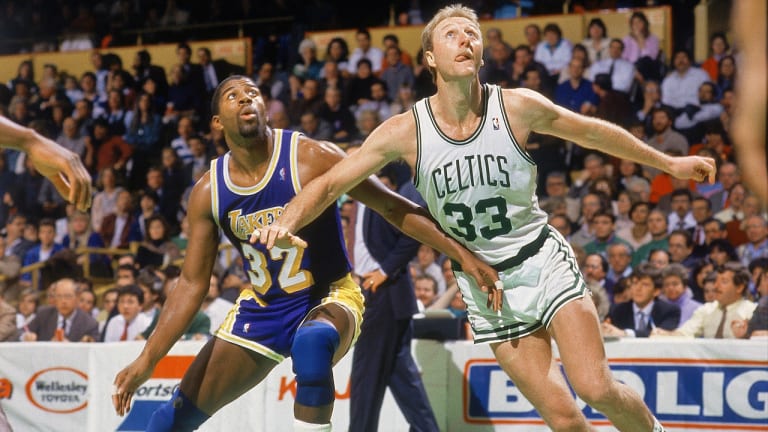 Leaving A Huge Void
Magic Johnson and Larry Bird stepped in and rescued the NBA during its darkest days. Can anyone replace them?
If Magic Johnson and Larry Bird did not save the NBA, they most certainly performed CPR on it. They arrived in 1979 to find a league kneepad-deep in problems—image problems, ownership problems, drug problems. Yes, the classy Julius Erving and the indomitable Kareem Abdul-Jabbar were around at the time, and, yes, Michael Jordan's magic carpet would land five years later. But without Magic and Bird, the Jordan phenomenon might never have taken off, and Dr. J and Kareem might have received sets of luggage instead of the royal send-offs they got when they hung up their sneakers, in 1987 and '89, respectively.
Bird and Magic are still going strong, each in his own way. The former is a patched-up but proud warrior still capable of scoring 49 points as he did in Sunday's 152-148 double-overtime victory over Portland at Boston Garden. Magic is a spiritual cheerleader itching to return to the game. But the fascinating pas de deux they performed for the better part of a decade is clearly over. Even if they somehow meet again, if Bird's back enables him to satisfy the final two years of a new contract that kicks in next season, and if Magic climbs back into the Los Angeles Lakers' purple and gold in spite of his HIV-positive condition, it will never be the same. The circumstances of the late '70s and the '80s that defined their roles as saviors of the NBA—contrasting powerhouse teams, contrasting but textbook-perfect styles, and contrasting but gripping personalities—will never again be duplicated. With no such compelling plot lines involving cither individuals or teams evident for the '90s, the question that concerns the league is. Will the departure of Bird and Magic seriously hurt the game?
No, says Washington Bullet vice-president and general manager John Nash: "The NBA has become part of the entertainment fabric of the country. In the '60s and 70s, major league baseball and professional football were really the only two sports you could say that about."
Yes, says Seattle SuperSonics forward Eddie Johnson: "I've been around long enough [11 seasons] to see that the game still needs strong personalities at the top. It's more than just having great talent. I think it's a flair you have and you want to sustain. Magic and Larry had it between them. The NBA needs some new blood and some new rivalries."
The evidence, for the most part, supports a bullish view of the NBA. The league drew 16,875,625 in 1990-91, and attendance so far this season is up by 2.8%, a considerable feat in a recession economy. Eleven teams have drawn more fans than last season, and six other teams (the Boston Celtics, Chicago Bulls, Detroit Pistons, Golden State Warriors, Portland Trail Blazers and Sacramento Kings, all in perennial sellout situations) have matched their "90-91 figures. Of the 10 franchises whose attendance is down, only Philadelphia's 9% drop seems a major cause for concern. Utah increased its attendance 56% by tilling up a new building, the Delta Center, whose 19,911-seat capacity is 7,000 more than the Salt Palace, which had been sold out for 121 straight games. And the Denver Nuggets have increased attendance this season by 20% by becoming a mediocre team instead of a bad one.
TV ratings for NBA games are down by 5% on TBS, not a major drop, and up by a whopping 17% on NBC. "And if you're wondering about a league without Magic and Bird," says Dick Ebersol, the president of NBC Sports, "well, that's essentially what we had this year." However, extenuating circumstances make it impossible to judge the extent to which viewers miss L and M. With neither Magic nor Bird in uniform, NBC's Feb. 16 Sunday-afternoon broadcast of the Celtics-Lakers game at the Forum drew an excellent 6.8 rating with a 15 share; on the other hand, both stars were present, in mufti, for the emotionally wrenching, tailored-for-TV retirement of Magic's number.
There is a stuck-in-the-mud aspect about several teams—Philadelphia, Milwaukee and Washington, in particular—that will change only when they become more exciting and successful. But more typical of today's NBA is the success story, on and off the court, of Golden State. In 1985-86 the Warriors' season-ticket base was a measly 1,826, and the multitudes that weren't flocking to Oakland Coliseum (capacity 15,025) had only 10 games available on local TV. This season? The Warriors boast some 13,000 season-ticket holders (who have helped the team reach 136 consecutive sellouts), yet 76 of their 82 games are telecast locally.
Advertisers are as bullish as ever on the NBA, according to David Burns, president of the Chicago-based Burns Sports Celebrity Service, an organization that tracks the marketability of athletes. "The advertisers like it because the game attracts the middle-to-upper-income consumer," says Burns. "My feeling is that pro basketball is a very, very healthy sport that hasn't stopped the growth that began a few years ago." The generally positive image conveyed by the players has much to do with that attraction. "It's taken a lot of work, but NBA athletes are seen as hardworking," says Bulls coach Phil Jackson. "Not too long ago they were seen as spoiled, overpaid drug addicts. We are back in tune with America." Magic and Bird aren't totally responsible for that change, of course, but they were the starting point. "They set a precedent of how the game should be approached, physically and mentally," says Warrior forward Chris Mullin. "They taught everybody to not just focus on the money you're making but to play every game hard. And when you have the best guys doing that, it rubs off. I think back to before I was playing, when the league had a bad name, there were only certain guys, a few on a team, that would do that. Now it's everybody. Just as bad habits are contagious on a team, good habits are too."
Commissioner David Stern, who has deservedly received high marks for his role in the NBA's renaissance, has a unique phrase for what Mullin is talking about: "institutionalization of responsibility." Says Stern: "When rookies come into the league, their role models for performance, for dealing with the media, for dealing with fans, for dealing with everything, are much more sharply defined than they used to be. We owe people like Magic Johnson, Larry Bird and Julius Erving a great debt for that."
And these rookies, increasingly, are known entities by the time they come into the league. Indeed, the synergy between the NBA and college basketball is another factor that bodes well for the future of pro basketball. Red Auerbach's thoughts on this subject are no less accurate for all the winces they produce in the NBA's public relations department: "College basketball is a made-to-order farm system for the NBA. In baseball or hockey you mostly have nonentities in the draft." The NBA is, in many cases, Part II of a prime-time basketball miniseries. The kid had trouble with his college coach—will he straighten out in the NBA? The kid couldn't shoot the standstill jumper in college—will he be able to compensate in the man-to-man NBA?
"[LSU junior center] Shaquille O'Neal is a superstar before he plays one minute in the NBA," says Nugget president Tim Leiweke. "Sure, Magic and Bird were stars in college, but not the way Shaquille is going be a superstar coming out." And the NBA's farm system is also in prime health. "Consider how the growth of college basketball has impacted on us," says Stern. "In 1979 college players were seen on one [regular] network and in four million cable homes. Ten years later they were seen in 55 million cable homes, on three [regular] networks. Only 54 of those players will be drafted into our league, and it's a virtual certainty that not all 54 will be on an NBA roster. The focus on the athletes who do make it is incredible." Miami Heat center Rony Seikaly, a personality in progress, says, "When I was watching and playing college basketball at Syracuse, I remember every team having a marquee player. Patrick Ewing was at Georgetown. David Robinson was at Navy. Glen Rice at Michigan. They've all come to the pros and done well. On every NBA team in a few years you'll have a couple of marquee players, and that will sell the game."
Is he correct? It seems so. Denver center Dikembe Mutombo and Charlotte Hornet forward Larry Johnson emerged from last year's draft lottery to become both players and personalities, and Miami guard Steve Smith has a chance to do the same. But does the NBA still need to sell the game through a cult of personality? Some well-respected observers say no.
"I've never been sure we had to market our league based on personalities," says Harry Glickman, the president of the Trail Blazers. "But the funny thing is, as soon as you lose a guy you've marketed, another one has a way of popping up." Seattle president Bob Whitsitt expresses the view that the unselfish, team-first style popularized by Magic and Bird educated fans to appreciate ability first, personality second. "Players don't have to be that charismatic anymore," says Whitsitt. "People now have an understanding of what a great player John Stockton is, for example, even though he's a quiet kid from Gonzaga."
Still, there are others who, while generally optimistic about the NBA, think that a dearth of strong Magic and Bird personality types spells danger. "The game is all about entertainment, and it needs stars," says the Pistons' Chuck Daly, one of a handful of coaches to emerge as a personality in his own right. "A charismatic star is real important." Says New Jersey Nets coach Bill Fitch: "Everybody had better hope for somebody new, because Bird and Magic were unique." A more objective voice, that of Michael Megna, vice-president of American Appraisal Associates, Inc., a Milwaukee-based firm that evaluates pro sports franchises, is flat-out pessimistic: "I think that the NBA will go into a period of little or no growth, a stabilization of growth and maybe even a downturn in some markets until new faces and new idols come out to rejuvenate the league. The NBA has done very well and has come a long way. But I don't think it's yet at the point where it can survive just on the game itself, without the star players. It still needs those people."
Who else besides Jordan has the combination of flair and talent to take up the superstar slack? Robinson, perhaps? "A great role model, but he just hasn't caught on as a personality," says Burns. Clyde Drexler? "I don't think Clyde is a marquee guy in the NBA," says Glickman, Drexler's boss. Isiah Thomas? He's a well-known name who is fanatically popular with some fans but just as unpopular with others. Charles Barkley? Well, he's a personality for sure—"The bizarre uncle you keep in the attic during the family reunion" is the way Orlando Magic president Pat Williams describes him—but one that is more likely to frighten Madison Avenue than to conquer it.
Barkley epitomizes, moreover, another difficulty, one shared by Drexler, Robinson, Ewing, Mullin, Stockton, Hakeem Olajuwon, Kevin Johnson, Karl Malone, et al.: He hasn't taken his team to the finish line. Indeed, the essential message conveyed by Magic and Bird, year after year, in epic encounter after epic encounter, was that great players make great teams. "Maybe Magic and Larry wouldn't have made such an impact and created so much interest if they hadn't had so many personal showdowns with their teams," says Fitch, who was a part of those showdowns when he coached the Celtics from 1979 through '83. "You take two dynamic players like that and put them on stage in the NCAA finals, then the NBA Finals so many times, it was just special. It lifted the whole league."
No maybe about it. And great teams, more than great personalities, are what's missing in today's NBA. Certainly, the de-fending-champion Bulls (53-12 at week's end) have a great record. But how much of their success can be traced to the dilution of overall talent through expansion and an unusually weak Eastern Conference? A score from last week, with Bird in the lineup: Chicago 119, Boston 85.
Former Bulls coach Doug Collins, a perceptive NBA observer from his current post as a TNT commentator, sees an overall lack of competitiveness in the league. Going against the conventional NBA wisdom that says enough strong teams have sprung up to compensate for the demise of the Lakers and Celtics, Collins believes that the uncertain future of the old standbys (Detroit, L.A. and Boston) should be a major cause for concern. "What sells today is a competitive situation," says Collins, "and, frankly, I just don't see a whole lot of [good teams] out there right now."
Still, the Bulls are out there. And so's the wide-open West, waiting to be won, waiting for a new gang of heroes. T-shirts are selling, videos are hot, arenas are crowded, viewers are tuning in. There'? every possibility, too, that the Summer Olympics will give the NBA an added boost and "help further the image of people like Mullin, Scottie Pip-pen and Karl Malone," as Del Harris, Milwaukee's vice-president of basketball operations, puts it.
And Billy Packer, who closely studies the NBA as CBS's lead college basketball commentator, can't help but think that there are a couple more of those special someones out there too.
"I don't think the absence of Bird and Johnson will induce fans to go elsewhere," says Packer. "Larry and Magic put the league on its firmest foundation ever, and lurking in some schoolyard, high school, junior college or college are members of the next generation. And the league will do just fine until that generation comes along."
The NBA can only wait and hope that he's correct.
PHOTO
JOHN
W.
MCDONOUGH
When the Lakers retired Magic's number last month, Bird was in L.A. to lend a hand.
PHOTO
JOHN
W.
MCDONOUGH
Will newcomer Larry Johnson (2), who has soared of late, be an eagle in tomorrow's NBA?
PHOTO
NATHANIEL
BUTLER/NBA
PHOTOS
Mutombo, challenging Ewing, is another impact rookie with both personality and talent.