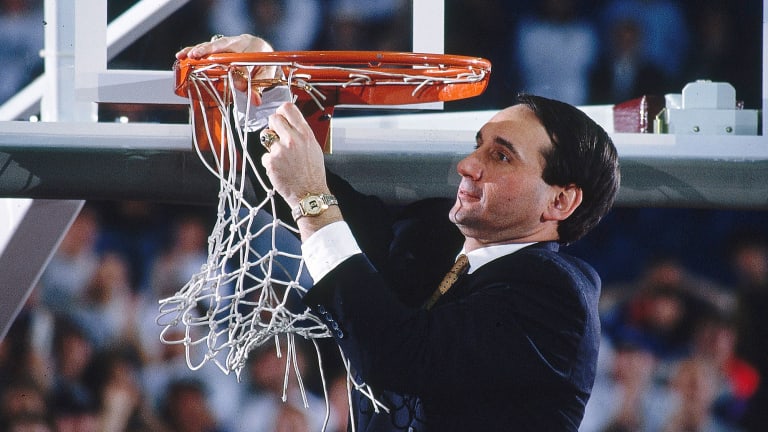 Hurley Burly
Bobby Hurley roused his Duke teammates and propelled the Blue Devils to a 71-51 victory over Michigan in the NCAA championship game.
The best thing about freshmen is that they become sophomores. The best thing about Blue Devils is that they win national championships. If you are running the numbers on Duke, that's 2 in a row...on 4/6...over the (partially) Fab 5.
To understand what rough and resilient Duke accomplished over its historic season before its 71-51 spanking of young Michigan on Monday night in the NCAA finale at the Metrodome in Minneapolis, it helps to recall that the Blue Devils stared down their own mortality a week before against Kentucky and won that regional final with a miracle on offense. Then last Saturday night against Indiana in a national semifinal, they stared down their coach's master and mentor and won with a vicious defense. Duke had been No. 1 all season, had taken on all comers, everywhere—at UCLA, at LSU, from sea to shining Shaq—and had run the table.
To think that these mighty veterans were about to let some freshmen whippersnappers, whom they had beaten on the road at Ann Arbor 114 days earlier, deny them their legacy in the championship showdown was folly indeed. Yet at halftime, as Duke coach Mike Krzyzewski stood in a Metrodome tunnel a couple of steps from Michigan's excitable kids, who were jumping up and down and screeching about their 31-30 lead, he could only stare at a stat sheet and wonder how his Blue Devils could possibly recover.
Krzyzewski didn't even look at the Fab Five and their older teammates, probably because he had seen quite enough: visions such as Michigan's 6'9" forward Chris Webber stealing the ball under his own basket and dribbling coast to coast before unloading an outrageous, behind-the-back bounce pass to Rob Pelinka for a basket; such as his own star, center Christian Laettner, suffering through the worst 20 minutes of his life, in which his turnovers outnumbered his baskets and rebounds, seven to two to two. But if these dances with Wolves continued, Coach K must have known there was no way Duke would become the first national champion to repeat since UCLA did it in 1973, the year the Fab Five all were born.
Ah, but youth sometimes wastes the young. Early in the second half, careless third fouls by Michigan's Jalen Rose and Webber squelched the Wolverines' effervescence as Duke took a 39-35 lead. Webber, a true child of Television Nation, beseeched a referee to look at a replay on the giant screen hanging from the Dome ceiling, not being nearly old enough to realize that the NCAA does not review replays of officials' calls. Moreover, a few minutes later, so sharply had Duke's interior half-court defense picked up that when Webber got the ball inches under the rim, he didn't even bother trying one of his trademark smilin' slams but flipped the ball back outside.
As Laettner came alive in his NCAA career-record 23rd tournament game, making four of five shots in the second half to finish with a game-high 19 points and another NCAA tournament career record, for points (407); as guard Bobby Hurley, saddled with four fouls himself, handled the ball and spread out the Duke offense (box, page 24); as forward Grant Hill began penetrating from the wings and flying over the now tentative opposition on the way to 18 points and 10 rebounds, the Michigan defense wilted. "After a foul or missed shot, guys were hanging their heads," said Wolverine junior forward James Voskuil. "We didn't bring enough fight to this game. We weren't having enough fun out there."
Specifically, the infant Wolves were horridly base right there on the baseline, from which Duke, leading 48-45 with just under seven minutes remaining in the game, initiated a run of 10-2. It began with Laettner losing the handle on a drive, recovering it and somehow scooping the ball up and into the basket, and it ended with Hill sledgehammering a dunk after driving along the baseline.
Duke scored on 12 of its last 13 possessions while spinning a virtual shutout at the other end of the floor, holding Michigan to nine baskets and a pitiful 20 points in the second half—and Laettner was at the heart of it all. Ultimately, Hill's penetration opened the way for Laettner to feed on Michigan. "Grant was the key to the game," said Coach K.
While the Duke players' postgame haberdashery included the obligatory message T-shirts—referring to the Wolverines' tendency to trash-blather, the shirts read: YOU CAN TALK THE GAME, BUT CAN YOU PLAY THE GAME?—the Michigan players were teary-eyed but unbowed. "There will never be another freshman class to do this," said Webber (14 points, 11 rebounds). That, along with that wondrous drive-and-pass play, may have been the most accurate Wolverine statement of the evening.
Duke—or rather Laettner—arrived at the Final Four last Thursday accompanied by as much hype as a defending champion-matinee idol has every right to expect. In other words, nearly as much attention as those wild and crazy guys from the Michigan freshman class received.
On Friday, as he boarded the team bus after practice at the Metrodome, Laettner was confronted by several women trying to give him their phone numbers. The night before, in the crush of Dukesteria at the Blue Devils' hotel, one overzealous fan had left a two-inch scratch below Laettner's left eye. "He's gorgeous," Kristin Hannemann, a high school senior from suburban Cottage Grove, told Curt Brown of the Minneapolis Star Tribune. "I wasn't the one who scratched him, but I wish I was."
Pretty is as pretty does. While the most overworked expression in basketball's lexicon has come to be he stepped up, Laettner has become notorious for having stepped down on the chest of Kentucky's Aminu Timberlake in that instantly classic East Regional championship game on March 28, which Laettner won with a miraculous last-second shot. How notorious? During their car trip to the Final Four from their home in Angola, N.Y., Christian's mother, father and two sisters heard a radio show host criticize Christian for the stomping incident. "Did you see Laettner's mother on TV?" said the announcer, referring to the tact that Bonnie Laettner was wearing a neck brace after surgery for a degenerative disk. "He must have stepped on her neck."
The clubhouse of the world champion Minnesota Twins was Duke's locker room in the Metrodome, and ironically Laettner dressed in the cubicle of Twins first base coach Wayne Terwilliger, one of the gentlest souls in sport. Does a really good player have to have some nastiness in him? Laettner was asked. "Not nastiness all of the time...just once in a while," he said. "I get nasty when I need it."
Meanwhile the young Wolverines, as is their wont, took all the excitement in stride. "We're not concentrating on shocking the world anymore," said Webber as Michigan prepared for its semi against Cincinnati. "Our strength is that we don't respect anyone."
"I don't think this team will ever be nervous playing basketball," said Rose. "There are too many other things in life to be nervous about."
Coach Steve Fisher, with his Beaujolais-colored cheeks and hay-mown, aw-shucks manner, seemed to be the perfect, laid-back mentor for his volatile rookies. "I don't have cue cards," Fisher said early last week of coaching such talent. "I have great trust in them. They get along so well as a group that their spontaneity has carried over into how they handle stressful situations on the court."
As if Michigan faced any of those situations before Monday. When Cincinnati pulled in front of the Wolverines 50-43 early in the second half of the first semifinal game, Rose admonished the pressing, trapping, indomitable Bearcats: "It doesn't matter, you're still gonna lose."
What had transpired up to that point should have given the Wolverines pause, except that they could hardly catch their breath what with the Cincinnati backcourt of Nick Van Exel and Anthony Bu-ford swarming between, around and among them in coach Bob Huggins's "amoeba" defense. Van Exel and Buford wound up combining for seven of the Bearcats' 11 steals as well as for 39 points and a whole lot of words. "It was like a street game," said Buford afterward. "It seems like talking trash adds to their calmness...like it makes them feel they're at home on the playgrounds."
The taller Wolverines' zestful hunger for rebounds slowly but surely turned the game around. Webber, Rose and center Juwan Howard ganged up for 28 boards to help give Michigan a 46-30 edge in that department. But the Fab Five needed aid and sustenance from a couple of the Forgotten Five, who used to light up Ann Arbor before the freshmen came on the scene. Michael Talley was one. Earlier this season, after losing his starting spot, an angry Talley missed a practice and was suspended for a game. On Saturday, however, he tarried just long enough for his younger mates to get their bearings, after which he was replaced by the 6'8" Voskuil, an aerospace engineering major and two-time Academic All-Big Ten selection. Voskuil started 14 games in 1990-91 and another 14 this season in addition to struggling with an oral presentation entitled "Turbular vs. Laminar Boundary Layers Flowing over a Rotating Football," a project in his aerospace studies.
With Michigan clinging to a 65-63 lead with 3:29 to go—and with Fisher shouting "Keep-away," meaning the Wolverines were supposed to be in their delay game—Voskuil hit a three-pointer from the top of the circle. "That's my trademark, the spot-up jumper," he said.
With a five-point cushion, Rose and Howard went on to confidently swish six of six free throws, and Rose, Webber and Jimmy King combined on a characteristically spectacular Wolverine fast break to give Michigan its 76-72 victory.
"Who was Voskuil?" said Cincinnati's Corie Blount of the future engineer. "The guy was our fault. I guess we thought we didn't have to worry about anyone who wasn't a freshman."
In the second semifinal Indiana behaved as if it didn't have to worry about anyone who wasn't a Laettner. Every time he got his hands on the ball, which wasn't often, two or three or maybe 23 Hoosiers would bump, bang and otherwise hammer Laettner to the point that it was folly to go to him. Laettner took only eight shots and made two. "We wanted to stop the bottom and top of their offense," said Indiana coach Bob Knight, "but the top got away from us."
That would be Hurley, whose four three-pointers kept Duke alive in a first half during which it did little right and was outhustled 21-9 on the backboards. Consequently, Duke went into the locker room trailing 42-37, and could have been a lot farther behind. "We were scared. We were tired. We were still thinking about the Kentucky game," said Hill.
At halftime Krzyzewski sought to focus his players. "He said to forget about Kentucky," said Hill, "that it's not our destiny to win, it's our choice. I was surprised how intense we came out in the second half."
Hill wasn't the only one. Duke's defensive intensity simply overwhelmed Indiana. Three...four...seven...11 times the Hoosiers came down the court without scoring. Eight missed shots, six turnovers. Meanwhile the Blue Devils scored the first 13 points and 21 of the first 24. Two minutes into the second-half carnage, Knight leaped off the bench and was hit with a technical by Ted Valentine, a referee whom Knight continued to berate the rest of the game. "Chair...chair...chair," Duke's transplanted Cameron Indoor Stadium Crazies chanted, in reference to Knight's having once hurled a chair across a court. When the Blue Devils led 58-45 midway through the half, surely the end was Knigh. Or was it?
Indiana pared Duke's lead to 69-64 with 1:44 left. Then, astonishingly, this all-star gunfight came down to a shoot-out at the unknowns' corral: Duke's Marty Clark made five of six free throws, and Indiana's Todd Leary hurled in a trio of three-pointers. When Hurley, who scored a game-high 26 points, stepped out of bounds with the ball and with Duke leading 78-75 with 26 seconds to play, the Hoosiers had one last chance. With the Blue Devils pressing Leary hard, he was forced to pass off to Chris Reynolds, who in turn was forced to pass to Jamal Meeks, whose three-point attempt with 17 seconds left was off the mark.
Following Duke's 81-78 victory, Knight hardly brushed the hand of Krzyzewski, his friend and former player and assistant, before rushing to embrace Colonel Tom Rogers, a Duke aide who also used to work for Knight. "It was a tough loss. [Knight] said, 'Congratulations' and 'Good luck,' about what I expected," said Krzyzewski, who nevertheless looked dazed and forlorn in the postgame press conference.
"Coach never mentioned how special this game was to him, probably because he knew that we knew," said Hill just before switching his thoughts to the rematch with the Wolverines. "The dangerous thing about Michigan is that the freshmen know they'll probably get here again. It's like shooting two free throws. When you know you've got another one coming, the first one is easy."
That it turned out to be so difficult for the young Wolverines was as much attributable to the technology and leadership of Krzyzewski as it was to the maturity and spirit of his players. "This is the greatest year I've ever had...just incredible coaching these guys," said Coach K, who at the championship moment Monday night surely must have thought back to the week before, when Laettner lifted Duke from the precipice of certain defeat against Kentucky.
On the day after that, Krzyzewski was at home in Durham, N.C., watching a tape of the game in a darkened room. His three daughters call him Mole Man at these times, and one of the three, 14-year-old Lindy, joined him after returning from a cheerleading competition. Father and daughter watched Duke's miracle of miracles all over again: Laettner's shot, Tony Lang's rolling on the court, Thomas Hill's unforgettable expression of joyful relief, Laettner's open-mouthed goofball whirl.
"Look at those faces," Krzyzewski said with both astonishment and the understanding that a coach doesn't go through all the labor and agony merely to make five straight Final Fours or to win two straight national championships. He does it to see moments like these, to relive those moments with his daughters.