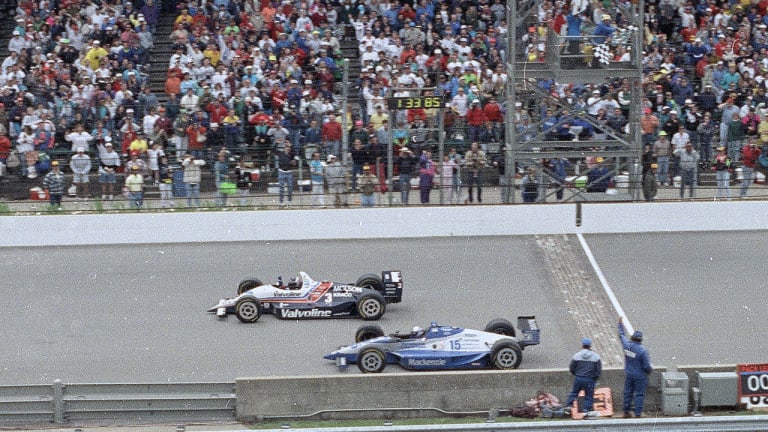 Close Calls
Al Unser Jr. won a crash-filled Indianapolis 500 by .043 of a second over Scott Goodyear
Al Unser Sr., who has won the Indianapolis 500 four times, is so relentlessly stone-faced, so cool, that his own family calls him Dry Ice. Yet moments after his son, Little Al, took the checkered flag at Indy on Sunday, Big Al could not contain himself. "To love something as much as I love racing," he said, forcing out the words between sobs, "and to win at this place and then to have your son come along and win here is the greatest feeling there is."
In the winner's circle Little Al was choking back tears of his own. "This race means the world to me," he said. "It's life to me." The emotions of the moment were a father's pride and a son's joy, but both men may well have been shedding tears of relief. The 76th running of the 500 not only climaxed with the closest finish in the history of the event, but it was also the wildest Indy ever. Of the 33 cars that started the race on an unseasonably chilly, overcast day, only 12 succeeded in crossing the finish line in the more than 3½ hours it took to run the race. In that time there were 10 crashes, which injured 13 drivers, three of them seriously, and claimed 13 cars, including that of pole sitter Roberto Guerrero, whose Indy ended in a bizarre solo spinout on the second parade lap. That eliminated him even before the race had officially begun.
Al Jr. nipped Scott Goodyear at the thrilling finish by .043 of a second—about half a car length. Running third, in the only other car to complete the 200 laps, was 53-year-old Al Sr. The closest previous finish had been .16 of a second, the margin by which Gordon Johncock edged Rick Mears in 1982.
Through the chaos of flying metal and tires and screaming ambulances, most of the day belonged to 29-year-old Michael Andretti, who surged to the lead from the first green flag and led for 163 of the first 189 laps. Along the way he watched as first his 52-year-old father, Mario, and then his younger brother, Jeff, 28, crashed. Then, with victory in sight, Michael's car suddenly died on the backstretch, the fuel pressure in his Lola-Ford Cosworth engine having mysteriously vanished. Mario escaped his crash, on the 79th lap, with fractured toes on both feet. Jeff's crash, on Lap 110, left him with severe fractures of his feet and ankles and a concussion—the worst injuries suffered by any driver in the race.
"This place is cruel, so cruel," said Michael. "First Dad, then Jeff. I knew I still had a job to do, but it was hard to concentrate." The four racing Andrettis (including cousin John, who finished eighth) still have only one Indy victory, Mario's in 1969, to show for a combined 43 starts at the Indianapolis Motor Speedway.
"Mikey had us all covered," said 30-year-old Little Al, whose Galmer-Chevrolet had been so fitful in practice that he had entered the race with almost no thought of winning. "When I saw him parked there in the north chute [between Turns 3 and 4 of the 2.5-mile Speedway], I felt for him. But a second later, I had Scott Goodyear right up my tail pipe."
Goodyear, a little-known, 32-year-old Canadian—and no relation to the founding family of the tire company—had started the race last, 33rd, but when the green light shone again to open the final nine-lap dash after Michael's exit, Goodyear threatened to become the biggest dark-horse victor in the event's history.
With Goodyear desperately seeking an opening to pass, the more experienced Al Jr., who led the race for 25 laps, deftly snaked his car from side to side, refusing to allow Goodyear to tuck into his slipstream and execute a pass. On the final lap Unser backed off the throttle in Turn 4 to keep from spinning, and Goodyear made a run. Still, Unser, at 220-plus mph, blocked Goodyear's passing attempts until the last 100 yards, when Goodyear made a valiant, if narrowly vain, attempt to sweep inside Unser's car and snatch the victory. "I don't call that blocking," said Goodyear afterward. "I call that using a lot of racetrack. And I'd have been doing the same thing in Al's position."
When Unser and Goodyear embraced in the winner's circle, it was a welcome bit of warmth in an otherwise bleak day. The forbidding weather, with temperatures in the 50's and a windchill in the 30's, was not only an omen but also a cause of the afternoon's horrors. The tires, racing slicks supplied by Goodyear (the company), were so cold that they required careful "scuffing"—warming by steering the car through a succession of tight, wiggly maneuvers—to gain proper grip on the track surface. The conditions demanded that drivers take the time to warm their new tires after pit stops and after the slower going during cautions. Some drivers did not do this correctly, and they, and others behind them, paid dearly for it.
From the outset the lesson was painfully clear: Guerrero, who had won the pole on May 9 with a speed of 232.482 mph, never even got a chance to limber up his Lola-Buick. When he pressed the accelerator during that fateful parade lap, his cold tires slid sharply to the left, and his out-of-control racer left the track and collided with an infield wall. "I'm disappointed beyond belief," said Guerrero later. "I'd had a perfect month until now."
The first caution period, caused by oil left on the track by Eric Bachelart's blown engine, lasted from Laps 6 through 10. On Lap 11, Tom Sneva's Lola-Buick smacked the wall in Turn 4. Sneva suffered bruises to both of his feet, his chest and his right hip. Johncock blew an engine to force the next caution, on Lap 61, and soon after the restart, Philippe Gache's car hit the wall between Turns 3 and 4. When it bounced back toward the middle of the track, it was hit unavoidably by Stan Fox's Lola-Buick. It was a frightful collision, but both drivers were checked and released at the track medical center, Gache having sustained a bruised right foot.
On the next restart Jim Crawford spun in Turn 2, setting off a chain reaction that took out Penske-Chevrolet teammates Mears and Emerson Fittipaldi. Crawford fractured a foot, Mears lacerated his right knee, and Fittipaldi had a puncture wound on his left knee. Mears was already driving with a fractured left foot, suffered in a horrifying crash during practice on May 6 (SI, May 18).
And the mayhem continued: Mario succumbed on Lap 79; rookie Jimmy Vasser broke his right thigh on Lap 95; another rookie, Brian Bonner, suffered a bruised right foot three laps later; Arie Luyendyk hit the wall on Lap 136, bruising his right ankle. There was only the fickle spring weather to blame for the carnage. Thursday's final practice laps had been run in sunny 80° temperatures. Mechanics had tweaked and adjusted their cars in anticipation of a hot, sticky track. There had been no way to prepare for the cold front that settled over Indianapolis in the morning hours on Sunday.
"When you have a cold day, the track is cold," said Leo Mehl, director of Goodyear's worldwide racing operations. "You have to exercise caution leaving the pits, because the tires just don't have the grip."
Thus the race belonged to the cautious and the steady, and Al Jr. was the steadiest of them all. He had started 12th, with a disappointing qualifying speed of 222.989, and had nimbly picked his way through the field. "I was warming up my tires from the beginning of the race," he said. "I was extremely careful."
It was Little Al's 10th attempt to join his father and his uncle Bobby, who won the race three times, as an Indy victor. In 1989 he had come close, dueling with Fittipaldi for the win in the waning miles. On the next-to-last lap of that race, the wheels of the two cars touched, sending Little Al crashing into the wall on Turn 3 and Fittipaldi on to victory.
In the closing seconds of Sunday's race, Little Al found himself again on the brink of victory. "I thought, This is the infamous last lap that I've been trying to lead for so many years," he said. "Coming off Turn 2, I started to get a little bit emotional, but I looked in my mirrors, and Scott was there. I went through Turn 3 flat-out. I went into 4 and [slowed down] just a bit, and came off of 4 and down for the checkered flag, and Scott was right under my exhaust. He gave me one heckuva scare that he was going to take it away then. I moved over a little bit [to block] but finally decided to move straight on, and that the best man was going to win."
Before the race few would have guessed that the best man would be driving a Chevy-powered car. Sunday's race had been billed as the onslaught of the Ford engines, which were reentering the Indy fray after a 21-year absence. The once dominant Chevys, it appeared, had been passed by; they had been unable to match the Fords in practice and qualifying. The Andrettis were driving Fords, as were Eddie Cheever and Luyendyk. But Little Al nursed his old Chevy home—at the relatively slow average speed of 134.479 mph—in front of the faster but unluckier Fords.
Unluckier still were the Andrettis. Amid the Unsers' joy there coexisted a deep sympathy for their old and dear family rivals. When Little Al and his wife, Shelley, returned to their motor home after the race, someone had painted, in yellow, on the window, THERE IS A GOD. The Unsers knew that, down at Methodist Hospital, the Andrettis were praying.
PHOTO
JOHN
BIEVER
Shelley (center) and the Unser crew watched Little Al cross the line a heartbeat ahead of Goodyear.
PHOTO
JOHN
BIEVER
A third generation of Unsers helped their dad celebrate his first win at the Speedway in 10 tries.
PHOTO
CHUCK STOUFFER/
UPIPHOTODAVID LEE HARTLAGE/APIn a grim day for the Andrettis, crashes hospitalized Mario (left) and Jeff (above) before Michael broke down while leading on Lap 189.PHOTOBUD CUNNINGHAM/AP[See caption above.]PHOTOLYNN HOWELL[See caption above.]PHOTODAVID LEE HARTLAGE/APThe cold snap wreaked havoc, claiming Sneva (above) on Lap 11, Gache (below) on Lap 62 and Crawford (26) and Mears on Lap 75.PHOTODUANE APPLEGET/REUTERS[See caption above.]PHOTODANNY JAMES/AP[See caption above.]