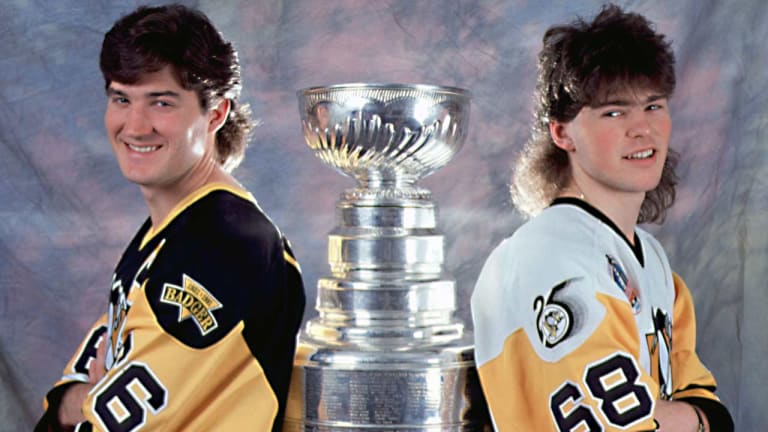 Swept Away
The Penguins staked a claim to greatness by winning their second straight Stanley Cup, 4–0 over the Blackhawks
Great teams don't win the Stanley Cup once. Great teams win it five times in seven seasons, like the Edmonton Oilers in 1984 through '90. Or four times in a row, like the New York Islanders in '80 through '83 and the Montreal Canadiens in '76 through '79. So, are the Pittsburgh Penguins a great team? "When you win once, people wonder," says Pittsburgh forward Kevin Stevens. "When you win twice, it's no fluke."
The Penguins proved they were no one-year wonders by completing a Stanley Cup finals sweep of the Chicago Blackhawks with a wild 6–5 victory Monday night at Chicago Stadium. They dismantled and demoralized the Hawks, winning pretty with speed and finesse in one game, winning ugly with strength and toughness in the next. Their best players were clearly better than Chicago's best players. Penguin Tom Barrasso proved to be a classic big-game goaltender. No Hawk could skate with 20-year-old Jaromir Jagr. And Chicago most certainly had no one to counter the world's top player, Pittsburgh center Mario Lemieux.
Lemieux, the playoff MVP for the second consecutive year, scored four goals in the first two games of the finals. His defense—yes, his defense, in the form of some sensational poke-checking with his long-distance reach—contributed significantly to the 1–0 Game 3 win. His 34 points in the playoffs led all postseason scorers, even though he missed five games with a broken hand. His five game-winning goals tied a playoff record.
But the sound Lemieux heard in the background throughout the playoffs was not the roar of appreciation. Instead it was the rattle of ancient skeletons behind doors he thought had been sealed in the spring of 1991, after he had led the Penguins to their first Stanley Cup. The head rattler was Chicago coach Mike Keenan, who tried desperately to get the attention of league officials with a withering attack on Lemieux during a press conference in Pittsburgh before Game 2.
Keenan accused Lemieux of repeatedly taking pratfalls after incidental contact with opposing players. "I can't respect Mario for diving," Keenan said. "The best player in the game is embarrassing himself and embarrassing the game." The aroma of sour grapes was unmistakable: Chicago defenseman Steve Smith had been called for hooking Lemieux with 18 seconds left in Game 1, and five seconds into the subsequent power play Super Mario flicked a rebound past Blackhawk goaltender Ed Belfour to win the game 5–4. It was a crushing defeat for Chicago, which had led 4–1 in the second period.
"I actually didn't dive that time," Lemieux said. Other times, many other times, he has tumbled to the ice hoping to attract a sympathetic whistle. Early in his career Lemieux was excoriated behind his back by opposing players, coaches and front-office types who saw his flopping as unseemly behavior for a would-be superstar in a sport that likes its rough edges razor sharp. After Lemieux led the Penguins to a Cup, the criticism faded, only to be revived by Keenan in a pointed attempt to influence the referees in a series that, from Keenan's perspective, had already gone awry.
As usual, Lemieux played it close to the sweater. "No comment," he said after scoring the winning goal in Game 2. a 3–1 Pittsburgh victory. Then he smiled and added, "For now."
The Chicago camp insisted later in the week that no disrespect to Lemieux had been intended. "We don't mean to cast anything negative toward Mario," said Darryl Sutter, the Blackhawks' associate coach. "We're just asking the question, Is there another set of rules, unwritten rules, that are there for Mario and Mario alone? Based on what we've seen in this series, the answer is yes."
The NHL offered all the usual denials and ducked the substance of the charges. Is Lemieux a protected player, as Keenan suggested? Should penalties be called at the lightest touch from goons who could be out to break or, at least, bruise the best player in the league?
The unanswered questions revived other unanswered questions. Should David Shaw, formerly of the New York Rangers, have received, as he did, a 12-game suspension for clubbing Lemieux in the chest with a stick three seasons ago? Should the Rangers' Adam Graves have gotten four games for breaking Lemieux's left hand in the second round of this year's playoffs with a slash? And at the bottom of the slag heap, the oldest, nastiest question of all: Does Mario make the most of his skills, or does he dog it sometimes?
"One of the many things Mario does well is conserve energy," says former NHL goaltender John Davidson, a thoughtful observer of the NHL who served as color commentator for Sports-Channel America during the finals. "He conserves fuel. People think he's lazy, but that's not true. He's just smart."
Lemieux is a big man, 6' 4" and rangy, and he skates with a casual grace that at times has been mistaken for a lack of effort. Yes, he has missed 91 games over the past three regular seasons, but he has a good excuse: a back injury that required surgery in 1990 and continues to hamper his movement. On his best days his back is 80% functional and 20% painful.
"I don't think people realize what Mario goes through," Davidson says. "So maybe he only plays 50 or 60 games during the regular season. I'd rather see him do that than force himself to play with a bad back. This way, he's ready for the playoffs, and this way maybe we'll get to watch him play for 10 more years. People should accept Mario for what he is and applaud his greatness."
Lemieux, 26, played only 64 regular-season games this year. He still won his third scoring title in five seasons, with 44 goals and 131 points. Less than two weeks after Graves hacked him, Lemieux was back playing more than 30 minutes a game. He had to win a Cup before anyone would acknowledge that he had surpassed Wayne Gretzky, in his prime a member of four championship teams in Edmonton, as the game's best player. Now Lemieux has won two. And while Gretzky plays out his career with the mediocre Los Angeles Kings, Lemieux could win a few more.
Unlike Gretzky, Lemieux will have the opportunity to school his own successor. He has seen the future of hockey, and its first name, Jaromir, is an anagram for Mario Jr. Jagr, a 20-year-old from Czechoslovakia who joined the Penguins in 1990, scored 32 goals this season, but he didn't truly open up his bag of tricks until Lemieux was injured in the second game of the Patrick Division finals against the Rangers. Since then, he has scored fabulous goal after fabulous goal. Just watching him carry the puck can be a thrill. In Game 1 of the finals he faked and juked his way past three Blackhawks before calmly delivering a backhand shot that tied the score 4-4 late in the third period. "Inexcusable," fumed Keenan. "The greatest goal I've ever seen," gushed Lemieux. Cornered by a pack of news hounds as he munched on pizza in the locker room after the game, Jagr responded to a shouted question with a wide, toothy grin. "I don't know enough English to describe that goal," he said.
Language barrier notwithstanding, Jagr is as gregarious as Lemieux is laconic. Already he's at least as popular as Lemieux is in Pittsburgh. When Jagr let slip earlier in the season that he loved Kit Kat candy bars, there was a run on convenience stores in western Pennsylvania. Hundreds of fans bought the bars, stuffed them into envelopes and mailed them to Jagr. "I eat them all," he said. Hey, the teeth are going to go one way or another, right? Capitalizing on his popularity, a local radio station features Jaromir's Weather, in which Jagr's previously taped, heavily accented voice reads the daily forecast. Try to imagine Bela Lugosi speaking underwater.
Jaromir's Weather wasn't the only thing that was hot as May became June and this longest of NHL seasons drew to a close. The Penguins finished with a flourish, winning 11 games in a row to tie the league record for consecutive playoff victories in a single season. The record had been established less than two weeks earlier by the Blackhawks, whose streak was halted by Pittsburgh in the first game of the finals.
That game and the ones that followed proved a couple of things the Penguins stressed throughout the postseason: They never quit, and they never, ever panic. Perseverance and poise are among the many legacies left by their former coach Bob Johnson, who died of cancer last November. "We stay on an even keel and do what it takes to win," says Stevens.
Like an increasing number of teams in the NHL, the Penguins treat the regular season as a tune-up for the playoffs. Interim coach Scotty Bowman was frustrated by his players' refusal to discipline their game, and they were dissatisfied with his distant, no-nonsense approach. But after finishing third behind the Rangers in the Patrick Division race, Pittsburgh began playing for pride and demonstrated that its Cup victory over the sub-.500 Minnesota North Stars last year was not a freak. shadowed by pesky defenders because the Penguins now have so many other threats, quickly scored an insurance goal.
Incited by tough forward Rick Tocchet, who came over from Philadelphia in a late-season trade, the Penguins began giving as much as they got from the physical Hawks. "We're not the most aggressive team in the world, but we do play aggressively when we have to," Tocchet said after Pittsburgh had taken a 2–0 lead over the Hawks. "We're just as big and strong as they are, and it's not the worst thing in the world to take a hit."
Poor Chicago. Everything was going according to plan, yet nothing was working. The Blackhawks were winning the battles along the boards but losing the war. Surely things would get better for General Keenan back on home ice. But Game 3 in Chicago turned into a defensive struggle that no amount of strategy could control. In a game like that, somebody's going to come up with the big saves. It turned out to be Pittsburgh's Barrasso. Somebody is going to win every big face-off. That was Pittsburgh's Ron Francis. Somebody is going to find a way to score, even if it is on a fluke goal that deflects in off at least three players. That was the deep, supremely confident Penguins, who got just such a goal from Stevens. Somebody is going to find a way to lose. That was ... well, you know.
Trailing 1–0 with less than a minute left in that critical third game, Keenan pulled Belfour to go with six attackers. Seconds later, Pittsburgh's Larry Murphy goaded Chicago's Chris Chelios into retaliating for a surreptitious Murphy cross-check with a spear and a flurry of punches. Bye-bye, Chelios. Bye-bye, man advantage. Bye-bye, game. Bye-bye. Blackhawks.
Hello, dynasty.
PHOTO
BRUCE
BENNETT
Phil Bourque's goal against Belfour started the Penguins on their Game 1 comeback.
PHOTO
PAUL
BERESWILL
Knocking Lemieux (66) off his feet is no longer the answer to controlling the Penguins, who have other threats, principally Jagr (68).
PHOTO
BRUCE BENNETT
[See caption above.]
PHOTO
PAUL
BERESWILL
Big hits like this one on Bob Errey weren't enough to force the Penguins off stride.