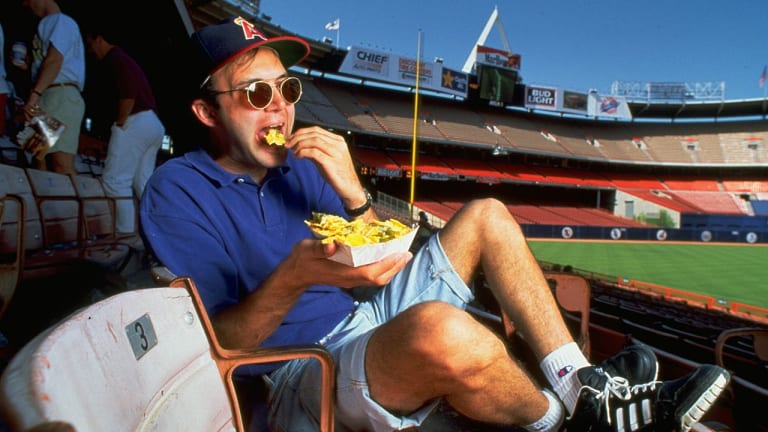 Into a Golden State
Our intrepid scribe's tour of California ballparks gave him license to celebrate
Evian Vendors. Baseball in California means Evian vendors. And clubhouse haircuts by Bruce of Laguna. Ballpark cappuccino. Dodger-blue skies in sun-Orange County. Early exits. No socks, just stirrups. Umps working the breakfast plate at Belisle's near Disneyland. Bleacher beach balls. Lou Rawls. Riot makeup games. Hotel wake-up quakes. Ballpark . . .sushi?
This is how I spent my summer vacation: Photographer V.J. Lovero, his assistant, Bob Binder, and I were assigned to commune with California baseball. So we rented a sedan with a sunroof and a cellular phone, took a Pasadena on the optional car-fax and set out to discover the Golden State's baseball ethos, or at least to locate its best fish-taco stand. Over seven games in seven days last week, we bagged rays in all five of California's big league ballparks and traveled light the length of the state. You have to travel light. As a sign outside Candlestick Park says: No cans, no bottles, no weapons.
It has been 35 years since Horace Stoneham pulled a Horace Greeley and went west. Stoneham moved his New York Giants to San Francisco after the 1957 season, the same year the Brooklyn Dodgers fled Flatbush for El Lay, and major league baseball had realized its manifest destiny. The Athletics are now in their 25th year at the Oakland Coliseum. Dodger Stadium just turned 30. Jack Murphy Stadium in San Diego will host the All-Star Game next week.
This is a celebratory summer for California baseball, to be sure, but that is hardly the reason for our road trip, despite what I may have told my editors. No, for the real reason, I quote actor Tom Hanks, who once contentedly snatched and deflated a beach ball that violated his airspace during an Angel game at Anaheim Stadium, saying afterward, "I've always wanted to do that." Well, I've always wanted to do that, too, and here would be a week's worth of opportunities.
Oakland, San Francisco, Anaheim, San Diego, Los Angeles. That would be our itinerary. What should we expect? I asked Montreal Expo catcher Gary Carter, a Culver City, Calif., native and former Dodger and Giant who has played in each of the parks on our list. The Kid graciously offered this scouting report on California fans: Oakland—"Kind of laid-back." Anaheim—"Pretty laid-back." San Diego—"Somewhat laid-back."
I'll pick up the rest of Carter's candid observations later on, but for now, let's hit the road. Or shall I say, Let's get busy? That's the phrase with which Arsenio Hall begins most of his shows. Later I will meet a Dodger Stadium peanut vendor who has guested—it's a verb in California—on every major television talk show except The Arsenio Hall Show. "I'll wait until my book comes out before I see about his show," Roger (The Peanut Man) Owens will tell me while producing a business card from his wallet. "It is called Working for Peanuts—and Loving It!"
That same vendor also . . . I'm sorry. I've digressed. I inadvertently veered off on a mental exit ramp there, which is easy to do in California. We were about to begin the trip. But first a precaution: In case any of you become lost during this travelogue, we should arrange a place to meet later on in the story. How about the Rubio's fish-taco stand by the press gate at Jack Murphy Stadium? After all, it is there that I would overhear a man standing in line say to the group of kids he was chaperoning, "Let's all meet back here after the sixth-inning stretch, O.K.?"
O.K. by me.
Here, then, is my diary of the week. I'm calling it Seven Days That Shook the San Diego Marriott Hotel and Marina. See you after the sixth-inning stretch.
Sunday, June 28, Oakland
This morning, I slept through California's most powerful earthquake in four decades, though a hotel housekeeper later woke me while taking her new eight-cylinder riding Hoover for a test drive in the hallway outside my room.
A Channel 4 newsman says of the quake that struck Southern California at 4:58 a.m., leaving a 7.4 on the Richter scale, "Once again, Californians are being told to prepare for the Big One." William Randolph Hearst's sometimes sensationalist San Francisco Examiner reports that at the Anaheim Marriott, where I will be staying later during this trip, a woman was suddenly "pitched from her bed."
I also have a reservation at the San Diego Marriott, where the Giants were sleeping when the quake hit. Pitcher Francisco Oliveras woke to plaster falling on his face. Third baseman Matt Williams and catcher Kirt Manwaring checked out of the hotel. "I didn't like the sound the building was making," pitcher Bryan Hickerson tells the Examiner. "Too much popping and snapping." Popping and snapping? Take a baseball tour of most states, and those are the sounds of fastballs and catchers' mitts.
Because downtown San Francisco, where I am staying, is hosting 20,000 convention-going librarians, and 400,000 parading gays and lesbians (and a statistically inevitable number of overlapping lesbian librarians), it takes forever to get through traffic and across the Bay Bridge to the Oakland Coliseum for the A's-Minnesota Twins matinee.
In fact, we will spend so much time in transit this week that I will be able to fill out a solid lineup card of license plates when the trip is over, including the likes of PWR HTR, I TRN 2, STRIK 3. To whom would I hand this lineup card? To the guy with the plates that read 3x YROUT. Who am I? I'm a native of Minnesota, a TWIN FAN, you could say, though I enjoy an occasional DOGR DOG when I'm in my guise as a SPTWRTR. These are actual California plates. I will see them all on this trip.
The Coliseum turns out to be the least rich of our five venues. Aside from partaking of the state's finest tailgating, and watching the Twins hang an ungodly 10-spot on the scoreboard in the fourth inning, and having my Polaroid picture taken with a cardboard cutout of Jose Canseco, and dropping bogus missives into the Fan Feedback Boxes—feedback, man; is that California, or what?—and invading the carnival-like Family Entertainment Center, where fans are screening a pre-Olympic basketball game on TV...besides that, there isn't anything to do here. Nothing to do but watch baseball, I mean.
So the crowd is dust by the seventh-inning stretch. (That's right: They stretch in the seventh inning here. Interesting.) In the sixth the Coliseum bleachers are full and the nearby BART train-station platform is empty. Then suddenly, in the seventh, the bleachers are empty and the platform is full. It happens that quickly.
Coliseum, Coli-don't.
Monday, June 29, San Francisco
Rainy days and Mondays always get me down. So imagine what today, a rainy Monday, is doing to me. We arrive at Candlestick at 4 p.m. for the Giants' 6:35 p.m. tilt with the Atlanta Braves, only to learn that the game has already been called. It is the Giants' first June rainout in 20 years.
To recap the trip thus far: Day One, biggest earthquake in 40 years. Day Two, first rainout in 20 years.
The evening is not a complete washout. We repair to dinner at Kincaid's Bay House, a bar and restaurant in Burlingame. Giants first baseman Will (the Thrill) Clark soon appears at a table in the lounge. Above the bar there is a bottle of something, capped by miniature antlers, that goes for $245 a shot. We opt to send a light beer to Clark instead. He then sends us a Coors Light. The three of us ask our waitress if the Thrill could maybe, you know, send over three straws.
Tuesday, June 30, San Francisco
"Candlestick," says Carter, continuing his scouting report. "The people who can brave that weather—you got some real fans there." The Stick is said to be like the Rock (nearby Alcatraz Island), only less hospitable. But today all is blue skies and beachwear in the bleachers.
We meet 12 guys out here who are also visiting each of the California ballparks. Candlestick is the final stop for their red Econoline van. I ask them for their favorite part of the trip. Here are their replies:
"Five grass fields."
"No fights. I'm from Boston, so it took me a while to adjust."
"Sushi in Anaheim."
"Well drinks in Anaheim."
"Dodger Stadium the day of the earthquake: 12,000 no-shows."
"Tijuana on our night off. Tijuana better be awarded the next expansion franchise."
"The way each park reflects each city—from the friendliness of San Diego to the arrogance of Orange County."
"Yes. Fascism is alive in Orange County. It's alive in the ushers at Anaheim Stadium."
Tab Taber—Tab Taber, man; is that California, or what?—is a 26-year-old high school teacher from nearby Sunnyvale who organized this trip for his friends. They range in age from 25 to 36 and have come from as far as Jamaica. Just how do they know each other? "Basically," says Taber, "we all formed quality friendships through baseball."
There is one other thing Taber would like to say. He says it in much the same way a Marine might say "Semper Fi." It is very important to him, as a Californian, to make this point. "We never came late," he says. "And we never left early."
We watch the Giants lose 4-3 to the Braves. But Clark, perhaps buoyed by the barley we sent him last night, goes 2 for 4 in his first game after missing three with a rib injury, a fact that makes our six-hour, 380-mile postgame drive down 1-5 to Greater Los Angeles fairly fly by.
Our inland route is no U.S. 1—the majestic coastal highway that snakes past Big Sur and Hearst's San Simeon manse—but it does afford views of sprawling vineyards, land the color of wheat, skies like a bad starving-artist painting, the garlic capital of the world (Gilroy), NASA's Jet Propulsion Lab and Magic Mountain's hideous Viper roller coaster, which is so nasty that an L.A. traffic-helicopter pilot once got nauseated on it. Otherwise it's just pretty much San Dimas, where Bill & Ted's Excellent Adventure was set, and the Richard Nixon Library, in Yorba Linda, before we roll past Disneyland and into the Anaheim Marriott, where I fear that I may be pitched from my bed.
Wednesday, July 1, Anaheim
The pancakes are the size of an on-deck circle. "You order an eclair there, and it weighs, like, seven pounds," Roseanne Arnold has said. It isn't on the menu, but I am fairly certain they will give you a side order of pure cholesterol, if you ask. I am talking about Belisle's in Garden Grove, five minutes from Anaheim Stadium. It is where American League umpires meet to eat red meat.
The Texas-Style Breakfast comes with, among other things, a dozen eggs (any style) and a 26-ounce sirloin steak. It retails—I'm not making this up—for $49.95. "The last time I ordered the meat-loaf at Belisle's," says Angel trainer Rick Smith, "my family ate for a week afterwards. We had meat loaf burritos, meat loaf chili. I'm serious."
I go to the umpires' room at the Big A before today's game between the Angels and Twins, but the crew tells me I'd have to talk to their colleagues Ken Kaiser, Durwood Merrill or Rocky Roe for the best Belisle's stories. I'm serious. I swing by the Angel clubhouse, where several players are having their hair cut by two barbers who deliver. The entire bullpen had its hair done in the trainers' room yesterday. I know I said up above that the stylist was Bruce of Laguna, but I had been misinformed. They're actually Jamie and Rick of Anaheim Hills.
What really sets Anaheim apart is sushi. Oakland has vegetarian burgers with blue cheese dressing. San Francisco slipped something called the Rib-B-Que past the FDA. But sushi? "We always sell a lot of it, yes," one of the smiling sushi saleswomen tells me. "We sell more when Boston and New York are in town." The yakisoba doesn't sell so well when, say, Milwaukee plays here.
Given the proximity of Disneyland, it's no surprise that fans of the visiting team tend to people Anaheim Stadium, as evidenced by the cheers that go up every time the Twins score in their 2-1 win. Is there such a thing as an Angel fan? I wore an Angel cap to each ballpark I visited and was showered with indifference at every turn. The cap elicited only one comment, from a drunken fan in San Diego who asked mc why I was wearing it. If I wore a Red Sox cap in Yankee Stadium, on the other hand, it would likely be thrown from the second deck, with my head in it. You know, I think I like Anaheim better.
Thursday, July 2, San Diego
To get to San Diego from Anaheim, you simply merge onto the San Diego Freeway, pass Nixon's old digs at San Clemente, pass Camp Pendleton, the Marine base, and pass the nearby immigration checkpoint. In between, we pull off at San Onofre State Beach—"Old Man's," as we surfers call it. We gape for a moment at the beauty of it all, then pile back in the car and tune to Lee (Hacksaw) Hamilton on all-sports radio station XTRA, transmitting out of Tijuana. Hacksaw is asking California manager Buck Rodgers about his thoughts during the Angels' bus crash in New Jersey six weeks ago.
"To be honest," says Rodgers, "I thought we were going to eat the salad right there." Eat the salad? What a health-conscious, California-vegetarian, life-affirming euphemism for death. Or so I am thinking as I disembark at the antihistoric green cathedral on Friars Road—the unstoried Jack Murphy Stadium. How un-storied? I forthwith reproduce the entire contents of the notebook that I carried with me this evening:
Jack Murphy Stadium is named for Jack Murphy. Jack Murphy was a beloved San Diego SPTWRTR. There is a bronze bust of Murphy outside the stadium, next to a bronze bust of former Padres owner and McDonald's founder Ray Kroc. This is not exactly Monument Park at Yankee Stadium. Especially when you consider the half dollar-sized dollop of pigeon pudding on Kroc's forehead. More than one fan notes that Kroc looks alarmingly like Mikhail Gorbachev. Memo to the stadium cleanup crew: Buff (he man's noggin before the All-Star Game, for God's sake.
Sure, an eclair-fueled Roseanne once sang the national anthem quite badly here. And yes, former Padres leftfielder Jerry Turner once threw the ball backward here, to the outfield wall, while trying to throw a runner out at the plate. And no doubt if the Padres' "Mr. Indispensable," Whitey Wietelmann, 73, weren't off tonight, he could tell some stories, especially about the time he was batboy for a team Jim Thorpe played on. But Whitey isn't here. So all we have to show for San Diego is another home team loss, 3-2 to the Expos, running the California teams' record to 0-4 on this trip. We leave with only that. That, and a gutful of fish tacos. Mmmmmmmmmmm. All is not lost.
Friday and Saturday, July 3 and 4, Los Angeles
Dodger Stadium is California in a nutshell, so to speak. Where else could you find The Peanut Man, who has been throwing his wares to customers for as long as the Dodgers have played here? The Peanut Man did The Tonight Show twice. "But only once with Johnny," he notes. "The second time, George Carlin was guest-hosting."
"You get the biggest crowds in Dodger Stadium," says Gary Carter, "because you have all the glitz and all the glamour." Where else could The Peanut Man be a celebrity, collecting $2,000 in prepaid orders from wealthy "season-peanut holders," who then needn't fish for a dollar every time they call for nuts at the ballpark?
Where else could you find Mike Brito? Brito, the dapper, Panama-hatted Dodger scout, who stands behind the screen with a radar gun each game, is signing autographs during batting practice.
Where else could a player, during a game, wear stirrups without any socks underneath? Dodger reliever Roger McDowell is doing just that. Where else could a vendor call, "Hey! Evvv-iiiian waaaaater, heah! Hey! Evvv-iiiian waaaaater, heah!" as if he were hawking cold Buds? Where else could there be a doubleheader, as there is here on Friday, to make up for a game against the Philadelphia Phillies that was called on account of rioting? Where else could Lou Rawls—Lou Rawls?—be found schmoozing in the manager's office?
Only in L.A. On the Fourth of July, a man behind me at a Dodger Dogs stand drops a quarter that bounces off my sneaker. It is L.A. Kings owner Bruce McNall. (A rare-coin collector, McNall retrieves his two bits from the concrete.) The guy who played Starsky is sitting in the Club Level seats. And isn't that Richard Mulligan at the yogurt stand?
Everyone beats the Dodgers this season, and everyone tries to beat the Dodger traffic. But after L.A. loses 3-2 to the Phillies on Saturday—the Dodgers had swept Friday's doubleheader—virtually the entire sellout crowd of 44,418 stays for what the P.A. announcer calls "a pyrotechnical tribute to this great nation."
Before the lights go out, fans are ushered onto the immaculate outfield sod to better view the fireworks. Can you see this at Shea Stadium?
After seven days spent in sun-saturated, baize-covered ballparks, I have 60 feet six inches of sausage products in me. My body carries a processed nacho-cheese-like substance like most bodies carry blood plasma. I am in blue heaven, even if I never did get to deflate a beach ball. And then the pyrotechnical tribute to this great nation begins, and suddenly the sky is alight with the colors of the flag. All at once, the crowd breaks into God Bless America. All of us.
To be honest, I thought I was going to eat the salad right there. And if I had, I would have gone happy.