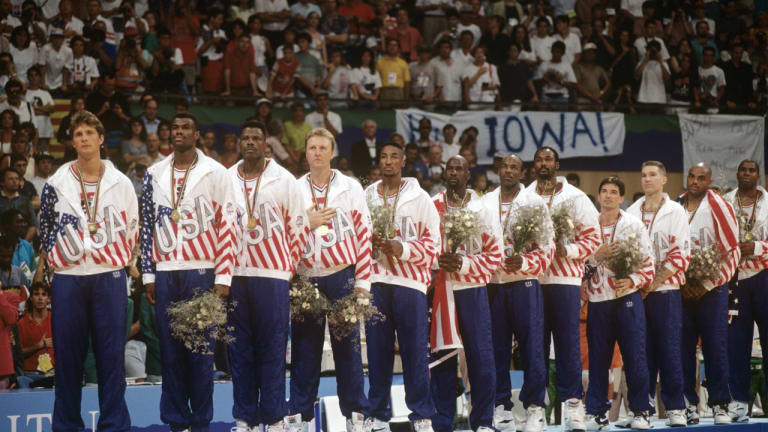 Dreamy
The U.S. men's basketball team was as good as promised. But will such talent ever come together again? Dream on
After the last Patsy had been pasted, the last flashbulb exploded and the last contretemps resolved with American flags and unfastened zippers, the millionaire members of the Dream Team winged their way home from Barcelona on Sunday morning, gold medals around their gold-chained necks. The question for the U.S. men's Olympic basketball team had not been if, but when; not how, but how much. The 117-85 victim for the gold medal on Saturday was Croatia, a team with an intriguing story of its own but doomed to be the most overshadowed silver medalist in Olympic basketball history.
Now for the real question: Will the 1996 Atlanta Games bring a Dream Team II? Or was the combination of factors that brought together 12 of the world's best players in a harmonic hoop convergence a once-in-a-lifetime whirl? Bet on the latter.
"You could call it unbelievable timing," said Chris Mullin after the gold medal game. "All these scenarios coming together. How badly we wanted to get back the gold. A number of top players in their prime, and a couple of others [Magic Johnson and Larry Bird] at the end of their careers. And everybody willing to throw egos, individual statistics and all that other stuff out the window to prepare to be the best team ever." He shook his head. "Nope, it won't happen again."
Said Magic to the press: "When will there be another Olympic team as good as this one? Well, you guys won't be around, and neither will we."
Actually, Croatia was around a little longer than anyone had expected in the final, longer, at least, than had been any of the Americans' seven previous victims, one of which was Croatia. The Dream Team trailed 25-23 midway through the first half, larger) because of the efforts of Toni Kukoc, a 6'10" bundle of talent who had been nearly invisible in the U.S.'s 103-70 victory over Croatia on July 27. But on Saturday the Dream Team pulled away steadily from that point on, thus sparing the basketball world the equivalent of a thermonuclear explosion.
"We weren't worried," said Michael Jordan, who led the Dreamers with 22 points. "When you hire 12 Clint Eastwoods to come over and do a job, you don't tell them which bullets to put in their guns."
You don't tell them what to wear to the medal ceremony, either. Jordan and Charles Barkley both wrapped themselves in the American flag to cover the small Reebok label that appeared on the jacket of the official U.S. medal-ceremony warmup suit. Magic, whose endorsement status has been in limbo since he recently announced a split with Converse, did likewise. And the other nine Dreamers all partially unzipped their jackets, so that the company name was at least partially obscured.
Jordan had been the most outspoken about not displaying the Reebok name—he tossed his award suit to NBA public relations director Brian McIntyre after the ceremony and said, "I certainly don't want it"—but fellow Nike endorser John Stockton didn't waste any time taking off his suit either. "Oops, I'm not supposed to be wearing this," said Stockton, as he peeled off the top and bottom during a postgame interview.
It was unfortunate, though probably inevitable, that such peripheral issues trailed in the wake of the Dream Team, because its play was magnificent. It is no small feat to come into a tournament expected to win every game by 30 points—and then to go out and win every game by 30 points. (The actual average margin of victory over eight opponents was 43.8.) The Dreamers did turn their intensity on and off like water from a spigot, but they constantly needed to invent challenges to keep themselves interested. For the most part, they succeeded. Ultimately, the only standard by which they could judge their play was their own level of expectation, and that's a tough way to compete. All expectations, however, were met, including those of U.S. coach Chuck Daly, who concluded, "This was a majestic team."
Kudos to the Losers
Majestic in a different way were the Olympic accomplishments of Croatia, Lithuania and the Unified Team. It might be difficult for the American fan to understand the emotional baggage that players from those war-torn and politically volatile nations lugged into the competition, but it was heavy.
What American could fully appreciate the joy that the Croats felt last Thursday when they beat the Unified Team 75-74 to gain a berth in the gold medal game, or the sense of triumph that center Stojko Vrankovic, a Boston Celtic by trade, expressed when he tossed the ball far up into the stands after the final buzzer? "I was thinking about my people of Croatia," said Vrankovic, whose hometown, Drnis, is in ruins because of the civil war. "We made the best present from us for our people."
Can any American understand the sadness that the Unified's Alexander Volkov felt when his team lost that semifinal? Volkov had been the leader of a team that had been more or less thrown together, yet had performed surprisingly well throughout most of the competition. But Volkov, who missed the front half of five one-and-ones in the final four minutes of the semi, was as responsible as anyone for the loss to Croatia. Then he compounded that failure by fouling out with 9:10 left in Saturday's 82-78 loss to Lithuania in the bronze medal game.
Finally, can any American realize the relief that guard Sarunas Marciulionis felt when the competition was over and his Lithuanian team had gotten the bronze? Marciulionis had worked at a feverish pitch before the Games to organize efforts and generate funds for the Lithuanians, never mind his burden—team captain, playmaker, scorer, defensive stopper—once he got to Barcelona. "I am very tired," said Marciulionis last week, a wan smile on his face. "I am tired of being salesman and basketball player. It is very hard, you must understand, to hand out slips of paper saying, "Come to the Lithuania basketball fair.' "
Where Are the Players?
Pro scouts digging for discoveries among the foreign Olympians came away largely disappointed, but here are two dark-horse possibilities: Ma Jian, 22, a 6'6" forward from China who is headed for UCLA in the fall; and Eddie Casiano, 19, of Puerto Rico, a lightning-quick southpaw shooting guard who says he has had several offers from American colleges.
Clearly, though, the best foreign players are the ones we already know about: Drazen Petrovic of Croatia and the New Jersey Nets; Detlef Schrempf of Germany and the Indiana Pacers; Marciulionis of the Golden State Warriors; the might-be Chicago Bull, Kukoc; the probably-never-will-be Portland Trail Blazer, Arvydas Sabonis of Lithuania; the probably-never-will-be-Celtic, Dino Radja of Croatia; and ex-Atlanta Hawk Volkov, bound for the Italian league.
Kukoc and Radja both received something memorable from the gold medal game. The former got an affectionate rub on the head from Magic, a sign that his strong effort (16 points, nine assists, five rebounds) had been noted and appreciated. And Radja got the shirt off Barkley's back, literally. Radja had asked Barkley before the game if he could have his number 14 warmup jersey, and Barkley gave it to him with a smile and a slap on the back.
A Daly Portrait
The nattily dressed U.S. coach did a pretty good job of meeting his two pre-Olympic goals: to not call a timeout and to not rise from his seat during a game. As to the former, Daly's performance was perfect—he did not call a single timeout. And on only a few occasions did emotional moments or differences with a referee's decision compel him to stand and pace the sideline.
More important was the understated job that Daly did in molding a collection of large egos into a group of players who functioned as a team. "The guy who will not gel am credit for this [gold medal] is Chuck," said assistant Mike Krzyzewski, "and he deserves a lot." As the medal ceremony wound down, Magic and a few other players beckoned to Daly and his assistants—Krzyzewski, Lenny Wilkens and P.J. Carlesimo—to join them on the podium. (Coaches of winning teams do not receive Olympic medals.) But Daly and his staff smilingly declined.
Bird offered a theory, only half-jokingly, as to why Daly was so successful. "Chuck didn't have any problem with ego," said Bird, "because Chuck's got a bigger ego than any of us."
The enduring image of Daly in Barcelona, though, is one that was captured after one of the Dream Team's early victories. There was Daly in the interview area, seated alone next to a large potted plant, reading a magazine and untouched by the media attention being lavished on his squad. Disturbed from his reverie, Daly looked up, gestured at the plant, adjusted his lapels and said, "Whaddya think? Is this one the Christmas card?"
Still the Main Man
Anyone who thinks that Jordan is not the best player in the world simply didn't watch the events in Barcelona. On the most star-studded team in history, Jordan was, simply, the star stud. When Magic was on the floor running the fast break. Jordan was his finisher. When Jordan was called upon to run the offense, he did so with control and a few dazzling no-look passes. When Daly gave the ball to Scottie Pippen, Jordan acted as a decoy. When the U.S. needed a defensive stopper, as it did in the semifinal against Lithuania, Jordan got the call—and made life miserable for Marciulionis. And when the team needed a scoring jolt, as it did against both Lithuania and Croatia, Jordan went out early and kick-started the offense.
Other Dream Teamers had more to gain than Jordan—and did. Magic showed the world that being HIV positive is not a reason to give up. Pippen, the highest-profile member of Jordan's supporting east in Chicago, somehow flourished in an even higher-profile cast. And Barkley, while doing nothing to quell doubts about him as a volatile character, elevated his reputation as a scorer, re-bounder and fast-break rambler. But basketball's king on the court, for a couple more years at least, remains Jordan.
Retirement?
Did you have your VCRs running on Saturday? Was this the final game for Magic and Bird?
Magic says he will base his decision on a complete physical and a conference with his physician in about three weeks. It's anyone's guess whether Magic will return, because he does not know himself. It was clear during the Olympics, though, that his skills, conditioning and enthusiasm for the game have not diminished.
The feeling among Dream Team members, however, is that Bird has decided to hang it up. He had his moments in Barcelona, and he repeatedly showed that his ability to throw the no-look touch pass is without equal. But stiffness in his back plagued him for much of the tournament, including the gold medal game, in which he failed to score in 12 minutes of action.
Still, Bird would not tip his hand. "I'll let you know in September" had been his broken-record message until he altered it slightly on Saturday night, when he said, "This was my last game...tonight."