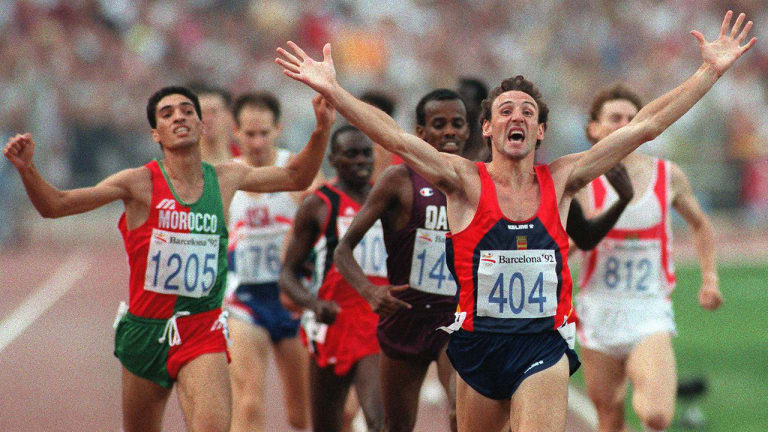 Proving Their Mettle
For two dazzling weeks in Barcelona, the Spanish showed the world that their country has come of age, both on and off the playing field
The Paseo is sacred in most parts of Spain. It is both an evening stroll and an act of community and yes, a chance for a country that knows little of air-conditioning to lay the breeze upon its sweat.
But something more kept driving ticketless Spaniards up the hill of Montjuïc toward the Olympic Stadium as the Games approached their close, until finally the hillside was so choked that there was no more air or exercise to be had. Something more even than the magical interplay of fountains, rainbow floodlights and music that accompanied one up the steps, a walk up that gave one a floating feeling, as if one were ascending Olympus.
It was as if Spaniards wanted to walk the ground and feel the air where their city had made its mark and their country had come of age, as if they wished their children, for posterity's sake, to drink from the cherubs spouting water at the fountain just outside the stadium. Each night around 10 o'clock the stadium would spill its 65,000 down the hill into the tens of thousands walking up, with the downhillers telling the uphillers, "Did you hear? Peñalver won a silver for us in the decathlon! . . . We took gold in the 1,500 meters! It was Cacho!"; the uphillers crying, "¡No!"; the downhillers crying, "¡Sí!"; and all of them turning the vast stairway into one unholy clot, not that anybody really gave a damn.
Nobody here ever dreamed the Games would turn out this sweet. Spain, a country that had won only one gold medal at the 1988 Seoul Games and four in the 96-year history of the Summer Olympics, wound up with a stunning 13 golds in Barcelona, and 22 medals overall, not to mention 17 more in the demonstration sports of taekwondo, Basque pelota and roller hockey. Even those four gold medals from the past had hardly seemed tangible to the average Spaniard, coming in the tut-tut sports of yachting and equestrian. But this year's gold haul tasted of red wine and smelled of sweat, coming in games ranging from judo to track to cycling, soccer to field hockey to swimming—along with archery and more yachting.
Other host nations' athletes have ridden the adrenaline rush of local love all the way to the world's highest podium. South Korea's gold medal count doubled in 1988 as compared with its '84 Olympic total. Japan quadrupled its gold in Tokyo in '64. No one, however, could remember a country ever . . . well, what in the hell is the word for a multiplication of 13 times? One could almost sense this country putting the anemia and torpor of Franco's four decades behind it, a nation reaching up to feel its biceps, down to squeeze its calves and saying, "Yes, we have muscles! Yes, we have sinew!"
"This is proof," said Miguel Ángel Milán, coach of silver medal decathlete Antonio Peñalver. "We are not an inferior race."
A festival held once every four years for men and women in leotards, shorts, jerseys and jockstraps had become the way a country proved to itself it was O.K. "We have succeeded in changing the image of this country," added Javier Gómez-Navarro, Spain's minister of sport. "That image of El Cid. When people thought of Spain before, they thought of folkloric Spain of the old days, the people drinking and dancing in Sevilla, the traditional Spain. These are not bad images, but they are not modern. We wanted to tell the world, Yes, Spain still has castles, but it is also a modern country. We wanted to prove that we can organize a successful meeting, and that is what we have done."
Presiding over it all, shining their regal smiles upon virtually every homegrown triumph, were King Juan Carlos I and Queen Sofía. Apprised by walkie-talkie of the latest fortunes of every Spanish medal contender, the royal couple would rush to venues from morning until midnight to root their subjects down every home stretch, through every wave, up every hill. Of course the king was there to console his son, Prince Felipe, who finished sixth in yachting's Soling class. But more important, he was there to bear-hug Catalonia's Natalia Vía Dufresne following her silver medal performance in the Europe class, squeezing a shocked "ahhhh!" from her lungs; there to salute Basque pelota players Josú Mugartegui and Juan Antonio Compañón for their triumph in the cesta punta final; there to celebrate a goal by Asturias's Abelardo Fernández during Spain's 3-2 gold medal soccer win. At the Basque pelota site, filled with men who harbor dark hatred for anything smelling of monarchy or central government, the largely Basque crowd greeted the king with a standing ovation. Day after day he filled Spain's television screens with the powerful image of a charismatic leader gathering all pieces of a country jigsawed by ethnic rivalries into his wide arms.
In an interview on Sunday night with SI, the king chose kingly words to describe his pride. "Sportswise, I am pleased with the results of the Spanish athletes, whose efforts and whose enthusiasm are symbolic of their greatness," he said. "The medals they have won only serve to prove that. They make us all proud.
"Spain has demonstrated that we are capable of organizing the Olympic Games with the perfection that you have seen here in Barcelona. Many doubted we could do it. We have never tried anything like this before, and we ourselves could not be sure. But we have shown everyone what we are capable of."
Juan Carlos also became known, in the process, as Spain's lucky charm, its talisman. Its baseball team was trailing Puerto Rico 2-0 when J.C. materialized—presto! a four-run rally in the sixth and a W. At the soccer final he appeared in the 65th minute—bingo! Fernández scored to tie the game 1-1. "We have two mascots," said Juan Antonio Samaranch, president of the International Olympic Committee. "One is Cobi, one is the king." Oh, what a far, fast trip from September 1989, when local Catalans, many of whom favor independence from Spain, drowned the king's speech with whistles at the opening of the track and field World Cup at the Olympic Stadium.
That is the nature of this strange beast, the Olympics. It sets off nationalistic fervor like firecrackers every four years, and somehow, paradoxically, it douses it, too. Spain's soccer team, fearful of Catalan angst if it played in Barcelona—"We want fans who get behind us," coach Vicente Miera said—had received permission to play its first five games in faraway Valencia. The team was astonished, following its gold medal victory in Barcelona, to see most of the 95,000 spectators still standing, stomping and waving Spanish flags nearly an hour after the game. Tennis player Emilio Sánchez, booed unmercifully by local fans during a tournament at his own home club in Barcelona last year because he had made the blunder of passing his first years of childhood in Madrid, even though he is Catalan, now found himself swathed by frenzied cheers and singsong chants of oleeeeeé, olé, olé, oleeeeé, oleeeeeé.
Success made for a wide, rumbling bandwagon. Martín López-Zubero, a Florida-born-and-raised swimmer who competed for Spain because his father was born there, used to have his knuckles cracked regularly by the local press for his stumbling Spanish. But after he grabbed the 200-meter backstroke gold, no one would have cared if he couldn't pronounce adios. The Catalan flag, which monopolized Barcelona when these Games began, was ripping the sky next to the Spanish banner when they were done. Galicians, Basques and Catalans who might once have been hooted out of bars for cheering on national teams, discovered, with the whiff of conquest in the air, that they could scream for España and not forfeit their manhood.
"I never thought I would sec the day when people are proud to carry Spanish flags in Barcelona," said Arturo Estaban, a taxi driver born and raised in southern Spain who has lived in Barcelona since 1969. "Once, that could get you beat up, even killed. But as I drove around last night, I saw so many I had to keep saying to myself, This is Barcelona, not Madrid. It was crazy."
"These Olympics," said Gómez-Navarro, "have proven what we have said all along about Spain: It is one country, and it has always been. At the soccer stadium there were 50,000 Spanish flags. Where was the independence party then?"
Shocking, delightful images greeted the Spanish each evening when they turned on their TVs and opened their newspapers. Fermín Cacho, blowing past the leaders in the stretch to steal the 1,500 meters. Antonio Peñalver outdueling Dave Johnson of the U.S. to snatch silver in the decathlon. Two tiny women in white pajamas, lightweight Miriam Blasco and half-lightweight Almudena Muñoz, flinging bodies around the judo mat until finally someone handed them gold. Even the water polo team, after losing a gut-ripping final 9-8 in triple overtime to Italy, draping a silver medal around the neck of Spanish player Salvador Gómez's baby on the medal stand to the roars of the crowd. How could Plus Ultra, a Spanish insurance company that underwrote an offer by a chain of household appliance stores to refund the price of all sales from June 3 to July 24 if Spain won more than 10 medals, have known? One million bucks worth of pesetas—¡hasta luego!
But the home-tierra advantage was far from a quirk. It was seeded by money, $160 million from the government and $120 million from 23 corporations, doled out since 1988 in parcels ranging from $10,000 to $75,000 a year to hundreds of Spanish athletes according to their medal potential. Handouts and hoofouts alike, including $800,000 over four years for the care and training of a horse competing in equestrian named Fino Barcelona '92. The horse finished 19th in individual jumping. O.K., so one of Spain's investments may as well have gone for dog food.
A private banking company is establishing a $1 million trust for each gold medal winner, to be paid out starting when the athletes turn 50, and the government is awarding as much as 80 grand to all medalists. An insurance company will provide coverage if these payments exceed available funds, which they likely will. "The company will lose a great deal of money," said Carlos Ferrer, president of the Spanish Olympic Committee, "but it will become famous."
Coaches were hired from Cuba in boxing and volleyball, from the former Soviet Union in cycling and archery, from Bulgaria in weightlifting, England in equestrian, Croatia in water polo and Hungary in fencing and rowing. "We recognized four years ago that our coaches might not be good enough," said Gómez-Navarro. "In some cases the adjustment [to the foreign coaches] was difficult, because a lot of them came from Eastern Europe or Cuba, where you can say things to an athlete and do things in a certain way that you cannot in a democratic country."
The challenge was massive. Sports are a luxury for a country, and Franco's four-decade reign had left only a few elite Spaniards with the time to pursue them. The country's 1980s rush into the global economy compressed time and whip-lashed people, leaving odd juxtapositions. Antique typewriters rubbing Apple computers, donkey-pulled carts alongside BMWs, world-champion women judoists mixed with mothers who still will not sit to eat at the dining room table until their husbands and children have finished.
Male joggers are still rare parrots throughout most of this country; female joggers moving targets for amazed eyes. A fatalism sat on Spain for decades like the fat, hot sun; an inferiority complex burned beneath its olive skin. Astoundingly, swiftly, the country seems to be changing the popular national expression Si Dios quiere (If God wants) to Si yo quiero (If I want). But before a people is ready to see all of itself charging onto the world stage, it must see a few of itself doing that—which is what these Olympics were meant to do.
"When phenomena are produced and you don't see them," said Pasqual Maragall, head of the Barcelona Olympic Organizing Committee and the city's mayor, "no one knows anything about them, they are not multiplied, you cannot propagate them. When you see them, they begin to exist. Now it is taped, and the power of an image observed by thousands of millions of people is indestructible. To change this there must pass another 50 years. It has been demonstrated that Spain is possible, that already it is a lot."
If the cache of medals proved to the people that they were not physical slouches, then the wizardry of the opening and closing ceremonies and the near-glitchless staging of the Games proved to them that neither were they technical dwarfs. "These people know what they are doing," corporate executives kept saying as they gazed at the twinkling city from cruise-ship parties on the harbor. Samaranch, Barcelona-born, called them "the best Games in Olympic history," and few accused him of hometown hype.
Moscow in '80 was hopelessly gray. Los Angeles in '84 was dollar-bill green. Seoul was cool and efficient blue. Barcelona's color was red, the red of vino tinto, the red that blazes in the Spanish flag, the red of the eyeballs of thousands of foreigners wobbling home at 5 a.m., trying desperately to keep up with the endlessly carousing locals.
At last, at the end of the closing ceremonies on Sunday night, the order that Spain had preserved for the fortnight unraveled. As musicians pounded out rock, rumba and salsa, athletes stormed the stage to dance, cops shut off their walkie-talkies to boogie, and Olympic volunteers and even a member of the king's protocol office charged over the chain link fence to join the party. South African and Canadian athletes swiped headpieces from the dancers and formed 30-yard-long conga lines. Danes lay down on the track and rolled. A voice boomed over the public-address system, begging everyone to leave the stage before it collapsed, but the warning went unheeded.
Things had come together for two weeks in Spain. Couldn't they, for just one night, fall apart?