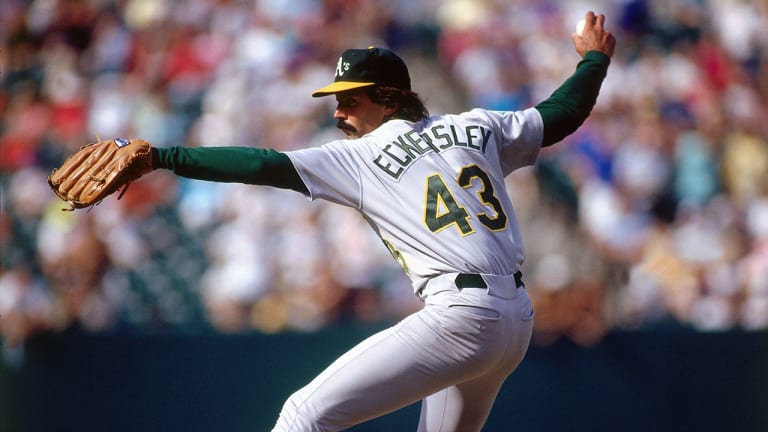 The Paintmaster
With uncanny control and a peerless talent for painting the edges of the plate, Oakland relief ace Dennis Eckersley has become virtually unbeatable
Paint the black.
That's what a pitcher does when he throws the ball over the outside or inside part of home plate. The pentagonal plate is 17 inches wide and 17 inches deep, and there is a one-inch strip of black rubber that surrounds it. Hence a pitch that travels over the border is painting the black.
There's no telling where the expression originated; it's one of those mysteries of the game that has been obscured by time, like who invented baseball. But if there were an Abner Doubleday of painting the black, he should be Dennis Eckersley, who does it with such astounding consistency that he has redefined not only the phrase but the entire concept of relief pitching as well. Moreover, the Eck, as he is known far and wide, has come up with a few expressions of his own over the years, including such variations on the theme as "paintball," which is what he throws, and "paintmaster," which is what he is.
Baltimore Oriole manager Johnny Oates, who was the bullpen coach with the Chicago Cubs when Eckersley pitched for them, oh, a lifetime ago, says, "His control is so good, I would be willing to put on the gear and catch any pitch he throws with my eyes closed, because I know he's going to hit some part of the glove with every pitch."
From 1988, his first full season as the curtain closer for the Oakland Athletics, through last Sunday, Eckersley had walked 34 batters (eight intentionally) in 337 innings, or 0.91 batters every nine innings. (In two seasons, 1989 and 1990, he walked a total of seven batters. From August 1989 until June 1990, he went 52 innings, or 186 batters, without giving up a walk.) And it's not as if he's serving up "salad"—another Eckspression. In those 337 innings he had an ERA of 1.90, with 350 strikeouts and only 230 hits allowed. (In 1963, when he won the Cy Young and MVP awards, Sandy Koufax had remarkably similar statistics: 311 IP, 1.88 ERA, 306 strikeouts, 58 walks and 214 hits.)
Says Milwaukee Brewer reliever Jesse Orosco, "Eck's numbers are unbelievable. I don't know how, but he doesn't walk anybody. And a great reliever will have a few blown saves. The man doesn't even have that."
Indeed, the 37-year-old Eckersley has 37 saves in 38 save opportunities so far this year. During a five-month stretch over the past two seasons, he had 40 consecutive saves, a major league record. Since 1988 his save percentage of .892 (206 of 231) easily surpasses that of the second-best reliever over that span, Tom Henke of the Toronto Blue Jays (.867). What those numbers mean is that while the A's get nine innings in a game, their opponents have only eight chances to win.
Says Doug Rader, the A's batting coach, who managed the California Angels from 1989 to 1991, "I loved to manage against Dennis. It meant I didn't have to manage as long." In other words, it ain't over till...the Paintmaster slings.
Take the Eck's 31st save this year as an example. On July 22 he was called upon to protect an 8-5 lead in the ninth against the visiting New York Yankees. He struck out Charlie Hayes and Matt Nokes on three pitches apiece, then got to 0 and 2 on Pat Kelly before he fouled one off. Kelly fought off two more pitches and drew a ball before he finally struck out. Thirteen pitches, 12 strikes, three strikeouts. Eckersley might have gotten the Yankees on nine pitches if he hadn't been a little rusty; his most recent appearance had been eight days before, in the All-Star Game.
Eckersley is having such a sensational season that he should be treated like a blockbuster summer movie.
"The best pitcher in all of baseball right now." —Jeff Montgomery, Kansas City Royal closer
"A sure Hall of Famer." —John Wathan, California Angel interim manager
"The king." —Sparky Anderson, Detroit Tiger manager
"The ace of all aces." —Doug Rader, Oakland A's coach
Paint the black. It's also a metaphor for what the Eck has done off the field. He has mowed down a murderers' row of misfortune: a much-talked-about divorce, arm ailments, alcoholism, stick-a-fork-in-him scouting reports, the incarceration of his older brother and, last but not least. that home run by Kirk Gibson, which, in Eck terminology, was the mother of all walk-off pieces.
Eckersley painted all the black corners of his life, and he has lived not only to tell about it but also to tell about it willingly, openly and graciously. There's no artifice to his pitching—well, maybe there's a little—and there's no artifice to the man. "There's no bull——to him," says George Brett of the Royals.
Few players in baseball are more universally liked or respected by their peers than Eckersley. "I always root for him," says Red Sox coach Don Zimmer, who managed the young Eck in Boston. "I still check the box scores for his name. Of all the people I've managed in this game he's one kid I'll remember, because he always approached this game like it was supposed to be approached. He had fun, he was competitive, and he loved it."
In fact, you could have an ongoing debate in the Oakland clubhouse on the question of whether Eckersley is a better pitcher or person. Says Jim Corsi, an A's reliever from Newton, Mass., "I worshiped the Eck when he pitched for the Sox, and now that I'm in the same bullpen with him, I marvel at what he does on the mound. Hey, the greatest compliment ever paid to me was when I was saving games for Tacoma earlier this year and they started calling me Eck-Corsi. But knowing Dennis as I do—we work out together in the off-season and dress next to each other—I almost think he's a better person than he is a pitcher."
"Dennis Eckersley is a great guy," says Sandy Alderson, the A's general manager. "But if you ask me, I'd say he's more impressive as a pitcher. The only time he gets in trouble is when Doug Harvey is calling balls and strikes." Alderson is talking about last month's All-Star Game, when, with Harvey—the umpire they call God—behind the plate, Eckersley gave up two runs in the ninth; Alderson is also talking about Game 1 of the 1988 World Series, in which Gibson hit that homer in the ninth with Harvey standing behind the catcher. "I think Dennis was squeezed [by Harvey in the All-Star Game]," says Alderson. "I should go back and look at Game 1 of the '88 Series."
Thanks to the magic of videotape, he can do that. But that tape, which may be the most oft-played in baseball history, feeds the memories of fans, who are constantly reminding Eckersley of the homer—"dropping a Gibson on me," he calls it. Yet for all the pain that tape has caused him, Eckersley holds nothing against videotape technology. It was, after all, a videocassette that changed his life.
"Let's pull out the save against Toronto."
Oakland manager Tony La Russa is in the A's state-of-the-art video room, and he has just selected one of his favorite Eckersley tapes, save number 30, against the Blue Jays on July 11. "We have a 3-1 lead in the ninth, and Dennis has to face Roberto Alomar, Joe Carter—two All-Stars—and John Olerud, who is swinging the bat very well right now. In this one you'll see that he throws his fastball to all four zones, and he also has a great slider. Here's Alomar, who he pitches differently every time. [Alomar flies out to center on a 2-2 fastball.] Now watch what he does to Carter. [Carter grounds out to third on an 0-1 slider.] And now Olerud. [He goes down swinging, on three pitches: slider, fastball, fastball.] That was nice."
Asked how he would characterize the Eck as a pitcher. La Russa says, "Here it is in 25 words or less: Good stuff. Great command. And the best mental approach of any pitcher I have ever known. How's that?" Not bad—16 words. Eck-like.
When Eckersley comes running in from the bullpen, making his customary little skip three steps into his approach, he's really only bringing two pitches into the game: a fastball that sometimes touches 90 mph, and a hellacious slider. He also has a pretty good sinker, but he hardly ever throws that because, he says, "it's a ball." Several teams, most notably the Blue Jays in the 1989 American League Championship Series, have accused him of scuffing the ball. "I don't cheat," says the Eck. "But if I was handed a ball with a scratch on it, I would probably know what to do with it."
Still, plenty of relievers have better stuff. Some baseball people feel the key to Eckersley's success is his funky delivery. Says Blue Jay general manager Pat Gillick, "He's a difficult guy to pick up because he throws very close to his body. He sort of shoots it at you, like a pitching machine without an arm. All of a sudden the ball just appears. And whereas most pitchers let go of the ball with the hand on top, his hand is under the ball, so that most of his pitches ride up."
Of course, no other reliever in history has had Eckersley's control, or what Angel pitching coach Marcel Lachemann refers to as "extreme location." Dan Quisenberry, the acknowledged bullpen paintmaster before Eckersley came along, walked 1.40 batters every nine innings (compared with the Eck's 0.91 the past five years). Even the best control pitcher of this century, Cy Young, walked 1.11 hitters every nine innings, clearly making Eckersley the Cy of relief. (BBWAA voters, take note at Cy Young voting time.) Since becoming a stopper Eckersley has walked (unintentionally) two batters in an inning only once. And in that time just three baiters have drawn more than one walk off him: Kent Hrbek (three), Randy Milligan (two) and Robin Yount (two).
There's also a certain theatrical quality to an Eckersley performance that works in his favor. "With his mustache and long, flowing black hair, he reminds me of a buccaneer," says Alderson. "Or a thespian playing a buccaneer. I don't think any of it is put on. Dennis is genuinely excited out there, and it gets our fans very excited, and that helps him." Even on the road an Eckersley entrance raises the temperature of a ballpark, which makes the batters want to beat him even more. That, of course, makes them easier to beat.
Still, as La Russa has pointed out, Eckersley's secret is not so much external as it is internal. Says the Eck, "Basically I'm scared to death out there."
His good friend Scott Sanderson, the Yankee pitcher who played with Eckersley on the Cubs and the A's, says, "I've never come across anyone else who so openly can let you know everything going on inside. Dennis is pretty candid about his fear of failure, for instance. When he goes out there on the mound, he wants to hurry to get it over with so he can breathe a sigh of relief." Or as A's catcher Jamie Quirk says, "He's so afraid of failure that he's perfect."
It's a little hard to reconcile the image of Eckersley gunning down the last batter with the notion that he's just a frightened boy out there. But it's true. "Every time I go out there," he says, "the fear is running through my head. What if I fail? I let everybody down, the team, the fans, my family, myself. That's why I won't throw balls. I don't want to walk Mike Davis again, you know what I mean? [Sec Game 1, 1988 World Series.]
"Maybe because I came so close to throwing it all away before, I'm even more frightened. You'd think that this season I might be a little more relaxed. Instead, I'm worried about how many more years I can do this. And what happens to me when I'm finito, when I'm gassed?"
But surely there must be some enjoyment in what he is doing?
"There is for the other part of me," he says. "When I go out there, there are, like, two me's. It's an out-of-body thing. Inside, I'm scared. But outside, I like to watch myself put on the cape."
Like Superman?
"No, more like Mighty Mouse. Here I come to save the day."
Eckersley's drive to succeed—or, rather, not to fail—is clear in his workout routine, which is unusually arduous for a baseball player and especially so for a relief pitcher. Says Eckersley, "One of the things I learned about in rehab was the potency of endorphins, those proteins in the brain. Some people drink to release them. Now I exercise. Besides, when you're 37, if you don't work out all the time, you're gone."
His off-season conditioning begins immediately after the end of the season at various gyms and fitness centers near the house he shares with his wife, Nancy, and their two-year-old son, Jake, in Sudbury, Mass. During the season, while most of his teammates are shagging flies or taking BP, the Eck is running his daily four miles. During home stands his route runs from the Oakland Coliseum to the Jiffy Lube on Hegenberger Road and back. Every once in a while a passing motorist will ask him for an autograph or maybe even drop a Gibson on him. But that doesn't deter Eckersley.
His pregame routine is part superstition, part why-change-what-works. Before every game the A's play, he has a turkey sandwich on white with mustard. Why mustard?
"Mayonnaise is fattening," he explains, "and I don't want to throw a fat pitch. I want to put mustard on the ball."
When the game starts, he stays put at his locker. ("It's kind of fun saying goodbye to the guys at that point.") But as the game moves along—and Eckersley watches almost every pitch on TV—he gets increasingly nervous. Around the fourth inning he puts heat packs on his right shoulder, and about the fifth he gets dressed. He sits in the dugout during the sixth and seventh, and in the top of the eighth he wanders out to the pen. He is almost never called upon before the ninth, and La Russa rarely has him warm up without bringing him into the game. Once he is on the mound, there are the eight warmup pitches, always in the same sequence: two fastballs, two sliders, fastball, slider, fastball, slider.
When he throws, Eckersley has his right eye closed, in the manner of a marksman. And then, before the other team knows it, the game is over. Mighty Mouse has saved the day.
There's an interesting tape that you won't find in your video store, although you can order it from the Center for Sports Conditioning in Boston. It's called A Doctor's Prescription for the Pitcher. The doctor is Arthur Pappas, the Red Sox medical director and something of an arm guru, and the pitcher is Dennis Eckersley. "I think Dr. Pappas's first choice was Clemens," says the Eck, "but Roger couldn't do it."
No offense to the Rocket, but the video wouldn't have been as effective with him in it. The first part of the tape, which is hosted by Boston sportscaster Bob Neumeier, deals with Eckersley's history, from his days pitching for the Washington High Huskies in Fremont, Calif., to the present. The Eck talks about the arm problems he had—his right shoulder in '83 and again in '85—but more important, he talks about his problems with alcohol. "If you pitch a good ball game, you wind up celebrating a win. Or if you don't, you wind up drowning your sorrows. So it's either one or the other, and the next thing you know, it's always there."
The second part of the tape is devoted to the workout, which Pappas recommends that pitchers do three times a week in season and five times a week in the off-season. It's a bear. There are 15 flexibility exercises, 11 shoulder exercises, five for the forearm and wrist, and three each for the trunk and the lower body. All this and aerobic conditioning too.
An impressive regimen, to be sure, but it is the Eckersley history that most intrigues, a history that bears repeating, if only as a reminder of how good a starting pitcher he once was. At 20, in May 1975, he made the Cleveland Indians after only three minor league seasons, and in his first game he shut out the A's 2-0. In fact, he did not allow an earned run in his first 28⅖ innings, which is still a major league rookie record. He won 13 games that year and was the American League Rookie Pitcher of the Year. In 1977 he had a string of 22'Äö√Ñ√∂'àö√±'àö¬® hitless innings (second only to Cy Young's 25'Äö√Ñ√∂'àö√±'àö¬®, in 1904). The core of Eckersley's hitless streak was a May 30 no-hitter in which he beat the Angels 1-0, striking out 12. His catcher that night was Ray Fosse, who's now a broadcaster for the A's. "Every time I see him pitch nowadays, I'm reminded of that night," says Fosse. "His delivery now is pretty much what it was then. If people think he gets excited now, they should have seen him then. After striking out somebody, he'd yell, 'You're next!' at the on-deck batter. I remember the very last batter he faced that night, Gil Flores. He was stalling, and Dennis shouted, 'Get in there!' "
Before the 1978 season Eckersley was traded to the Red Sox, along with catcher Fred Kendall, for pitchers Rick Wise and Mike Paxton, third baseman Ted Cox and catcher Bo Diaz. The trade was a blessing, because Dennis was going through a divorce from his first wife, Denise. The split became somewhat notorious after Eckersley's best friend, Indian centerfielder Rick Manning, moved in with and subsequently married Denise. (Eckersley, who still has amicable relationships with both Rick and Denise, remains quite close to his daughter from that first marriage, Mandee, who is 16.)
The Eck became an instant folk hero in Boston, winning 20 games with a 2.99 ERA in that fated season—the year of the Bucky Dent debacle—and captivating the writers with his colorful language, which was really handed down to him by a former teammate on the Indians, Pat Dobson. In DialEckt, which is what Boston Globe writer Peter Gammons called it, "iron" was money, "salad" was a nothing pitch, a "Bogart" was a big game, "walk-off piece" was a game-winning homer and "oil" was booze.
Eckersley had another good season in '79, going 17-10, 2.99 and meeting Nancy O'Neil—a model and a communications major from Boston College—at Daisy Buchanan's, a popular Boston night spot where she was waitressing. She first took him home to her family in West Roxbury because he had long hair and she wanted to get a rise out of her father, Ed, who was then a Boston police captain; but Ed and Dennis soon became fast friends, and in 1980 Nancy and Dennis were married.
In the meantime, though, Eckersley's arm had begun to lire. The win totals fell and the ERA rose, and Red Sox fans fell out of love with him. "I used to have a car with THE ECK license plates," he says. "I got rid of them after I came out of a bar one night and the tires were slashed. In those days Nancy used to come to every game, and she had to listen to 'You suck, Eck' all the time. Now I'm stylin', and she hardly ever comes to the games."
The worse he pitched, the more he par-tied, until he became something of an oil-master. After the '83 season (9-13, 5.61 ERA), in which Eckersley was jokingly referred to as the American League's batting-practice pitcher, Pappas convinced him that he needed to strengthen his shoulder. But before the Red Sox had a chance to see the results, they traded him, along with infielder Mike Brumley, to the Cubs for Bill Buckner in May '84. In the second half of that season Eckersley went 8-3 to help the Cubs win the National League East.
Eckersley even gave up liquor for a while. He had a decent year in '85, but then he developed some shoulder tendinitis and started drinking again. Wrigley Field, with day games only, didn't help; the day games only made for longer nights. The oil was now mastering him. "The first year in Chicago wasn't too bad," says Nancy. "But then Dennis started drinking again. I could see it in his eyes, hear it in his voice on the phone. I think I really realized he was in trouble when he came home one day, chewing gum like mad. I went into the bedroom for a minute, and when I came out, he was still chewing. But there was a drink hidden behind the TV set."
"Nancy started going to Al-Anon [the support group for the families of alcoholics]," says Dennis. "She would tell me she was going to these meetings, and I would say, Aw, honey, what do you want to do that for?' I mean, how clueless can you get?"
How bad was Dennis?
"He was really bad," she says. "I asked myself all the time why I stayed with him—we did split for a while—and I think it was because I could still see that he was a good, caring person. But that person was getting smaller and smaller."
After a rotten season with the Cubs in '86, Eckersley was 32 and, a lot of people thought, washed up. He could have been had for peanuts. And he was, just before the start of the '87 season. "We had a couple of good reports on him," says Alderson, "but basically we were just waiting for the price to go down." In what is arguably the worst trade in Alderson, history, Eckersley was dealt to the A's, along with infielder Dan Rohn, for three minor leaguers: outfielder Dave Wilder, infielder Brian Guinn and pitcher Mark Leonette. (Only Guinn is still in pro ball, at Triple A Vancouver.) Not only that, but the Cubs agreed to pay the bulk of Eckersley's 1987 salary.
Unbeknownst to either the Cubs or the Athletics, Eckersley had seen the light. Or, rather, the video.
"It was between Christmas and New Year's after the '86 season. Nancy was off on a modeling assignment, and I was taking care of Mandee, who was 10 at the time. We were staying over at Nancy's sister's house in Connecticut. Well, one night I put on a real premeditated drunk. God, I was awful, and with Mandee there too. What I didn't know was that D.J., Nancy's sister, was filming the whole thing.
"The next day I stumbled downstairs, and there's the video of me on TV. I'm watching myself in horror, saying, 'D.J., turn that off, please turn that off' But she wouldn't, no matter how much I pleaded with her. So I had to watch this drunk who was me. And that was it. That was the wake-up call."
A few days later Nancy dropped Dennis off at Edgehill Newport, a treatment center in Newport, R.I. Six weeks later she picked him up, and they began to pick up the pieces. With a little help from the Athletics.
"The trade came at just the right time," says Eckersley, "but none of this was overnight. I didn't just become a closer, and I didn't just become a new person. I wasn't easy to be around, so Nancy and I kept our distance that year. In fact, if you asked me for one image from '87, it would be me sitting by the pool, with a Walkman on my cars and tears in my eyes."
When Eckersley first reported to the A's, La Russa took him aside, and they went for a little walk in the outfield. "Tony gave me this little talk he has about how a player has to keep that fire inside or he might as well quit," says Eckersley. "It was really a gut check, and I guess I nodded enough to pass."
La Russa also recalls the chat: "He passed, but he still had to pitch."
The A's were looking to work Eckersley in as a fifth starter, but in that role he was pretty much a bust, 0-2 with a 6.94 ERA. However, they also had some bullpen needs, and the Eck proved outstanding in long and middle relief—this despite the fact that he wasn't crazy about the idea of becoming a reliever. After all, he was a pitcher with 100 complete games to his credit. "But going through a dramatic life change made it a little easier for me to accept my new role," he says.
La Russa is quick to credit pitching coach Dave Duncan with turning the Eck into a reliever, but Duncan is just as quick to credit Eckersley. "I'm no genius," says Duncan. "Heck, if Jay Howell hadn't come up with a sore arm, we might not have discovered that Dennis was the game's greatest closer. Dennis did it, not me." Howell had been the last man out of the Oakland bullpen, but he went down with bone chips in his elbow shortly after the 1987 All-Star Game; Eckersley took over, and he saved 16 games that year. After the season he got a vote of further confidence when the A's traded Howell to the Dodgers.
Relief suited Eckersley perfectly. He always was a good control pitcher. Since he no longer had to pace himself, he could air out his arm a little more. And opposing teams couldn't stack their lineup with lefthanded hitters, as they had when he was a starter. In 1988 he had such a good year in relief that he finished second in the Cy Young balloting to Frank Viola of the Minnesota Twins; he had 45 saves during the regular season, plus one in the All-Star Game and four more in the American League Championship Series against his old team the Red Sox. Then came the Bogart.
It wasn't God's fault.
Despite Alderson's suspicion, the replay shows that Doug Harvey—God—didn't squeeze Eckersley that night in Dodger Stadium. With a 4-3 lead in the bottom of the ninth, the Eck got the first two Dodgers he faced, on a pop-up and a strikeout. Then weak-hitting Mike Davis came up as a pinch hitter; with the count 3-1, Eckersley threw ball four, a pitch nowhere near the paint.
And that brought Gibson to the plate. The Eck had him 0-2, and the next thing you know, it's 3-2, and Eckersley throws a backdoor slider, and the rest, as they say, is history. More than that, really. When NBC replayed the homer the next night, interspersed with footage of the climactic scene from The Natural, it became legend. "It got so I began thinking I gave up a home run to Robert Redford," says Eckersley.
For almost an hour after that game, the Eck answered question after question about Gibson's homer. In an era when players hide after inconsequential errors, he replayed the 3-2 backdoor slider for everybody.
Had he taken a drink that night, nobody would have been too surprised. But he didn't. "My recovery wouldn't have been worth very much if I had blown it on one game," he says. Instead he and Nancy stayed up all night, talking about the homer.
Some pitchers might have been devastated by that walk-off piece. Angel reliever Donnie Moore cost his team the 1986 American League Championship Series when he gave up a homer to Boston's Dave Henderson, and the mistake so ate at Moore that it is believed by many to have led to his suicide in 1989. But Eckersley, if anything, emerged stronger from his mistake. "He has taken some mighty hard shots," says Rader. "Adversity destroys a lot of people. It rounds out a few too, and Dennis is one of those."
After Eckersley went back to Boston that winter, he was honored as the Player of the Year at the Boston Baseball Writers dinner. In a moving acceptance speech he thanked Nancy for sticking with him through all the trying years.
They had one more painful—and public—moment awaiting them. In April 1989 Dennis's older brother, Wallace, then 36, was put on trial and later convicted for the kidnapping and attempted murder of a 59-year-old woman in Colorado Springs in 1987. Because of Wallace's alcoholism, his attorney was using "involuntary intoxication" as a defense. Dennis was called as a character witness to describe the effects of alcohol on him and his brother. "People don't realize what alcoholism can do to a person," Dennis said at the trial. "It jeopardized my career and my relationship with my wife, which is more important to me." Dennis recalled that Wallace, who is two years older, began drinking when he was 13 or 14, and that by the time Dennis was 16, they were drinking together: "We were out to get drunk, not to have a couple of beers." Over the years, Dennis said, his brother would appear periodically, usually unannounced and drunk, sometimes accompanied by other hoboes. The last time Dennis saw him before his arrest was in May '87. "He looked strange," said Dennis in the courtroom. "He had a Charles Manson look. Eerie."
Wallace is now serving a 48-year sentence in a Colorado prison. "He's actually much better off there than in the streets," says Dennis. "At least my parents and I know where he is." Because of what happened to his brother, Dennis and Nancy now devote time to helping the homeless in the Bay Area.
No wonder Eckersley is so determined not to lose control. Don't walk Mike Davis. Don't drink.
In the music video of Richard Marx's Take This Heart, Marx, as a Cub, hits a World Series game-winning homer off—you guessed it—Dennis Eckersley. The pitcher and the musician are friends, so Eckersley agreed to be the fall guy one more time. "The first time we showed the video to Jake," the Eck says of his two-year-old son, "he saw me throwing the big pitch at the end, and I swear he said, 'Oh, no, Daddy.' At least he didn't say, Oh, no, Daddy, not the backdoor slider!"
Jake was born on April 29, 1990, which also happens to be Mandee's birthday. He was adopted, but it was an open adoption, and Nancy and Jake's natural mother are so close that "she's like my little sister," Nancy says. "We even look like sisters." Jake, for his part, is already a family breadwinner: He collected his first paycheck the other day. Nancy had to take him along to her audition for a cellular-phone commercial, and the director ended up casting both of them, as a mother and son on a bicycle.
The Eckersleys always seem to be having these little adventures. Nancy's parents came in from Boston recently to help her and Dennis move into their new house in Danville; but the family cat, Spenser—whom Nancy found on the set of the TV show Spenser for Hire, where she worked as the stand-in for Barbara Stock—went crazy and attacked Nancy's mother. Sadly, the cat had to be put down.
But nowadays most of their adventures are happy ones. Over the winter Nancy got a call from a friend who said she had just met Nancy's uncle Francis in Yarmouth Port on Cape Cod. This came as something of a shock to Nancy, who had long assumed that her father's brother was dead. In any event, she hadn't seen him for 20 years, ever since he and her father had had a falling-out. So Nancy and Dennis drove down to Yarmouth Port and left various messages around town. Uncle Francis called her in Sudbury, and they arranged to meet the next day. Nancy then informed her father, Ed, that she was going to meet Francis. "At first," says Nancy, "Dad was unsure about coming, but the next day when I went to pick up my mother to go down there, Dad got in the car with us. It was a very touching reunion." It seems that Nancy has earned another save of her own.
Dennis's parents, Wally and Bernice—he's a retired warehouse supervisor, she's a retired keypunch operator—go to every A's home game. "My father never missed a game when I was growing up," says Dennis. "I owe a lot to him. But the man can chirp. He's prouder than proud of me, and sometimes it gets a little embarrassing. Like, the other day he and Mom went to a Chinese restaurant near here with Nancy's folks, and before the owner even seats them, my dad is telling the guy that his son is Dennis Eckersley, the relief pitcher for the Oakland A's. Ed said the owner didn't know much English, much less baseball."
The surest place to find Eckersley's parents is at the Coliseum. Dennis has his father's face, but he also has his mother's smile and the twinkle in her eye. "We are very proud of Dennis," says Wally, "especially about the way he turned his life around." Says Bernice, "When he was a kid, he was the same way he is now—sweet and considerate. He grew up and became himself again."
The Eck recently signed a two-year contract with the A's for $7.5 million, with the club holding an option for the third year at $4 million. It's a nice deal, but had Eckersley waited and gone the free-agent route at the end of this season, he might have become baseball's ironmaster. "I know I could have made a lot more iron on the market," he says, "but why would I want to leave? I'm grateful to the A's for what they've given me, I love pitching in Oakland, and besides. I still can't believe I'm making all this money." If there were a baseball Diogenes in search of that one grateful player, well, here he is.
He has a sweet contract, a happy home life and those outrageous stats. If the Eck keeps this up—and stays scared at the same time—he's liable to win his first Cy Young Award this year, maybe even the MVP. Another few years and he'll have 350 saves and 200 wins, undeniable Coopers-town credentials. But Eckersley doesn't even want to think about that. He says his biggest thrill this year wasn't on the field. "It happened in San Diego during the All-Star break," he says. "We were leaving a restaurant, and this man comes running out after me. I figured he wanted an autograph, but all he wanted to do was shake my hand. He told me that he had been sober for a year now, and that I had been his inspiration. Isn't that something?"
PHOTO
V.J. LOVERO
Dennis is safe at home these days with Nancy and Jake.