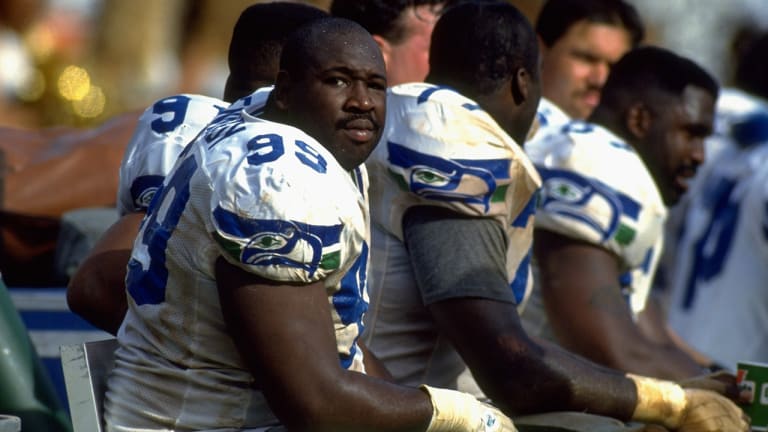 Just Warming Up
In his third pro season, Seattle's Cortez Kennedy has succeeded the late Jerome Brown, who was his best friend, as the NFL's best at his position
Squeezed into an XXL Jersey and 46-inch-waist football pants, his love handles rolling over the belt and his buttocks straining the threads of the seat, Seattle Seahawk defensive tackle Cortez Kennedy looks more like a candidate for a weight-loss program than an elite professional athlete. At various times in his football career, the 6' 1¾", 300-pound Kennedy has been nicknamed Baby Cakes, Tons of Buns, Water Buffalo, Big Fella and the Sofa. His favorite moniker was "my fat little buddy," bestowed on him by the late Jerome Brown, who was an All-Pro defensive tackle for the Philadelphia Eagles and Kennedy's best friend.
"I like being big because it gives me confidence," says Kennedy, who was a Pro Bowl selection in 1991, his second season in the NFL. "Nobody wants to mess with me, and it helps me play my position. If I were small, I'd be a pretty boy. I'd have muscles, and I'd be standing in front of the mirror all the time. I don't want to be thin. I don't want to be pretty. I just want to be the Tez."
Being the Tez means being one of the most dominant defensive players in the league today and one of the strongest and quickest 300-pounders ever to play the game. He is the '90s prototype at his position, which has evolved over the last three decades from tall, chiseled men like Dallas Cowboy Hall of Famer Bob Lilly to cumbersome kitchen appliances like Brown, William (the Refrigerator) Perry of the Chicago Bears and Michael Dean Perry of the Cleveland Browns. The Tez combines the best characteristics of all three—the power and savvy of Brown, the strength of the Fridge and the quickness of Michael Dean. "I'm the new defensive tackle," the 24-year-old Kennedy says proudly. "I'm the start of my generation."
With his low center of gravity and quick first step at the snap of the ball, Kennedy beats offensive linemen by getting his hands underneath their shoulder pads before they can properly set their feet and get balanced. Then he uses his enormous size to knock them on their butts. And don't even think about trying to stop Kennedy by cutting his feet out from under him, because he'll leap over that block and plop onto the quarterback for a sack.
"From my vantage point I see Tez grabbing guys by the shoulders and throwing them out of the way like rag dolls," says Seahawk free safety Eugene Robinson. "I see the hole open, a running back about ready to break through, and, boom, the back gets slammed."
Just ask the New England Patriots about how Kennedy can take over a game. In Seattle's only win of the season, a 10-6 defeat of the Pats on Sept. 20, Kennedy manhandled left guard Reggie Redding, a 6'4" 305-pounder, in the best performance of his career, for which he was named AFC Defensive Player of the Week. In the first half Kennedy ripped past Redding to sack Hugh Millen three times and cause him to fumble twice. New England never crossed midfield. "It was the most impressive first half I've ever seen," says Seattle coach Tom Flores. "He played like a man possessed."
Kennedy finished with 10 tackles, including five for losses totaling 33 yards. "He's quick as hell," says Redding. "He went outside me a lot, and I couldn't do anything about it."
A week later Kennedy worked over Miami Dolphin guard Keith Sims, a 6'2" 310-pounder. "If he gets underneath you, he drives you anywhere he wants to," Sims says. "He's very similar in size and strength to Jerome Brown, but Jerome would take a play off. This guy is coming constantly."
In two games against the Los Angeles Raiders this year, Kennedy had a total of 16 tackles and three sacks. Of his 75 tackles for the season, 19 have resulted in a loss of yardage, including 8.5 sacks. He's the only bright spot on a 1-10 team.
But let's be honest: Kennedy is a freak of nature. He's a couch potato who lifts weights only occasionally, but he can easily squat-lift 600 pounds. He has been timed at 4.8 seconds in the 40. To come close to the 300-pound weight limit imposed by Flores every Friday during the season, Kennedy spends a lot of time on a stair-climbing machine.
"I consider myself a football player, not an athlete," says Kennedy. "I know where I want to go; I just need a little guidance to get there. I don't consider myself a superstar, and I can't imagine ever being one. I work hard every day to get better, and I get smarter and wiser. But I won't ever take myself or my accomplishments too seriously."
Kennedy is downright ornery in the heat of battle. He doesn't like to be disturbed on the sideline by defensive line coach Tommy Brasher. A purely instinctive player, Kennedy will not answer questions about blocking schemes while resting on the bench. "I don't want to think," he says. "I want to be in a reactive mode."
Just as intense in the huddle, Kennedy demands that linebacker David Wyman call the defensive signals immediately. Then he hurries back to the line and issues his challenge to the offense: "Y'all come out of the huddle! Y'all are not going to get anything on this side of the line! Y'all come out right now!"
The third player chosen in the 1990 draft—Seattle traded its two first-round picks, Nos. 8 and 10 overall, to New England so it could move up five spots and select him—Kennedy is the highest-paid Seahawk player. His $6.75 million, five-year contract runs through the 1994 season. Nevertheless, he is the consummate team player. Several times a season he invites all the players and their families to his Bellevue, Wash., home for a barbecue. He had a rec room built adjacent to his garage specifically for boys' night out, and on hot summer days Kennedy insists that the team's ballboys take a dip in his swimming pool. On Mondays he eats dinner at an Italian restaurant with the Rookie Club, which is made up of safety Robert Blackmon, linebacker Terry Wooden and running back Chris Warren, who along with Kennedy are the remaining members of Seattle's '90 draft class.
Kennedy also will go to great lengths to get a laugh out of his teammates. He'll hijack the equipment cart before practice and career around the field at breakneck speed. He'll steal a coach's laser pointer before special-teams meetings and, from a seat in the back of the room, shine dots on players' heads. While showering, he'll pretend to be a Southern preacher, wailing elaborate stories in gospel form about different members of the team, and the Seahawk congregation in the showers will answer back in song.
Growing up in tiny Wilson, Ark. (pop. 1,115), a farming community 40 miles north of Memphis, Kennedy certainly didn't appear to be destined for NFL stardom. In fact, for a while he didn't seem to have the ambition to get the grades necessary to attend college. His laziness frustrated his mother, Ruby Kennedy, a junior high school teacher, and his stepfather, Joe Harris Jr., who owns a demolition, excavation and dirt-hauling company.
Fed up with the D's and F's on her son's report card, Ruby made Cortez quit the junior varsity football team at Rivercrest High halfway into his sophomore season. Later that fall, when Rivercrest was playing in the state championship game in Little Rock, Ruby mailed a postcard from there with an anagram, which, when unscrambled, spelled WISH YOU WERE HERE!
After Cortez promised to take his schoolwork more seriously, Ruby gave him a second chance at football, in his junior year. He kept his word, improving his grades to B's and C's, and regained his starting spot in the Rivercrest lineup. But during his junior and senior years Cortez also ballooned from 220 to 275 pounds, thinking he would be a better defensive tackle if he put on weight. He would come home from school and devour half a package of hot dogs, take a nap and then gobble up the remaining franks. A few hours later he would eat dinner. Many a night he would sneak snacks into his bedroom. When Ruby cleaned his room, she often found plates stuffed under his mattress and ice-cream bowls hidden in his closet. "It's a wonder that mice didn't carry us away," she says.
Kennedy's weight problem, coupled with his 1.98 cumulative grade point average, turned off major-college recruiters. Only Northwest Mississippi Junior College in Senatobia, 40 miles south of Memphis, offered him a scholarship. As a freshman Kennedy blew up to 300 pounds, and by the end of the school year, Northwest Mississippi coach Bobby Franklin told Kennedy he couldn't play football for him unless he got down to 275. Kennedy assured Franklin that the goal was realistic because he would be spending the summer in Denton, Texas, with his cousin Lee English, who had been a star running back at North Texas State. Franklin's hopes were lifted—until Kennedy added that he would be working at a Pizza Hut in Denton.
Recalls Franklin, "Every week I sent Cortez a blank sheet of stationery with one sentence on it: Eat those pizzas—275. When he stepped out of his car in the fall, I couldn't believe my eyes. He looked like a different person."
After trimming to 280 pounds, Kennedy was named honorable mention Junior College All-America in 1987. Jimmy Johnson, who was coaching Miami at the time, snatched him out from under Arkansas, but Johnson's heart sank when Kennedy arrived on campus the following August weighing 319. Johnson put him on the scout team and ordered him to lose 19 pounds. Kennedy struggled in the Florida heat, and the Hurricane players called him Two-Play Tez.
"He'd kill you for two plays, then take the next 20 off," says Randy Shannon, a senior linebacker during Kennedy's first season at Miami and now the Hurricanes' assistant defensive line coach. "He'd get past one drill, then be halfway through the second and flop down. He'd say, I can't make it.' We'd have to hold him up and say, 'Don't quit on us.' " He didn't and saw limited action as a backup.
After that season Johnson left Miami to become coach of the Dallas Cowboys, and his successor, Dennis Erickson, considered redshirting Kennedy. But Shannon wasn't about to let that happen. He moved into Kennedy's apartment and put him through boot camp. Up at 7:30 a.m. to run. Lift weights at noon. Run again at 5:30 p.m. Shannon insisted that Kennedy adhere to a low-fat diet, and he slept on the sofa to make sure Kennedy didn't raid the refrigerator at night.
In late June, Shannon, who had been drafted by the Cowboys, left for training camp, and junior defensive tackle Russell Maryland took over as Kennedy's drill sergeant. Nicknamed the Conscience because he pushed his teammates to over-achieve on the field and in the classroom, Maryland weighed 317 as a freshman but got down to 275. "If I could lose weight," Maryland says, "he could lose weight."
But Kennedy's greatest inspiration to salvage his football career came from Brown, who had been a consensus All-America for the Hurricanes in 1986. Soon after he arrived in Miami, Kennedy's coaches and teammates began telling him, "You could be the next Jerome Brown. You look just like him." The two massive men became instant friends in the spring of '89, when Brown, who had just completed his second season with the Philadelphia Eagles, burst into the Hurricanes' weight room one afternoon and bellowed, "Where's the kid who's supposed to be like me?"
"Jerome hugged me and said, 'You come with me,' " recalls Kennedy, who that summer spent long hours analyzing tapes of Brown and learning pass-rush techniques from him. When the '89 season rolled around, Kennedy weighed 285. He led all Hurricane linemen with 92 tackles (22 for losses), had 7½ sacks and was named All-America, while helping Miami win the national championship. After Seattle traded up to draft him, the Tez rode around campus in a white limousine, standing through the sunroof and celebrating his good fortune. "We're going to be big in Seattle," shouted Kennedy, who had gone to Miami intent on becoming a state trooper.
Brown and Kennedy grew closer, to the point that Jerome's mother, Annie, teased Cortez by referring to him as Jerome's twin brother. When Brown bought a white BMW 750iL, so did Kennedy. When Brown bought a Corvette ZR-1, Kennedy got one, too. After he sacked a quarterback, Kennedy performed the Tez dance, a double-pump pelvic thrust he had picked up from Brown. On Monday nights during the season the two players compared their statistics, but often their long-distance conversations drifted to serious matters, with Brown providing fatherly advice. In the off-season they were partners in fighting the battle of the bulge. They even rented a house in Orlando in the spring of 1991 and stuck to menus designed by a local sports nutritionist.
"It was a tight, tight bond," Ruby says. "They acted just like little kids. They were always laughing and hugging. They never took their friendship for granted."
On June 25, Brown and his 12-year-old nephew, Augusta, were killed when Brown lost control of his Corvette and smashed into a power pole. All the joy drained out of Kennedy's heart that day. From his parents' house in Wilson, he had spoken on the phone to Jerome and Augusta only two hours before the crash. "I cried all night," Kennedy says. "I've never cried like that in my life."
The next morning Ruby drove Cortez to Memphis International Airport. He was supposed to have flown to Miami that day to go on a cruise with Brown. Instead, he was en route to his friend's funeral.
In coming to terms with Brown's death, Kennedy has developed closer relationships with Maryland, who plays for Dallas, and several Seahawk teammates and coaches. "At first I didn't know how I could play football again," Kennedy says. "There have been days when I'm so down, I don't feel anything. But I've got to be strong. I'm a big factor on this team."
For the remainder of his football career, says Kennedy, he will wear number 99, which was Brown's. "We're helping each other through this," Annie says.
While watching highlights of the Seahawks' 1992 season opener against the Cincinnati Bengals, the Browns saw Kennedy sack Boomer Esiason and then do the Tez dance. "Look, it's Jerome!" said Annie. "Cortez is acting like Jerome!"
"I called Cortez and said, 'We saw Jerome the other day—in you,' " Annie says. "I told him, 'We're real proud of you.' "
PHOTO
CORKY
TREWINPHOTORICK DOYLE"I like being big because it gives me confidence," says Tez (far left).PHOTODAMIAN STROHMEYERKennedy at his best: 10 tackles, 3½ sacks, two forced fumbles against the Patriots.PHOTOCORKY TREWINHarris hauled himself up to Seattle for a visit in September.