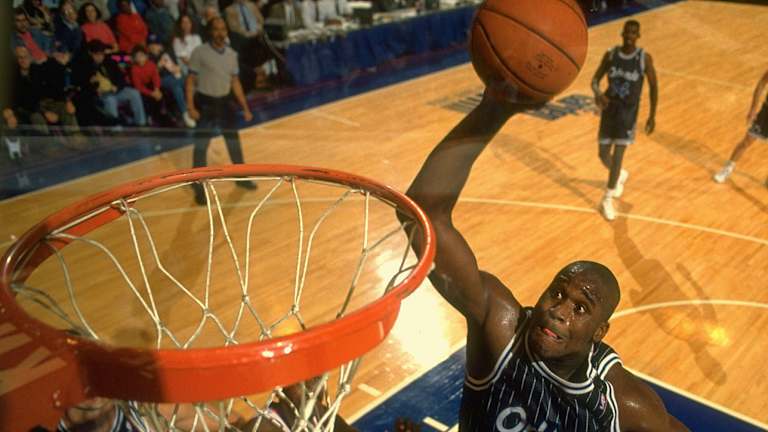 Publish date:
Prince of the City
NBA rookie sensation Shaquille O'Neal brought his 7'1" act to New York last weekend, where he took in the sights, charmed the locals and then did battle with the Knicks and Patrick Ewing
Shaquille O'Neal Stepped out of a stretch limousine, while taking care that his full-length, custom-tailored black leather coat (with a Superman logo on the back) did not touch the wet sidewalk, and began strolling through Times Square. A seven-foot-one-inch, 300-pound giant sporting a lot of leather tends to attract attention, even in New York City, and soon a crowd was following O'Neal and Orlando Magic teammate Dennis Scott as they checked out the sights last Saturday morning. O'Neal doesn't particularly like the Big Apple—"Too much traffic," he said about a hundred times during his eventful 24-hour visit—but he is accustomed to it, having made frequent forays to the city during his formative years, when he lived in Newark, N.J., 10 miles away.
In fact, only one thing seemed to impress this 20-year-old, who is already so famous that he is universally known by his one-syllable nickname: Shaq, pronounced Shack. "Right in this area," said Shaq with a bit of awe in his voice, "they filmed Home Alone 2."
Some 10 hours later, on the court inside Madison Square Garden and surrounded by yet another crowd, O'Neal felt rather like the young protagonist of that cinematic masterpiece. He was lost and alone, dazed and somewhat confused, with trouble lurking everywhere. Turn around, and there was Patrick Ewing applying a forearm to his kidneys. Spin to the left, and there was Charles Smith, long arms raised like a set of goalposts. Spin to the right, and there was the granite Charles Oakley, elbows at the ready. Receive the rock in the post, and see nothing but a sea of white shirts, with no seam in the defense.
Yes, the New York Knicks had come out with a whip and a chair to tame the frisky phenom in his first pro effort against an All-Star—Ewing—in the pivot. And at quick glance, tame him they did. Shaq forced shots, traveled, charged, bricked free throws and threw the ball away. He played, in short, like the rookie that he is, and the Knicks won 92-77.
But take a closer look. In what all sides conceded was a subpar performance, O'Neal outscored (18-15), outrebounded (17-9) and even outassisted (well, it was 2-1) Dream Teamer Ewing. Ewing blocked O'Neal's first jumper, but Shaq subsequently sent back two of Ewing's offerings; and O'Neal had four thunderous dunks, while Ewing got none. Foul trouble is the traditional stumbling block for young centers in these duels. O'Neal had four, which had little effect on his playing time (44 minutes); Ewing had five, which limited him to 35 minutes on the floor.
In fact, what was billed as an "epic clash" of centers-for-the-ages was neither epic (the players more or less neutralized each other) nor much of a mano a mano clash (O'Neal is already so respected that teams will not—cannot—guard him with only one player). Rather, it was like a meeting of two cagey veterans who know each other's moves so well that neither can get much done. But Ewing, a six-time All-Star, should have come out the victor. In Ewing's first "epic" NBA showdown, Moses Malone, then of the Philadelphia 76ers, schooled Ewing for 35 points and 13 rebounds. (Ewing's numbers were 18 and six.)
That was then; O'Neal is now. Clearly, Shaq is something that even Ewing was not as a rookie: talented beyond measure, mature beyond his years. He did not get flustered after a poor first half against the Knicks (seven points, five turnovers) and was not suckered into fisticuffs when Oakley tried to interest him in an exchange of elbows.
After the game, O'Neal and Ewing said all the right things. Ewing on O'Neal: "I just think he's an outstanding player. He works hard; he's aggressive." O'Neal on Ewing: "I think I did pretty good against him. It was a good show. Pat's a great player. I'm a pretty good player."
O'Neal was asked if he sensed that Ewing was really fired up for the showdown. "I don't know," he answered. "I'm not a facial-expression reader." Not bad.
The pregame hours of Shaq's Manhattan adventure were spent rather quietly. On Friday night he ate dinner at Smith & Wollensky's steak house with his father, Army Sgt. Philip Harrison, and his agent, Leonard Armato of Los Angeles, the man who procured for O'Neal a seven-year, $40 million contract, the richest in pro sports, as well as deals with Reebok, Spalding, Classic Games trading card company and Kenner Toys (coming soon: the Shaquille O'Neal action figure) worth $8 million. Armato picked up the tab. Later, in the lobby of the Magic's hotel, O'Neal politely obliged all autograph and photo requests, at one point even grabbing his father and flashing two fingers in the air while mugging for a camera.
"For victory or peace?" he was asked.
"Definitely peace," said O'Neal. His father added, "Peace to Patrick."
On Saturday morning O'Neal and Scott, his new best buddy, went for their Broadway stroll. At the start of training camp, O'Neal made instant points with Orlando's veterans; for example, he knew that point guard Scott Skiles owned the league's single-game assist record (30), and he accepted jersey number 32 because forward Terry Catledge already had O'Neal's favored 33. But he is close friends only with Scott and guard Nick Anderson, both of whom are 24. After all, what's a 20-year-old who digs the rap group Fu-Schnickens going to talk about with, say, 31-year-old Greg Kite? O'Neal refers to himself and his two buddies as the Young Guns; he plans to order up leather coats for the trio bearing that phrase. That would not be the safest message to carry around on your back in New York, but O'Neal says he's not worried.
No wonder. In the streets, O'Neal's appeal is evident. He's a walking photo op. He smiles, he touches, he tugs people into pictures with him. He has a natural warmth that can be compared with that of Magic Johnson and Michael Jordan; and his is a charm that certainly is not ascribed to other men his size. San Antonio's David Robinson is ill at ease in crowds, and Ewing, like Bill Russell and Kareem Abdul-Jabbar before him, simply hates them. O'Neal is no doubt due an attack of cynicism sometime soon, but for now he is the archetypal gentle giant, smiling while he stoops to pick a daisy. He has a large reservoir of nice in that big body. "He's a combination of the Terminator and Bambi," says Armato. "That's very rare." You can say that again. It's anyone's guess whether O'Neal will surpass Jordan with Madison Avenue. (He will soon show his rapping talents in a video with—who else?—Fu-Schnickens.) But O'Neal's 1992 endorsement income is a long way from the approximately $36 million that Jordan now commands. Still, O'Neal is arriving at the perfect time. With Magic and Larry Bird gone, and Jordan and Charles Barkley aging, the league clearly needs a new transcendent star; Shaq is it.
Like many transcendent stars, O'Neal wolfed down a couple of room-service cheeseburgers, perused the selection of in-room movies and caught an afternoon nap in the final hours before the game. When the clash with Ewing was over, he knew he had performed passably but not spectacularly, and he did not lose perspective. Dozens upon dozens of similar challenges lie ahead, but already O'Neal must be considered a member of the game's small class of elite centers. As of Sunday, he was the seventh-leading scorer in the NBA, averaging 25.6 points a game, and was leading the league with 16.8 rebounds. Ewing, in fact, is superior to O'Neal in only two aspects of the game—shooting the face-up jumper and passing out of the double team. When the final buzzer sounded at the Garden on Saturday, the sum total of O'Neal's pro experience had grown to eight games. Keep saying to yourself, He's only 20, he's only 20....
As O'Neal grabbed his bag and headed for the team bus, he appeared calm, neither satisfied nor disappointed. "It takes a lot to get me excited," he said. "You know what gets me excited? When my mom tells me she loves me. That's the only thing I can think of." He wasn't kidding.
FOUR
PHOTOS
BILL
FRAKES
AFTER A SNOOZE ON THE MAGIC JET TO NEW YORK AND SELF-REVELATION ON THE BUS RIDE TO MANHATTAN, SHAQ HIT TIMES SQUARE WITH SCOTT AND, AS HE SELDOM DOES, FOUND HIMSELF LOOKING
UPTHREEPHOTOSBILL FRAKESTHE MAN OF STEEL STILL NEEDED ANKLE TAPE BEFORE HE PREPARED TO LIGHT UP THE GARDEN SCOREBOARD; MEANWHILE, TENNIS PRO ARANTXA SANCHEZ VACARIO SIZED UP SHAQ'S WARMUP PANTSPHOTOANDY UZZLE[See caption above.]PHOTOMANNYMILLANEWING AGAINST O'NEAL WAS A WEARYING MATCHUP NOT ONLY OF BIG AND TALENTED BODIES—BUT ALSO OF SIGNATURE SNEAKERSTWO PHOTOSNATHANIEL BUTLER[See caption above.]PHOTONATHANIELBUTLERSGT. HARRISON CHEERED FROM COURTSIDE, ALONG WITH GRANDDAUGHTER NAKIYHA AYESHA WATSONPHOTONATHANIELBUTLERALL IN ALL, O'NEAL OUTPLAYED EWING, BUT AFTERWARD HE REMAINED THE HUMBLE ROOKIEPHOTOBILL FRAKES[See caption above.]