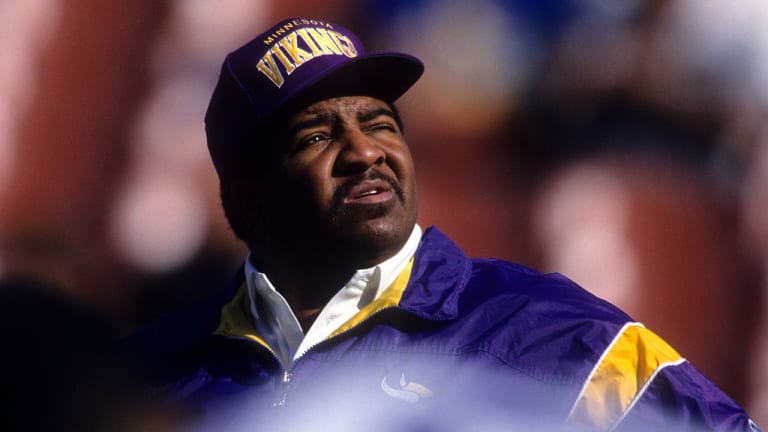 The Color Purple
It's the only one that counts with Dennis Green, who has sold the Vikings on his belief that hard work wins football games
There are no shades of gray for Dennis Green, a black man clad in purple in a white man's world. Take your colors and your social implications and your race relations and all the rest of the baggage you think comes with being a rookie African-American coach in the NFL and see if any of that gets you a single first down on Sunday. See if these things even get you a bite on your favorite Minnesota bass water, Lake Minnetonka, with the sun coming up behind you and all the world misty and golden and quiet. Ball-carriers, blockers, fish—none of them gives a damn about melanin cells at crunch time.
"You know what matters?" says the 43-year-old Green with a small, hard smile. "Preparation and competence. That's all. Players won't play any harder because of race. They don't want a black man or a white man to lead them. They want someone who knows what he's doing."
And bass? Same thing. If they're going to give it up for the frying pan, they'll do it sooner for an angler who knows the water, who presents the lure properly, who sacrifices for what he gets. "Got an old saying from my minister," says Green. " 'Everybody wants to go to heaven, but nobody wants to die.' "
In Green's book, you work, work, work. You take the pain. And then you get your reward. The man refuses to use live bait when he fishes for his beloved bass. That would be too easy, almost like cheating.
"Last year when I put together lists of things I was looking for in a head coach, Denny's name was on nine of the 10 lists," says Viking CEO Roger Headrick. "But what most impressed me was the amount of homework he had done in preparation for meeting with me, the things he prepared about himself, about the Vikings, about coaching in the NFC Central."
Race, Headrick insists, was not a factor in his decision to make Green only the second black head coach in modern NFL history. It may have been a factor when Al Davis installed Art Shell as coach of the Los Angeles Raiders in October 1989, breaking a half century of lily-whiteness at the top spot; after all, it was getting mighty embarrassing for a league in which 56% of the players are black not to have one black head coach. Says Headrick of Green, "I was simply looking for the best head coach possible."
But skin color is something Green can't shake, can't crawl out of, can't ignore, because people won't let him. He's not a rookie NFL coach who has led what was a divided, underachieving team to an undefeated preseason, to a 9–4 regular season and into first place in the NFC Central; he's a black, rookie NFL coach who has done all those things. Regrettably, Green's acceptance last January of the Minnesota job, after three seasons as the coach at Stanford, obliterated the ranks of black head coaches in NCAA Division I football. With Long Beach State having dropped football at the end of last season and with it coach Willie Brown, and with Northwestern having fired Francis Peay in November 1991, Green's departure reduced the number of black head coaches at the 107 Division I-A schools to zero (until Temple hired Ron Dickerson last month). "Now that," says Headrick, "is something I never thought about."
Other people have, though. Much to his discomfort, Green is the perceived authority on minority hiring practices in football at the collegiate and pro levels and as such is asked to weigh in on the related social, economic and psychological impact these practices have on the fabric of American society. Got a question on race and sport? Call Denny. "The whole black issue is not really an issue," says Viking p.r. director Merrill Swanson. "It's all media-driven. I finally had to pull the plug on the Why are there no black coaches on the top college football teams? story. Every reporter wanted him. It got so burdensome for Denny, I just said, 'No more.' "
What people don't know about Green is that he is tough and motivated and talented and more than a little mean. He has never whined about anything, has never wanted anything he didn't deserve and, hence, will never make a good spokesman for those who only want to complain. Raised in Harrisburg, Pa., he married his high school sweetheart, Margie Shindler, a white woman, at age 18, went to Iowa on a football ride, helped raise a daughter and a son, and worked at everything he did. Even when he coached Northwestern, from 1981 to '85, when the Wildcats were mired in the worst losing streak in the history of big-time college football (it ended at 34, in Green's second year), he never made excuses for losing.
"I'm pretty much a hard-line guy," says Green. "I'm old-fashioned. No excuses. My father and mother both died when I was young, and I learned that life is not always fair, that you can't take anything for granted. Plus I'm a product of the '60s. I graduated from high school in 1967, and besides that being a 'summer of love,' it was also a window of opportunity. If you were a black athlete and you took care of business, you could go to school anywhere you wanted.
"There's nothing special about me. I have just always seen so much opportunity out there. My oldest brother, Billy, was a better athlete than me and smarter, too, but in 1956 he got no scholarship offers, and he joined the Air Force. I was part of the first generation to benefit from the civil rights movement. I'd be doing my best right now regardless of what profession I was in."
One last thing, Green adds, "I've never been fired from anything in my life."
In other words, he's good. And talent and determination, in Green's world, will win out. Still, the odds of a black male becoming a head coach in the NFL are far less than of one becoming, say, the mayor of a large American city. How did Green suddenly become "the best head coach possible"?
The process began in Harrisburg, the aging state capital. He was the youngest of five sons of a postal worker and a part-time beautician. Dennis thrived under the firm but loving guidance of his parents, Penrose and Anna, showing resourcefulness and grit even at an early age. Playing football one day at Reservoir Park, 12-year-old Dennis snapped his right arm in a tumble. "Boom, boom!—he broke it in two places, but he didn't cry," says Bobby Green, 52, the second-oldest brother and currently a postal employee in Harrisburg. "He told Mom he thought he might have broken his arm, but she laughed because he acted fine. Later my brother Billy drove him to the hospital and got a cast put on it. Midge—that's what we called Dennis because he was the youngest—learned to write lefthanded. He still can."
Penrose died of a ruptured appendix in 1960, and two years later Anna died of cancer. Billy and the middle brother, Stanley, were out on their own by this time, so Bobby took early leave from the Air Force and, at 22, returned to Harrisburg to be Mr. Dad for his two teenage brothers, Dennis and Greg. "People won't believe this," says Bobby, "but I never had any problem with those boys. I told them to be in on time, do their homework, wash the dishes. It was rough, especially after I got married and had my first daughter, in '64, and a son in '65, but they helped out with the kids.
"My dad always said, 'Your brothers are your best friends,' and I guess we all believed that. But Midge was always so mature. I'd go to parent-teacher conferences, and the teachers only had good things to say about him. He probably could have been anything he wanted."
The old working-class neighborhood on the hill above the Capitol has changed; the sense of community, tidiness and safety that ruled the narrow streets and helped form the Green boys has been replaced by the blight of urban chaos and neglect. The Green family's dwelling has been bulldozed into oblivion, replaced by a vacant, garbage-strewn lot.
As a senior at John Harris High, Dennis was an all-state running back and class president. After Dennis left for Iowa, his high school coach, George Chaump, summed up Green's football skills for the Harrisburg Evening News: "Denny is not the fastest back, but he has quickness and a great natural running style." He started two years at tailback and one at wingback for the Hawkeyes, impressing his coaches and teammates alike with his tenacity and work ethic. "He was a go-getter, just like now," says Richard Solomon, who played at Iowa with Green and is now the Vikings' outside-linebacker coach. "He always had a plan, and he always worked the plan."
"Denny didn't have great speed," says Kerry Reardon, an Iowa flanker at the time. "But he fought for every yard. He was a very serious person who didn't mess around."
Green's years at Iowa were turbulent, politically volatile times on American campuses, and in the spring of 1969, 16 of the 20 black football players boycotted practice to demand additional financial aid and make a statement in support of the black-power movement. It was not like Green to throw his hand in with protesters, but he believed in the cause, and he knew it was just another part of the opportunity he had seized. "We felt the school wasn't ready for us," he says now. "But it was also the times. Black guys wanted to prove their manhood, their boldness, to stand up and be counted. I learned then how things can get lost in the wash, how there's always a misunderstanding behind problems like that. Some of the guys did not come back to the team."
Green, however, did come back. Coach Ray Nagel had asked the players who didn't participate in the protest to vote on which of the protesters would be allowed to return the next fall. "We voted about seven back, I think," recalls Reardon. "And Dennis was voted back, because he was the nicest guy and a real hard worker."
After graduating with a degree in recreation education in 1971, Green took a job at a sheet-metal shop in Iowa City and nearly skipped the coach's life entirely. "I had a chance to work toward being the general manager of the company," he recalls. "But I decided to work as an unpaid volunteer coach at Iowa, to sec if I liked it."
So for a season he worked at the sheet-metal shop from 5 a.m. until noon, showered and then headed to the gridiron. Two points Green would like to make here: 1) "Give a plug to Tom Nereim, the owner of the shop. A good old Iowa guy," and 2) "I want to thank Frank Lauterbur, Iowa's head coach. He didn't have to give me that job." An unpaid job, mind you. Again, Green saw only opportunity.
Following a season as an assistant coach at Dayton and three years back at Iowa as the receivers-quarterbacks coach, Green got a major break when Stanford coach Bill Walsh hired him to be his running backs coach. Every pupil needs a mentor, and Walsh became Green's. "I was looking for a minority when I interviewed Denny," says Walsh. "But that isn't why I hired him. I hired him because he's so articulate and because he's a joy to be around. Another thing that is appealing is that he doesn't relate everything to race. He's been able to cast off that mantle."
Walsh took Green with him in 1979, when he became coach of the San Francisco 49ers. He then helped promote Green for the Northwestern job. "I was sensitive because I didn't have anybody looking out for me when I was an assistant with the Bengals [1968–75]," says Walsh of his nurturing of Green. "[Cincinnati coach] Paul Brown was no mentor. He was selfish. I wasn't about to let the same thing happen to anybody under me. I wanted Denny to get what was due him."
The Northwestern job was a questionable reward for the disciple. It was certainly the only place where a coach could go 3-8 and be voted the Big Ten Coach of the Year, as Green was in 1982. But Green's five-year record with the Wildcats was 10–45, and by the end he needed salvaging. "He'd call and only talk about the positive, the positive, but I knew he was dying," says Walsh. "He did an excellent job at Northwestern, but it was hopeless. I felt I was saving him when I brought him back in 1986."
Though appreciative of everything Walsh has done for him, Green is feisty enough to dispute that returning to the 49ers as the receivers coach was a case of charity. "Bill needed me, too," says Green. Indeed, by the end of his third year in San Francisco, Green had become Walsh's trusted chief of staff. "He was responsible in my absence," says Walsh. "At offensive meetings I'd introduce a play, and he'd take it from there. During games he was the guy on the headset up in the booth talking to me."
When Green took over at Stanford, in 1989, he finally had a real canvas on which he could leave his mark. In three seasons under him the Cardinal went 3-8, 5-6 and 8-4. The highlight was a 36-31 victory in 1990 over Notre Dame in South Bend, at a time when the Irish were ranked No. 1 in the country and Stanford was 1-3. "That was the first time I felt really big-time as a college coach," says Green. "I was struck by the fact that Knute Rockne and Pop Warner had coached at the two schools, and I felt proud."
Green had demonstrated to his players and coaches that he had the enthusiasm and skill to lead his team into the spotlight. "He's the reason Stanford is where it is now," says Glyn Milburn, now a senior tailback for the Cardinal. "He stressed 'winning attitude' so much that after a while we started to have it."
Green also showed he was a dynamic teacher when he took Ron George, an ungainly linebacker transfer from the Air Force Academy, and molded him into a three-time All-Pac 10 selection and Stanford's sack leader this season. "I had decided to go to Harvard, but I came to Stanford in July just to look around," says George, who's now a senior. "I stopped in the coach's office, and Denny happened to be there. He didn't know who I was, but within a half hour he had completely sold me on his dream for Stanford football. He was intense, so driven with heartfelt emotion. I didn't know if he'd ever win a game, but I knew he was going to do something great."
George, who had been raised in Heidelburg, Germany, was such a raw football player that he didn't know how to hit a tackling sled. "Denny taught me everything," says George. "There was never any need for what he did. I was nothing. He had to seek me out."
Why did Green do that? "Human potential," he says. "It always bothers me to see it not utilized."
Green also has a mind that enjoys working out the intricacies of offensive attacks. In 1977 he published a paper in the Athletic Journal entitled "The Fullback Belly Series and Its Many Options." The article is a nine-page compilation of photos, diagrams and written arcana, which only a football geek could love. According to Stanford offensive line coach Scott Schuhmann, Green is "blessed with a sixth sense" that enables him to call the right plays at the right time. Schuhmann was with Green at Northwestern and fondly remembers the Wildcats' beating Michigan State in 1982 on the game's last play, a halfback throwback pass to quarterback Sandy Schwab in the end zone—called by Green. "That was a great play," says Schuhmann. "And Denny hasn't changed since then."
Except that now he is in the money league, and his every move is being scrutinized for its social significance. How has he whipped the Vikings, whose performance last year was called "inexcusable" by Headrick himself, into a single-minded, overachieving unit? To begin with, he got rid of four high-priced veterans—safety Joey Browner, defensive end Keith Millard, running back Herschel Walker and quarterback Wade Wilson—because he didn't think they could help the team win. A Viking insider might not have had the courage to send such stalwarts packing. Walker, after all, went to Minnesota in a trade that was probably the worst of the decade in the NFL but which some folks still hoped would work out.
"Pick the best players and put them on the team," says Green. "When the team sees that, it develops confidence. If you keep players for other reasons, then everybody starts to wonder if you have the guts to turn the program around."
Green waived the 33-year-old Wilson so that two younger quarterbacks, Rich Gannon and Sean Salisbury, could develop. "You can only have two guys fighting for one job," says Green. Then he looked at the rest of the squad and cut everybody else who wasn't up to snuff. Eighteen new players are on this season's roster. "I never have any hesitation to release guys," says Green. "That's the business. Not many guys retire in the NFL."
Next he instilled in his players and staff the need to think positively, to act as one force, to realize how little separates the best teams from the worst. He made every player have a roommate on the road; to break up cliques, he assigned lockers in numerical order rather than by position; he had breakfast served at the training compound in Eden Prairie, Minn., in the regular season so that players would come in early and sit down with one another and become even closer. "He changed the attitude of the team," says All-Pro guard Randall McDaniel. "We're all hanging together now—no individuals. It seems like a simple thing to do, but it isn't."
Green also reinforced a Viking tradition that began under former coach Bud Grant: He has the players stand at attention, helmets under arms, as the national anthem is played. "I respect tradition," he says. "We're all Americans."
Green has given the Vikings an attacking defense that takes risks but comes up with big plays. Minnesota leads the league in touchdowns scored by the defense, with seven, and end Chris Doleman (13 sacks), among others, appears rejuvenated by the fierce style of play. Offensively, Green has installed a conservative, one-back power attack under the guidance of coordinator Jack Burns, a former Washington Redskin coach. Green has purposely avoided a Walsh brand of offense, reasoning that the NFC Central already has enough Walsh disciples in the Green Bay Packers' Mike Holmgren and the Tampa Bay Buccaneers' Sam Wyche and that another Walshian offensive scheme would only make things easier for enemy defenses.
More than anything else, though, Green's emotional, tough-but-fair style of management is what has turned around the Vikings. He doesn't mind having stars, as long as "they don't carry extra baggage. We're all the same—everybody."
Such a team player is veteran running back Roger Craig, whom Green had coached in San Francisco. "He knows my attitude, or I wouldn't be here," says Craig of Green. "He shows no favoritism. If you cause distractions, you're gone; you don't have to blink."
The classic example of Green's no-nonsense approach occurred way back in his first spring at Northwestern, when he kicked Chris Hinton off the team for having walked during part of a mandatory mile run. A tight end at the time, Hinton was only the best football talent to come through Northwestern's ivy halls in a quarter century, but Green didn't care. Hinton was an underachiever. Green offered to help him transfer to Southern Cal or anywhere he chose.
"It shook me up," recalls Hinton, now a seven-time Pro Bowl tackle for the Atlanta Falcons, who literally had to beg Green to reinstate him on the Wildcats' squad. "When I came back, I played on the scout team. It wasn't really fair, but I'm a likable guy, and nobody had ever really kicked me in the butt." Hinton started working hard, switched to tackle at Green's command, became the fourth pick in the 1983 draft and is now a millionaire. "Dennis made the difference," says Hinton.
The Vikings are not a great team—they have weaknesses at several offensive positions—but they play with fervor, winning games they probably shouldn't. On Oct. 4, for instance, Minnesota overcame a 20–0 fourth-quarter score to beat the Chicago Bears 21–20. On Nov. 22 the Vikings rallied from 13 points down to defeat the Cleveland Browns 17–13, even though the offense netted only 141 yards. Corner-back Audray McMillian intercepted a Cleveland pass and returned it 25 yards for the winning touchdown with nine minutes to go. Can you count on something like that happening week in and week out? Sure, says Green: "It's just a matter of making the players realize how hard you have to work to win in this league."
After the Brown game Green stood before the cameras and notepads, ominous at 250 pounds or thereabouts—once a sculpted 195 pounds, he put on most of the girth during his stressful Northwestern tenure—and chided the press for what he perceived to be a negative tone to its basically innocuous questions. Don't ask about quarterback controversies, he yelled, glowering. Write positive things. Don't undermine success. "It's a team, fellows," he said. "It's a team! You guys get used to me. I'm not b.s.-ing."
The fact that Green is a black man does count for something. In 1989 fullback Ellery Roberts transferred from Miami to Stanford because he wanted to play for Green. "It is easier to relate to someone you can envision has gone through what you have simply because of the color of his skin," says Roberts. "You see what he has accomplished, and it is great."
However, Green is so cantankerous, so relentless in his journey, so certain of his grip on the wheel of life that he'll scorch anybody of any skin tone if that person stands in the way of his bounding ship. "You can get aboard, but don't slow us down!" he often warns his players. And where is the ship headed? To the land of success, where the past doesn't matter.
"I don't want it to sound as if there weren't bad things when I was growing up," says Green, in case that was the impression he has given. "Oh, man. I went to school with three guys who committed murder before they were out of junior high. Murder."
And what was it that set the youngsters down the wrong path? "They made the wrong choices," says Green with a shrug.
It's that simple, the coach explains. Opportunity presents itself, you make your choices, and the rest—the part you can't control—is just coloring.