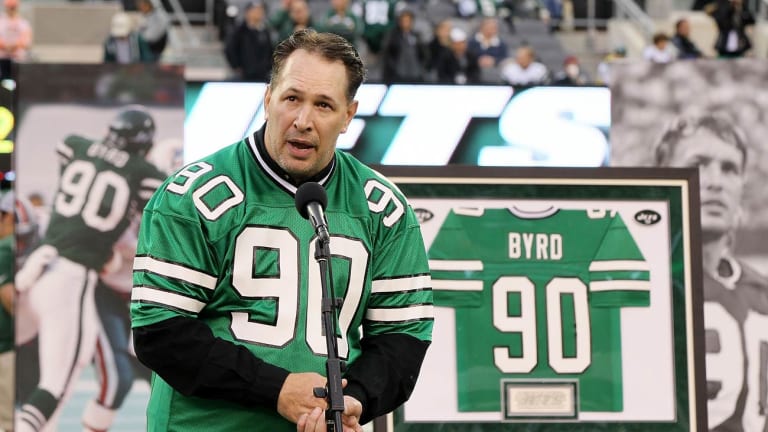 'He Has the Strength'
Dennis Byrd of the Jets lies partially paralyzed in a New York hospital, fighting the odds—as he has so often helped others to do
The phone calls kept coming in to New York Jets offices in Hempstead, N.Y., last week, and Doug Miller didn't always know what to say. "What can we do for Dennis?" the callers would ask. "Can we visit him? Can we send him something? Please, tell us something we can do." A dozen or more of those calls came from charities that Dennis Byrd had touched in his four seasons in New York, and Miller, a public relations assistant who coordinates the Jets' charity work, didn't know how to answer them. "Cross your fingers," he said, "and pray for him."
We never really noticed Dennis Byrd until last week, when he lay partially paralyzed in Lenox Hill Hospital in New York City. "We always hear about the flashy guys and the druggies and the big stars, but not guys like Dennis," weary Jet coach Bruce Coslet said last Thursday. "It's a damn shame people didn't get to know about him until this happened."
The outpouring of tears and prayers for Byrd, who suffered a fractured vertebra in a collision with teammate Scott Mersereau during the Jet game against the Kansas City Chiefs on Nov. 29, seems amazing in hard-bitten Gotham. Before the injury Byrd was largely known as an average 26-year-old NFL defensive end. Cheerful and friendly, he was not the type of player to make the back-page tabloid headlines. Not like the Steve Howes, the Bobby Bonillas or the Lawrence Taylors.
Maybe the fallen Byrd captured so many hearts because of his matinee-idol looks. Or because people felt awful that another football player had been paralyzed. Or maybe it was something Byrd said when he was praying with some friends in his hospital room the night before he underwent a seven-hour operation to clear debris from his injured spinal column and stabilize his spine. "God, I know you did this for a reason," Byrd said. "I'm your messenger." Or maybe it was the message that Byrd's wife, Angela, sent by way of Jet kicker and family friend Cary Blanchard to the huge press contingent waiting for word, any word, on Dennis's condition. "Tell them Dennis says he's glad God chose him for this, because he has the strength to handle it," she said. "And tell them I'm glad God chose me as Dennis's partner."
His vision blurred by tears, Blanchard delivered the message.
When Miller is asked for information on a Jet player, he can usually come up with the name of the player's favorite charity. "Not Dennis," Miller says. "He didn't distinguish among them. His philosophy was, If anybody wants a piece of me, they can have it. Once, Dennis told me he was just a grown-up Boy Scout."
In 1990 Byrd was among a group of Jet players who went to a parochial school in the Bronx to speak at an assembly after a 10-year-old student at the school, Jessica Guzman, had been murdered. "You can't believe how much that visit affected Dennis," says Jet defensive end Marvin Washington, who also went to the assembly. "He broke down right there, crying, and he said, 'We have to do something.' " Byrd spearheaded a drive to establish a $15,000 scholarship fund to help needy children pay the tuition to attend the school. In two years 65 families have received assistance from the fund.
Two summers ago Byrd was the celebrity guest on a cruise around Manhattan that benefited Forward Face, a charity for people with craniofacial disorders. Last summer, when Dennis heard that Forward Face planned another cruise, with a different athlete as the celebrity magnet, he and Angela went along anyway. When an auction of sports-related items began during the cruise, Dennis was in the audience with seven-year-old Stephen Bonventre, who has such a disorder, seated on his lap. Stephen had a football "trading card" of himself, and Dennis got the boy's O.K. to include it in the auction. When the bidding opened on the card, Dennis shouted, "A hundred dollars!"
No one else made a bid, so Dennis said, "One fifty!"
The crowd cheered, but no one else made a bid.
"Two hundred!" Dennis said.
No one else made a bid.
"Two fifty!" Dennis said.
"Sold!" the auctioneer said, and Stephen lit up like a Christmas tree.
Many times a representative of Survivors of the Shield, a New York charity for families of police officers killed or seriously hurt in action, has called Miller asking for a player to have dinner with the family or the child of a fallen officer. Byrd went five times in the last year.
When the Helen Keller Services for the Blind took a group of physically impaired adults to visit the Jet training camp last summer, a few of the players were uncomfortable with the visitors, some of whom had little control over their bodies. But after practice Byrd waded into the group and found a blind woman who was sitting on the grass because she had no use of her legs. Byrd sat beside her, took her hand and explained who he was, what position he played and what his job was like. When she touched his helmet and seemed interested in it, Byrd put it on her head. She screamed. "I thought she was scared," Miller says, "but she was happy." She threw her arms around Byrd, and he threw his arms around her, and the people who saw it say their hug lasted for five minutes.
Also last summer, Byrd reported late to a defensive team film session because he wouldn't leave the field until he had fulfilled every request for his autograph, which took 45 minutes. "The day I don't have time to sign an autograph for a kid," he said, "is the day I get out of football."
The only time Byrd was unable to oblige a Miller request to help a charity was when he had promised his two-year-old daughter, Ashtin, that he would take her to the Ice Capades.
All of this is just a sampling of why the phone kept ringing in Miller's office. "What he's given to the community is coming back tenfold," Miller says.
A personal note from Miller, 24, a bachelor who joined the Jet front office in June 1991: Last year he was preparing to spend his first Christmas away from his family in Pittsburgh. "Dennis found out about it Christmas morning," Miller says, "and he basically threatened me—I had to spend Christmas with him and his family. I was there for five hours. And he gave me a puzzle and a scarf, both brand-new and wrapped. How did he do that? He didn't even know about this till Christmas morning, and he had two gifts for me."
On the Saturday night before the fateful game against the Chiefs, Byrd and Washington, roommates on the road and whenever the Jets stay in a local hotel the night before a home game, prayed together in their room at the Marriott Glenpointe, in Teaneck, N.J. Then they watched A League of Their Own on pay TV, and after that they talked for an hour before turning out the lights to go to sleep.
"I love you, Marvin," Byrd said.
"I love you, Dennis," Washington said.
"Every week we say that to each other before we go to sleep," Washington says.
It wasn't always that way. Washington, who is black, is from Dallas. Byrd, who is white, is from Mustang, Okla. Washington thought Byrd was some hick when Coslet assigned them to room together in 1990. But soon Washington and Byrd started getting along, and eventually they became inseparable.
Washington once noticed that when they prayed in their room the night before a game, Byrd would roll something around in his hands, as someone might finger a rosary. It was a tiny leather sack. Dennis told him it contained locks of hair and personal trinkets from Angela and Ashtin and jewelry that had belonged to his mother. "He does it so he can feel close to his family," Washington says. "He's the real deal, man. The genuine article. Other guys talk about doing things for their family, but when you're around them, you can tell that's just words. Dennis lives it. He lives for his family."
On Dec. 2, as the Jets were preparing for their first game without Byrd, it felt strange to Washington that the chair to his right in the defensive team's meeting room was empty. That was where Byrd usually sat. It felt strange when defensive line coach Greg Robinson opened the meeting by saying, "We still have games to play. Dennis would have wanted it this way." And it felt strange to Washington that he might have to room with somebody else the night before the Jets' game on Sunday. "Oh, I wouldn't do that," Coslet says. "He'll room alone the rest of the season, if that's what he wants."
Still, Washington seems to have come to grips with his football career again. "Life-threatening injuries can happen, and you're never prepared for it," he says. "We were totally unprepared for Dennis's injury. I was totally unprepared. You're watching it happen, and you can't believe it. You visit him in the hospital, and you can't believe it. You want to reach out to him, pull him out of that bed. And you can't. You're mad and you're scared and you're sad and you're angry.
"But this is what I do. It's what I do best. I don't have the hands to be a surgeon. I have the tools to be a football player. Football players hit people. That's my job."
"There's never been a season like this," Coslet says. "Not in history." The Jets, who made the playoffs last year and went undefeated in the 1992 preseason, were 3-9 entering Sunday's game against the Buffalo Bills, who had beaten New York 10 straight times. But last month was especially brutal for the Jets. On Nov. 24 safety Erik McMillan's house was ransacked while McMillan and his girlfriend, Roxanne Garcia, were held at gunpoint. Three days later, three-time Pro Bowl wide receiver Al Toon, who was still slurring his words three weeks after sustaining the ninth concussion of his pro career, retired. And then came the Byrd tragedy.
"This is something that happened that we will never, ever, ever forget," Coslet told his players when they returned to practice on Dec. 2. "But we have to go on." In Byrd's honor a decal with his number 90 overlaying an ichthus, the outline of a fish that is an ancient symbol of Christianity, was affixed to every Jet helmet. And the players heard these words from Coslet as they left the visitors' locker room at Buffalo's Rich Stadium: "Dennis is watching, so let's play hard."
New York did better than that; it won 24-17. Jet safety Brian Washington stepped in front of a weak Jim Kelly pass with 1:41 left and returned the interception 23 yards for the winning touchdown. "When I was getting mobbed in the end zone," Washington said after the game, "all I could think of was Dennis." Back at Lenox Hill, all Byrd could think of was his teammates. He was scheduled to be taken for X-rays midway through the fourth quarter, but he made the technicians wait until the game ended and thus was able to see the winning play.
Washington called it a Hollywood ending and then paused. "No," he said, "it'll be a Hollywood ending when Dennis takes his first step." When the Jets returned to New York on Sunday night, team president Steve Gutman presented Byrd with the game ball.
Many times when his family, teammates and coaches have visited Byrd in the hospital, they have come away feeling as if their spirits had been lifted. "We go in there wanting to help him," says Blanchard, "and he ends up helping us more."
Byrd says he has drawn strength from the Biblical verse, written in black marker on white cardboard, that is hanging from the ceiling of his room at Lenox Hill. It's the first thing he sees whenever he wakes up—Romans 8:18: "For I reckon that the sufferings of this present time are not worthy to be compared with the glory which shall be revealed in us."
Even President-elect Bill Clinton, who phoned Byrd last Friday to express his hope for the player's future, was treated to Byrd's selfless attitude. "You're the one with all the problems," Byrd told Clinton. "All I've got to do is get out of bed and walk." And there was increasing hope that one day he would do just that. Over the weekend Byrd was able to flex the quad muscle in his right leg, move both feet and wiggle his right toes. He has limited movement in both arms, and he can work the TV remote control with his right hand. But there are many trials and more tears ahead.
In the ambulance that was taking him to Lenox Hill during the critical moments after he was injured, Byrd tearlessly told Angela that he understood he wasn't going to play football anymore. He said all he wanted to be able to do was hold his girls again.
"We'll hold you," Angela said.
TWO
PHOTOS
NEW
YORK
JETS
Byrd reached out to, among others, classmates of a slain student (far left) and injured cops (above); often Angela (right) and Washington (97) joined him in his work with charities. The day before his injury, Byrd was reunited with Bonventre (left).
TWO PHOTOS
JOSEPH N. BONVENTRE
[See caption above.]
PHOTO
MARVIN
WASHINGTON
[See caption above.]
PHOTO
FRANK
DIBRANGO
On Nov. 29 Byrd (90) fractured his fifth cervical vertebra in a collision with Mersereau. Surgeons used steel plates to stabilize his spine.
ILLUSTRATION
JARED SCHNEIDMAN/GUILBERT GATES
[See caption above.]
Fourth cervical vertebra
Fifth cervical vertebra
Sixth cervical vertebra
Front
viewPHOTOGEORGETIEDEMANNThe Jets rallied behind number 90.PHOTOBILL SIKES/APAfter the Jets had beaten the Bills 24-17, players from both teams prayed for Byrd.