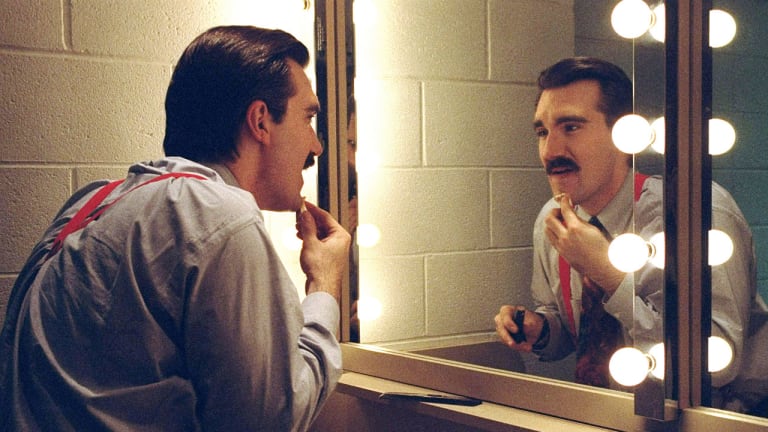 Every Day Is Game Day
During their excellent adventure at ESPN, Bill and John discover the world of SportsCenter, where everyone, from the lowliest researcher to the loftiest anchor, is crazy about sports
For those of you who may not be ESPN-literate, here is a glossary of some of the terms used on SportsCenter, that TV network's thrice-nightly news roundup.
In your face: slogan for ESPN's coverage of any event.
Did you know?: an arcane, perhaps surprising fact or statistic.
Inside the numbers: graphic use of statistics to produce fascinating conclusions.
Get this: an unexpected or ironic bit of information.
Breakdown: statistics and/or video analysis used to produce insights into some play, event or individual performance.
The two-minute drill: a rapid-fire sequence of NFL tidbits.
Get This! On the late-November day when Bill and John embark on their excellent adventure at ESPN headquarters in Bristol, Conn., they are told that at 7 p.m. EST they will witness—Get this!—the 14,067th live telecast of SportsCenter since the program went on the air, on Sept. 7, 1979. Only one other TV program—The CBS Evening News, with 16,000 telecasts since 1948—has aired live more often than SportsCenter. Since there are three separate editions of SportsCenter broadcast each weekday, the number of SportsCenter, aired will exceed the total of that noble pioneer sometime toward the end of '95. At that point SportsCenter will become the most-televised live show in history. Got that?
Number 14,067: John is in the studio as anchormen Bill Patrick and Bob Ley do the show. At 7:17, seconds before a commercial break ends, Ley suddenly glances down at his desk monitor and cries out in mock horror, "Oh, no! Magic's coming back!" Patrick swings around in alarm and then realizes that Ley is kidding.
Number 14,068: For the same day's 11:30 p.m. SportsCenter, which lasts a full hour, Bill is in the studio watching the dynamic duo of wry Dan Patrick and acerbic Keith Olbermann. Instead of pulling Ley-like pranks during the commercial breaks, Patrick and Olbermann pull out little makeup compacts and powder their noses and chins until the camera is on them again.
On this night Patrick, whose succinct trademark phrases, such as "The whiff!" and "Gone!" are ESPN cult classics, is trying out an exotic basketball term. Instead of referring to an easy shot as a layup or a dunk, he calls a shot a "bunny," as in "Lloyd Daniels blows the bunny." He does this once, and Olbermann, off-camera, turns in surprise and mouths, "Bunny?" Patrick says it again, and Olbermann smiles and shakes his head. Then, when Olbermann's turn comes to do a basketball highlight, he watches Greg Anthony of the New York Knicks miss a three-point shot and slyly ad-libs, "And he misses the bunny-and-a-half!" When the show is over, Norby Williamson, 29, the producer of the 11:30 SportsCenter, asks if perhaps there weren't a few too many bunnies. Patrick doesn't miss a beat. "They do multiply," he says.
Number 14,069: It is after 2 a.m., and Barry Sacks, 33, the coordinating producer of the 2:30 a.m. edition of SportsCenter, is in John's face. For reasons known only to himself, John has just asked Sacks how many sick days an ESPN employee is entitled to a year. Sacks's reply is thunderous: "Nobody calls in sick—ever!"
Work? What Work? Aaron Owens, a production assistant (PA), the entry-level production job at ESPN, is amazed that he can actually earn money for the work he does, which is watching sports events on TV for hours every night so that he can cut highlight packages for SportsCenter. He is well aware that millions of Americans would kill to have his job and that lots of them are as qualified as he is to do it. On this night he is watching the Chicago Bulls and the Golden State Warriors, and he says, "The running joke here is that no one gets paid on nights he watches Michael Jordan."
Work? What Work? II Chris (I'll Never Be Your Beast Of) Berman, 37, the 6'5", 250-pound supermouth superstar who first anchored SportsCenter 13 years ago, says to Bill, "This place was always like a universe of its own, a sort of family-style universe. We fell in love together, got married together, had children together. It wasn't quite like Appalachia—we weren't marrying our cousins—but we were very, very close."
Work? What Work? III Mike Tirico, 25, one of the anchors of the 2:30 show, tells Bill, "Maybe it's the godforsaken hour we go on the air that brings such extreme togetherness to this show, but I think we are closer to each other than the folks on the other shows are."
Breakdown: Sacks, who began working at ESPN as a lowly PA eight years ago, analyzes and expands on the obvious: "We are mirrors of our own viewers; that's why we're so good. If we didn't work here, we'd be watching ourselves on the tube. We're all sports fanatics. The thing that's made ESPN succeed from the beginning is that—and I know this sounds like a clichè—everybody here loves his job."
Inside the Numbers: ESPN is the largest cable network in the U.S., with 61.4 million homes wired to receive it. SportsCenter's three editions are seen by a total of about five million people each day. By comparison, The CBS Evening News is seen by 13 million, The Today Show by 3.5 million.
Still, that doesn't make SportsCenter a big deal in the ratings—the 11:30 show, the most widely watched of the three, had an average rating of 1.4 for 1992. It is more the intensity of Sports-Center's following than its size that has made it a success. It has been essential in changing ESPN from a money-loser into a cash cow that may show an $80 million profit for '92.
Among sports junkies as well as sports journalists, Sports-Center's fresh and authoritative reporting ranks far ahead of all local TV sports-news shows as well as national competitors like CNN's Sports Tonight. ESPN's Baseball Tonight, College GameDay and NFL GameDay are of equally high journalistic quality, but SportsCenter is the network's flagship show because of its longevity, its frequency and its two hours a day of live programming—30 minutes at 7 p.m., 60 at 11:30 p.m. and 30 at 2:30 a.m. The last of those shows is rerun six times later the same morning. For the record, none of the taped versions of SportsCenter is counted in the total of 14,000-plus shows aired.
There is a different crew for each of the three editions of SportsCenter, including coordinating producer, producer, director, associate producer, assignment editor, researcher, production assistants and the talent, as the two on-air performers are called. The staff of each show has three meetings a day—initial planning, detailed story schedules and postmortem.
11:33 a.m. Bill and John attend the excellent first meeting of the day for the 7 p.m. show. It is held in a remarkably dreary conference room. The only ESPNesque touch is a huge satellite dish, looming just outside the window, that looks like something that has fallen off the starship Enterprise. There are 14 people around a rectangular table. Ley, Linda Cohn, Tom Mees and Bill Patrick are the talent present, although Mees and Cohn will not appear live on the show tonight. The coordinating producers are Chris Martens, 35, and Stu Nicol, 34. Denis Sedory, 41, is the director. Anne Marie Jeffords, 25, the assignment editor, begins by reading a list of possible news items for the show. She does not get through many without being interrupted.
Jeffords: "Ron Dickerson is the new coach at Temple, the only black head coach in NCAA Division I-A. We can get an early feed of the press conference out of WPVI...."
Mees: "Temple is the dregs. He can't go lower than Temple football. It's an inner-city school, no press, no spirit...."
Nicol: "Also no pressure."
Mees: "Soccer's bigger than football at Temple. It's great to have a black coach in Division I-A, but they aren't going to buy tickets just because he's black."
Patrick: "It's a great career move. He can't go anywhere but up."
Jeffords (continuing the list): "An athlete arrested at Washington for selling drugs.... [Pro basketball player] Brian Williams is suffering from clinical depression...."
Ley: "What do you expect? In one year he had a car accident, collapsed on the court and got drafted by Orlando."
Jeffords: "Tony Robinson, a North Carolina State basketball forward, shot himself in the head last night. The police down there said he had no history of suicidal tendencies."
Nicol: "Let's be careful about how we handle this, but a few guys on the team said he was very upset over not playing...."
Jeffords: "USA Today is running a Most Admired Man in America poll today. Magic Johnson won. Dad came in second."
Ley: "That'll make you clinically depressed...."
Other stories come up. There is lots of lively interplay. Then Nicol says, "O.K., let's go around the room and do a few Get thises." Everyone tries to outdo the others. Two Get thises will be chosen for that night's show.
Cohn: "Jimmy Johnson has the Cowboys playing so well that they are favorites to win the Super Bowl, but—Get this!—he also recruited 18 of 22 players who start for the University of Miami, which is the odds-on favorite to win the national championship!"
Nicol: "This weekend [Florida State coach] Bobby Bowden's alma mater, Samford, is playing in the Division I-AA playoffs, and—Get this!—the coach there is Bowden's son, Terry!"
Sedory: "Sounds like a great graphic: Samford and Son."
There are other Get this! suggestions around the table, until finally only one person remains to be heard from. He is Howie Schwab, and if there is an unsung hero at ESPN who makes the talent look good, it is Schwab. He's in charge of the network's research team, and his mind is a living sports encyclopedia. Everyone defers to him in matters of sports history and statistical trivia, and now everyone waits with bated breath for his Get this! contribution. He does not disappoint.
Schwab: "Everyone says how turnovers cost you games, but—Get this!—the Kansas City Chiefs have fumbled away the ball 21 times this year and have yet to give up a touchdown afterward. In the first eight games of the NBA season, Stanley Roberts has 19 rebounds and Muggsy Bogues has 36, but—Get this!—Roberts is seven feet tall and Bogues is five-three."
There is a collective sigh of admiration in the room, and the meeting breaks up.
Howie Schwab on His Finest Moment at ESPN: "One time during Baseball Tonight we were updating the Cincinnati Reds game when I saw on TV that Paul O'Neill had just hit a home run. I rushed into the studio and handed a card to the anchor so fast that he was able to tell the viewers about the homer before O'Neill had even crossed the plate."
Anne Marie Jeffords on Life on the Assignment Desk: "I sort of orchestrate the show, starting with the morning list from the wires, the papers, a few phone calls, tips from people I know. I have four brothers who give me ideas sometimes. I call local TV stations—ABC affiliates mostly [ESPN is 80% owned by Capital Cities/ABC]—for leads and to set up feeds on stories. I buy satellite time when the feeds are set. Busy days are the best. On a day with no news, we just start making calls. We try to remember stories we can follow up. Like, 'Hey, didn't so-and-so have pneumonia a while ago? Let's find out how he is.' So we call, and someone on the other end of the line will say, 'My god, he's been cured for months. Why are you asking about him? Get a life!' This is a nice, busy news day, thank god."
Did You Know? The ESPN headquarters and broadcast center is situated on Route 229 in the countryside near Bristol, about 20 miles west of Hartford and 85 interplanetary miles north of Manhattan. The only thing in Bristol resembling a tall building is a 383-foot-high shaftlike structure about a quarter mile from ESPN. It is an Otis Elevator Co. facility for testing the fallibility, as it were, of the company's products.
The isolation of Bristol has been a drawback for some ESPN employees over the years. When sportscaster Sal Marchiano left in 1983 after three years at ESPN, he said, "Happiness is seeing Bristol in your rearview mirror." The slow country quality appeals mainly to the married-with-children crowd. Chris Myers, 33, an anchor on the 2:30 show tonight, who moved to Bristol from ESPN's Los Angeles bureau, says, "We just had a baby, and I can get home for the 4 a.m. feeding after the show because I live only 15 minutes up the road. In L.A. I'd be driving forever. But when it snows up here, I try to pretend I'm still in L.A. That's easier said than done."
Get This! In the beginning there were only two satellite dishes stuck around the ESPN headquarters. But—Get this!—now there are 18 of them.
Get This Also! In the beginning the idea was that ESPN would do cable coverage of Connecticut sports only (the University of Connecticut and the New England Whalers), but—Get this!—today ESPN holds live TV production rights to more big-time team sports than any other national television network, broadcast or cable, has ever held at one time. ESPN aired 162 major league baseball games last season. It did 40 regular-season college football games this season and will do seven bowls and three all-star games over the next month. It is doing nine regular-season NFL games, plus the Pro Bowl. It will televise 203 NCAA men's college basketball games by the end of this season, and it will do at least 25 NHL games, plus as many as 37 postseason games, including the Stanley Cup finals.
John Walsh: The man who is credited with making SportsCenter as good as it is, is an inkstained wretch who had spent his entire journalistic career paying homage to the printed page until he was hired by ESPN in 1988 to strengthen the network's news and information programming. Walsh, at 47 not only the executive editor but also the elder statesman of the youthful ESPN crew, has an air of low-key professorial authority that serves as a soothing counterpoint to the Type A, high-tension atmosphere endemic to TV news. Having worked as an editor at Rolling Stone, Inside Sports, The Washington Post, Newsday and U.S. News & World Report, Walsh brought a freshly critical eye to SportsCenter.
He punched up the writing, which all of the anchors are required to do for themselves. He organized the show like Page One of a newspaper, with all the best stories at the top, instead of clustering items together by sport. He demanded that information be expert and sophisticated, instead of serving up the once-over-lightly, up-and-down-the-scoreboard pap that has long been typical of sports-news shows.
He says to Bill, "We say there is no subject that is too complex or too complicated to put on our news and information shows. We actually seek out the technical, the inside stuff, the subtle facts. With SportsCenter we establish a voracious appetite for expertise among our viewers and then feed it."
4:03 p.m. This is the first meeting of the day for the 11:30 p.m. edition of SportsCenter, which tonight stars Dan Patrick, a four-year ESPN veteran who is perhaps the most popular of the network's anchors after Berman, and Olbermann, who arrived at ESPN in March from KCBS-TV in Los Angeles. They are the two wittiest guys in the SportsCenter stable. They will need all the wit they can muster, because an hour-long SportsCenter is a very tough, intense and pressure-filled piece of work. Unlike the 7 p.m. show, which is built on harder news with virtually no game results or highlights, the 11:30 sticks almost exclusively to what happens during the evening's games. The show includes highlights from as many as 20 basketball, football and hockey games, some of which will not finish until after the show goes on the air.
Producer Williamson, a cherubic man with a ready smile, is another ESPN-spawned hotshot, who worked for a spell in the mailroom and once specialized in taking Dick Vitale to the airport. In stereotype he should be an intense and ambitious little monster, but in fact he is as relaxed and pleasant as a Sunday afternoon. When John asks him why he is so good at what he does, Williamson replies, "I have fun doing this. Like we got sick of seeing dunks on every highlight reel last winter, so one time we decided to do No Dunks Night. We've never not made a deadline. You have to come to play every night on this show."
Les Nessman Redux: John is interviewing Ley in the eight-foot cubicle he shares with Robin Roberts. She and Cohn are ESPN's only female SportsCenter anchors. For all of their relative fame and minor fortune, none of the ESPN talent has an office. No privacy, no secrets, not even permanent walls. Nevertheless, there is no hint of territorial jealousy or superstar tantrums among all the on-air icons who have been crammed into these newsroom digs. "This is no shark tank," Ley tells John. "You know why? Because we're too busy. That's the truth."
Ley first went on air at ESPN three days after the network began broadcasting, and he, Berman and Mees are the only talent left from the original team. Berman refers to Ley as "ESPN's master of disaster" because of, among other things, the cool, crisp job he did of reporting from Candlestick Park after the earthquake during the 1989 World Series and his calm, in-depth handling of Magic Johnson's revelation of his HIV infection.
"Believe it or not," says Ley to John, "one of the things that makes my brain percolate in the morning is not the standings in the Atlantic Division. We have the most demanding audience in television. The most precious thing we can give them is our credibility."
To that end Ley and his fellow talent work hard at pursuing stories themselves, calling their own contacts among coaches, agents, players, team owners, whomever. As their deadlines inch closer, they move out of their personal cubicles and line up side by side in the computer cubicles in the newsroom. This is, if you will, the engine room of SportsCenter. It looks a bit like a language lab, with a TV monitor set up to receive satellite channels and a computer in each of 15 cubicles, arranged three rows deep. Four large TVs are lined up on a shelf above the cubicles, all tuned to ESPN or to various feeds from the world outside.
Now, as this day's 7 p.m. SportsCenter is coming to a close, the four anchors for the two later shows are seated within 10 feet of each other, pounding out their stories. All four keep an eye cocked on the 7 p.m. show on the sets above. "The highest tribute you can have at ESPN," Ley says, "is to make the traffic stop in this room while you're on-air."
Steve Anderson: The son of New York Times columnist Dave Anderson and a former assistant basketball coach at Fordham, Anderson, 38, is ESPN's managing editor. Though a soft-spoken fellow, he's a tough taskmaster who demands originality and initiative and is very blunt about the kind of people who anchor his news shows. "Our viewers are not going to be fooled by pretty faces and deep voices," he tells Bill. "We want talent who know sport very well and can write. We are interested in knowledge-ability and credibility, not in looks."
So much for a strong jaw and a Jim Lampley hairdo.
Bill Patrick: Though ESPN purports to be a meritocracy, promoting from deep within whenever it can, most of the on-air talent comes from outside—often far outside. Patrick is an exception because he worked just up the interstate, doing nightly sports on WFSB-TV in Hartford. He was noticed in Bristol because people saw him every night. He did look good, but he was also knowledgeable and, best of all in the Walsh Era, creative. "I saw a Peanuts special in which Charlie Brown had lost his 1,000th game, and that night on WFSB we showed highlights of the game," said Patrick. He was hired in August 1988.
6:41 p.m. Patrick begins changing his clothes in the aisle outside his cubicle in preparation for the seven o'clock show. Since there are no women around, he takes his shirt off with confidence. Suddenly a telecommunications class from Tunxis Community College enters the area on a tour of ESPN and comes upon a subject that is not listed in the course catalog. This reminds Patrick of another story about changing clothes: "One year at WFSB we were showing highlights of the Harvard-Yale game, and every time the camera returned to me, I had switched from a crimson blazer to a blue blazer and then back again, over and over. Nobody noticed."
Denis Sedory: The director of the SportsCenter at seven is asked by John to give him an idea of exactly what the director's job entails. "My job?" he says. "It's to turn McDonald's into a four-star restaurant. We're juggling graphics, highlights, anchors. It's like one person in the control room is flipping burgers, another is doing fries, and we all have to have it done by seven o'clock. Of course, as far as I know, this whole thing could be a secret CIA experiment on human stress. Hell, for all I know, SportsCenter may not even be going out of here to anyone at all."
Production Assistants: Like any sports team, ESPN makes cuts. A tryout for a production assistant's job lasts six months, then the candidate is either released to the real world or is retained at ESPN with the potential of advancing to associate producer and beyond. Competition is so stiff that 35% of all those lucky enough to get tryouts are dumped after the trial.
Suzannah Rugh: Rugh, 23 and a native of Berkeley, Calif., came to ESPN for a trial a year ago. Rugh was selected after she gave her rèsumè to Al Jaffe, director of talent and production recruitment, at a sports careers convention in Phoenix. At the time Rugh, who graduated from Lake Forest College in the spring of '91, was an intern at a TV station there. "Mr. Jaffe received 400 rèsumès in all, and he picked out five to interview," Rugh says. At the interview Jaffe asked Rugh a nasty question: Who did she think would be runner-up for the NBA rookie of the year, and why. She flubbed the answer, but she must have impressed Jaffe nonetheless, because she was soon on her way to ESPN.
"One day I'm wearing shorts to work in Phoenix, the next day I'm in Bristol," she tells John. "I love what I do. I hate the hours, and I have no life. I tape SportsCenter on my nights off, and last night, my only night off, I watched Monday Night Football. I'm working Thanksgiving, Christmas Eve, Christmas and New Year's Eve. Some mornings you wake up bummed out and you think, Oh, my god, I live in Bristol!"
Glenn Jacobs: He is 22, a scholarly-looking young man with large glasses. He tells Bill that he has just been accepted as a PA. "I am just thrilled to have made it through my trial," he says. "You see, I'm a government and theater major from Connecticut College, and I took the job originally because I planned to be an actor and I wanted to see what TV was like behind the scenes. I was under sort of a stigma here because I had no TV background, and I wasn't sure myself if I could do it. Now I've proven you don't have to be a technical wizard to succeed here."
Jacobs is watching the Philadelphia 76ers versus the Charlotte Hornets on this night and cutting highlight tapes for the 11:30 and 2:30 SportsCenter. He says quite seriously, "It isn't brain surgery, but it is pretty demanding. You need to develop a creative thought process that allows you to say to yourself, I am the only person in America seeing this game. I am the only source in the whole world for people to enjoy this game. Therefore I have to be organized, I have to be creative, I have to be perfect."
Get This! ESPN PAs sometimes work six nights a week in their bunkerlike rooms, striving always for perfection, but—Get this!—they are paid more like Oliver Twist than like the high-ranked college graduates that most of them are.
John asks Rugh, "Do you even make as much as a stewardess?"
"How much is that?"
"Nineteen thousand to start."
Her eyes grow wide. "No, I don't earn that much."
To Grip or Not to Grip: Among PAs the word grip means to stress out when there is no way, just no way, that there will be enough time to edit a highlight tape for SportsCenter. The term gripfest refers to a situation in which two or more PAs are experiencing such a crisis at the same time.
Shireen Saski: She is 24, a telecommunications major from Michigan State and one of the better PAs. Proof of this is that tonight she has been assigned to do the Los Angeles Clipper-Houston Rocket game, which will not end until shortly before the 11:30 p.m. show begins, at the earliest. After the game is over, she must cut her highlight tape down to 50 seconds and prepare a rough script, called a shot sheet, for Dan Patrick.
With 15 seconds remaining, the game is still undecided, and that means one element Saski planned to feature in the highlights—the Rockets' celebrating coach Rudy Tomjanovich's 44th birthday with their sixth straight victory—may have to be dumped. "Unexpected finishes?" says Saski to John. "They're the absolute worst. A four-run ninth inning will kill you."
John then fires another of his surprise questions: "When was the last time you read a book?"
She pauses in mid-grip to reply, "You mean a book book? Not having anything to do with sports? In college, I guess. That was three years ago."
Did You Know? The most frequently asked question of ESPN employees is, "Do you ever get to work with Chris Berman?"
Keith Olbermann: He has known Berman longer than anyone at the network. Twenty-one years. They attended The Hackley School, in Tarrytown, N.Y., and worked on the school radio station together. "We had the same class in Wise Ass Sportscasting," says Olbermann.
Before ESPN, Olbermann did sports at CNN and then was a local sports anchor in Boston and Los Angeles. He was not unhappy to leave L.A., the nation's second-largest market. "My sports reports were perceived purely as an obstacle to getting more news about Madonna," he says. "Tommy Lasorda didn't know me from a stadium usher. Now that I'm at ESPN, he is all over me. When I left KCBS for ESPN, it was as if I had been adrift in this tiny, leaky raft, and then, suddenly, the QE 2 came by and picked me up."
11:23 p.m.: Uh-oh. Saski is still cutting the Clipper-Rocket tape in an editing room. A nervous Dan Patrick walks in. He has seen neither footage nor her script. Yet this game is scheduled to be reported on only minutes after the 11:30 SportsCenter begins. "Excuse me while I do something we ordinarily don't do," he says to John. Patrick looks at what Saski has edited thus far, does a practice reading of her script and then leaves very quickly.
11:29 p.m. Two-Minute Drill: Visions of Broadcast News bombard John's mind as he watches Saski do the 50-yard dash from the editing room to the studio—in black high heels—with two right turns and one left in the corridor. She hands the script to Patrick, and someone else grabs the tape and disappears.
12:46 a.m.: All goes well on the 11:30 show. The postmortem meeting lasts perhaps four minutes and includes no quibbles more significant than Williamson's question about Patrick's bunnies.
Who's Out There? During this excellent adventure Bill has asked the talent, one by one, whom they visualize the SportsCenter viewers to be. Old guys? Young guys? Families? Famous athletes? Barflies? Beered-up kids? Mom and Dad?
Mees: "I've been here 13 years, and I've never had any idea what to think about who's at the other end of the tube. It would sidetrack me if I thought about it."
Dan Patrick: "Well, I'm curious about who's out there. I see them as fanatics who expect to learn something new by watching us. We put on the show for people like us, I guess."
Cohn: "Oh, I guess there are fans and athletes out there. There are probably more women out there than before."
Ley: "I don't really visualize anyone in particular, but I'm talking to the ultimate sports fan."
Tirico: "I always switch my watch to West Coast time for the 2:30 show because it's 11:30 p.m. out there. So if I visualize anyone, they're probably in California."
Olbermann: "Our viewers are not couch potatoes or slugs. People who watch SportsCenter are engaged. They are like readers."
Who's Really Out There? The typical ESPN viewer is a male high school graduate somewhere between 35 and 49, with a household income of more than $60,000 a year.
A guy we know goes into Sneakers, the best-known sports bar in Seattle, 100 yards from the Kingdome. It is a few minutes before 8:30 p.m. PST, about the same time that Dan Patrick and Olbermann are making final fixes in their scripts and Saski is in full grip. Sneakers has seven TV sets scattered about, but the guy we know sees that every one of them is tuned to a rerun of Night Court—without sound. Our guy asks the bartender, "You going to have SportsCenter on at 8:30?"
The bartender replies, "No, probably not."
Our guy asks, "Well, could you maybe turn it on?"
The bartender says, "Oh, I probably can."
Our guy says, "Great." He is about to climb up on a barstool when the bartender adds, "But not the sound."
3:28 a.m.: The excellent adventure is just about over. Bill is at a nearby hotel, in a room facing out on Bristol's greatest architectural wonder, the Otis Elevator shaft. John is at ESPN, watching SportsCenter number 14,069 through to its finish. Now only he, Sacks and a weary handful of staffers are left.
John senses an opening and asks Sacks, "Do you really love your work?"
Sacks replies with surprising energy, "Yeah. In this industry either you get out completely or you deal with it. And, yeah, a certain amount of our marriages go down the tubes. Me, I work six nights a week till 3:30. Get home, walk the dog, go to bed about five. Now, last night I was off. My wife wants to see me, so, yeah, I'm going to take advantage of it. But most of the time you'll find me here."
TWO PHOTOS
CHUCK
SOLOMON
Satellite dishes bloom in Bristol, where Walsh (inset) has transformed ESPN's SportsCenter into a formidable journalistic enterprise.
PHOTO
CHUCK
SOLOMON
At the first meeting of a typical day. Ley (right foreground) and teammates discuss the mix of news and trivia for the 7 p.m. show.
TWO PHOTOS
CHUCK
SOLOMON
With deadlines looming, Jacobs (above) edits tape for the two late shows while Jeffords ignores lunch to chase down a story.
FOUR PHOTOS
CHUCK
SOLOMON
Countdown to air: Williamson (far left) presides as (above, left to right) Dan Patrick, Tirico and Myers and, behind them, Olbermann write their scripts, and Patrick confers with Saski (below), who races to the studio with her story.
TWO
PHOTOS
CHUCK
SOLOMON
Olbermann gives his chin a final dab before heading to the—studio with his personal cushion.
PHOTO
CHUCK
SOLOMON
A technician prepares graphics, which are a key element is ESPN's presentation of the news.
TWO PHOTOS
CHUCK
SOLOMON
Showtime: Bill Patrick and Ley make it look easy with a big assist from the control room.