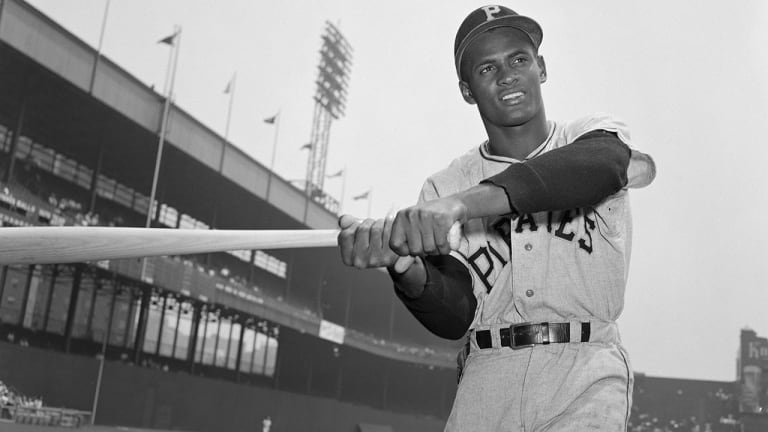 December 31: ¡Arriba Roberto!
On New Year's Eve in 1972, Roberto Clemente undertook a mission of mercy. His death that night immortalized him as a man greater than his game
Even after 20 years, his image comes home like one of his throws to the plate, so strong and true it makes you smile.
Steve Blass, his friend and teammate, is smiling. "He is standing on second base," says Blass, who is now a broadcaster for the Pittsburgh Pirates. "This is after he doubled off Jon Matlack for his 3,000th hit. He has one foot on the bag, and his hands are on his hips. The fans are cheering wildly, but he is just standing there, like a statue, the essence of dignity and pride and grace. That is my freeze-frame of him, how I picture him to this day."
For others, in Pittsburgh or Puerto Rico or anywhere in baseball, he is making one of his leaping catches against the rightfield wall. Or maybe they remember how he would slam on the brakes after running full tilt down the first base line, or his underhand fling to second after a routine fly ball. Or perhaps it is that sublime moment whenever he would step into the batter's box and rotate his neck before wielding that improbably enormous bat.
Roberto Clemente Walker, who looms so large in so many memories, was a small man really, just 5'11" and 175 pounds. His hands, though, were huge. Says his friend, the Texas Rangers' assistant director of public relations, Luis Mayoral, "The size of his hands was exceeded only by the size of his heart. One of my lasting memories of Roberto is also my last. Four days before he flew off to Nicaragua with relief supplies for the earthquake victims there, he was at Hiram Bithorn Stadium in San Juan, moving bags of goods, cartons of clothes. He could have just lent his name to the relief effort or done a public-service announcement. But there was Roberto, pardon the expression, working his ass off, and he had this look of determination. The same look he wore on the field at Three Rivers Stadium."
Three thousand hits. Three Rivers Stadium. The number 3 comes up often in the life and death and even the afterlife of Roberto Clemente. He batted third most of his career. He hit .300 or better in 13 seasons. He shares the modern major league record for triples in a game, which is, of course, three. He led the Pirates to three straight division titles (1970–72) and batted .333 in the 1971 National League Championship Series. He chose the uniform number 21 because that's how many letters are in his full name; but the 2 and the 1 also add up to 3. And when his plane went down three hours before 1973, he left behind three sons, all of whom were named Roberto, as well as his beloved and loving wife, Vera.
"He was a good father, a good son and a good husband," says Vera. She is sitting in the living room of the beautiful home they shared on a hill in Río Piedras, Puerto Rico, overlooking San Juan, including Luis Muñoz Marín Airport. Even if the house weren't on Calle Roberto Clemente, you could not miss it: On the green slope below the house are white rock formations of a glove, a ball, a bat and the number 21. Inside, there is a portrait of Clemente on virtually every wall, and scattered about the house are his 12 Gold Gloves, as well as other trophies. Many of the ceramic lamps and decorative objects Clemente liked to make as a hobby are still there, and so is the pool table, which sometimes doubled as his impromptu chiropractic clinic.
"I see him all the time," Vera says, "mostly in his quiet moments. He is playing with the kids, working on his ceramics, even shampooing this rug. He was much more than a baseball player, you know. Momen—that's what we called him—was a wonderful man. He would rather be late for a meeting with the governor than pass by a stranger who needed help with a tire. He couldn't read music, but he could play the organ. He even wrote poetry.
"I remember once, it was a Father's Day game in Pittsburgh, and he was sitting in his uniform, writing something on the envelope that the children's card had come in. He was composing verses, a beautiful poem entitled ¿Quièn Soy?—Who Am I? Let me write it down for you."
Who Am I?
I am a small point in the eye of the full moon.
I only need one ray of the sun to warm my face.
I only need one breeze from the
Alisios to refresh my soul.
What else can I ask if I know that my
sons really love me?
Momen is a name one of his sisters gave him when he was little, and it stuck. Pronounced MO-men, it has no real meaning except as a term of endearment, like Snookums or Mookie. Born in 1934, Roberto was the last of the seven children born to Luisa Walker de Clemente. His father, Melchor, worked as a foreman for a sugarcane mill. And while the Clementes never lacked for food and clothes in the Barrio San Antón, they were often touched by tragedy. One daughter, Ana Iris, was five when she died after her silk dress caught fire. Two brothers died young of cancer, and Roberto's eldest sister, Rosa, the one who named him Momen, died in childbirth.
By all accounts Roberto was a good kid, devoted to his parents, attentive in school, the first one chosen on playing fields. He was such a fine javelin thrower in high school that there was talk he might make Puerto Rico's 1952 Olympic team. But it was baseball he truly loved: he hardly ever missed a chance to watch his favorite player, Monte Irvin, in the outfield for the Santurce Cangrejeros.
By the time Clemente was 18, people were coming to watch him play. One day a Brooklyn Dodger scout named Alex Campanis—yes, that Al Campanis—held a tryout for 71 players, one of whom was Clemente. After Campanis watched them all hit and throw and run, he sent the other 70 home. "He was the greatest natural athlete I have ever seen," Campanis has said. The Dodgers eventually offered Clemente $10,000 to sign, and he agreed. But the Dodgers elected to put Clemente on their Triple A roster, which meant he could not be promoted during the season and that he could be drafted by another major league team at the end of the '54 season. The last-place Pirates did just that, selecting him first for $4,000. Pirate general manager Branch Rickey delighted in stealing Clemente away from Rickey's former club and denying them an outfield of Clemente, Duke Snider and Carl Furillo.
On April 17, 1955, Bob Clemente—as he was sometimes called—made his major league debut for the Pirates, batting third and playing rightfield, against the Dodgers. The Pirate manager at the time, Fred Haney, wasn't sure how good Clemente was. "He's an adequate fielder, has a great throwing arm," Haney said. "I am a little concerned about his hitting." Clemente ended up hitting .255 that season; Haney ended up being fired.
Clemente may have been only a rookie, but he had already developed his fierce sense of pride. A New York Giant broadcaster, interviewing him after a game, tried to pay Clemente compliment by saying, "You remind me of another rookie outfielder who could run, throw and get those clutch hits. Young fellow of ours name of Willie Mays." After a suspenseful pause Clemente replied, "Nonetheless, I play like Roberto Clemente."
In 1956 he began to hit like Roberto Clemente, batting .311 for the first of his baker's dozen .300 seasons. Back in those unenlightened, clichè-ridden days, sports-writers would refer to Clemente as "the dusky flyer" or the "lashing Latin" or the "chocolate-colored islander." Even worse, they would ridicule his speech in print, as if he were a cross between Señor Wences and Tarzan: "Me like hot weather, veree hot. I no run fast cold weather. No get warm in cold."
The slighting of the Latin player by American writers was never more evident than after the 1960 season. The Pirates won the pennant that year as Clemente hit .314 with 16 homers and 94 runs batted in, and then in the World Series they stunned the heavily favored New York Yankees. The MVP of the National League that season was Pirate shortstop Dick Groat, who hit 11 points higher than Clemente but had only two homers and 50 RBIs. Clemente could live with Groat's selection—he was, after all, a teammate—but he was deeply stung when he found out that he had finished eighth in the voting.
The Pittsburgh fans appreciated him, though. Spurred on by Pirate announcer Bob Prince, they cried "¡Arriba!" every time he came to the plate with men on base, and arise he often did. Arriba even became his nickname for a time. Clemente appreciated the fans too. While his teammates attended an all-night party following the Pirates' World Series victory in 1960, Clemente walked the streets, thanking the fans for their support.
He didn't do it for show; he just liked people. He befriended inmates at a prison in Puerto Rico to which he had been invited for a softball game. His closest companion in Pittsburgh was a postal worker named Phil Dorsey. For 10 years in Pittsburgh he lived not in a house of his own but with a middle-class family, the Garlands. He usually ate his meals with another family, that of accountant Henry Kantrowitz, his wife, Pearl, and their two young sons. "Roberto was like another son to us," says Pearl, now 80. "A friend of ours brought him to our house when he was a rookie because he thought we might have an extra winter coat for him, and he became part of our family. He would call us late at night from the West Coast to let us know he'd be home for breakfast."
As Vera says, "Because he was close to his mother and father, many of Momen's friends were older people, both here and I in Pittsburgh." But he had a feel for the younger generation as well. In the off-season in Puerto Rico, Clemente would sharpen his eye by having local kids pitch batting practice to him with bottle caps. Toward the end of his career he went into a store in Pittsburgh to buy ceramic supplies, only to have the proprietor refuse his money. "Clemente, you won't remember this," the man told him, "but when I was a kid, 10 or 11 years old, I was sitting in the rightfield seats at Forbes Field while you were out there. I went for a foul ball, but an older man grabbed the ball away from me. I sat there, crying. The next inning you came over and said. 'Here's a ball for the one they took away from you.' I keep that ball in a place of honor in my home. That's why I can't charge you."
He was a player for whom the numbers could never do justice, but the numbers were impressive nonetheless. In 1961 Clemente hit as if he had something to prove: .351 with 23 home runs. Still, it wasn't until 1966, when the Pirates asked him to go for the fences and he responded by hitting .317 with 29 homers and 119 RBIs, that he was given the MVP award, and finally he had his proof.
How good a hitter was Clemente? From 1961 until '72, Clemente's average season was an MVP season: .331, 17 homers and 81 RBIs. His .317 lifetime average was the highest for any righthanded hitter since Joe DiMaggio (.325) retired after the 1951 season.
"He had the ability," says Blass, "to turn 10-year veterans into 10-year-old fans when they watched him play. He excited guys who had been around the game for years." Indeed, baseball old-timers—usually inclined to scoff at younger players—regularly threw hosannas his way. Casey Stengel said Clemente was the best rightfielder he had ever seen, and he had pretty much seen them all. The Pirates' Flail of Fame third baseman Pie Traynor had played with Hall of Fame rightfielder Paul Waner, but he said it was no contest—Clemente was a better player.
Standing away from the plate, with his thick-handled 36-ounce bat, Clemente swung at nearly everything: but instead of stepping into the ball, he would move his left foot inside or outside, depending on the pitch. "Pitch me outside," he would say, "and I will hit .400. Pitch me inside, and you will not find the ball." Asked how to pitch to Clemente, Hall of Famer Sandy Koufax said, "Roll the ball." Dodger pitcher Jim Brewer once remarked, "Roberto Clemente will hit .320 the year after he dies."
As an outfielder, Clemente showed so little regard for fences that he sometimes came away from a catch bleeding. Such was the case in 1960 at Forbes Field when Clemente took off after a Willie Mays line drive, with the Pirates leading the Giants 1-0 in the seventh. At the last moment he slammed into the concrete wall. The fans were silent as Clemente staggered to his feet, blood gushing from his chin. But then he held up his glove, with the ball safely inside it, and the stadium exploded. People who saw that catch say it was superior to the legendary catch Mays made in the 1954 World Series.
Perhaps the ultimate evidence of the Clemente talent was his right arm. He led National League outfielders in assists five times, an achievement made more amazing by the fact that runners stopped challenging him, oh, around 1955. He once threw out Lee May of the Reds, who was trying to score from third on a single to right! His work ethic was as strong as his arm. He often came out early with a coach, who hit fly balls off the wall so that Clemente could retrieve them and throw them into metal baskets he had placed on second and third.
"He never made a mistake in the field," says Joe Brown, who was the Pirates' general manager from 1956 to 1976. "He never threw to the wrong base, never failed to take the extra base, never was thrown out trying for the extra base. He was simply the most intelligent player who ever played for me." Clemente once scored a winning run from first base after running through the third base coach's sign. As he later explained it, with a wink, "I have a sore foot. I didn't want to play anymore tonight, so I tried to end the game."
While his play was the stuff of legend, so was his supposed hypochondria. "Sometimes when I wake up in the morning," he once said, "I hurt so much I pray that I am still sleeping." Many of his medical problems had to do with his back, which he injured in a 1954 automobile accident, so he plunged himself into the world of chiropractic medicine. That's why he routinely rotated his neck, to snap the vertebrae into place. But in addition to backaches, Clemente also suffered from headaches, stomach aches, malaria, insomnia, tonsillitis, a hematoma in his right thigh, bone chips in his right elbow, a strained right instep, sore shoulders and various pulled muscles. He wasn't afraid to tell anyone about them, either. Asked how he felt one spring, he said, "Well, my bad shoulder feels good, but my good shoulder feels bad."
But as Clemente often pointed out. "If I was a hypochondriac, I wouldn't be playing." His various injuries and imaginative ailments did sometimes lead to feuds with his managers and the Pirates' team physician, Dr. Joseph Finegold. The good doctor was especially milled when Clemente would take off for Puerto Rico to see his personal healer. Arturo García. "The man is not a doctor," Finegold once said of García. "He is a ... a masseur."
Unfortunately for Clemente, his constant moans fed the stereotype that Latin players were somehow malingerers, and that was a misconception he despised. "He was our Jackie Robinson," says Mayoral. "He was on a crusade to show the American public what a Hispanic man, a black Hispanic man, was capable of."
Felix Millan, a Puerto Rican second baseman who played for the Braves from 1966 to 72, recalls, "In 1970 I was hitting .325 in midseason, and at dinner one night I told Roberto, "I think I can hit .300 this year.' He got mad, if you think you can hit .300,' he said, 'you will hit .280. If you think .325, then you will hit .300.' I did as he said and ended up hitting .310."
In 1967 a scene for the movie The Odd Couple was being filmed at Shea Stadium, and Clemente and several other Pirates agreed to be in a scene for $100 apiece. But the script called for Clemente to hit into a triple play, and the more he thought it over that night, the less he liked the idea. The next day one of the producers came up to him and said, "Hiya, Roberto. How's my old buddy?"
"I am not old, I am not your buddy, and I am not going to be in your —— movie," Clemente said. "How do you like that, old buddy?"
Clemente then turned to a teammate and said, "Nobody buys Roberto cheap. I have my pride. I am a hero to my people. Do they think Roberto Clemente was born yesterday? Would they ask Cary Grant to play baseball for a hundred dollars? If fans in Puerto Rico see me hit into a triple play, they won't understand." And that is why, in The Odd Couple, it is Bill Mazeroski who hits into the triple play.
Vera Zabala was in a drugstore in Puerto Rico when Roberto Clemente first laid eyes on her, after the 1963 season. She was 23, and he was infatuated. "On our first real date," Vera says, "he told me he was going to marry me. On our second date he brought pictures of houses."
They were married on Nov. 14, 1964, before a crowd of 1,500 at the San Fernando Chapel. "What a couple," declares Mayoral. "The most beautiful woman in Puerto Rico, and the most famous man." On Aug. 17, 1965, Roberto Clemente Jr.—Robertito—was born. A year later Vera gave birth to Luis Roberto, and three years after that to Enrique Roberto.
As his family grew, the tightly wound Clemente gradually began to relax. Says Blass, "I got to the Pirates in '64, halfway through Roberto's career, but even from that point on, he mellowed. Loquito he called me, and we became good friends despite our different backgrounds. I used to kid with him all the time. In the days of Mission: Impossible I used to sneak up underneath the training table when Roberto was on it—and he was always on it—and say, 'Good afternoon, Mr. Clemente. This is your neck speaking. Your mission today, should you decide to accept it, will be to go 3 for 4 against Tom Seaver....' And he would always play along, look around and say, 'Where is that voice coming from?'
"Some of the best times we had were the poker games on our flights. [Catcher] Manny Sanguillen, who worshiped Roberto, was the worst poker player in the world. On a cross-country flight he'd be out of money over Chicago. But after every hand Roberto, who wasn't even in the game, would give Manny this very serious lecture about poker. 'Manny, how could you draw to an inside straight?' I can still see the two of them, scrunched up in a seat together, losing Roberto's money."
Clemente was appreciated by his teammates from the beginning. But it was not until late in his career that he finally received the public recognition he deserved. The Pirates made July 24, 1970, Roberto Clemente Night at Three Rivers Stadium, and a delegation from Puerto Rico brought a greeting bearing 300,000 signatures. In '71, Puerto Rican fans in New York presented him with a Cadillac. Pirate owner John Galbreath named a horse after him, and Roberto ended up winning the 1972 Epsom Derby.
Though Clemente would get his 3,000th hit in 1972, his crowning glory really came in the 1971 World Series. As they had been 11 years before, the Pirates were decided underdogs, this time to the Baltimore Orioles. Clemente put on some sort of clinic in every game: running, throwing, fielding, hitting. Says Brown, "During the '71 Series, people said to me, 'My God, does he always play like that?' And I said, 'Yes. Always. You're not seeing anything that we don't see day in and day out.' "
In the seventh game Clemente's homer off Mike Cuellar in the fourth inning gave the Pirates a 1–0 lead, and they went on to a 2–1 victory as Blass pitched a four-hitter to go with his three-hitter in Game 3. Against all odds the Pirates had won the World Series. In the jubilant clubhouse after the game Clemente, who had hit .414 with two home runs in the Series, was asked on the air by Bob Prince for his reaction. "I would like to say something in Spanish to my mother and father in Puerto Rico," he said. And then in Spanish: "On this, the proudest day of my life, I ask for your blessing."
In the rush that followed, the two friends and heroes, Clemente and Blass, didn't get a chance to talk to one another. "I was talking to the reporters, and so was he," says Blass. "Even after we got dressed, he and Vera went on one bus to the airport, and my wife, Karen, and I ended up on the other. On the plane we sat in the back while they sat up front. After the plane was in the air, Roberto walked back to where we were sitting ... I'm sorry, I'm getting the chills remembering ... and he leans over and says, 'Come out here, Blass. Let me embrace you.'"
Clemente's last official hit was his 3,000th. It came in the last week of the 1972 season, a fourth-inning double off Jon Matlack of the Mets. (He did have four more hits in the Pirates' three games-to-two loss to the Cincinnati Reds in the 1972 National League Championship Series.) Mayoral recalls, "There was a pregame ceremony on the day after his 3,000th hit, on October 1. We gave him two awards, the Governor's Cup and a clod of earth from the field in Puerto Rico where he used to play. A picture went out over the wires, and when you looked at it, Roberto had such a sadness to his face. He looked almost gray in the black-and-white picture. I remember showing the picture to Pancho Coímbre, a great player in the Negro leagues and a favorite of Roberto's. Pancho took one look at the picture and said, 'Este hombre està muerto.' This man is dead. Three months later Pancho's premonition came true."
That was not the only omen, according to Vera. "In early November," she says, "around Election Day, Roberto woke up and said, 'I just had the strangest dream. I was sitting up in the clouds, watching my own funeral.'"
Later that month the Clementes went to Nicaragua because Roberto was to manage a team in an amateur tournament there. "The people were so nice to us on that trip," says Vera. "Roberto was very touched by a young boy who needed to be fitted for artificial legs, and he paid for the operation. He was also very proud of an alligator-skin briefcase he bought in Managua. I remember how the players kidded him about it."
When an earthquake hit Nicaragua on Dec. 23, killing 10,000, injuring 20,000 and leaving 250,000 homeless, Clemente did not have to be asked twice to contribute to Puerto Rico's relief effort. He threw himself into the task so heartily that he left many of his Christmas presents unopened. Two planes filled with supplies had already flown to Nicaragua, and Roberto decided to take the third. "He had heard that the previous shipments hadn't gotten through," says Vera, "and he was worried about the boy whom he was helping there." Vera and several of his friends tried to talk him out of flying on New Year's Eve, but Clemente insisted he had to go. "Three times I told my grandmother that Papa's plane was going to crash," says Robertito. "But nobody was listening to a seven-year-old."
The plane that Clemente had chartered for the mission was a prop-driven DC-7 owned by American Air Express Leasing Co., whose president, Arthur Rivera, was the copilot that day. Unbeknownst to Clemente, Rivera had had his license suspended for 180 days that year, and earlier in the month he had smashed the very same plane into a concrete wall while taxiing. The plane had barely been used in four months. The flight engineer was an unqualified mechanic, and the cargo was two tons over the limit.
The flight was due to take off at around 3 p.m. But it was delayed twice, and not until 9 p.m. did it taxi down the runway. Witnesses say they saw fire on the left side of the plane as it took off, and when it banked to get back to the airport, it plunged into the sea, about a mile and a half offshore.
Vera had assumed Roberto was already in Nicaragua—she had left him at the airport in the afternoon—so when she was first told of the crash in the early morning hours of New Year's Day, she thought there must be some mistake. Nobody quite believed the news. Joe Brown remembers the night this way: "After we heard, my wife and I were sitting up in the living room, not knowing what to do, when the doorbell rang. It was 5 a.m., and there were Steve Blass and Dave Giusti. One of them said, 'We didn't know where to go. We didn't know what to do. We knew you felt like we did, and we had to share it with somebody.' So my wife brewed a pot of coffee, and we sat there and told Clemente stories, and cried and laughed."
The Pirates chartered a plane to go down to San Juan, and at a Jan. 4 memorial service at the church in which Roberto and Vera had been married. Blass read the poem that had been written for Lou Gehrig, part of which is this:
We've been to the wars together,
We took our foes as they came;
And always you were the leader,
And ever you played the game.
Vera and Sanguillen were not at the service. She was walking the beach of Punta Maldonado, the closest point of land to the crash, hoping for a miracle. Sanguillen was out in a boat, futilely diving without equipment and amid sharks, looking for some sign of his friend. Only one of the five bodies on board was recovered, that of the pilot, Jerry Hill. The plane settled 150 feet below the surface. The only personal effects of Clemente's ever found were a brown sock and the alligator briefcase he had bought in Nicaragua.
Contrary to Jim Brewer's prediction, Clemente did not hit .320 the year after he died. He did, however, have a pretty good season. Three months after the crash, the Baseball Writers Association of America held a special election, and of 424 ballots cast, an impressive 393 voted Clemente into the Hall of Fame, the first Latin American player to be so honored. And on Aug. 6, 1973, he was inducted into the Hall, along with his boyhood idol, Monte Irvin.
There are those who know her who say that Vera Clemente is still expecting Roberto to come home.
"For many years I was waiting for him. I even kept his clothes in the closet and in the drawers of his dresser. But then one day I found Ricky, who was five at the time and never really knew his father, sitting in front of the TV set, watching a film of Roberto playing baseball with some children. It broke my heart, because next to Ricky on the floor were clothes he had taken out of Roberto's drawers. That is when I decided to put them away."
The three Robertos bear a special burden. Even had their father lived, it would not have been easy living up to his name; martyrdom has made it that much more difficult. Roberto Jr. realized at an early age what was expected of him. "A few weeks after the crash," says Vera, "Robertito said to me at bedtime, 'Mommy, tell the Pirates not to put anyone in rightfield. I want to play that position myself.' When I told him he might be able to when he grew up, he said, 'No, tell them I want to play it right now.' "
At 27, Robertito bears a strong resemblance to his father, especially when he rotates his neck to crack a vertebra. Warm and engaging, he does much of the ambassadorial work for the family. In November he flew to Nicaragua to manage the same amateur team his father had managed 20 years before. "I am not complaining," he says, "but every day of my life I have been reminded of who I am. Once, when I was in Pittsburgh, I stopped to help an old lady change a tire. She said. 'Thank you, young man, where are you from?' And I said Puerto Rico. And she said, 'Puerto Rico! Why that's where Roberto Clemente was from. He was a great man. What is your name?" And I said, 'Roberto Zabala.'"
To compound his problem, Robertito was also a pretty good ballplayer. The Pirates and their minor league director, Branch Rickey III—the grandson of the man who originally stole Clemente—passed on Junior, but the Philadelphia Phillies signed him as an outfielder. Robertito had many of his father's tools, but he also suffered from many of the same kinds of injuries, and he bounced from the Phillies to the Padres to the Orioles, who released him two years ago. He still harbors a dream to play major league ball: "Maybe if my father were still alive. I could have been like Ken Griffey Jr."
Luis Roberto, a year younger than Roberto Jr., did sign with the Pirates. But now he too is out of baseball and works for American Airlines in Miami while pursuing a career in music. Like his father, he plays keyboards. Enrique Roberto, now 23, also played ball. Says Millan, who has seen all three Robertos play, "I think Ricky was the best of the three sons." But Ricky was also painfully shy. "I never heard him speak," says Millan. "I used to kid him, 'How do you talk to your girlfriend?' but he would just smile." Ricky now works at Marín Airport. It is a strange irony that two of Clemente's sons work near airplanes.
As early as 1965, Roberto Clemente had talked of building a sports city for the underprivileged and undernurtured kids of Puerto Rico. In 1971 he had given a speech at a banquet in Houston that had the audience on its feet. "If you have an opportunity to make things better, and you don't do that," he told the people, "you are wasting your time on this earth."
Vera is now the director of Roberto Clemente Sports City, which has many Puerto Ricans breathing a sigh of relief. After Clemente died, a memorial fund was established for the Sports City project, and the Puerto Rican government gave the project some 200 acres of swampland. But for years the money went into the ground, literally and figuratively. Mismanagement plagued Sports City, and about the only thing giving the place credibility was an outfit called the Roberto Clemente Raiders, a baseball talent mill run by Brooklynite Luis Rosa that has turned out such major league stars as Benito Santiago. Ruben Sierra, Juan Gonzalez, Carlos Baerga, the Alomar brothers and Ivan Rodriguez.
But with Vera's arrival as director, there are other encouraging signs. In the immediate oiling for Sports City is a baseball stadium, named after its chief benefactor, Benito Santiago, and a gymnasium. An 18-hole golf course designed by Roberto's friend Chi Chi Rodriguez and an Olympic-sized pool are also in the plan.
Sports City already has a smaller pool, and on an afternoon in late November, a group of synchronized swimmers gave a wonderful exhibition. If Roberto were indeed sitting on a cloud, he would have enjoyed watching the young swimmers perform to the strains of Tchaikovsky, and he would have enjoyed watching Vera sweetly congratulating the girls afterward. Says Monchile Concepción, who was an associate of Roberto's, "Vera has been in charge for only a few months, but already you can see the difference, not only in Sports City, but in Vera. She has come alive, and so have we."
It's a shame, perhaps, that none of Clemente's sons grew up to play rightfield for the Pirates. But the kid across the street from 36 Calle Roberto Clemente did, and he feels that he owes it all to Vera. "She is like my mother, my second mother," says Orlando Merced. "Vera talked the Pirates into giving me a tryout along with Luis. But even then I wasn't sure I wanted to go through with it. The morning of the tryout, she rang our doorbell, came into the house and literally pulled me out of bed. I am what I am today because of Vera."
Primarily a first baseman, Merced played 17 games in rightfield last year for the Pirates. "What an honor that is," says Merced. "I don't remember Roberto when he was alive, yet I looked at his pictures so many times across the street that I feel as if I knew him. He has that look that speaks to you. He's like Elvis. He's still alive."
Merced, Vera, the three Robertos and their families were all at Three Rivers Stadium last Sept. 5 for "A Tribute to Roberto" before a game with Clemente's favorite opponent, the Dodgers. Also there were Joe Brown, Blass, Giusti, Sanguillen and a score of other former teammates. Out in right field, a homemade banner read ARRIBA ROBERTO!
There is now talk in Puerto Rico of Irving to raise the DC-7 that crashed on New Year's Eve 20 years ago. The effort smacks mostly of morbid curiosity. "They asked me about it," says Vera. "At first I didn't object, but I wonder if the money could not be better spent somewhere else. In a way I prefer things the way they are."
She stops speaking and smiles. "I'm thinking of a letter I got after the plane went down. It was from a sister at a Catholic school in Pittsburgh. She told me that Roberto fell into the water so that his spirit could be carried by the ocean to more places."