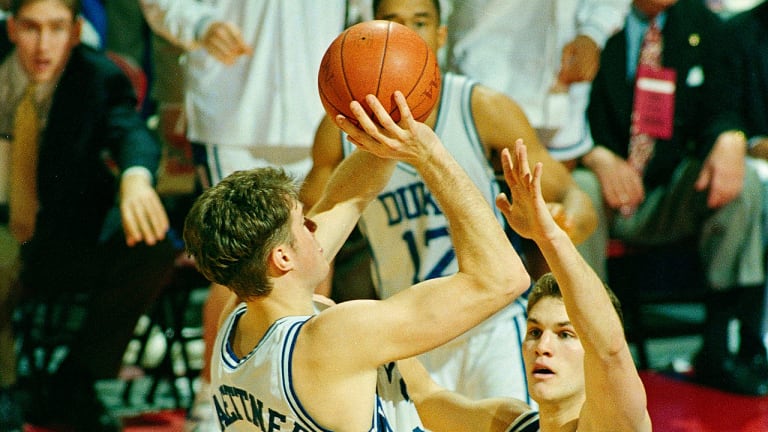 The Shot Heard Round the World
A miraculous last-second play lifted Duke over Kentucky in perhaps the greatest college game ever played
Where were you when the shot went in?
Warren Miller was in Durham, N.C., in the Duke athletic office, watching the NCAA East Regional final on a big-screen TV. As the school's assistant sports information director. Miller would have had to hold back his partisanship if he had been sitting courtside in Philadelphia when Christian Laettner sank the shot. But here Miller could let out a scream. He ran out the office door and through the mild spring night to Cameron Indoor Stadium. In the darkness he knelt down at midcourt and kissed the center circle.
Some 300 people were at Bravo Pitino in Lexington, Ky., watching on a dozen TV sets arrayed around the restaurant owned by Rick Pitino, the Kentucky coach. Moments earlier a shot by the Wildcats' Sean Woods had given Kentucky a 103-102 lead with 2.2 seconds left in overtime and touched off such joyful screaming and clambering up on tables that many patrons didn't see Laettner's shot, much less the 75-foot pass from Grant Hill that preceded it. When they realized what had happened, when replays dashed hopes that the basket had come too late, silence swallowed up the crowd. Then came low moans, then tears. People wandered out to the street, dazed. One woman felt so dizzy that she had to be helped from the premises.
Mike Gminski and Mark Alarie were in Landover, Md., where fans with portable TVs had been relaying details from the game to the two former Duke stars as they sat the benches of their respective NBA teams—Gminski, rarely used but in uniform, with the Charlotte Hornets; Alarie, injured and in mufti, with the Washington Bullets. Not long after the Duke-Kentucky overtime began in Philadelphia. Gminski was sent into the game at the Capital Centre, and soon after that the crowd there issued a shout that bore no correspondence to the action at hand, "I think it's over," Alarie called out to Gminski during the lineup for afoul shot in front of the Bullets' bench. "One of their guards just hit a shot." Moments later came another shout. As Charlotte moved upcourt on offense, the Cap Centre's message board flashed the news of Duke's 104-103 victory. Without breaking stride, Gminski thrust two lists in the air.
Jamie Lynch was at Shore Casino in Atlantic Highlands, N.J., where he and a half dozen other childhood friends of Duke point guard Bobby Hurley were putting in a Saturday night's work, waiting on 350 guests at Paddy Noonan's Irish Cabaret Night. Whenever their boss wasn't looking, they stole into the bar to catch snatches of the game on TV. Lynch left the room crestfallen when Woods scored. Back in the dining room, again attending to the guests at the tables, Lynch heard a cheer, then turned to see a friend, Eddie Nestor, running at him, screaming the news: "Christian made the shot! You won't believe it, but Christian made the shot!"
Robert Vallandingham was in New Albany, Ind., watching on TV in the firehouse where he works. No fan had more closely monitored the course of Kentucky's fortunes this season than had Vallandingham, 55, a Wildcat fan among Hoosiers. He had camped out for 36 hours to be first through the doors of Memorial Coliseum in Lexington for the Wildcats' traditional season-opening midnight practice on Oct. 15. A year earlier he had endured quadruple-bypass surgery. Now, as he fell from his chair, his heart survived the ultimate test.
*****
You could get even the most fractious barroom to agree on at least three criteria for a great college basketball game. First, it must be a significant game. Let it decide an NCAA championship, as did the 1979 Magic-versus-Bird NCAA final between Michigan State and Indiana State, or Texas Western's 1966 title-game victory over Kentucky, the sport's Brown v. Board of Education. Or let it end a lengthy winning streak, like the 1968 regular-season victory by Houston over UCLA in the Astrodome or Notre Dame's 71-70 win that ended UCLA's 88-game streak in 1974.
Second, a great game must be superbly played. Few who witnessed Kentucky's 92-90 Mideast Regional final victory over Indiana in 1975 will forget the ferocity with which each pick was set and each pass was contested; anyone who saw Villanova shoot 79% in beating Georgetown 66-64 for the 1985 NCAA title still marvels that if the Wildcats had shot a mere 71%, they would have lost. Likewise, a superb individual performance—Walton's 21-for-22 shooting against Memphis State in the 1973 NCAA final, or the 16-point valedictory delivered by Princeton's Bill Bradley in the last five minutes of the consolation game against Wichita State at the 1965 Final Four—can edge a game in gold.
Finally, the contest must have drama. Some players, like Louisville's Terry Howard and Georgetown's Fred Brown, must die little deaths, and others, such as Loyola's Vic Rouse or North Carolina State's Lorenzo Charles or Villanova's Harold Jensen, must live larger than ever before. Ideally, the story line should take a detour down the rutted byroad of a clock malfunction or a colorful colloquy between a coach and an official. By the end, winners and losers alike should leave their cheerleaders in tears.
Kentucky and Duke, two schools encrusted with basketball tradition, fulfilled each of these requirements when they hooked up on March 28 in the Spectrum. One program was just off the coronation of an NCAA championship. The other was just off the chastening of NCAA probation. In determining whether Duke would earn its fifth straight trip to the Final Four or if Kentucky would make its first trip after spending time in purgatory, the two teams shot a combined 61%, and Laettner, Duke's senior star, launched 20 shots on the evening, 10 from the field and 10 from the line, bottoming out each one. Dramaturges couldn't have scripted anything more compelling than the final 31.5 seconds: Five times the ball changed hands, and each possession resulted not only in a score but also in a lead change. Inasmuch as the man of the moment turned out to be Laettner, who undermined his statistically perfect night with a grotesquely imperfect lapse in decorum, the plot honored the cardinal rule of good storytelling—don't make the hero a one-dimensional character.
As they outdid each other with each successive play, Duke and Kentucky may have invented one more criterion for a great game, a standard beyond import, excellence or drama. "People who saw it knew it was a great game," says Mike Krzyzewski, the Blue Devils' coach. "They didn't need any announcer or sports-writer to tell them it was. And not only Duke fans and Kentucky fans felt that way. Any basketball fan who saw it felt disbelief that any of it could happen."
There is always the danger of popular acclaim undeservingly transmuting a widely seen game into something grander. There is similar peril in overpraising a sports event simply because it is so gratefully welcomed, as this was, coming in the midst of news of Mike Tyson's sentencing for his rape conviction, a looming hockey strike and the alleged lewd extracurriculars of the New York Mets' David Cone. But the Final Four itself would pay the Fast Regional final the supreme compliment one week later. At that point, as Duke somnambulated through the first halves of its games with Indiana and Michigan in Minneapolis, there could have been little doubt that on the whole, the Blue Devils would rather have been in Philadelphia—and in a sense still were.
For purposes of history the regional final didn't really begin until the second half, when Kentucky called timeout with 11:08 remaining. The Wildcats stood 12 points down, 67-55, and Duke, Rick Pitino feared, was about to disappear over the horizon.
Going into the game, Pitino believed his team held only one clear advantage. No one was in better shape than Kentucky. The Wildcats were sure to lose in a half-court game, but if they could apply defensive pressure—like a bad Catskills comic, Pitino calls this defense the "mother-in-law," for its "constant pressure and harassment"—they might turn the game into a test of stamina and beat Duke at the end. Pitino also had a theory, tested during his turn as coach of the NBA's New York Knicks, about great point guards. The most-talented point guards, he had observed, tend to force the action; no players had proved more error-prone against the Knicks' pressure than Magic Johnson and Isiah Thomas. Thus Pitino relished the chance to face Hurley, Duke's playmaker. Even if pressure didn't lead directly to turnovers, Pitino reasoned, the hubris of a good point guard would send gas to a game's engine, thus assuring that the better-conditioned team would claim its advantage.
Yet to play Duke in a full-court man-to-man would be to put his team at risk of deep foul trouble. So for the first time all season Kentucky began the game dropping from a man-to-man press into a half-court zone. But now, down 12, Pitino didn't feel he could continue that way. He abandoned the zone, ordering man-to-man pressure at both ends of the floor. "We have them right where we want them," Pitino told his team. "Now we make our comeback."
His players made it clear, with their looks, that they believed him. Kentucky scored eight straight points over the next minute, six of them on a couple of three-pointers by sophomore Jamal Mashburn. The score now stood 67-63, and the sudden ferocity with which the game had turned seemed to wake people up throughout the Spectrum. To that point Tim Higgins, the senior official, had been struck by the prevailing level of concentration. There had been no back talk from coaches or players. I'd better strap on my equipment, Higgins now thought to himself. This is going to be a buzzer job.
On the Duke bench Krzyzewski was disappointed, for during the timeout he had warned his team to expect just such a run. "We had our effort on and turned it off," he says now. "Moments like that point out one of the things that make basketball different from other sports. So much can happen when the clock is stopped, and one of the hardest things is to maintain focus."
The Blue Devils suffered another lapse a minute and a half later, when they held a 73-68 lead, Laettner took a pass on the blocks, then powered up for a shot as forward Aminu Timberlake came over to challenge him. Their collision left Timberlake supine in the lane. An instant later Laettner took his right foot and planted it deliberately into Timberlake's stomach.
Laettner's act wasn't malicious. Even Timberlake, who leaped to his feet clapping because he believed Laettner would be ejected, hardly considered it a provocation. Over the summer Timberlake would have to spend more time than he cared to persuading folks in his neighborhood in Chicago that it hadn't been worthy of retaliation. "He tried to come up with some story about me pushing him," Timberlake says now. "But I don't believe I was in the game long enough to push him." No, it was just a chippy, I'm-Christian-Laettner-and-you're-not thing to do.
"I don't know if he did it on purpose or not," Len Elmore, the CBS commentator, said as the play unfolded.
"Oh, yeah, he did," said Verne Lundquist, Elmore's partner. There was a tone of reproach in the voice that, during the Winter Olympics only a month before, had benignly recounted for millions the triple toe loops of teenage girls in Albertville. For so soothing a voice to render so harsh a judgment gave that judgment added weight.
Pitino hadn't seen what had happened. "If I had," he says now, "I would have gotten on the officials. If not for the ejection of Laettner, at least to try to get a call or two later." But Krzyzewski knew exactly what had happened, and he was furious.
"That was unbelievably dumb," he barked at Laettner. A contact technical counts as a personal foul, and the Duke star now had three. It was the second time in a matter of minutes that the Blue Devils' focus, normally as narrow as a laser's light, had gone diffuse with the clock stopped. First when we'd gone up 12, Krzyzewski disgustedly thought to himself. Now this.
*****
Christian Laettner's crude kick to Timberlake's midsection nonetheless seemed to alert all parties to check their guts. Overtime would eclipse the rest of regulation time, but there were several splendid moments over the next eight minutes: Kentucky guard Dale Brown's slicing move through the lane between Laettner and Hurley, which wound up a three-point play; the Wildcats' John Pelphrey, despite having four fouls, drawing a charge from Hurley; two pull-up jumpers in traffic by Thomas Hill of Duke in the last few minutes; and, finally, the capstone of the first two halves, a play by Kentucky sixth man Deron Feldhaus, who picked off a Pelphrey miss in the lane, then contorted his body to drop in the layup that tied the score at 93 with 33.6 seconds to play. When a spent Hurley—he had 10 assists now, but eight turnovers, too—took and missed an off-balance jumper over Woods as time ran out, Pitino had brought his team to the brink.
Let this fight go on, let it last one, two, as many extra rounds as necessary; the challengers now believed more than ever that they would eventually get to the champs. Pelphrey opened the overtime with a three-pointer from the top of the key, then drew another charge, this time on Duke's Brian Davis, his fifth foul.
With his team now leading 96-93, Pitino emphasized above all else that the Wildcats not surrender a three-pointer. So it was bad enough that Kentucky let Hurley take one at all. Worse still, when he missed, the long rebound was grabbed by Grant Hill.
All season Krzyzewski had drummed into his team that the three-point shot after an offensive rebound is the most open three-pointer a team gets. "A coach always gets upset when you give up an offensive rebound," he says. "But if you can magnify it with a three-pointer, it's a knife." Thus Hill looked instantly to Hurley, who was still lingering outside the arc. This time Hurley's shot ripped through.
Yet his knife somehow missed Pelphrey, who was in the lane moments later, scoring another layup. Couldn't the game have ended here, at 98-96, with the hero this rawboned and redheaded young man from Paintsville, Ky. (pop. 5,300), rising out of a crowd? Couldn't the game have ended with Cawood Ledford, the voice of the Wildcats, who would be retiring after this, his 39th season, calling the heroism of one of the Kentucky seniors?
*****
El Ferrol, John Pelphrey likes to tell Statesiders who ask about the Spanish city in which he's now playing basketball, is sort of like Seattle. It's tucked into the upper lefthand corner of the country and is a shipbuilding center with ample water views. Galicia even has the gloomy climate of the Pacific Northwest, which frequently fits Pelphrey's mood just fine.
Often he will toss and turn in his bed, unable to get to sleep. Sometimes he will awaken with a start, only to see Grant Hill's pass in the air and Laettner's shot whispering through the net. "You have a goal, and you chase it so far, and you make yourself so vulnerable by wanting it so badly," he says. It isn't that Pelphrey doesn't appreciate the history to which he was a party. "If you're going to have your career end, you might as well have it end with what many people consider the greatest game of all time. You just hope you're the guy who makes history, or the guy who watches it. Not the guy it happens to."
Yet it says much that Kentucky's four seniors even got a chance to be the guys history happened to. Woods began his career inauspiciously, sitting out a season for academic reasons. Pelphrey, Feldhaus and Richie Farmer, all of whom come from small towns in Kentucky, were only grudgingly offered scholarships by then Wildcat coach Eddie Sutton: Feldhaus because he was a legacy whose father, Allen, played for Adolph Rupp; Pelphrey because he had been courted by Louisville, and no Kentucky coach could afford to let a Mr. Basketball from the mountains sign with a city slicker like Denny Crum; and Farmer because Sutton realized it would be a public relations disaster to lose so beloved a high school star—Farmer was Mr. Basketball the year after Pelphrey and led tiny Clay County High to a state championship in 1987. Indeed, right after Farmer graduated from Kentucky, his autobiography, entitled Richie, was published. In the book his quotes appear in blue ink, just as the words of Jesus used to be printed in red in some editions of the Bible.
While Pelphrey and Feldhaus sat out the 1987-88 season as red-shirts, Kentucky was riding high in the national polls. But by the time they became eligible a year later, and Woods had quit snorkeling academically and Farmer had arrived as a freshman, star swingman Rex Chapman had left early to go play in the NBA and the NCAA was readying its indictment Of the program. The Wildcats suffered through Kentucky's first losing season in 62 years, a 13-19 ordeal whose dismal tone was set at the Tip-Off Classic in Springfield, Mass., where Duke thrashed the Cats by 25 points.
When the NCAA issued its hide strapping shortly after the season ended, all four might have followed the lead of their illustrious teammates, players like Chris Mills, LeRon Ellis and Eddie Sutton's son Sean, who transferred out. But no school wanted them. Even the new coach, Pitino, wasn't sure he did. Pelphrey had a reputation as a locker-room lawyer. Woods and Feldhaus couldn't shoot. And Farmer was 30 pounds too heavy, having spent much of his freshman season lollygagging in the belief Sutton would never play him when he could play his son instead.
There was something unfinished about each of the four, though, and since they were stuck with one another, Pitino figured he might as well discover what it was. Soon Farmer was wondering if he had come to Kentucky on a track scholarship. Pelphrey and Feldhaus found out that notwithstanding all the judgments that they weren't "athletes," they could make up in stamina and strength what they lacked in speed or spring. Woods was a more intractable problem, for he styled himself a scoring guard, while his coach needed him as a floor leader. And he had a knack, late in games, for missing shots—each, it seemed, more creatively than the one before. As a sophomore he misfired in the final minutes of five different losses. "When he's a senior," Pitino said, "he'll make those shots."
The class of '92 made up half of Pitino's eight scholarship players that first season. They went a game 14-14 in '89-90. A year later, in Kentucky's final season of banishment from postseason competition, Mashburn signed on, and the Wildcats went 22-6. Still, no one could ever have imagined that this group, once called the Young and the Rexless, would one day be sanctified, like Rupp's Runts and the Fiddlin' Five before them, as the Unforgettables.
*****
Say you had only one chance, and you had to explain quickly to someone in Zanzibar why Christian Laettner made four trips to the Final Four in four collegiate seasons; why he twice sent his team there himself with buzzer-beating shots; why Duke was No. 1 for 18 straight weeks during his senior year; and why last summer a horse at the Red Mile, the harness track in Lexington, ran as Laettner Be Gone.
You could do worse than rest your case on the last two minutes of overtime.
Beginning with the moment Laettner tied the game at 98, after being fouled by Mashburn and dropping in two free throws, no other Duke player would score. When Kentucky came downcourt and Woods missed a jumper, it was Laettner who claimed the rebound. And when, on the ensuing possession, Duke worked all but a few seconds off the shot clock, it was Laettner who got the ball in the post, with Mashburn tight behind him, and spun into a shot. Even as Mashburn knocked the ball momentarily loose, Laettner somehow quickly regained control, flinging a low line drive off the backboard and in. From the halftime stat sheet Pitino knew Laettner had made every shot he had taken, and at this, he turned to his assistants and muttered, "That sucker's never going to miss."
People who can spring for 31 and have a good hair day while doing it are often called to account for their fortune. "Obviously there's some luck in it, and some skill in it too," Laettner says. "But how much of each, who knows? Maybe you get more luck if you're a good person. Maybe you get more if you're nice to your mother."
Bonnie Laettner wore a neck brace as she watched the game from several rows behind the Duke bench. "Christian probably stepped on her," one Cincinnati-based radio talk-show host would say the following week. In fact she had recently undergone a vertebrae fusion in her neck. She had spent the first half holed up in a Spectrum ladies' room, working her St. Joseph's medal, praying to the saint she had developed a devotion to six years earlier, when her neck first flared up. She would never ask God himself to intervene in anything so common as a basketball game. But with St. Joseph she was bolder, and the two of them did seem to have a good thing going. Bonnie never missed the novena in his name every March at Most Precious Blood church in Angola, N.Y.; by all evidence, St. Joseph heard her pleas, for there were Duke and her son, by the end of every March, in the Final Four.
When they're not seeking divine intervention, the Laettner family makes a habit of looking for omens. Pulling into Indianapolis for the Final Four the year before, Bonnie, husband George and daughters Leanne and Katie had spotted a license plate reading MR & MRS K. In Ontario in December, on their way to Ann Arbor for Duke's game with Michigan, they had seen a sign for Hurley Realty. And days after the Duke-Kentucky battle, on their way to Minneapolis for the Final Four, the family would stop for gas somewhere in Wisconsin. The prices on the pumps would read 104 and 103.
*****
The endgame began with Laettner's bank shot, the first of the Five Possessions: In slightly more than a half minute Duke would have the ball three times and Kentucky twice, and each time the teams would make a play that on any other night would have been a worthy game-winner. The Wildcats answered Laettner's immaculate bank shot with a series of passes around the perimeter—"ball reversal," the coaches call it—that ultimately left Mashburn with an opening. He slipped along the baseline for a layup. A beaten Antonio Lang came by too late and fouled him, and after Mashburn sank the free throw that pushed Kentucky into the lead again, 101-100, he allowed himself to believe the game was won.
Yet moments later Mashburn spent his fifth foul, once again on Laettner, whose free throws put Duke up 102-101. Pitino sent Farmer in to replace Mashburn. All four Kentucky seniors were now on the floor.
While the Wildcats mustered during a timeout with 7.8 seconds remaining, those who knew the team best might have suspected that the play would begin with the ball in Woods's hands. Yet the Kentucky guard hadn't completely rid himself of his complex about taking shots late in the game. As a junior, with the Cats trailing by three at Mississippi State, he had dribbled the length of the floor for a worthless layup at the buzzer. Pitino's play nonetheless called for Woods to drive, and to kick the ball out to the wing if the Duke defenders were to pinch in.
As Duke broke its huddle, Hurley reminded his teammates to call time if Kentucky were to score. I forgot to remind them of that, Krzyzewski thought to himself. Damned if Hurley doesn't still have his mental edge.
Woods took the inbounds pass from Farmer, laid a head fake on Hurley and accelerated right, leaving the Duke guard on a Pelphrey pick. Two steps later, in the lane. Woods flipped up a shot that today he calls "a little push, one-hand shot." Yet it must have had some arc on it, for it cleared the outstretched arm of Laettner, who had come to the middle of the lane to help. All in all, it was a preposterous shot—drifting and homely, one that would have been left dateless for the prom. Krzyzewski thought briefly that it was just the kind of shot that gets players benched. But he also thought, ominously, that it was the kind of shot Woods had been making all game long.
"A terrible shot," Elmore said after the ball glanced off the backboard and through the hoop.
"How did he find the courage to take that kind of shot?" Lundquist wanted to know.
Four of the five Duke players on the floor immediately signaled for a timeout. The clock showed 2.1 seconds remaining.
*****
In the stands Grant Hill's mother, Janet, was busy consoling Antonio Lang's father, Eural. "Wait a minute," said Grant's dad, Calvin Hill, the former All-Pro running back. Too many times he had been with the Dallas Cowboys when Roger Staubach delivered them from wickets stickier than this. He was watching Krzyzewski, and the coach seemed to have a plan.
"We're gonna win," Krzyzewski told his team right away. Part of this was the obligatory bravado of a West Point man; cadets aren't taught to say "Here goes nothing." But part of it reflected that theory about basketball games being won and lost while time is out. Those 2.1 seconds wouldn't start ticking away until the ball was touched inbounds. A pass could travel 70, 80, even 90 feet with the clock as yet unstarted. The Blue Devils might have twice lost ground during dead balls, but Krzyzewski was going to do his best now to make up for it.
The play called for Grant Hill to throw the ball three quarters of the court. But Krzyzewski needed to know if Hill had heard him. "Grant, can you make the pass?"
"Yeah, Coach," Hill said. "I can do it."
Laettner was to come up from the left corner to the foul line, where he would create the best shot possible, provided he could get the ball. "Can you catch it?" Krzyzewski asked Laettner.
Laettner nodded yes.
As Hill prepared to inbound the ball, he thought back to one of the two games that Duke had lost that season. At Wake Forest he had been in virtually the same situation but had a defender in front of him. His heave screwballed toward the sideline, drawing Laettner out-of-bounds. This time Hill wanted only to give Laettner a chance to do something with the ball. This time, he noticed right away, there was no defender obstructing his view downcourt.
Pitino and his staff had spent most of the timeout in debate: Should we put a man on the ball? In much the same way that Hill ruminated on the Wake Forest game, the Kentucky staff was haunted by a precedent of its own. Assistants Billy Donovan and Herb Sendek, the first as a player and the second as a coach, had been with Pitino at Providence six years earlier, when the Friars held a two-point lead against St. John's in a similar situation. They failed to defend the inbounder, who found Redman star Walter Berry in the forecourt. Berry got off an awkward shot, but he drew a foul and made two free throws that sent the game into overtime, and the Friars lost. Pitino vowed then never again to fail to put a man on the ball.
But these were special circumstances. Gimel Martinez, Kentucky's 6'8" starting center, had fouled out. So had the 6'8" Mashburn. Two 6'9" Wildcats, Timberlake and Andre Riddick, were freshmen, and therefore Pitino didn't consider them options. That left the 6'7" Feldhaus and the 6'7" Pelphrey. "If we put Pelphrey or Feldhaus on the ball, the other has to play Laettner one-on-one," Pitino says now, noting that the Duke star goes 6'11" and 250 pounds. "We were afraid he could catch a pass and simply bull his way to the basket." Pitino decided this was no time to honor old vows, however grounded in hard experience they may have been. He simply couldn't justify deploying one of his two remaining excuses for a big man 90 feet from the one receptacle down which Kentucky's lead could get flushed.
It was settled. Feldhaus would match up with Laettner. Pelphrey would play centerfield, free safety—whatever.
*****
With much to do and only seconds in which to do it, it is human nature to press, for fear you'll run out of time. That pressing feeling, alas, tends to assure that you'll use what little time you do have inefficiently. Yet here the Blue Devils executed as if they hadn't given time a second thought.
Grant Hill is an only child whose doting parents didn't let him play football as a preteen, notwithstanding his pedigree as Calvin's son. Yet he whipped a pass that would have made a quarterback proud, and it seemed to him to hang in the air forever. Feldhaus sealed his position behind Laettner when the Duke star beat him to the free throw line. Pelphrey was most concerned with keeping the ball from going over his head. He hadn't seen Laettner bust up from the corner, but why should that matter? Pelphrey had seen Hill, and he had watched the flight of the ball, and here it was, heading right to him, a gift: "There was no doubt in my mind that I was going to catch it," he says. "I could almost feel the leather. I took a step or two backwards. I kind of jumped. And he had it."
As soon as Laettner came down with both the ball and his balance, Mashburn, from his scat on the bench, sensed what would happen. Laettner took one dribble and wheel-faked right—"to create some distance," he says—then spun left and leaped up, rising into a majestic fallaway. Feldhaus lacked the stature to contest Laettner's shot even if he were so inclined, which, out of a well-founded fear of fouling, he wasn't. When the ball left his hands, after nearly 45 minutes of play at the highest level, Laettner still hadn't missed, a fact lost on most everyone in the Spectrum at the time—on Lundquist and Elmore, on Laettner himself, even on Krzyzewski, who today says it would have made him nervous to have known, as if one more shot would have fatally tempted the law of averages. With his view blocked, the Duke coach never saw the ball drop through. But from the arc the shot traced, a familiar and comforting parabola, the coach didn't doubt that it would.
Hill didn't doubt it either. Watching the flight of his pass, he had thought of Hoosiers and The Natural and of the climactic slow-motion sequences in those movies. "Fate was on our side," he says now. "We were destined. Even if somebody had been on me, even if the pass had been off, Christian would have tipped it and it would have gone in. We still would have won somehow."
*****
Scan Woods fell to the floor, facedown, limbs spread. Finally, with a game in the balance, he had made the play, and for naught. For nearly a minute he lay there, inert. Eventually a security guard came over to be sure he was still breathing.
Thomas Hill stood by the sideline with his hands clasped behind his head, and as he rotated slowly in place, the muscles on his face seemed stretched to the limit. His eyes registered a sort of plaintive horror, as if they had just witnessed something hideous. If there is a continuum between delirium and terror and it loops around and meets somewhere. Hill seemed to occupy a place at that conjunction.
Pelphrey stood motionless, his hand atop his head. It had all happened so fast. We'd no sooner come out of the huddle than the ball was coming through the net, he thought. Wait a minute, he wanted to say. Let's do this again.
Along press row, where malfunctioning phone lines had put normally sour writers in an even more loathsome humor, all cynicism was suspended. "Here we'd been, ragging on the Spectrum," says UPI's Tom Withers, one of the 269 accredited journalists who now had to do the evening's events justice. "And then it gave us this gift." Elmore and Lundquist began 75 seconds of what the networks call "layout," which consists of just shutting up. Boston Globe columnist Bob Ryan, the acknowledged dean of the basketball print journalists in attendance, turned to Ledford, his broadcasting equivalent, and held aloft a sheaf of notebook paper on which he had scratched out the interrogatory already beginning to make its way through the arena: GREATEST GAME EVER?
Krzyzewski had felt anger when Woods's shot went in—"In basketball," he says, "you know you don't bank it in from there"—and even as Duke set up its inbounds play, his pique lingered. Thus in the moments after Laettner's answer, Krzyzewski first felt vindication. Yes, he thought, throwing down a clipboard. That's the way it should be.
But then the Duke coach saw Farmer in front of him. He remembered the Kentucky seniors from the Tip-Off Classic four years earlier, and he knew how Farmer, more than any of them, was the idol of every mountain kid just now turning on the spigots of grief. "Just looking at his face, there was no way I could be celebrating," Krzyzewski says. "I felt a real sense of guilt, for lack of a better word. Like we were the cause of all this despair." Is this a winning coach's lot? To go from anger to guilt in barely a minute, bypassing entirely the euphoria his own players now indulged in so uninhibitedly?