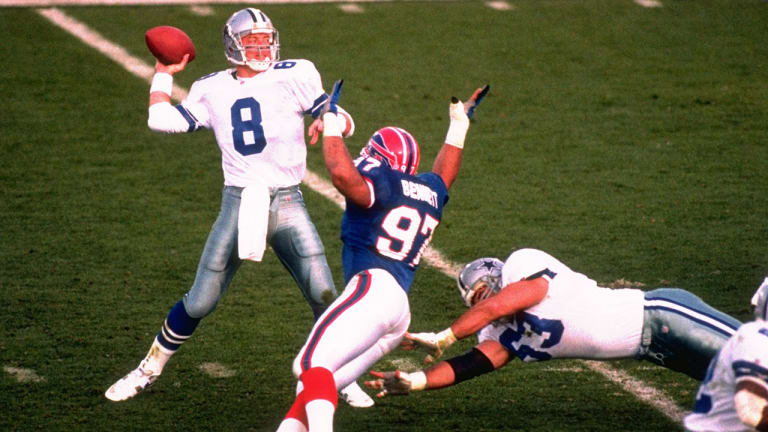 Big. D, As in Dynasty
Dallas provided a preview of things to come with a Super Bowl rout of Buffalo
Get used to the Dallas Cowboys, folks, because they're going to be with us for a long time. Here comes that dread word—dynasty. Oh, my, yes. Everything points to it after the Cowboys ran the Buffalo Bills out of the Rose Bowl on Sunday by a score of 52–17. Troy Aikman and Emmitt Smith and Michael Irvin and Ken Norton Jr. and Charles Haley—all those implements of destruction that embarrassed and humiliated a proud, battle-tested team are just starting to feel their oats. Coach Jimmy Johnson and his hair spray; Jerry Jones, the owner who hungers for the limelight. You say you're tired of them already? Gee, that's tough, because the whole gang's going to be with us for a while.
Dynasty. How we love that word. Seems that every time a new team wins a championship, in any sport, that word dynasty follows in lockstep. Only this time it makes sense, historical sense.
Chuck Noll was 1–13 in 1969, his first year as coach in Pittsburgh, and five years later his young Steelers had their first of four Super Bowl titles. The San Francisco 49ers were 2–14 under rookie coach Bill Walsh in '79, but in another two seasons they held the championship trophy, with three more Super Bowl victories to follow (the last one under George Seifert) Johnson and his Cowboys are right on course, a 1–15 record in his initial year, 1989, and now, three seasons later, a Super Bowl championship. And why does it look like only the beginning? Because youth defines this team.
You say that free agency could change everything, that the rules of the game are different now, that the NFL is on the verge of becoming one big round of draw poker? Well, this is a game that Johnson, with his 46 trades in four seasons, and Jones, a guy who's ready to spend the bucks needed to bring in talent, seem to have been born for.
"We don't know a specific way we'll be dealing with free agency," Jones said Sunday night. "But we'll figure it out. We'll sharpen our pencils. Don't think we can't figure it out. Somebody the other day told me I'd go through withdrawal this year because we don't have a lot of high draft choices. I told him, 'We don't have high picks yet, but wait until draft day.' "
Jones and Johnson—or, rather, Jerry and Jimmy—there's not another management team like it in the league. Two men make all the football decisions in Dallas; there's no vice-president for pro personnel or director of player personnel to get in the way. Jones believes that if you make a mistake, make it going full speed. "I've got a nice legal pad of failures in the business world," he said. "But I think whatever you do, you have to do it aggressively and tirelessly."
The first thing Jones did after he bought the team was hire Johnson, perhaps the only coach who could have matched him stride for stride. Now Johnson takes his place beside the 14 other coaches whose teams have won Super Bowls. His achievement this season—in fact, over four seasons—has been remarkable, but as he went through the week-long round of press conferences before the Super Bowl, you could sense a slight hesitancy by the press to treat him with the dignity that a Lombardi or a Tom Landry or even a Noll or a Joe Gibbs received.
It starts with the "Jimmy." The roster of victorious Super Bowl coaches included no Jimmies or Vinnies or Tommies. "I can't help it, to mc he's still Jumpin' Jimmy who tried to recruit me at Arkansas," said former Minnesota Viking guard Dave Huffman, who was in Pasadena as a radio commentator. "He was the defensive line coach, and he and the linebackers' coach, Harold Horton, were a team—Jumpin' Jimmy and Screamin' Harold."
During a press conference early in the week, Johnson was asked about the hair spray he uses. "I like to be neat," he said without batting an eye. "I'll admit to a little spray. I'm not a closet sprayer." Did anyone ever ask Don Shula about his jaw or Landry about his hat or Lombardi about the way he puffed out his chest when he walked?
In one remarkable session with the media, on Jan. 27, Johnson stood on the rostrum and opened a slight window into the way he looks at his life by talking about a book that had influenced him, Flow: The Psychology of Optimal Experience. Then, as if he were reluctant to end the give-and-take, he sat at a table and kept talking with a handful of reporters, for 20, 30, 45 minutes, until the room started to empty. The reporters wanted to know how Johnson had come into the NFL without any experience in pro football and put together, with such clarity, exactly the type of team he wanted.
"I like the guy who can walk into a poolroom and pick up a cue stick and sink the 8 ball," said Johnson. "The people I want around me, well, the bigger the game, the more they shine. Some people, I don't care if it's a six-inch putt, when everything's on the line, it's very tough for them. It's the way their lives have been. I can't do a whole lot about it, just eliminate'em from our program."
"You're lucky to have been hired by Jerry Jones," someone said, and Johnson's eyes got hard for a moment. "You just said a word I don't like or use—luck," he said. "There was nothing fortunate about it. I was one of the top coaches in college football. If I hadn't wound up here, I'd have been hired somewhere else."
There has been a breath of fresh air in his approach, a willingness to go against established principles. For instance, who else would have given a top assistant permission to get his head coaching prospects worked out while his team was in the midst of the playoffs? Johnson did, and defensive coordinator Dave Wannstedt, the decks cleared and the Chicago Bear job locked up two days before Super Bowl practices began, put a defense on the field that forced nine turnovers.
Turnovers are the heart of most NFL blowouts, and the Bills will have to live with a Super Bowl-record nine as they analyze their third straight, and worst, defeat in the Big One. Two of the turnovers were returned for touchdowns. Three more set up TDs. Another one cut off a Buffalo drive in the end zone. The other three were window dressing, including a 64-yard fumble return by 292-pound defensive tackle Leon Lett, who went into his hot-dog number a little early and had the ball knocked out of his hand just short of the end zone by Bill wide receiver Don Beebe. That was at the end, however, when the game was in its Laurel and Hardy phase and the fans were streaming out to beat the traffic.
The turnovers were products of a defense built on speed—of guys firing through tiny gaps before they closed, of backside or blindside pursuit knocking the ball loose, of opponents' mistimed blocks. Angles that had looked perfectly fine when Buffalo coaches drew them up on the blackboard suddenly didn't work when those little defensive O's turned into Cowboy players blessed with more speed than the Bills were used to seeing.
Defensive quickness has been Johnson's signature as a coach, at Oklahoma State, at the University of Miami and at Dallas. Linebackers become defensive ends. Tackles are chosen" for mobility. Running ability determines who plays linebacker. The Los Angeles Raiders scrimmaged the Cowboys early in the preseason and came away unimpressed. "Little guys," said one Raider coach. "Nothing but a bunch of little guys."
Those little guys did just fine against Buffalo, turning the game late in the first quarter. The Bills had taken a 7–0 lead after Steve Tasker sliced in and blocked a punt, giving Buffalo the ball on the Dallas 16-yard line. Four plays later running back Thurman Thomas was in the end zone. "If you block a punt for a TD, you'll win the game 80 percent of the time," Tasker had said earlier in the week. "[Coach] Marv Levy said that a few years ago."
"Does it really work out that way?" someone had asked him.
"Don't know," Tasker said. "I'm just a parrot repeating what I've been told."
Aikman was having trouble on his reads. The first two Cowboy series were blanks. "They were taking away my outside reads with that two-deep zone they played," said Aikman. "Emmitt was getting open—one time I heard him hollering at me—but I couldn't sec him because their linebackers were getting to me too quickly. I was having a tough time getting into the feel of the ball game."
"I didn't get on Troy too much when he was having trouble in the beginning," said offensive coordinator Norv Turner, who was on the phone with Aikman from the press box. "I would tell him stuff like, 'They're sinking, they're sinking,' to let him know that they were taking away the corner routes and that he'd better get things going underneath. The great thing about Troy is that he's honest. He listens. There wasn't a lot of conversation one way or the other."
With five minutes left in the quarter, Buffalo had a first down at midfield, and at this point the game turned. Cowboy nickelback Kenneth Gant, blitzing up the middle, forced Jim Kelly to hurry his throw, and it was picked off by safety James Washington. The interception set up a 47-yard TD drive—Aikman hooked up with tight end Jay Novacek for the 23-yard scoring pass—that tied the game.
"The touchdown to Novacek was the throw that got Troy his rhythm and confidence," Turner said. "It was a helluva throw, down the seam, off a quick drop. It had to be perfect. After that I felt that he was going to be fine."
On Buffalo's next series Haley, a 245-pound speed rusher, raced around 325-pound Bill tackle Howard Ballard and sacked Kelly at the two, forcing a fumble that defensive tackle Jimmie Jones recovered and ran in for a touchdown to put Dallas ahead 14–7. The Bills had been in their hurry-up mode, going from a no-huddle set, and all during the week the Cowboy defenders had answered questions about how they would cope with this offense. Yes, they had worked against a rotating pair of offensive units in practice. Yes, they might have trouble making the substitutions they wanted, which included a new defensive-line group. No, they weren't worried.
The way the Cowboys dealt with the no-huddle was simple: They left one unit in until the series played itself out or there was a natural break in the action, such as a measurement. "We got the people we wanted in there just fine," said defensive end Jim Jeffcoat. "The Buffalo linemen were tiring before we were."
Haley had his own feelings about the no-huddle. "I like it," he said, "because it lets me get into Kelly's rhythm. Once I can do that, I can get off on the ball right away and beat the guy blocking me. Most of the time when they go hurry-up, they go on the first sound or 'hut.' You can anticipate it. That's the biggest key. If Kelly had changed his snap count, we probably wouldn't have gotten to him as much."
One play into the second quarter the Bills had a first down at the Dallas four and seemed about to tie the score. Fullback Carwell Gardner ran for three yards up the middle. Thomas was stopped for no gain and limped off the field. Kenneth Davis came in for Thomas, went wide left, and Norton drilled him for no gain. Thomas limped back onto the field. Fourth-and-goal. Dallas substituted, taking out two goal-line people and bringing in its base defense. "I should have called timeout," said Levy later. "We had a play called but not for that defense."
The Bills spread tight end Pete Metzelaars, moved Gardner out wide and shifted Thomas out a step. At the snap Metzelaars curled inside, as did Gardner, with Thomas drifting behind him. The rush was in Kelly's face. He tried to lob the ball to Metzelaars, and safety Thomas Everett was there for the interception.
Kelly would throw only one more pass, an incompletion on Buffalo's next series. On that play Norton, who was blitzing, was. blocked and sent flying into Kelly's right knee. Kelly went down in agony. He had been knocked out of the first two rounds of the playoffs with sprained ligaments in the right knee, and now he had sprained them again. Frank Reich, who had replaced Kelly in the wild-card playoff game and had led that remarkable 41–38 comeback victory over the Houston Oilers, came in.
Reich completed his first throw for a first down. He took the Bills down the field, and this time they didn't gamble on fourth-and-goal. Instead they settled for a 21-yard field goal that cut Dallas's lead to 14–10.
But now Aikman, Irvin and Smith, who would wind up with 108 yards on 22 carries, went to work. A long touchdown drive ended with a 19-yard pass to Irvin. On Buffalo's ensuing series, a fumble by Thomas, who was in obvious distress with ankle and shoulder injuries, set up an 18-yard TD pass to Irvin. The Cowboys led 28–10 at the half and 31–17 after three quarters. Two bang-bang touchdowns in the final period—on a 45-yard Aikman pass to Alvin Harper and a 10-yard dash by Smith, the latter set up by Everett's second interception—put out the lights. Norton's closing score, on a nine-yard fumble return, was icing.
Aikman said he didn't feel that he had really gotten into his rhythm until "sometime in the second quarter," but when his turnaround came, it was dramatic. After having completed three of his first six passes for minimal yardage, he closed out the first half by going 11 of 13 with three touchdowns.
In the second half Aikman was eight of 11, with one more TD. "I have to assume that their defense was getting tired," said Aikman, who was voted the game's MVP, "and that they weren't able to get the push they did earlier. We've had great success in the second half. Usually it's because the other team's defensive line wore down."
Whatever the reason, Aikman's touchdown-to-interception ratio in Dallas's three postseason games was 8 to 0, a throwback to the type of numbers Joe Montana put up when he was on his roll with the 49ers a few years ago. On Sunday, Aikman looked like a bulkier, more muscular Montana, getting things done, not so much with Montana's effortless grace as with extraordinary determination. When he got his timing down, he was like a gathering force. "What made him so great today?" Turner said. "Firm in the pocket, eyes upfield, made the right reads, threw the ball so straight."
"You see a lot of the top quarterbacks of today," said Cliff Harris, the All-Pro free safety on Dallas's two previous Super Bowl champions (VI and XII), "guys like John Elway and Dan Marino and Boomer Esiason and even Jim Kelly, and you get the feeling that their minds aren't completely into it. It's this deal and that deal and the endorsement packages they've got lined up. I can't help but think that these things have taken one little piece of them away from the game. Troy's not like that. He's old world, Billy Kilmer, Roger Staubach, that kind of quarterback."
"Maybe when some people start running around in the off-season—not just quarterbacks, but other players too—they lose sight of what got them there," Aikman said last Thursday. "When the season starts they may play well, but maybe if they would have devoted a little more time to some other things in the off-season.... I don't think I'll lose sight of what got me here. I'll stay in Dallas in the off-season, maybe drop back to Oklahoma once in a while to see my friends. I don't like living a structured life the whole time. I'm kind of uncomfortable when I'm out in public."
Even as the clock wound down at the Rose Bowl, as the young Cowboys were well into their victory celebration along the sideline, Aikman stood off to the side, watching his teammates whooping, hollering and dumping ice water on Johnson. Smith gave Johnson's hair a thorough massage (miraculously, it was back in place for the post-game award ceremony). Haley, who had left San Francisco under a cloud in a preseason trade, put his arm around Johnson and said something. "I thanked him for bringing me here and giving me a chance to play," said Haley.
The 49-year-old Johnson had, in his first Super Bowl appearance, engineered the rout of a very worthy opponent. Kelly, Thomas, linebacker Cornelius Bennett and defensive end Bruce Smith are warriors. They went down hard. "What did I do to deserve this?" Kelly asked a friend as he limped away on crutches.
Tasker, a shiner under his right eye, his body a mass of bruises, said, "The unbelievable thing is that each year it keeps getting worse, and I have no idea why."
"Are you hurt?" someone asked Bill Polian, the Bills' general manager. His face was drawn and haggard, his shirt rumpled, his eyes bloodshot. He looked like a guy who hadn't slept for days. Rumors were flying that owner Ralph Wilson was thinking about replacing him.
"Hurt isn't the word for it," Polian said. "Wounded beyond recognition is more like it." And oil' into the night went the Bills. Three-time losers.
On Monday morning Johnson leaned forward inside the white stretch limousine that was taking him to the last Super Bowl press conference. "Hey," he said to those seated in the car with him, "were our players gunned up and ready to play yesterday or what? We have players. You know, while Marv Levy is over there reading about Harry Truman, Jimmie Jones is on his bed, belly-laughing at Fred and Barney on The Flintstones."
When the limo rolled up in front of the Century Plaza Hotel, Johnson got out and met with Aikman in the lobby. The two of them rode down the escalator to the ballroom together. "Did I tell you about the turnovers?" Johnson asked Aikman. "Did I tell you the difference in the game would be turnovers?"
"Yeah," said an exhausted Aikman. "I've never seen a defensive performance like that in my entire life. Just awesome."
"It got to be a feeding frenzy!" said Johnson as he stepped off the escalator and strode toward the ballroom and the assembled media. "I mean, puh-leeze!"
Just remember, for the Cowboys it's only the beginning.