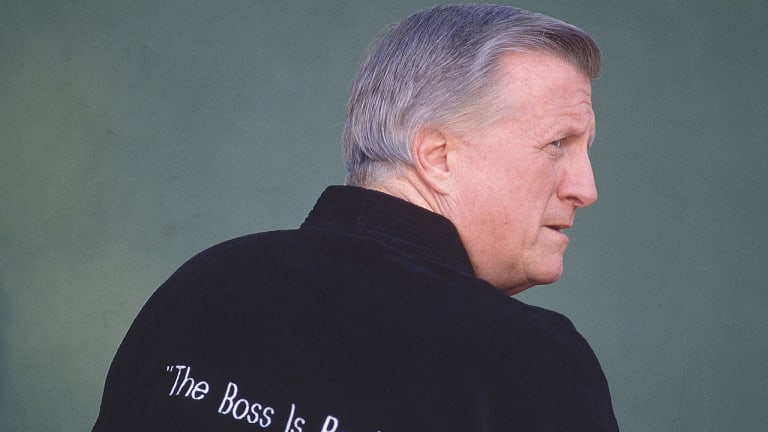 Will the Boss Behave Himself?
Since the beginning of the year. George Steinbrenner, principal owner of the New York Yankees, has been parading around his house in Tampa in a black terry-cloth robe with " 'The Boss Is Back'..." embroidered in white across the back. In the hallways of the Tampa offices of his American Shipbuilding Company, he has been buttonholing employees to talk baseball. And during business meetings he has been caught scribbling possible Yankee lineups on notepaper. Why, just the other day Steinbrenner ordered his secretary, Terry Hubbard, to clear his calendar for March because he plans to spend the month at the Yankee spring-training complex, in Fort Lauderdale. "He's been acting like a kid waiting for a candy store to open," Hubbard says.
Steinbrenner can't wait to rush through the door that former baseball commissioner Fay Vincent slammed shut on him 2½ years ago. On July 30, 1990, the Boss was banished from the game for associating with admitted gambler Howard Spira and for paying him $40,000 to supply damaging information on then Yankee outfielder Dave Winfield, with whom Steinbrenner was feuding.
But last July 24, in one of his final acts before he was ousted as commissioner by disgruntled owners, Vincent made a unilateral decision to lift Steinbrenner's ""lifetime ban" as of March 1, 1993. In return Steinbrenner had to make sure that three lawsuits against Major League Baseball (one filed by Steinbrenner and two others by Yankee officials) were dropped, and had to refrain from further conduct that would conflict with the "best interests of baseball" clause. Now the Boss is poised to make one of the most celebrated comebacks in the history of New York sports.
"This is the most ballyhooed return since the Resurrection," says Jerry Reinsdorf, chairman of the Chicago White Sox and such a close ally of Steinbrenner's that his mouth gets in the way of good sense when he discusses the Boss's return. "Originally I thought it was going to be like a coronation in New York, but it's become too massive for that. It's a resurrection. Vincent nailed him to the cross. This is the biggest thing to happen in 2,000 years."
"It's like Sherman storming Atlanta," says Paul Beeston, president of the Toronto Blue Jays. "I'm happy George is back. I'm probably the only guy in baseball who missed him. That puts me on the other side of the sanity schedule. The beauty of beating the Yankees was that you beat George Steinbrenner."
A master when it comes to grabbing headlines, Steinbrenner has been plotting a grand entrance for the media, which will no doubt assemble en masse at the Yankee camp for his arrival next Monday. In recent public appearances he has joked that he had traveled a great distance to come before his audience—"all the way from the Isle of Elba." he has said, referring to the site of Napoleon's first exile. Steinbrenner also didn't hesitate to dress up as the French emperor for the cover of this magazine.
Sort of sounds as if the Boss, long known for his charm, bombast and despotic ways, hasn't changed a bit.
"I'm older...more tired...I'm a has-been," Steinbrenner, 62, says with a straight face. After a pause he blurts out, "Do you believe that? Do you believe that I'm a has-been?" He doubles over with laughter. "Noooo! Somebody asked me if I'm a kinder, gentler George. Well, you know what happened to the last guy who was a kinder, gentler George. He's out of the White House and living in Houston.
"It's pretty difficult to change at my age. There are some people who'll say I'm good for the game and some who'll say I wasn't a shrinking violet. I'm called controversial. I'm called outspoken. That's O.K. I'm all those things. I've stirred up a lot of pots; whether it was always constructive or not, I don't know. I will continue to be a strong voice in baseball because I'm not bashful."
And yet there have been indications that, at least in matters unrelated to baseball, the Boss has a new slant on life. While in exile from the game, Steinbrenner shed 14 pounds, down to 207 on his 6'1" frame, and he no longer begins each day by munching glazed donuts. Instead he drinks a concoction of freshly juiced carrots, celery, apples and bananas, it has done wonders for my energy," says the man who had the vitality of a tornado before he joined the juicing craze.
What's more, while he once boasted that he never took vacations and worked nearly every day, Steinbrenner now sometimes slips out of his office early to swat 250 tennis balls on his backyard court. Two weeks ago he showed up at his office wearing—in defiance of his company's dress code—khakis, a pink polo shirt and a sweater with pink and white stripes, and announced that he was leaving at 11 a.m. to go to the Florida Slate Fair.
There the Boss showed off his swine-handicapping skill to longtime friend Tom McEwen, The Tampa Tribune sports editor, by correctly forecasting two of the top three finishers in the official judging. Steinbrenner had such a good time at the fair that he went back a few days later to check out the miniature goats. "They weren't that great," he said. "My miniature goat, Sarah, is cuter."
Steinbrenner's friends confirm that he has mellowed a tad, that he seems to be more patient in his business dealings and that he doesn't go ballistic as often as he once did. They list his work as a vice-president of the U.S. Olympic Committee for the past four years as a major reason for his modest adjustment in behavior. Harvey Schiller, executive director of the USOC, believes the democratic nature of that organization has helped temper Steinbrenner.
"People typically paint owners in sports to be in control of everything," Schiller says. "But in this environment that's not possible. No one individual can control the U.S. Olympic Committee. You can't say, 'We're going to wear this uniform' or 'We're going to travel that way.' We share ideas. Things are voted on."
Steinbrenner also did some soul-searching during his exile, contemplating his often stormy relationship with the game. His teams won four American League pennants and two World Series between 1976 and '81; on the other side of the ledger, he had hired and fired 18 managers and was serving his third suspension since buying the Yankees in 73.
He asked himself, Why am I still involved in baseball? What am I getting out of owning the Yankees? What kind of legacy will I leave behind?
Steinbrenner likens the lesson he learned while he was away from the game to his thoughts while viewing one of his favorite Claude Monet paintings, "Rouen Cathedral: The Facade in Sunlight," which hangs in the Sterling and Francine Clark Art Institute at Williams College, his alma mater. The late Charles Keller, Steinbrenner's beloved history professor at Williams, who had often urged young George to be more studious, once mailed him a postcard of the painting with these words written on the back: "So it is in life that we must often step back from things to see them as they really are."
Steinbrenner has kept the postcard for more than 10 years, but he hadn't stopped to consider Keller's words—until recently. "The Monet is gobs of paint up close," Steinbrenner says. "But when you step back, you see the outline of the cathedral. I finally stepped back and was able to see baseball as it truly is."
That is, as an impersonal and selfish business. Steinbrenner realized that he had few friends in the game and that only a couple of owners had bothered to call him during his exile—in part, he believes, because they were intimidated by Vincent's mandate that the owners not speak to him about baseball matters.
For a brief period Steinbrenner thought about getting out of baseball. "[NBA commissioner] David Stern told me, 'Come, we'd be happy to have you,' " he says. "I said to myself, 'If I'm good enough for David to spend his time talking to, then the hell with you baseball guys.' But I couldn't do it. Baseball is like a disease. I used to ask [former Yankee president] Gabe Paul, 'How the hell can you get excited when there are 162 games plus spring training?' Now I know. There is no other sport that is as universal in its traditions. You can go into a barbershop in the snow in Indiana, and they'll be talking about some obscure baseball trade.
"I'll tell you another reason why I'm in baseball: ego. Any owner would be lying if he didn't say that ego played a major part. It absolutely, positively does. Do people say, 'There goes Steinbrenner, the shipbuilder'? No. It's a little easier to get a table at a restaurant in New York when you own the Yankees. Although it's still not easier to get a taxi."
Now New York is gearing up for Steinbrenner's return. Friends have arranged Welcome Back George parties, at such well-known Manhattan haunts as the 21 Club, Jim McMullen's, Elaine's and the Plaza Hotel, for the days leading up to the Yankee home opener, against the Kansas City Royals on April 12. The New York Daily News has been running a daily Boss Countdown. All-sports radio station WFAN is trying to persuade Steinbrenner to go on the air for two hours beginning at 12:01 a.m. on comeback day.
The marketing division of the Yankees has heralded the Boss's return in its 1993 season-ticket campaign. In a full-page newspaper ad he stands smack in the middle of a cluster of 12 players, and in radio spots he is the subject of banter among New York fans ("Things aren't the same without him," laments one of the Yankee faithful. "It's been dullsville around here," says another). By next week the Boss will be smiling down on New Yorkers from dozens of billboards scattered around the city.
Once again, as he did when he first bought the Yankees, Steinbrenner sees himself as the team's savior, the only man who can restore the championship tradition in the Bronx. Never mind that New York hasn't been to the World Series in the last 11 years; the stage is set for a triumphant return by the Boss. After four straight losing seasons the Yankees at least showed some life under manager Buck Showalter last year, and they picked up five good players in the off-season.
Steinbrenner's son-in-law, Joe Molloy, who has run the Yankees for the past 12 months as managing general partner, has received most of the credit for acquiring pitcher Jim Abbott and outfielder Paul O'Neill in trades, and for spending $35 million to sign three free agents: third baseman Wade Boggs, pitcher Jimmy Key and shortstop Spike Owen. "I feel very good about this team. I feel a lot like I did in the mid-1970s," Steinbrenner says. "I think we have as strong a pitching staff as we've had since I've owned the team. The only factor to be considered in where we go is, Can we stay free of key injuries? These guys can go wherever they want to go if they want to go bad enough."
And how soon does the notoriously impatient Boss expect results? "I'm like Larry Bird, who said at his retirement ceremony that every time he put on the uniform, he went out to win," he says. "That's the spirit I like."
Although he says Molloy will continue to handle the day-to-day operation of the team—Steinbrenner refers to himself as "the principal owner with a lot of input"—the Boss will work to bring, of all things, stability to the franchise.
After his forced departure there was a tumultuous, 19-month-long period when the Yankees and Vincent were at odds over who would serve as managing partner (Molloy eventually became the third to hold the post in Steinbrenner's absence). During that time the front office often gave out mixed signals when it came to making trades and pursuing free agents. The Yankees—considered the crown jewel of sports franchises, with an estimated value of $300 million—became the laughingstock of baseball.
The New York media, as well as Yankee fans, believed that Steinbrenner was causing the chaos, that he was working behind the scenes to undermine and defy Vincent. There was considerable doubt that he had actually relinquished control of the team. "If I would ever orchestrate some of the things [the Yankee brass] were orchestrating," Steinbrenner says, "you should take a pistol and shoot me."
There'll be plenty of time for that later. Right now the Boss is thinking positive. "Our season tickets are up significantly [17%] because people are anticipating fireworks," he says. "What do fans want from sports? Home runs. Knockouts. Slam dunks. Sensational stuff. Winning cures all ills."
Under the terms of Steinbrenner's banishment, he was prohibited from talking with anyone in baseball about anything related to the game. Each New York front-office employee was required to sign a sworn statement every six months that he hadn't been in communication with the Boss. Whether Steinbrenner actually had a hand in running the Yankees the last 2½ years may never be known. But what is certain, now that Vincent is gone and the gag order is about to be lifted, is that Steinbrenner has a few stored-up thoughts to share with the world.
•On the "best interests of baseball" clause: "You cannot give the commissioner more power than the President of the United States. You can't give anybody the right to deny others the rights of the Constitution. You can't give that kind of power to one man; not everybody can handle it. The clause needs clear definition—revision, not elimination."
•On Vincent's ouster: "I think the baseball owners, every single one of them, looked at my case and said, 'This can happen to me.' I'm not going to begin spieling statements like 'Vincent's gone, and I'm back.' I will never make them. I'm not prepared to say whether the deal was right or wrong, although I know in my mind that it was wrong."
•On free-agent pitcher David Cone, who got a $9 million signing bonus from the Kansas City Royals: "It's overwhelming. I don't blame him. How would you feel if [Royal owner] Ewing Kauffman put $9 million in cash in front of you and said, 'Come home"? Player compensation is as high as I hope to see it go. Baseball desperately, for its own sanity, must come to the same arrangement as the NBA and NFL—a salary cap."
•On the possibility of increased revenue-sharing among the 28 major league teams, which would mean slicing up the Yankees' $486 million cable-TV package, by far the most lucrative in the game: "This is the end of the interview." Then he laughs.
•On whether he would make a good commissioner: "No! I'm not sure the owners would want me; I seriously doubt that any of them missed me. The problem in the past has been that they don't want a strong leader. The owners have been vilified as a bunch of nincompoops, portrayed as wild Indians running around, characterized as fops. I'm one of them, and I'm not a fop. We must take our time in choosing a new commissioner. We have to go slow this time."
•On how long Showalter will last as Yankee manager: "He's a company man. He's tough. He's detail oriented, and I think he did a very creditable job last year. I expect my managers to pursue excellence; I have little tolerance for [the players'] little errors or lack of execution."
Say no more. The Boss is back.
PHOTO
BILL
FRAKESTWOPHOTOSBILLFRAKESThe "new" Steinbrenner turns out to be a fair judge of animals when he isn't working on his forehand.PHOTOHEINZKLUETMEIERThurman Munson drenched his Boss after the Yankees won the 1977 World Series.PHOTOBILL FRAKES[See caption above.]