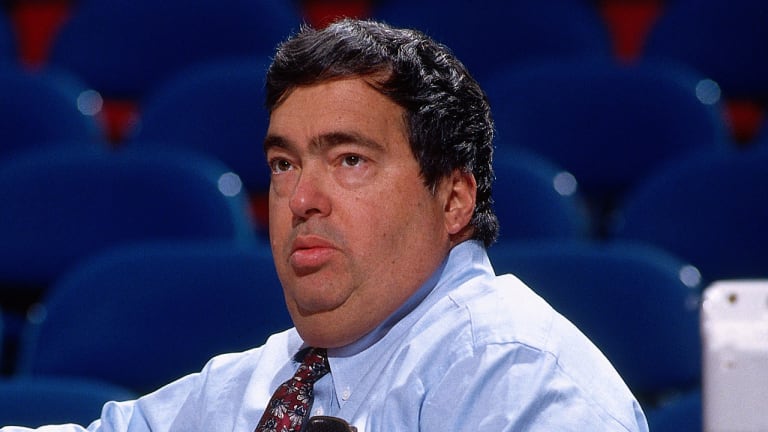 The Sleuth
Chicago's disheveled general manager, Jerry Krause, may be an object of ridicule, especially to Michael Jordan, but his relentless—and obsessively secretive—scouting has helped make champions of the Bulls
The Sleuth walks quietly through the Chicago night, saying nothing. He enters the building and takes a seat, away from anyone. He is not wearing sunglasses or the hat he sometimes pulls low on his head to hide his identity, nor is he arriving under an assumed name or crouching behind a pillar or lurking in the building's dark upper shadows, all things he has done in the line of duty. But he makes no ripples, either. To the Sleuth's left, separated from him by one seat, is his underling and fellow operative, 32-year-old Jim Stack. To the Sleuth's right, also a seat away, is another assistant intelligence gatherer. His name is Ivica Dukan; he is 36, Croatian, speaks five languages.
Down below, an orange sphere is tossed into the air, and a basketball game begins—Wright State versus the University of Illinois-Chicago, at the UIC Pavilion. A few hundred people think enough of this event to have shown up tonight. The Sleuth, also known as Jerry Krause, vice-president/basketball operations (read: general manager) for the world champion Chicago Bulls, thinks only that there is knowledge to be gleaned here, information that can be used in his battle against the outside forces that conspire to grind him into oblivion.
Whom is he scouting? He will not say, of course. Secrecy rules. Knowledge is king, but only when the bad guys—the Celtics, the Trail Blazers, the Lakers, the Knicks, the dreaded Pistons, the irresponsible press, anybody at all except for himself and his trusted inner circle—don't have it.
"There is a kid here who is on our list," Krause admits. The list, he has already explained, contains between 150 and 200 names of players—most of them members of U.S. college teams but a few from lesser American pro or foreign leagues—that "we look at," he says. Naturally the names are secret.
There are only a couple of players on the floor who possibly could be NBA prospects: a 6'7" UIC sophomore forward named Sherell Ford and a 6'8" Wright State senior named Bill Edwards. Is either on the list? Maybe. When he writes, Krause turns his notebook sideways and raises the cover like a shield.
Maybe not.
*****
Krause, who has spent virtually his entire working life assessing baseball and/or basketball talent, feels he has a gift. Instinct, he calls it, the ability to identify and evaluate skilled athletic movement. "It's God-given," he says.
"I remember actions, how a guy walks or runs or throws or shoots. If those actions change, I see it. If a hitter is going bad, I see it in two or three swings. If somebody has the goods, I see it right away, basketball or baseball. Swinging a bat and shooting a ball are exactly the same—wrists, hand-eye coordination, recognition of the pitch, how to get the shot off."
Krause is a scout of epic proportions, flaming obsession, monumental quirks, the only man ever to be an executive in both major league baseball and the NBA, with all of his clout having arisen from the simple premise that he can ascertain better than almost anyone else who can throw, hit, run, catch and shoot well enough to play in the big leagues.
For much of the time between 1961 and '85, Krause was a scout for the Cleveland Indians, the Oakland A's, the Seattle Mariners and the Chicago White Sox. And for 26 years he has worked in the NBA with the Baltimore Bullets, the Phoenix Suns, the Los Angeles Lakers and the Bulls, doing double duty with baseball in many of those years. For eight seasons now Krause has been at the helm of Chicago's basketball operations, having been handpicked for the job by owner Jerry Reinsdorf, who plucked him from the staff of the White Sox, another club Reinsdorf owns. At 53, Krause has seen so many ball games that he has decided that if he ever writes his autobiography—an act that would clash wildly with his clandestine nature and thus will never happen—he will call it One Million National Anthems.
Who has heard more? "Nobody," he says, proudly.
Scouting, Krause believes, is at the root of everything in big league sports, like Atlas holding the world. Krause scouts, as one writer recently stated, "much the way an out-of-control industrial fire scouts all the oxygen in a warehouse." Overwhelmingly, meticulously, fanatically. If Krause sees a kid he likes, one who has the stuff, one who—god forbid—almost nobody else knows about, he falls in love with him, head over heels. He becomes a stalker tracking a starlet.
When he first saw Scottie Pippen, then a skinny forward from uncharted Central Arkansas, at a postseason tournament for prospective NBA players in Portsmouth, Va., before the 1987 draft, he became delirious. "I almost had an orgasm looking at him," he says. Even before Pippen had taken off his warmups, Krause hissed to then-Bull scout Billy McKinney, who had already seen Pippen, "There he is! There he is!"
"How do you know?" said McKinney.
"Look at his arms!" cried Krause.
"You said he had long arms. They're down to freaking here!"
Pippen, who, of course, has gone on to become a three-time All-Star for Chicago, had everything Krause seeks in a player—talent, physique, obscurity. "What Jerry likes most is to find a player from a small school, so he can call him his own," says one rival general manager, "it feeds his basic insecurity."
"My whole definition of Krause is that he favors the underdog," says Michael Jordan, who was drafted by the Bulls the year before Krause arrived. "He wants that diamond in the rough. I figure that he had a tough childhood, that he was always picked on, and this is his way of compensating, of becoming someone."
That this oddly consumed and swollen little man—he stands less than 5'6" and weighs about 220 pounds—should be linked inextricably with perhaps the most athletic pro basketball team of all time is at once ironic and fitting.
Ironic because no man could be less like an elite NBA player than Krause (a golf ball among graphite-shafted two-irons comes to mind); fitting because no man has wanted to be a successful NBA general manager more than Krause has. If hard work is rewarded in this life, Krause is living proof of it.
And yet even after winning consecutive titles in 1991 and '92 and having a good chance at a third this year—as of Sunday, Chicago possessed the league's second-best record (38-17)—Bull players still do not appreciate the man at the helm.
Appreciate him? Lord, they barely acknowledge him. They even ridicule him, tell jokes about him, call him Crumbs. Legend has it Jordan hung that nickname on Krause because, supposedly, there are always doughnut crumbs on Krause's lapels. "That came from Charles Oakley," corrects Jordan, referring to the former Chicago forward who is now with the Knicks. They pull tricks on him, crack on him. Not long ago Krause left his hat on the team bus. When he returned, he found it in the bathroom, in the bottom of the commode.
Would that happen to Krause's counterparts such as Elgin Baylor of the Los Angeles Clippers? When the Bulls received their second set of championship rings last November, Krause walked onto the court to get his and, shockingly, was booed by the crowd. Love does not flow to Jerry Krause.
"The strangest thing I ever saw," says Bull forward Horace Grant, "was Krause getting treatment on his back in the training room." Strange? How so? "He took off his shirt."
The body. Lithe, lanky greyhounds can't get past it. Nor can the press. Nor, it seems, can the public. "It bothers me that because he's not 6'2" and good-looking, he doesn't get the respect he deserves," says Reinsdorf.
Indeed, with what he has achieved, Krause in all his disheveled roundness could—should—be seen as a lovable Runyonesque character, particularly in a city that has embraced oddballs like William (the Refrigerator) Perry and Mike Ditka. But because he is so serious about everything, because he never lets up, because he needs approval so badly and wears that need like a sign on his back, he never strikes a sympathetic chord with observers.
"He says, 'I'm ugly and fat, and that's why people hate me,' " says Chicago Tribune sportswriter and Krause nemesis Sam Smith. "But that's not it at all. I have lots of friends who are fat and ugly, and I don't hate them."
*****
"Hey, Sleuth, see any bench help here?"
The question comes from Herb Rudoy, a Chicago sports agent who has crept down behind Krause at the UIC Pavilion. "The papers say you need bench help."
Krause turns. "That what they say?"
Actually, calling Rudoy an agent is like calling Eric Clapton a guitar player. Rudoy is Toni Kukoc's agent. Kukoc is the 6'10", 24-year-old star from Croatia whom Krause dratted in the second round of the 1990 draft and has been trying to lure to Chicago ever since. Krause worships Kukoc. Kukoc—if his talent is what Krause dreams it is—could recreate Krause, could raise him above scorn, make him the master appraiser of all time. But Kukoc is locked into a five-year contract with Benetton's team in the Italian League, and Krause says that Kukoc is "not in my thinking right now."
"You like number 42?" asks Rudoy, meaning Edwards of Wright State.
Krause says, "Nnnnh," and waggles his hand.
Illinois-Chicago's Ford scores eight straight points, on two threes and a slam, and Rudoy says, "Not bad, this kid."
Shrug. "Nnnh."
In a recent GQ article, Kukoc's boss, Gilberto Benetton, said that he is willing to discuss Kukoc's release, that Kukoc is "not in prison." Things could occur. Dukan, who is close friends with the Kukoc family, could be on a plane to Rome faster than a Pippen jam.
"Missed that!" says Krause, with irritation. A substitute player came and went while Krause spoke to Rudoy. "Broke my own rule. Damn!" He writes "See tape" in his notebook.
Rudoy smiles at Krause, at the behavior he is witnessing. "He's relentless," Rudoy says. "He calls me every day about Toni. Every day."
Down at a courtside table Rick Sund, the Dallas Mavericks' vice- president/basketball operations, is also watching the game. Sund says he likes bargaining with Krause because Krause works so hard that once you get close to a deal, he will make it happen. But as for the cloak-and-dagger stuff, well, Sund doesn't get it. "If you ask me if I like a player, I'll tell you," he says. "I mean, if [Laker general manager] Jerry West likes a player and [the Cleveland Cavaliers'] Wayne Embry doesn't, what difference does that make to me?"
There is a sentence in the Bulls' media guide that says more about Krause than intended. Krause, it states, is "responsible for the acquisition of every Bulls player other than Michael Jordan and all the coaching, scouting and administrative staff that combined to become only the fourth team in NBA history to win back-to-back championships." Think of that: everyone "other than Michael Jordan." And Thomas Edison's landlord did everything to make the light bulb "other than invent it."
So Krause carries the burden of blind good luck no matter what he does; he came to his new job, and the best player in history just happened to be sitting on his doorstep. Even though Krause meticulously built a winner around a "two guard," something never before done in the NBA—centers are usually the cornerstones around which title teams are built even though he snagged forwards Pippen (trade with Seattle, 1987) and Grant (first-round draft pick, 1987) to complement Jordan, traded Oakley for center Bill Cartwright in the summer of 1988 to keep the big men off Jordan, signed free-agent guard John Paxson in 1985 to shoot the wide-open jumpers that come when Jordan is mobbed by defenders and acquired role players like B.J. Armstrong (first-round draft choice, 1989), Scott Williams (signed as a free agent, 1990) and Stacey King (first-round draft choice, 1989) to toil in Jordan's shadow, Krause is still seen by many as little more than a paint-supply boy for Picasso.
"That's nonsense!" roars Reinsdorf. "When Jerry came here this was a lousy team. Check it out."
In 1984-85 the Bulls, with Jordan, were 38-44. After Krause arrived in 1985, they went 30-52, 40-42, 50-32, 47-35, 55-27 and, finally, 61-21 and 67-15 in their two championship seasons. That's close to a straight line upward. "He had a plan, and he implemented it. The fact is, Michael Jordan was here. You can't change that. But if Krause didn't have him, he would have done things differently. The truth is, Michael's presence elevated us to mediocrity much faster than we wanted, and mediocrity is the worst thing. We certainly would have been in some draft lotteries without Jordan. Jerry Krause has to be given credit."
But then Reinsdorf casually, unwittingly perhaps, tosses the bomb: "The real test for Krause will be when Jordan is gone."
Krause knows that; Jordan knows that: Kukoc knows that. Jordan's contempt for Krause is huge because of that truism, because Jordan always feels somehow like an impairment to Krause's self-esteem, because Krause won't listen to him about trades or drafts or players he wants to play with, because Jordan is not given the slavish respect by Krause his ego craves. Two years ago Jordan went to Reinsdorf and said, "It's either him or me." Reinsdorf calmed Jordan and attempted to sell him on Krause's virtues. Since then Jordan has backed off, raised a barrier of noncommunication between himself and Krause and thrown himself into his game.
"I'm here, he's there," Jordan says of Krause, pointing his finger first to that corner then to this one. Of Krause's stewardship he says, "The trade of Oakley was good, and the best thing he did was to get Pippen and Grant. That's it. His claim to fame is that he drafted Earl Monroe for the Bullets [in 1967]. And I say to him, 'What pick was that?' He says, 'Two.' And I say, 'Hell! Earl Monroe was a real secret, huh? A real secret? If you hadn't taken him, he'd have gone third!' "
*****
Jerry Krause was born in the Albany Park section of Chicago, the only child of gregarious Jewish parents. "We'll treat everybody the same," Jerry's dad, Paul, would always say. The family name was originally Karbofsky, but Paul changed it to Krause so that his own parents wouldn't know he had pursued an amateur boxing career. "He fought Barney Ross three times and got knocked out three times," says Jerry. "He didn't have a high school diploma, but he was honest and worked hard."
Paul Krause worked for the Cook County assessor's office for a time, then ran a neighborhood delicatessen and finally opened a shoe store in Norwood Park, a northwest-side area that was heavily Polish-German and Catholic. "It was very anti-Semitic," says Jerry. "They burned out Jews. When I went to Taft High School, you know what the number of Jewish students was? One." Every day Krause felt the contempt others had for him: "They'd yell, "You kike!' 'You sheenie!' 'You Jew bastard!' I had to fight, and I learned about prejudice."
People looking to psychoanalyze Krause don't have to dig far: The small, athletically average (he was a backup catcher on the Taft baseball team) outcast immersed himself in the observation and analysis of sport so as to defeat at their own game those who were athletically gifted, mainstream—and cruel. It's so pat that it makes it easy to ignore the fact that Krause is a very smart man with a natural gift (that nose for talent) and the shrewdness to surround himself with bright, lively employees who don't always agree with him. Indeed, the Bull organization is considered throughout the league to be a brainy, top-notch group, from the public-relations staff that handles world championship drives and Jordan's celebrity with aplomb to the head coach who reads more books than an English professor. And what general manager would have the guts to hire as his personal assistant a woman like Karen Stack, a former basketball and academic star at Northwestern who towers over him by a good eight inches?
Still, the hurt of the outsider is always there for Krause, always aching. In 1988 Reinsdorf put a clause in Krause's contract offering him $50,000 for losing 50 pounds and keeping it off for a year. Krause won't do it. Why not? "Maybe deep down in my heart I want to prove you don't have to be pretty to win," he says.
As a guy who was once on the bottom, Krause has always remembered those who leaned down to give him a hand. When he got a job as a copyboy at the Chicago American as a teenager, he was befriended by baseball writer Jimmy Enright. Krause never forgot the late Enright's decency and still refers to him as the Monsignor.
At Taft there was a 6'6" classmate named Dick Peterson who finally told the bullies to cut out the crap with the little guy or they would have to deal with him. When Krause went on to Bradley, he rewarded Peterson by badgering the Braves' basketball coach, Chuck Orsborn, into giving Peterson a scholarship.
While doing his first real sports job, as a glorified gofer for the Bullets in 1961. Krause ran into Bill Veeck, the baseball owner, who 17 years later hired Krause as a scout for the White Sox. Krause was so flattered—"It was like God talking to me," he says of Veeck—that he still has the napkin upon which Veeck wrote his offer.
And before all of those benefactors, there was baseball scout Freddie Hasselman—"a fat old man, this wide, maybe five-six," says Krause without a hint of irony—the guy who had signed future New York Yankee stars Moose Skowron and Tony Kubek. Hasselman saw Krause laboring as a warmup catcher at Taft and actually asked his opinion of various players. "He talked to me about scouting," says Krause, with deep reverence.
After the Bulls won their first title, in 1991, beating the Lakers four games to one, Krause sat in a hot tub in Marina Del Rey with his wife, Thelma, and looked up at the stars. He saw four deceased men there—his dad, Veeck, Enright and Hasselman. "They were sitting in a club having a beer," says Krause. He looks up at the ceiling in his office. "I saw them, and they said, 'What do you know? The little shit did it.' "
Krause looks away and then starts to cry.
"I'm sorry," he says after a moment. "I didn't mean to get sentimental."
"Nobody knows how sensitive Jerry is," says Thelma, whom he married 13 years ago. Their first date had been to—what else?—a Bull game he was scouting. He settled her into a scat in the stands, making sure she was comfortable, and then left to sit by himself to ferret out the truths of the game.
*****
In getting into the Sheri L. Berto Center, the Bulls' ultramodern practice facility in suburban Deerfield, one encounters a frightening array of video cameras, buzzers and disembodied voices asking one's purpose. Players can come and go using coded access cards. The beauty of the system is that when a player is cut, there is no need to have the building's locks changed; a simple change in the access code suffices. The media room just beyond the two locked front doors is a study in paradox: It has large windows looking out onto the practice floor, but when practice starts, blinds are lowered to block the view. The building, says the Tribune's Smith, "is a shrine to raging paranoia."
Some, if not the lion's share, of that paranoia springs from Krause, who, along with Reinsdorf and the Bulls' coaching staff, helped design the Berto Center. On the wall of Krause's second-floor office is a sign he looks at a thousand times a day. It reads: HEAR ALL, SEE ALL, SAY NOTHING. The quote is unattributed, for a reason. "It comes from Admiral Wilhelm Canaris, the head of intelligence for Nazi Germany," says Krause.
"We have some Jewish ownership, and...." He does not need to explain more. Can this really be, considering Krause's heritage and past, or is this a joke?
"People have said that if Canaris had been an American, there never would have been a Second World War," Krause continues. "He would have known everything there was to know before it happened."
Krause gestures at his only window, which opens not to the outdoors but to the sacred basketball court below. "This is like an intelligence agency," he says. "If it's not, you're not doing your job right. It's an inexact science you're trying to make exact. My scouts never talk to other scouts about players. That's a rule!"
But why the secrecy about things that hardly matter? Why, for instance, treat the fact that forward Joe Courtney is being brought up from the CBA Sioux Falls Skyforce on a 10-day contract to replace the injured Scott Williams as though it is a matter of national security?
Krause quickly launches into a tale of how a Chicago Cub scout once told a Cincinnati Red scout about a little-known, unpolished prospect, a catcher somewhere out in the boondocks who was subsequently drafted by the Reds. The catcher was Johnny Bench. "That changed the course of history," Krause says, somberly, "it I'd said anything about Scottie Pippen before the 1987 draft, I never would have been able to make the trade with the Seattle SuperSonics that got him here."
Still, why should the Bulls perform the high-security act with a projected backup center like Will Perdue of Vanderbilt? Perdue was brought to Chicago before the 1988 draft and picked up at O'Hare Airport by McKinney, who called Krause from his car phone and said, "This is Agent Blue calling Agent Orange. The package has been picked up and is in the process of being delivered." Perdue was then transported to a hotel, where he was picked up by Krause for a late-night workout at the Multiplex, the health club where the Bulls then practiced. When Krause pulled into the Multiplex parking lot, he slammed on the brakes and threw the car into reverse, terrifying Perdue, and raced off the lot because he had seen a sportswriter leaving the building.
Krause drove around the Multiplex a few times until he was sure it was closed. He then took Perdue in for his test. After that he drove back to the hotel, where the 7-foot Perdue was registered under a fake name, told Perdue to leave the next morning without checking out and to depart in a cab that would be sent for him. Unfortunately, Perdue forgot he was using an alias and watched in bewilderment the next morning as a cabbie wandered the lobby, repeatedly yelling for a fictional customer. "It was quite an ordeal," recalls Perdue. "I thought this was normal in the NBA, but then I went to other teams and realized it wasn't. The last thing Krause had said to me was, 'Don't tell anybody anything.' "
The trouble for Krause is that leaks are everywhere. And Krause hates leaks. Though he denies it, he has threatened to fire any or all of his coaches if he finds out they are feeding any intelligence to the media. Jackson has talked to Krause and tried to explain to him what is worth getting worked up about and what is not.
"I've told him that writers can help us," Jackson says. "All I want him to know is that it doesn't have to be adversarial, that it can be a sparring match but not a war."
But war it is. At least between Krause and the Chicago beat writers. He detests almost all of them for printing "so many lies," he says. When the Tribune's second-year Bull reporter Melissa Isaacson wrote a column recently that Krause disapproved of, he greeted her at the next game by saying, "You've joined the club now, you're one of the assholes." But his most vocal loathing is reserved for Smith, whose 1992 best-seller about the Bulls, The Jordan Rules, painted Krause and many of the players in an unfavorable light. "He has wished death on Sam," says another beat writer.
It's all a loyalty thing for Krause, this problem with detractors and leakers; quite simply, if you do something counter to his wishes, you are being disloyal. Since he is never disloyal to those he respects—Reinsdorf and all those dead benefactors (Peterson died 17 years ago)—why should anyone be disloyal to him? When McKinney left the Bulls five years ago for a better job with the Minnesota Timberwolves, as director of player personnel, Krause would not speak to him for two years. The two men eventually made up; rather, Krause accepted that McKinney had simply taken a step up the career ladder. Then, in 1992, McKinney became general manager of the Pistons. In the Detroit media guide it says that McKinney "helped build the championship team in Chicago" and "is credited with finding Scottie Pippen and Horace Grant." statements that are essentially true. But Krause saw in them nothing but betrayal, and when McKinney came up to Krause in the Bulls' locker room after a recent game in Milwaukee, hand extended, Krause stared at him coldly and said only, "——you."
The Sleuth is scouting talent at a game in Chapel Hill, N.C., between North Carolina and Georgia Tech. The Sleuth has problems. Though he's in the ninth row behind the Tar Heel bench, he can't see anything because the raucous crowd stands for the entire game. "This used to be the best place in America to scout." he says in anguish. "This (standing] just started. It's like Duke all over again. You just can't go to Duke. Duke's crazy."
But all is not lost. Krause met the parents of star Tar Heel center Eric Montross before the game, a nice bonus, and now he is knuckling down and getting serious. "This is good discipline," he says as the building rocks around him. "It's hard to write while you're standing, but you zero in. You totally concentrate. This is my competition. This is my game."
Is Krause, perchance, looking at Tar Heel players as a favor to Jordan, a North Carolina alumnus who loves everything about his alma mater? "No way," Krause says. "This just happens to be Tech's toughest road game this year."
Krause's rift with Jordan cries out for deeper explanation. "I'm the only one who has told him no," says Krause. "When he had the broken foot back in 1985, I told him he couldn't play. If we had let him run rampant, we wouldn't have the two championships.
"This kid has had his butt kissed by everybody in the world except his parents and me. If we listened to him we'd have [former Tar Heel guard] Buzz Peterson on the team! My goal is not to be his friend. My goal is to win titles."
Jordan remembers well that day seven years ago when Krause told him he couldn't play. For Jordan it wasn't just what Krause said, it was also the way he said it—coldly. "He said, 'You're Bulls property now, and we tell you what to do.' I was a young, enthusiastic kid, and that just made me realize this was a business, not a game. We never hit it off after that."
*****
Bull players laugh about Krause's incessant coughing, his "bark" that makes him sound like a seal. They don't know that the cough is caused by a narrowing in his throat, for which he needs surgery. But he refuses to make the time for the operation because he is too busy trying to bring winners to Chicago fans, to become the first general manager since Red Auerbach to win three straight NBA titles.
But Krause, the $300,000-a-year workaholic, talks more and more about getting a house by a "man-made" lake, about someday moving out of the modest three-bedroom home in blue-collar Skokie, where he has lived since he married Thelma, and maybe relaxing a bit. The Skokie home, after ah, was Thelma's. "Jerry says he's going to learn how to fish," she says. "I can see him out on the lake, gliding along."
But, of course, he would never give up scouting. That is something he always wants to do. To be old and sit alone at a game, a baseball game, that would be nice, he often thinks. To be old like Hasselman and maybe to befriend a kid just starting out, a respectful kid who's eager to learn—that would be nice, too. A ball game is a beautiful thing to Krause, with its symmetry and its mystery. "It's a time that I like," he says. In the sun, a ball moving through the sky. A oneness arises. Simplicity and fairness. Good things. Things that can bring an observer pleasure, like a great painting. Things that could bring Krause peace.