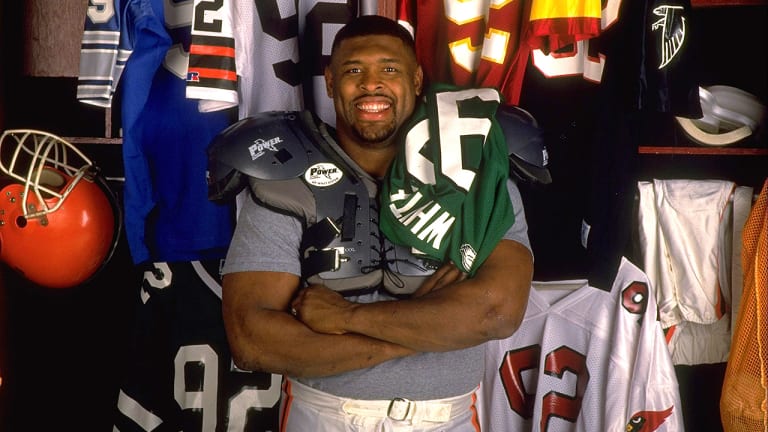 Trip to Bountiful
With the onset of free agency in the NFL, stars like Reggie White of the Eagles are hitting the road to offer their services to the highest bidders
Last Thursday, day 4 of free agency in the NFL, Cleveland Brown owner Art Modell dispatched his private jet to Knoxville, Tenn., to whisk Philadelphia Eagle defensive end Reggie White and his wife, Sara, to Cleveland. From the airport a stretch limousine took the Whites to their $800-a-night suite (five rooms, two marble baths) atop the Ritz-Carlton, where they were greeted by a bouquet of white, red, pink and yellow roses, Sara's favorites. No sooner had the Whites gotten settled than Jim Brown called from Los Angeles to extol the virtues of the Cleveland organization before moving on to a topic of interest to both men: black athletes' giving back to the inner cities.
On Friday, White toured the Browns' new $12.3 million practice facility and office complex—a veritable Taj Mahal compared with the Eagles' bunker beneath Veterans Stadium. Nice folks these Browns, thought White, perhaps because Modell had decreed a two-day moratorium on cursing in the building, in deference to White, an ordained Baptist minister. White was touched by the fans, too. A third-grade class from Norton, Ohio, had sent letters to the complex. "Please! Please! Please! Come to the Browns. And join the Dawg Pound," wrote Sarah Saunders in pencil.
On Saturday, White was awakened by a phone call from Cleveland mayor Michael White. The Browns presented Sara White with a $900 leather coat. In a 45-minute meeting late that morning, Reggie White told Modell that wherever he signed, he wanted to work with the poor, and he wanted to establish a ministry in his new home. Would Modell object? "Object!" Modell blustered. "Are you kidding? I'll help you build it!" Then Modell put the Whites back on his plane, which set out for Dallas, where White was scheduled to deliver a sermon on Sunday at the First Baptist Church.
Welcome to the American Way, NFL-style. On March 1, when wholesale, unrestricted free agency officially descended upon the league, 298 players enjoyed their first real taste of freedom since high school. White, a 31-year-old three-time All-Pro, was the most ardently wooed of the first crop of free agents. But even middling-to-good players were thriving. Hardy Nickerson, a Pittsburgh Steeler inside linebacker who has never made the Pro Bowl, had 20 teams calling. Tim Johnson, a nickel defensive lineman for the Washington Redskins, had more than a dozen. When Cincinnati Bengal wideout Tim McGee visited Phoenix, he was put up in a resort and taken to dinner by Mr. Arizona Chamber of Commerce himself, Charles Barkley.
As of late Monday six players had taken advantage of their new freedom. Quarterback Phil Simms of the New York Giants exercised his right to stay put by agreeing to a two-year deal worth $5.05 million—a $900,000 annual raise—to remain with the Giants. Kansas City Chief nosetackle Bill Maas jumped to the Green Bay Packers for two years and $2.8 million. Three offensive linemen changed teams, and each was tendered a three-year contract: Houston Oiler tackle Don Maggs received $3.7 million to join the Denver Broncos; tackle Gerald Perry signed for $3.3 million to move from the Los Angeles Rams to the L.A. Raiders; and New York Jet tackle Irv Eatman grabbed $3.3 million from the Rams. The Browns were trying to lure guard Houston Hoover from the Atlanta Falcons. On Monday, Raider safety Ronnie Lott signed with the New York Jets, and another aging defensive star, Giant end Leonard Marshall, was close to a deal with the Jets (sidebar, page 23). "The NFL is like every place else in America now," says Maggs. "It's capitalism at work."
Ever since a Minneapolis jury ruled in September that the NFL had improperly denied eight players their right to seek employment in an open market—a verdict that hastened a labor settlement that includes free agency—observers have been speculating on exactly what lies ahead for the league. After the first week two things are clear. One, there will be a pronounced Turner-Steinbrenner factor at work in the NFL. Ted Turner of the Atlanta Braves and George Steinbrenner of the New York Yankees inflated baseball salaries across the board in the late 70s by bestowing lavish contracts on their sport's newly liberated free agents; several NFL owners are ready to do the same in their game. Two, the complexities of the new free-agency agreement mean that those who quickly get a grasp of its intricacies will have a decided advantage over their less-adroit competitors. "Our first draft choice is going to be from Harvard Law School," Modell says, "and one of the clauses in his contract will be to teach me this new thing." The deal is so complicated that last week the NFL hired former Buffalo Bill general manager Bill Polian to help teams sort through it.
Here is some of what Polian will be trying to elucidate:
• The salary cap. People are not talking much about it, but the cap could dictate who is kept and who is cut for the rest of the century. If the 28 teams spend 64% of their collective revenues on player salaries this season—and most club executives think that's a certainty—then a salary cap will go into effect in 1994 for the final six years of the contract. Excluding costs for benefits and development-squad players, each team should be able to spend about $31 million on salaries. Staying under this cap will be a struggle for a team like Washington, which spent $31.7 million on salaries last season, when its top 19 players alone made $20.2 million.
• The offer sheet. Under the league's old structure, a team had to be willing to surrender two No. 1 draft choices in order to sign a star free agent to an offer sheet, which the team facing the loss of the player had seven days to match. A player had to have at least six years in the league to move, and in recent years only linebacker Wilber Marshall actually changed uniforms, switching from the Chicago Bears to Washington in 1988.
Now, a player with five years in the league whose contract has expired can seek a better offer and his jilted team gets nothing in return. A player with three years of experience can also move on, and the team that loses him could receive either a lot or a little in the way of compensating draft choices, depending on how valuable the free agent was to his team.
• The Rooney Rule. Named after Steeler president Dan Rooney, this provision forbids each of the four teams in last season's championship games—Buffalo, the Dallas Cowboys, the San Francisco 49ers and the Miami Dolphins—to sign a free agent unless it first loses one. Each of the next four teams in the playoffs—Washington. Philadelphia, Pittsburgh and the San Diego Chargers—can sign no more than one free agent until it loses one. After that, each of the eight teams can sign one player for every player it loses.
On March 2 White and his agent, Jimmy Sexton, met at Sexton's office in Memphis. Sexton began the week thinking that he could get at least $2.8 million a year for his client. By Sunday he knew he would get at least $3.5 million. Only quarterbacks Warren Moon of Houston and Dan Marino of Miami receive more in salary.
Would White move from Philadelphia, a city he has grown to love? Almost certainly. And it would pain him. Philadelphia fans have great affection for him; the city held an unofficial Rally for Reggie at JFK Plaza last week. But the Eagles have not offered White a new contract, deciding to save money and take the first-and third-round picks they will get as compensation for losing him. Says White, "I've never felt like [Eagle owner Norman] Braman has done everything it takes to put a championship team on the field."
The competitors in the Reggiestakes were told by Sexton what was important in luring White. White wanted to go to a franchise intensely committed to winning, because in 16 years of high school, college and pro ball he has never been on a championship team. And wherever he goes, he wants to establish a Christian ministry and work with the needy of the inner city.
White and Sexton began returning phone calls. Washington general manager Charley Casserly pitched the Redskins' winning tradition. Next, player and agent talked to Detroit Lion coach Wayne Pontes and Phoenix Cardinal coach Joe Bugel. Then came the Browns, with Sexton reaching director of pro personnel Mike Lombard! Jet G.M. Dick Steinberg and coach Bruce Coslet pitched their program for 20 minutes. Next on the line was Modell, with a how-do-you-do call. The Falcons followed. "Hey, Coach [Jerry] Glanville," White said into the phone. "Deion Sanders promised me if I came, he'd buy me a church." The Seattle Sea-hawks concluded the marathon.
White went out for some Tennessee barbecue to digest it all. "The thing that worries me a little bit," he said, "is that with teams like Cleveland, Detroit, Phoenix, Atlanta and the Jets, they might figure, Our savior has arrived. In Washington, I think there'd be less pressure. I don't mind pressure, because I bust my butt on every play. But I don't want anybody to think I'm the only guy out there. Still, this is a great position to be in."
White will visit Atlanta, Detroit, Green Bay, the Jets and Washington—at least—before it's over. Strange choices, perhaps, if he wants to win a Super Bowl, but White is somewhat restricted by the Rooney Rule. So, who will land Reggie White? Well, he loved everything about Cleveland. The Browns can write the book about chasing a superstar. Washington, the team with the best chance to go to a Super Bowl, has two obstacles in its path: the salary cap and the loss of coach Joe Gibbs, who retired last Friday (page 36). White is intrigued by the idea of playing on the big stage of New York.
The guess here: Unless the Redskins wow White on his visit, little Sarah Saunders will get her wish. "I've already got a nickname if it's Cleveland," White said Saturday night, flying to Dallas. "The Big Dawg. That's what they called me in college." Kind of catchy.