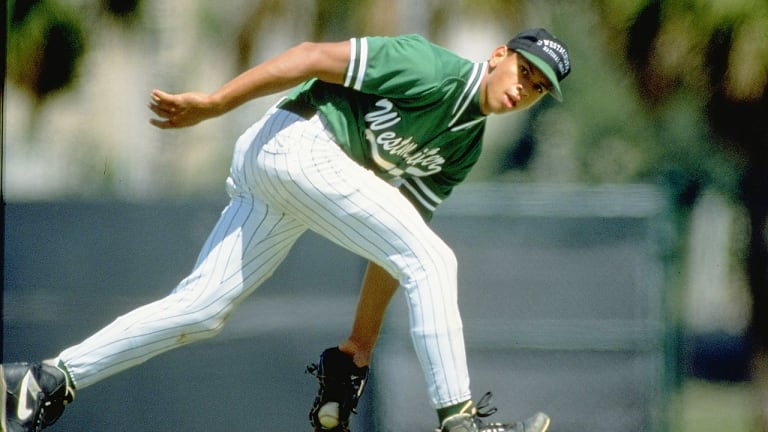 Alex Rodriguez
The nation's best high school ballplayer is a slick shortstop with a big bat.
As the ball left Alex Rodriguez's aluminum bat, 63 stopwatches started their split-second counts. His toe touched first base, the timers clicked in unison. The draft-day race had begun.
Though it was only the first game of the season, the 63 scouts at Westminster Christian School in Miami were studying Rodriguez's every stride and stroke. The major league draft is on June 3, and although Rodriguez, a 6'3", 195-pound senior shortstop, has already accepted a scholarship to Miami, he is expected to be the No. 1 pick.
"The next Cal Ripken," croons one scout. "He's not just a field-and-throw guy, he's got all of the tools," says another. Based on statistics alone—a .606 batting average with 21 RBIs, seven homers and 12 steals in the first 10 games this season—Rodriguez has enough tools to stock a hardware store. He also happens to be the best player on the nation's No. 1-ranked team: Westminster finished last season at the top of USA Today's high school poll, and the Warriors were first again in this year's preseason poll.
Amid all this attention Rodriguez has remained modest. He asked a reporter from out of town, "How did you hear about me?" and he seemed genuinely surprised to find out that his abilities are considered extraordinary. "My mom told me that all the scouts are here because they see something they like," he says. "She said, 'Don't change, just be yourself.' "
Rodriguez's mother, Lourdes Navarro, raised her three children on her own after she and her husband, Victor, split up when Alex, the youngest of the three, was in fifth grade. "I always wanted to be like my dad," says Alex of Victor, who played professional baseball in the Dominican Republic during the 70s. "But my mom is my role model."
Lourdes and Victor had moved their family to Miami from the Dominican Republic a year before they separated. "In D.R., playing ball was tougher. No one had anything," Alex says. "In the U.S. there were $200 gloves, and the fields were like paradise." It was on those fields that he learned to rocket a ball 400 feet into the gap and cut off a grounder in the hole.
"Coaching Alex is a once-in-a-lifetime experience," says Rich Hofman, who started the baseball program 25 years ago at Westminster, a small private school with about 100 boys in grades 10 through 12. Rodriguez also made a name for himself on the school's football field. He decided to concentrate on baseball his senior year, but as a junior, playing quarterback, Rodriguez led the Warriors to a 9-1 record. Did he ever consider playing both sports in college? "Sure, but you think a lot of things when you're 16," says Rodriguez, now a whole year wiser.
The past year has been a tumultuous one at Westminster. "We were national champions in June, and two months later we lost everything," says Hofman. When Hurricane Andrew swept through South Miami, it took much of the school with it, causing $3 million of destruction, including $100,000 of damage to the baseball field. Thanks to a local contractor who donated his services, Westminster now has new dugouts, fences and bleachers.
The tempest on Westminster's tiny campus this spring is the one swirling around Rodriguez. Publicity packets and questionnaires from major league teams arrive daily, the stands are always full of stopwatches, and it seems as if some executive from the Seattle Mariners—the team with the first selection in the draft—is always around. But it is only March, too early to predict what the climate will be like in June. "I can't worry whether I will go in the third round or the first round or play at Miami," says Rodriguez. "Whatever happens, happens."
PHOTO
BILL
FRAKES
The nation's best high school ballplayer is a slick shortstop with a big bat.