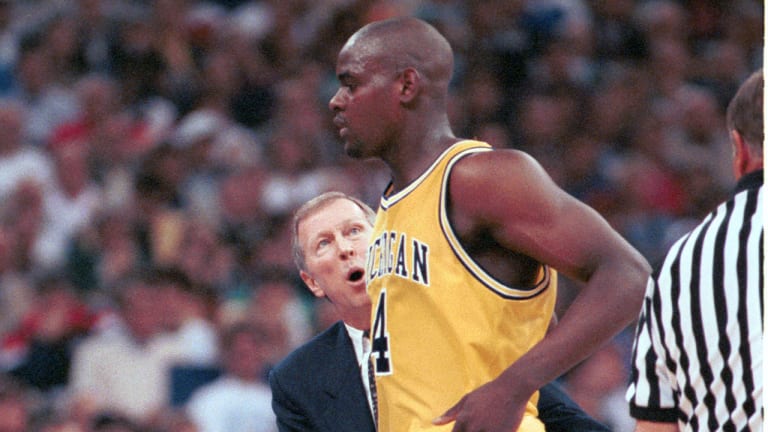 Beating the Blues
Chris Webber is doing just fine, thank you, after his infamous NCAA Tournament gaffe.
Chris Webber was 12 the first time he was laughed at on a basketball court. It was opening day of practice for an AAU team in his Detroit neighborhood, and young Chris showed up in a Hawaiian shirt and shorts because he hadn't played much basketball and had nothing more appropriate to wear. The other players took one look at him and teased him mercilessly, especially because he was also a bit awkward and tentative. One of his tormentors, a bean pole of a kid named Jalen Rose, went up to him and said, "You've got the sorriest game I've ever seen."
Chris went home crying, and for days afterward he would tell his parents he was on his way to practice and then go somewhere, anywhere, else. Finally he summoned the nerve to tell his father, Mayce, that he wanted to quit the team. Mayce Webber had grown up in Mississippi with four younger siblings to whom he had been as much parent as brother, particularly after their mother died. He had later worked double shifts at the General Motors plant in Detroit for several years to keep his rapidly growing five children in clothes and shoes that fit. He didn't take kindly to the notion of his son's turning tail and running away from hardship.
"He told me I was going back," said Chris. "There wasn't a lot of discussion about it. He said a man doesn't run away from difficult situations; he stands firm and conquers them."
Webber told that story last October, before the start of a season he had no idea would end with such a stern test of his ability to stand firm and conquer. In the days since he called the fateful timeout that Michigan didn't have, a mistake that assured the Wolverines' loss to North Carolina in the NCAA championship game in New Orleans, Webber has stood firm, handling the aftermath of his gaffe with uncommon grace and good cheer. There were tears that night, plenty of them, but not a drop since.
"The first couple of days were tough, but it's not like I think about it every minute anymore," he said late last week. "Sometimes it still hits me, and I think, I cost us the national championship, but then it goes away. Ninety-nine percent of the time I'm fine."
Mayce Webber's son has not run away. In fact, Chris walked out into the world with his chin thrust out, almost inviting people to take their best shot. Hours after the game he was strolling down Bourbon Street. Two days later he flew from Detroit to Los Angeles for the presentation of the John R. Wooden player-of-the-year trophy, even though he knew that Indiana's Calbert Cheaney was certain to win it. He appeared on ESPN's Up Close interview show while in L.A. and then flew to San Francisco, where he attended a pair of Golden State Warrior games with friends, including Cal guard Jason Kidd, an old buddy from the high school summer-league circuit. After watching the Warriors play the Dallas Mavericks on Saturday night, Webber, Kidd and some other friends headed to an Oakland recording studio where rapper Money-B was cutting a record.
Webber has found that instead of taking shots, the world has for the most part responded with kind words and a pat on the back. At the Wooden Award ceremonies he was greeted with a standing ovation. Detroit Piston guard Isiah Thomas called to tell him to keep his chin up, and Magic Johnson suggested they work out together this summer. There was also a letter from the author of another famous miscue, former Georgetown guard Fred Brown, whose inadvertent pass to James Worthy scaled a title for North Carolina 11 years ago. "You not only find out who your friends are when something like this happens," Webber says, "you find out you have friends you didn't even know about."
Granted, a few fans in the North Carolina section of the Superdome chanted, "Webber, Webber," while tapping their temples with their index fingers, and a guy called down to him, "Hey, Chris, got the time?" from the safety of a balcony on Bourbon Street. "I hear some of those things," Webber says. "I'm not going to tell you it doesn't bother me at all, but I don't get mad, because I know that they would all have given anything to play in a national championship game, and because anyone who takes that much pleasure in someone else's misfortune has a much bigger problem than I do."
Occasionally there has even been a dig Webber could laugh at. The night after the game, David Letterman's Top 10 List was "Things Overheard at the Summit." Number 6 was "What? We have no timeouts left?"
Because of the error, Webber and, by extension, the rest of Michigan's Fab Five sophomores have become much more sympathetic figures than they would have been had Webber made the winning shot. Not everyone knows what it's like to hang from the rim after a dunk, but everyone knows what it's like to screw up. That is small consolation to Webber, though. "I'd rather have the ring than the image," he says.
The only time Webber has touched a basketball since the North Carolina game was during a casual shootaround with Memphis State guard Anfernee Hardaway at the Los Angeles Athletic Club, where both were guests for the Wooden Award presentation. "I wanted to take a week when I really didn't think about basketball, about what happened in the past or what's going to happen in the future," says Webber.
But he was confronted with the past at the Wooden Award luncheon, at which he and Michigan coach Steve Fisher were seated at a table with TV analyst Bill Walton. Walton's pretournament description of the Wolverines as "underachievers" was the criticism most often cited by Michigan at the Final Four when the team complained of bashing by the media. Webber and Walton exchanged nods at the table but didn't speak, and Webber didn't applaud when Walton was introduced. Nor did he watch Walton when Walton gave a speech. In his remarks Walton extended an olive branch to Webber. "You should be congratulated on a tremendous season," he said. "Your courage in being here today should also be applauded."
Walton's efforts were only partially successful. "I went to the awards because of my respect for Coach Wooden, not to talk to Bill Walton," says Webber. "I still think the 'underachievers' comment was unfair and asinine, but I do appreciate what he said."
The question now is whether Webber will return to help Michigan get to the NCAAs again next year. His four days in California were designed to be a buffer period between the end of the season and the beginning of his deliberations on whether to skip his junior and senior years and make himself eligible for the NBA draft. He has until May 15 to decide. Among the factors he will consider is what a degree means to his father and his mother, Doris, a special-education teacher in the Detroit public school system. "It would be difficult for me to leave," says Webber. "I know some people find that hard to believe, but if I had to make a choice today, I would stay at Michigan."
It wouldn't be hard to believe for anyone who saw how 1,500 students, faculty members and fans welcomed the Wolverines back to Crisler Arena the day after the title game. Webber was expressionless as he entered the arena and waved to the crowd, but eventually the applause and the chants urging him to return for next season forced a smile to his lips. "I know Fred Brown won a championship with Georgetown two years after he made that pass, and I know Isiah won back-to-back championships after he made that pass against Boston in the playoffs," says Webber. "It would be great to stand in front of all those people after winning a championship. That would be the best way I could think of to thank them for how they've stuck by me."
After his stay in California, Webber flew home to Detroit to spend Easter with his family. "I was mad for a long time after the Duke loss [in the 1992 championship game], but I'm not mad at anybody or anything this time," he says. "I just have to deal with what happened. It's my responsibility."
He still has not watched the tape of that Duke game, and the North Carolina tape will also go unwatched for the foreseeable future, he says. It may be a while before he reads all his mail as well, not because he doesn't appreciate it, but because he doesn't want a constant reminder of the defeat. "You have to move on sometime," Webber says.
He would do well, however, to keep Brown's letter and reread it from time to time, whenever he worries that he cost Michigan the title. "One thing I wrote to him," says Brown, who is now a coach at Episcopal High in Alexandria, Va., "was that what sticks with me the most after all these years is something [Georgetown coach] John Thompson said to me right after I made that pass. He said that if this was the biggest mistake I ever made, I was going to have a wonderful life. I would say the same thing to Chris."
PHOTO
JOHN MCDERMOTT/WYLAND
ASSOCIATES
Don't mention Ice-T or any T to Webber, who rapped with pals (from left) Money-B, Brite Ware and Kidd.
PHOTO
JOHN W.
MCDONOUGH
Shock and chagrin greeted Webber's blunder at first, but solid support soon surfaced.