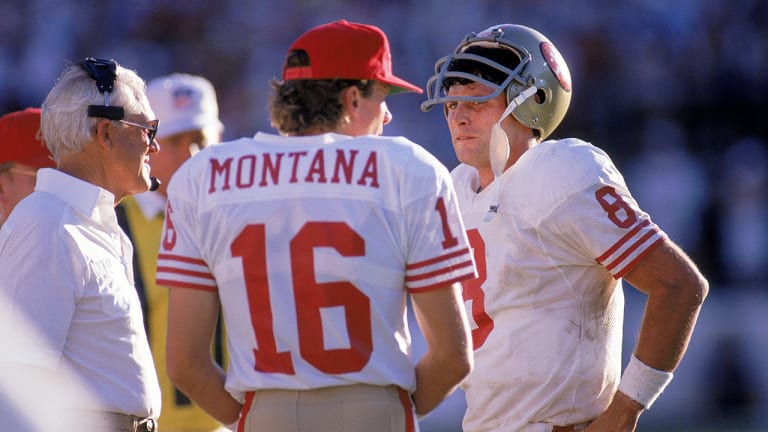 Publish date:
Young and the Restless
Steve Young is thriving in San Francisco, but will he ever measure up to Joe Montana in the eyes of 49er fans?
Steve Young had two classes at Brigham Young that Friday in March 1984. After class he went back to his off-campus apartment, changed from his customary jeans, sneakers and wrinkled oxford shirt into something dressier, hopped into his father's 19-year-old Olds Dynamic—the Tuna Boat, his buddies called it—and drove to the Provo, Utah, airport. From there a private jet whisked Young, BYU's senior quarterback at the time, to San Francisco, where he was picked up by a British righthand-drive limo and taken to an office building in the city's financial district.
Walking into the headquarters of Investment Mortgage International Inc., Young and his agent, Leigh Steinberg, entered a world of ostentatious wealth: Italian marble floors, Brazilian rosewood paneling, Chinese antiques, a gigantic gold gong. An electric sign blinked the Words WELCOME, STEVE YOUNG, QUARTERBACK EXTRAORDINAIRE! The founder of IMI, 46-year-old William Oldenburg, was paying rent of $230,893.97 a month for the suite of offices, and Young and Steinberg thought the offices were worth the money. The two men had come to San Francisco to finish negotiating the richest contract in the history of team sports at that time. Oldenburg owned the Los Angeles Express of the fledgling U.S. Football League, and he wanted to snatch Young before the NFL could get him.
Don Klosterman, general manager of the Express, had already negotiated most of the key points of the deal with Steinberg and with Young's father, LeGrande. But nettlesome details remained unsettled, fine points that would keep Oldenburg, Young and Steinberg in those elegant offices for much of the night. It was Oldenburg's birthday, and he was not pleased when the talks forced him to miss his party. He grew increasingly petulant as Steinberg and Young insisted on a guarantee of cash up front. "You want guarantees?" Oldenburg growled at one point, wadding up a bunch of large bills and throwing them on the floor near Young and Steinberg. "Here's all the guarantees you'll need."
At one point in the middle of the night Oldenburg walked over to Young and told him pointedly what he thought of him for not signing the deal as it was. He jabbed a finger in Young's chest for emphasis. "If you touch me one more time," Young told Oldenburg, "I'll deck you."
The deal began to fall through. Oldenburg had security guards throw Steinberg and Young out of his office in the wee hours of Saturday morning. It was the end of the strangest night of Young's life.
Those negotiations, which Steinberg and Klosterman completed shortly afterward, were an odd start to a decidedly peculiar career for Young: two years with the bush-league Express, two years with the almost-as-bush Tampa Bay Buccaneers, four years with the San Francisco 49ers as understudy to Joe Montana and then, with Montana sidelined for all but one game of the 1991 and '92 seasons, a starting job. During those two years he won two straight NFL passing titles, had 42 touchdown throws with only 15 interceptions and won the league's 1992 MVP award.
So, of course, last month San Francisco settled on a plan whereby Young would be traded, Montana would be reinstated as the starter, and Notre Dame's Rick Mirer would be drafted as their quarterback of the future.
These were not the 49er front office's finest hours. The above scenario came at the end of a three-month period during which owner Eddie DeBartolo and president Carmen Policy first decided to keep Young, while encouraging Montana to find another city to play in, then hastily offered Montana his starting job back after Montana announced that he was going to sign with the Kansas City Chiefs. Apparently the 49ers did not wish to disturb Young, who was in the midst of studying for a final exam at BYU law school, with that last bit of news. After issuing a statement about the reinstatement of Montana, they waited four days before calling Young. Not until Montana had left San Francisco for Kansas City in the most protracted trade in memory was Young finally, indisputably, anointed the Niners' starting quarterback. "When it's all over," Young says, "I might be able to say I've had the strangest career in pro football history."
Chapter 1: The Los Angeles Years 1984-85
The Cincinnati Bengals wanted to make Young the first pick of the 1984 NFL draft. When they learned that Young was engaged in serious talks with the Express, the Bengals made him one predraft offer—four years for $4 million. Like any kid who grows up throwing a football, Young had dreamed of playing in the NFL. But that was before Oldenburg started throwing his money around. Huge money. Plus, Young hated to sit, and he would start immediately with the Express. He would have former San Diego Charger quarterback John Hadl as his head coach and passing-game guru Sid Gillman as his position coach. And he figured he would play in the NFL someday.
Still, Oldenburg's finger jabbing him in the chest wasn't the only thing bothering Young as he waited for Klosterman and Steinberg to finalize the deal. That weekend he received calls from NFL commissioner Pete Rozelle and former Dallas Cowboy quarterback Roger Staubach telling him to sign with the NFL. Donald Trump, who owned the New Jersey Generals in the USFL, and Howard Cosell urged him to try the USFL. Young began to feel tremendous pressure. The prospect of being rich didn't make him happy. When he finally signed the contract with the Express, he handed the $2.5 million bonus check to Steinberg. "You take it. I don't want it," Young said.
He hardly needed it. The deal called for consecutive base salaries of $300,000, $400,000, $500,000 and $600,000. It funded an annuity that would pay Young a total of $37.2 million from 1997 to 2027, and an insurance policy that would pay him $1 million if he suffered a career-ending injury. The contract also guaranteed Young a $100,000-a-year off-season job at one of Oldenburg's Utah savings and loans. Finally, it endowed a $183,000 scholarship in Young's name at BYU.
And yet he thought seriously of calling the whole thing off. "The money just overwhelmed him," says LeGrande, a descendant of Brigham himself and a successful labor lawyer in Greenwich, Conn. "The money became his nemesis, and he continued to live as if he didn't have it. He told me before he had to report to camp, 'I don't want to go.' I ended up having to go out to Provo to talk to him. I told him, 'You made a contract; you live up to the contract.' "
So he went, to a team loaded with players stolen from the NFL draft, 31 in all. Oldenburg hoped that his Express would become so good that the NFL would have to invite his team to join it. Almost immediately, however, Oldenburg began having financial difficulties, and he would ultimately lose his entire fortune. He did not go quietly, though. In a 1984 game in Denver, Oldenburg threw a tantrum in the owner's box that spilled into the locker room at halftime. If the team did not improve, he screamed, heads would roll. Another time he threw a plate of food at Hadl.
While the owner fumed, the players looked up to the unpretentious Young, who bombed around in his ancient Olds and shared a Redondo Beach apartment with six teammates. On the field Young ad-libbed at will. Occasionally, as he left the huddle, he would tell center Mike Ruether, "Hey, snap it over my head. Let's make something happen."
Young would call his father in Connecticut and complain about what he had gotten himself into. Honor thy contract, LeGrande told him. In 1985 the USFL took over the Express from Oldenburg, and the team was evicted from its training-camp headquarters at a Southern California hotel for not paying the bill. Hadl approached players whose families lived in the area. "Jojo, how many can you take in?" he asked tackle Jojo Townsell. Jojo called his mother. He reported that they could take three. That's how the team was housed that summer.
Before the Express's last home game of the '85 season, the team, in full uniform, boarded buses for the 45-minute ride to a junior college stadium. On the way to the game one driver pulled his bus over to the side of the road. "I'm not moving until I get paid," he said.
"Don't pay him!" "Let's get off!" voices shouted from different parts of the bus. The players passed a hat, the driver was paid (Young contributed the lion's share), and the Express arrived in time for their game against the Arizona Wranglers. To save money the team had not replaced players who were injured late in the season, and the Express entered the game with one healthy running back, Mel Gray. Late in the third quarter Gray went down with an injury, and Young had to play the rest of the game at tailback. Afterward Young spoke at a press conference behind the bus, diesel fumes wafting over the sparse crowd of writers covering the game. "It felt like a high school game out there," he said, laughing. "I was waiting for the cheerleaders to come running off the bus."
Young finished his USFL career with 16 touchdown passes and 22 interceptions. He completed only 56.4% of his passes. He hardly looked like a great quarterback in the making.
Chapter 2: The Tampa Years 1985-86
The Buccaneers owned Young's NFL rights, having selected him in the supplemental draft in the summer of '84. When the USFL's '85 season ended in June, Young was so desperate to escape that he reportedly paid the league $1.2 million to get out of his contract, with the agreement that the USFL would still fund the monstrous annuity. He signed a six-year, $5.4 million deal with Tampa Bay. As it turned out the USFL never reopened for business.
Young and Tampa Bay were a bad match from the start. Conservative coach Leeman Bennett had no idea how to incorporate an imaginative, free-form talent like Young into his offensive system. Bennett wanted Young to be a drop-back passer, but the Bucs' protection was abysmal. Tampa Bay went 4-28 in Young's two seasons with the team.
"One time we were playing the Bears." recalls Young, "and one of our coaches looked me right in the eye and said, 'Look, Steve, I know everybody's kind of quit on you here. This is the kind of game where you could really get hurt. Be careful out there.' I couldn't believe it. How can you enter a game thinking like that?"
"What Steve needed for his career to go to the next level was to be exposed to some top NFL coaching," says Steve DeBerg, Tampa's other quarterback. "I told him the perfect place for him was San Francisco, with Bill Walsh."
The Bucs had the first choice in the 1987 draft. Miami quarterback Vinny Testaverde was the clear top pick. Ray Perkins, who had succeeded Bennett, wanted Testaverde. So the Bucs granted Young his wish and dealt him to the 49ers at a time when his value was severely depressed and the whole world knew that Tampa Bay was going to select Testaverde. All that San Francisco had to give up was a second-and a fourth-round pick, plus a reported $1 million.
Young's Tampa Bay numbers: 11 touchdown throws, 21 interceptions, 53.3% completion rate. He still didn't appear to be marked for greatness.
Chapter 3: The San Francisco Years 1987-93
Walsh had watched Young with the Express and the Bucs, and he had watched him again on a scouting trip to BYU in the spring of '87. Young, who had enrolled in law school by then, would occasionally work out with the Cougar receivers. "Sid Gillman was telling me this was the finest quarterback athlete he'd ever seen." Walsh says. "Tampa couldn't protect the passer, plus they were running a dated offense. So Steve looked bad there. What scouts saw when they watched Steve with Tampa was a lefthanded, inaccurate quarterback; it fulfilled their old wives' talc about how lefthanded quarterbacks couldn't be good in the NFL. 1 set about a quiet campaign to get him." The deal was made on April 24. 1987.
Montana was injured in the first game of the '86 season and missed the next two months with a back injury. But beginning in '87 he turned into an iron man. Young got only 10 starts from '87 through '90, and that drove him crazy. After the '90 season Steinberg urged him to fight for a trade. Young weighed it, but he finally concluded, This is the perfect system for me. It's the perfect city. I've put in four years waiting, and I don't want to leave just when my chance might be coming.
Walsh, forever a Young fan, would occasionally yank Montana from games, even when Montana was not injured. These forced exits—and the mistaken belief that Young was lobbying for more playing time behind Montana's back—made Montana resent his understudy. Yet to this day Young will not criticize Montana, as painful as the star's treatment of him must have been. Young's treatment by others wasn't much better. In 1991, on his way to leading the league in passing, Young was criticized by fans and the Bay Area press for not playing well late in games, for not winning the big ones and for running too much. Jerry Rice complained that Young was not throwing to him often enough. When Young suffered a knee injury in the ninth game of the season, Steve Bono stepped in and played splendidly. There was a loud call for Bono to pass Young on the depth chart.
In the face of criticism Young withdrew from the public eye. He was reluctant to be seen as Montana's eager heir apparent. As a result his generosity has gone largely unnoticed. Few are aware of his extensive charitable work with the Navajos in four western states, or that he has given thousands of dollars of assistance to a destitute family of Russian immigrants in Utah, or that he donates $2,500 for every 49er win to fund sports programs in the San Francisco public high schools.
Young started hearing trade rumors after that '91 season. Walsh, who had left the team in 1989, was considering returning to the 49er front office. In January '92 he accepted the Stanford coaching job instead, but not before he let it be known that he thought it was divisive to have all three quarterbacks around. Policy agreed, and, quietly, he put out feelers.
"Remember where we were in March 1992," Policy says. "The coaches said that Joe was throwing better than he had in years. And the prospect of Steve Young being an unhappy camper would have been a distraction to the team. We did explore the market, and we had some stupid, absurd offers."
One that was not absurd involved the Los Angeles Raiders, who offered a No. 1 draft choice, wide receiver Tim Brown and other considerations. On draft day, however, Raider boss Al Davis scaled back his offer, and Policy cut off talks with the Raiders. "I'm delighted," Policy says, "that a few other people in the league didn't recognize what kind of player Steve is." At the time the 49ers must not have realized it either.
Last season Young and new offensive coordinator Mike Shanahan engineered one of the most potent NFL offenses ever. San Francisco averaged 387.2 yards and 26.9 points a game running a Walsh-type attack. Young continued to run, but almost always by design. Nonetheless, despite his success, he was not firmly established at the 49er helm. In the second half of the Niners' final regular-season game, against the Detroit Lions on Dec. 28, Montana returned to the lineup for the first time in two years and completed 15 of 21 passes for 126 yards and two touchdowns. Two weeks later a poll in the San Francisco Examiner showed that Montana remained the people's choice to lead the team.
And the fans were not the only ones rejecting Young. In midseason Rice had been asked to evaluate Young. "He's a great running quarterback," was the answer.
"Call me a quarterback, not a running quarterback," Young said when Rice's comment was relayed to him.
Young is a brilliant runner. In a 1988 game he sprinted, stumbled and smashed through eight Minnesota Vikings en route to a 49-yard touchdown. "On a show we did recently, we called that run the best in football over the last 25 years," says NFL Films president Steve Sabol.
In '91 Young averaged six rushing attempts per game. Last season that number fell to 4.8, but he averaged 7.1 yards per carry. Shanahan has taught Young that if he has to leave the pocket, to leave it with his head up, still looking for a target. "I don't think I have to put that running-quarterback image to bed anymore," Young says. "Now whenever I run, my feet are really helping the team."
The true measure of Young's value is how his opponents feel about him. "On Sunday morning when you have to play Young, you wake up with a sickening feeling and a headache," says Atlanta Falcon defensive end Tim Green. "I can honestly say those are the only times I've ever approached a game conceding that an opposing player's going to make big plays no matter what we do."
Young may never win over his Bay Area critics, at least not as long as he wears 49er scarlet-and-gold. He finally owns the job that he had on loan the last two years, but he might have gained more in stature if he had been traded. "My mission ever since I got here was to be ready to play spectacular football, not just substitute football," Young says. "Part of the crazy drive about being here and not wanting to go elsewhere, even as Joe kept going and going, was that there is a benchmark of championships here that there is nowhere else. I just want to keep that tradition going. That's the real test for me."
The real test, too, will be living with what has happened over the last two months, living with the knowledge that as far as San Francisco is concerned, he will always be No. 2. "We were dealing with huge emotional issues," says Young. "Here, after all, is the guy who has led them to four Super Bowl wins. I understand how the organization was feeling. Judge the story in its entirety, and you'll see that human beings did in this case what human beings usually do. They were emotional, and they tried to do what they thought was the right thing. I think people are trying to make me out as a bitter or angry man about this, but I'm not. I'm a positive person. All this stuff, it's not negative to me. It's another experience."
Young laughs. "I'll tell you what would be the strangest thing that could happen now," he says. "For us to win the Super Bowl after this stuff happened." Stranger things, Young knows from experience, have happened.