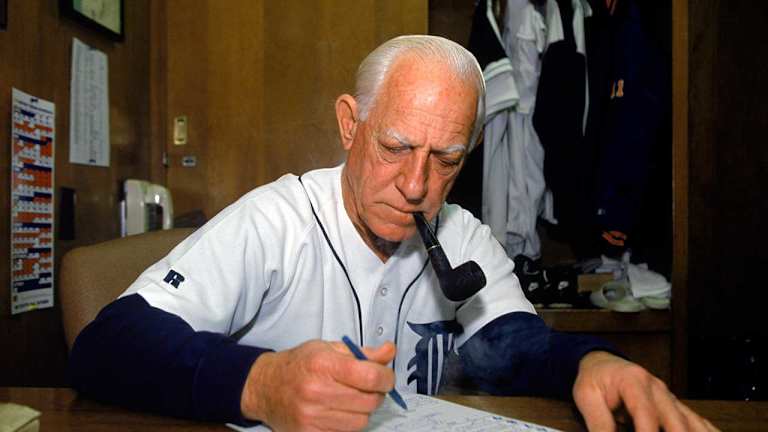 The New Perfesser
The spirit and syntax of Casey Stengel live on in Detroit Tiger manager Sparky Anderson
Beautiful Blue-Rinsed Tiger Stadium, home of the Detroit Baseball Club, is directly across Trumbull Avenue from the Checker Cab Company, whose telephone number is displayed on the front of its building: WO3-7000. In Detroit there are still Checker cabs and a Woodward exchange and old Tiger Stadium, where members of the Detroit Baseball Club still play for manager George (Sparky) Anderson. Things should forever be this way: a timeless painting, Sunday in the Park with George.
"I wish there was such a thing as 'You could do this forever,' and there ain't, let's face it, it don't work that way," says Sparky himself, the words tumbling forth in one Stengelesque exhalation. When Sparky opens his mouth, words fall out like items from Fibber McGee's closet.
He seldom brakes for periods. Sparky believes in punctuation, he just thinks the word means being on time. "I truly don't know the language," he is happy to concede. "I wish I could know the difference between a noun and a pronoun and an adverb and a verb, but I don't know, and you know, I don't wanna know. Why do you have to know English? It's like two: There's three twos! There's tee-oh, there's tee-double-oh, and there's tee-double-oh! Three twos! Now, if I put any one of those down in a letter, you know which one it is I'm talkin' about. It's like there and their. What's the difference, as long as you know there's a there there?"
Hear, hear.
It was Gertrude Stein who once said of Oakland, "There's no there there." It was Sparky Anderson who once said of nostalgia, "I've got my faults, but living in the past isn't one of them—there's no future in it."
As usual, he is right. Why live in the past when you have a first-place team in the present? His Cincinnati Reds finished in first place in the National League West in Sparky's first year as a major league manager. Twenty-three years later his Tigers are in first place in the American League East. While all about him skippers have come and gone and often come again, Sparky alone has managed a major league club every summer since 1970. Out of chaos...order. Out of Stump, Stick, Doc, Buck, Bucky, Bambi, Jimy, Yogi, Whitey, Blackie, Jackie, Dusty, Cookie, Frenchy, Sherry, Salty, Smokey and Stanky...Sparky.
Why brake for periods when you've raced through life as if the light were yellow? Sparky's hair turned white when he was in his 20's. He was a big league manager at 35. Already this season, at the relatively youthful age of 59, Sparky-has won the 2,000th game of his magisterial managerial career.
Already this season he has passed Leo Durocher and is on the verge of passing Walter Alston to take fifth place on the list of baseball's alltime winningest skippers, disproving what the Lip once said about nice guys. Within two years Sparky will pass Joe McCarthy and Bucky Harris to take third place, behind untouchables John McGraw and Connie Mack. "It just means I'm gettin' old," says Sparky. "I was tellin' Lou Piniella the other day, a guy hangs around the bar long enough, he'll get drunk."
Nonsense. Sparky's teams have won seven division titles, five pennants and three world championships. One of each would be enough for most men, but Sparky Anderson likes redundancy. Thus, "Stengel is my alltime favorite in the history of baseball," Sparky will say. Or, "I've never had a complaint on an airplane ever." (Which is true—you could look it up.) In Sparkyese, "stats and statistics" may be manipulated to perpetuate "fallacies and falsehoods," the opposite of which happen to be "true facts."
In any event, "When you win, you sleep better, everything's better, and that's a true fact," says Sparky, whose team has put him in an especially wonderful mood in his wood-paneled office at Tiger Stadium this day. Three pipes and a silver tamp are arrayed neatly on an ancient wooden desk. Folds of skin hang from his cheekbones like curtains drawn open on his brilliant white smile. He has those white eyebrows as well, and that white head of hair. Yessir, George Lee Anderson has the matching set, much like that other tactical and syntactical adventurer, the Ol' Perfesser, Charles Dillon Stengel.
It is a beguiling package. Hence this informal study of the man, this Sparkaeological expedition, which begins with our subject about to address reporters. Full-volume heavy-metal music coming from the clubhouse threatens to blow Sparky's closed office door from its hinges.
How are ya, Sparky?
"If they'd turn that noise down, I'd be fine," he says. "But go ahead, gentlemen, with whatever maaarrrlous questions you have."
In response to an inquiry about Rob Deer's condition, Sparky mentions that the Tiger rightfielder is being placed on the disabled list. "He moved his neck yesterday and it hurt in the bottom of his back, and that's not good, no-hooo," explains Dr. Anderson. He then acknowledges that a certain Tiger is indeed unhappy on the bench. Admits Sparky, "He don't wanna not play."
A man delivers the mail. Sparky rescues The Sporting News and Golf World from the teetering pile, then puts on his black-framed reading glasses. Hideous human screams, independent of the stereo, come from beyond his door, followed by the crashing of clubhouse furniture.
"It's never lonesome here," Sparky says without looking up from his Golf World. "That's the nice thing."
Lonesome? Sparky would need a Rolodex the size of a riverboat paddle wheel to catalog his friends. If you went to third grade with George Anderson, he probably remembers your name. It's the names of opposing players that occasionally elude Sparky. He is aware of this dread affliction, which is why the other day he said apologetically of a California Angel catcher, "I call him Tingley." (The catcher's name is Tingley.) Sparky gets no help from Detroit's famously malaprop scoreboard, on which Chicago White Sox centerfielder Lance Johnson once became LANCE LANCE and Seattle Mariner relievers Russ Swan and Dwayne Henry were gene-spliced into one ambidextrous man named SWAN HENRY.
For a moment during one game last season, the Tiger Stadium scoreboard actually read AT BAT NUMBER 11 SPARKY ANDERSON. Given Sparky's maddeningly Byzantine lineup changes, this could actually come to pass. While making a substitution the other day, Sparky told an umpire, "I'm puttin' only one guy in here, but there'll be five movements out there, don't pay no attention to 'em."
But even as he is calling the Cleveland Indians' Paul Sorrento "Sarmiento," precise details of his own life remain stuck in Sparky's brain like lawn darts. Thus, George Anderson was raised at 1087 West 35th Street in Los Angeles. He was fired by "Cincinnatuh" team president Dick Wagner on Nov. 28, 1978, in room 1118 of the airport Marriott in Los Angeles. He was hired by the Detroit Baseball Club on June 12, 1979. He went to bed at 12:27 last night and arose at 7:45 this morning.
Sparky has a prodigious memory in many areas. The only thing that has acquired more lines than Sparky's face is Sparky himself. He remembers every felicitous phrase he has ever heard. In this regard he envies his friend and former minor league teammate Tommy Lasorda. "Tommy said in his book that he was so poor growing up that he could tell when he stepped on a nickel if it was heads or tails," says Sparky. "Man, how great. How he comes up with 'em, I don't know."
To apply an old line to an old manager, Sparky Anderson doesn't have to be naked to count to 21. We know this because just the other day he mentioned the importance of mathematics. "You have to know your math," he said. "In school, I used to be finished with my math so early, I'd go to the bathroom, come back, and they'd still be workin' on it. Now, when a contractor's throwin' numbers together, I know if they add up." Sparky looks you square in the eye and taps his right index linger to a snow-white temple.
"But English?" he continues. "What's the difference? If you're a writer, yeah, you gotta put it all in there or you'll get letters from teachers. But I see now they're even puttin' ain't in the dictionary, so I'm good, man." Sparky beams. "I'm covered."
He is a learned man. Sparky frequently precedes his serpentine sentences with the phrase "There's one thing I've learned." There's one thing he's learned...and that one thing is something different every time. "There's one thing I've learned," says Sparky. "Live today the way today's lived. Every father walked through snowstorms to get to school. That's not today. Things change, so change with 'em."
"He's changed with us and the times," confirms shortstop Alan Trammell, a Tiger since 1977. "He changed the dress code this year. He now lets us wear nice jeans—nice jeans—on the road. But not on airplanes. You still have to wear slacks and a sport coat on airplanes. For the first time in my lifetime, except for the World Series, wives were allowed on one of the road trips. It's the '90s, and he understands that."
"I wish that when I started managing, I understood the needs of the players," says Sparky. "My first concern now is them. When I started managing, my first concern was me. Meeee. I don't know why you can't put it all together when you're young."
Life should be lived backward. ("Thaaaat's right," agrees Sparky.) If it were, think of all that this man would have to look forward to: managing the Tigers, then the Reds, then nine years of playing and managing in the minor leagues. A big break comes in 1959 when Sparky is called up to the last-place Philadelphia Phillies and hits .218 in the only 477 major league at bats of his career. After six more years in the minors, it is off to L.A.'s Dorsey High, where Sparky and the baseball team win 42 consecutive games. By 1951 he is playing shortstop for Crenshaw Post No. 715, which wins the American Legion national championship at Briggs Stadium in Detroit, the ballpark now called Tiger Stadium.
"When I'm here, I'm at home," Sparky says while sitting in the Tiger dugout, the very same one the Crenshaw Post team used 42 years ago. "There are days when I'm at home and I say, 'Oh, Christ,' I say to my wife. 'I don't mean this against you, but when I'm here' "—Sparky is back at the ballpark now—" 'I'm home.' "
"You have to realize that everything revolves around baseball for George," says Tiger coach Billy Consolo. "It is the only thing he has ever wanted to do. Other kids had hobbies. For George it has always been baseball."
When both boys were eight years old, George Anderson met Billy Con-solo on the Rancho Playground in Los Angeles. The Andersons had just moved west from Bridgewater, S.Dak., and the Consolos had come from Cleveland. George and Billy were best of friends through high school and Legion ball, and a lifetime later, in June 1979, Sparky asked his friend to join his staff in Detroit.
"I'd been out of baseball for so long at that point that I really wanted to be around for a while," says Consolo, who played for 10 years in the major leagues. "So before the press conference that announced George as manager, I asked him not to make any statements that would put us in a hole."
Sparky cleared his throat that day and announced to a throng of reporters, "We'll win it all in five years."
"And I thought, I'm back to bartering in five years," says Consolo, who had a world-championship ring exactly five years later.
Postscript: For the sheer euphony of the phrase, it should be noted here that Sparky played with Spanky. The Rancho Playground was next to the MGM studio lot, and the Little Rascals and other child stars of the day often played sandlot ball there with George and Billy. Billy cannot confirm with certainty that Spanky played with Sparky. "But," he says, "I know we did play with Buckwheat."
Sparky hates to travel. Those who know him say he remains in his hotel room on road trips, bingeing on CNN's Headline News. It is one of the little joys in his life. Sparky goes "Around the World in 30 Minutes" several times a day, and that is enough travel for one man. When Carol Anderson recently asked her husband of 40 years if he would like to experience the breathtaking sweep of the Grand Canyon, Sparky issued the only one-word answer of his life: "No."
If Sparky were a test, he would have no short-answer section. Sparky Anderson is all essay. It is a rainy Monday afternoon in Chicago, and Sparky sits tugging on a pipe in the visiting manager's office at Comiskey Park. He is staring trancelike at the portable TV that rests, on a desk, two feet from his face. But Sparky looks up from the College World Series on ESPN to consider this question: You don't enjoy traveling anymore, do you?
"When you first start out young," says Sparky, throwing out a triple redundancy for openers, "you enjoy all of the travel. The first time I had a suite, my god! But as time goes on, you get spoiled. You're spoiled in the major leagues, let's face it. Phil Niekro said it best. They asked him why he continued to play on and on all those years, and he said, 'Nobody ever gives you meal money in real life.' And it's true. The air travel is first-class. The hotels, outstanding. We're spoiled, and it's as simple as that. Half of us wouldn't know how to get a plane ticket in the wintertime.
"In 24 years I've learned something, a trick, I do this religiously. When I'm on the road, nobody sees me. Period. I do not socialize at any time on the road. I'm up at a quarter to eight, and I do the little radio show I have. Most of these hotels have a room with coffee, juice, fruit and sweet rolls, and sometimes I take that back to my room. I watch CNN. I'll watch CNN for four trips around. I'll know every single thing that's happening in sports and business, the world. I watched the news from Bosnia four times today. Then I'll go back to bed and cut off the phone. I went back to bed at ten-oh-seven this morning and got up at five after one."
He has been known to exhaust entire stenography pools with a single answer, but Sparky refuses formal speaking engagements. In Cincinnati in the 1970s folks said grace before every meal, and the manager of the Big Red Machine made a few remarks after the meal. But no more. Because now he is certain of who he is. "The biggest misconception about me is that I'm an extrovert," he says. "I'm an introvert. My real name is George, and that's the name I like best, and it's who I am. Sparky was given to me as a player, and it stayed with me. It's great that people recognize me for that. But George is who I am, and when I hit spring training, it takes me four or five days to become Sparky again. My wife, she always knows when I switch over from George to Sparky."
But even after he blooms each spring, not everyone calls him Sparky. Consolo calls him George year-round, and Consolo is not alone. "If he hears someone in the crowd say "Sparky,' he might not turn around," says Consolo. "But if he hears someone say 'George,' he'll turn around, because he knows it's someone he went to school with." Another man who calls him George is American League umpire Al Clark, who explained three years ago, "I refuse to call a 56-year-old man with white hair Sparky."
"The job is like any other job," says Sparky. "It's a selling job, and I have to be extroverted to sell the players I want to sell."
He never met a Tiger he didn't want to sell. Chris Pittaro? "He has a chance to be the greatest second baseman who ever lived," Sparky once said, adding that the youngster was "the best rookie infielder I've seen in 15 years of managing." Rico Brogna? "The finest young player I've seen since Johnny Bench." Torey Lovullo? "I'll die," said Sparky, "before he comes out of the lineup." Sparky lives. In Detroit, Lovullo does not.
When you are a veritable Mount Pinatubo of enthusiasm and kindness, you simply cannot help yourself. In 1982 Sparky publicly proclaimed that he would not make any more predictions (which was itself a prediction). Hours after the story rolled oil the presses. Sparky approached Boston Red Sox hitting coach Walt Hriniak at the Tiger Stadium batting cage. It was June. The Mariners were hot. "Watch Seattle," Sparky said, arching those eyebrows meaningfully. "They're gonna win the whole thing."
In 1989 Sparky took 17 days off in the middle of the season for what he describes as "personal reasons." Sparky is old enough to remember when there were such things as "personal reasons." and, admirably, his personal reasons remain personal. Sparky is the last American celebrity not to gleefully fly his dirty laundry from a flagpole in the town square. In fact, he has no dirty laundry: Sparky is said to spend most days in the off-season padding about his Thousand Oaks, Calif., home in a sweatsuit.
"My wife and I, we're like old farmers," he says. "We're not party people. I don't care about celebrities. I ain't awed by 'em, and if I'm one of 'em, I ain't awed by me. The word celebrity and the word VIP? Ha ha heh heh hgggh. I die laughing when I get a letter marked VIP. It says call this number to say whether you're coming or not. I don't wanna go to the White House. I don't wanna go nowhere.
"Show-business people, that don't thrill me. I just wanna be around old friends who don't wanna talk about baseball. People think I'm outgoing, I'm not at all. If our general manager wants to talk to me in the wintertime about a deal he's got going, we'll talk. But otherwise the office doesn't call me, and I don't call the office. I want 4½ months to be a grandfather.
"I have nine grandchildren. Three children and nine grandchildren. My wife and I, we're in the same house in Thousand Oaks we bought 27 years ago, and I'll be there when I die because that's where our children were raised. If they don't want the house when I'm dead, it'll be up to them to sell it, not me."
It is a wonderful, Sparkyrific sentiment, and he is adamant about it: He will not sell the house when he's dead.
"They used to plunk ya regular."
Sparky is holding forth this Thursday in front of the Tiger bat rack. The subject is the lost science of beanball pitching. Someone has informed Sparky that the Angels and the Toronto Blue Jays engaged in an 18-minute brawl late last night on the West Coast. This gets Sparky going on the sundry atrocities that pitchers once perpetrated on hitters.
"What's this?" asks Tiger designated hitter Kirk Gibson, sidling over to his manager, surveying the audience, his interest clearly piqued. "We got the Thursday Court here. Really feedin' 'em the——today, huh?"
In reply Sparky gushes to Gibson the news he has just heard about the brawl in Anaheim. "They said there were something like 18 different fights," sputters Sparky. "No, no, an 18-minute fight. They said it was great! And it was Ball Night, and the fans were throwin' the baseballs at 'em!"
"Always happens with Ball Night," says Gibson, a grin curling in one corner of his mouth. "Be a shaaame if that happened here, wouldn't it?"
Two hours later, before 16,532 fans, Sparky is on the third base line, giving home plate umpire Dale Ford the international up-yours sign: Clutching his right biceps with his left hand, Sparky thrusts his right fist upward. Ford, who has just made an egregious call behind the plate, sheepishly ejects Sparky. As he leaves the field. Sparky stops to greet a friend of his who happens to be umpiring third base. "You're outstanding, Richie," he tells Richie Garcia, apropos of nothing. "Outstanding."
That's Sparky. He can't help himself. There's one thing he has learned, and his father, Leroy, taught it to him when he was 11 years old: Being nice doesn't cost anything. "Doesn't cost a dime." says Sparky. "Look at Alan Trammel!. I call him Huckleberry Finn. You would never know to talk to him that he's accomplished all that he has."
"He taught me that," says Trammell. "He taught me that when I was 21 and looking for direction, when I thought I knew it all and didn't. And I still appreciate that. It is a pleasure to play for him, not just because he'll be in the Hall of Fame as a manager, but because of the kind of person he is."
A flight attendant drew Sparky aside as the Tigers were deplaning from a recent charter flight. She told him that she and her crew had just flown a National League team into St. Louis, and the players had turned that trip into an ugly airborne bacchanal. She thanked this skipper for his tight ship.
"Thank me?" responded Sparky. "Let me ask you something. Isn't this the way it's supposed to be? Why not be nice on an airplane? Why not be nice when you're out in society? Why give me credit for acting the way people are supposed to act?"
Leroy Anderson died during the historic 35-5 run that began the Tigers' championship season of 1984. But Sparky's mother, Shirley, is still alive. "And I wouldn't embarrass her for the world," says Sparky. "I'm in a restaurant, that waitress could be my mother, could be my sister. If the food stinks, don't go back. But don't get all worked up and take it out on the waitress. Treat everybody as if they're somebody, because they are. That's one thing I've learned."
A homemade sign in his office reads EACH 24 HOURS, THE WORLD TURNS OVER ON SOMEONE WHO IS SITTING ON TOP OF IT. That is Sparky. Another sign says A MAN NEVER STANDS so TALL AS WHEN HE STOOPS TO HELP A CRIPPLED CHILD. That is also Sparky. The sign above the office door through which Sparky passes most days reads ATTITUDE. Every week when the Tigers are at home he takes his extraordinary attitude to Henry Ford Hospital in Detroit, spreading joy among ailing children like some antidisease.
On his last visit Sparky tried to cheer a boy who was awaiting skin grafts to his face. The child had nearly been electrocuted. Ten thousand volts had surged through his body. Seven days later, two hours before a game 300 miles from Detroit, Sparky still can't shake thoughts of the kid.
"You and me," he says, "we wake up tomorrow, what's our biggest problem? You might have a few bills? I might have a loss? This little boy and his parents—he lived, he's doing line, he'll be O.K., but.... People feel bad for a baseball player having a bad year? Our values are so messed up it's unbelievable.
"I was watching this thing on the Chinese immigrants on CNN. They went 140-some days on a boat. Without a bathroom. And I'm laying myself down in a suite tonight? If you don't recognize what you have, man, something is wroonnng."
What Sparky has this day is a one-game lead in his division. The Tigers finished in sixth place last season. Many fans wanted Sparky fired, but many more grieved needlessly for this endearing Casey Bengal.
"People say." and here Sparky affects an old lady's voice, " 'Oh, I feel so sorry for Sparky and his club.' All the years I've had? All the luck I've had? Jesus Christ, feel sorry for me? Don't feel sorry for me. In fact, root against me. I've had too many good ones. If I manage five, six more years, I could have an El Stinko every one of 'em, all the luck I've had. Don't feel sorry for me."
As Sparky imprudently attempts to moonwalk in his office, one fears he will stumble on the blue carpet, like Carnac the Magnificent, and go crashing through his desk. Sparky is doing a ridiculous impersonation of the slapstick, showboating umpire in the film The Naked Gun. Because his Tigers strike out so frequently. Sparky perversely appreciates the punch-out techniques of the league's most flamboyant umpires.
"You know what I'm waitin' for?" Sparky asked a moment ago. "Someday we're gonna see the cat really put it in for us, like that guy in the movie, what the hell's his name, Leslie Nielsen. We're gonna see the ump doin' this." And then, his eyes glinting impishly, Sparky stood. On one foot. He started hopping. Backward. With his arms, Sparky began doing what disco instructors once called "rolling the dough" and what NBA officials do to signify a traveling violation. He pirouetted. And, suddenly, the precarious moonwalk attempt. Now Sparky is laughing that wonderfully contagious laugh, the one that sounds like a power sander, and hanks of hair have fallen over his watering eyes.
"Oh, god!" Sparky shouts over the heavy metal. "That's what I'd do if I was umpirin'! I'd be in your dugout!" He presses his face to within inches of a writer's and then punches an invisible speed bag repeatedly with his right fist. "Yooo-oooo-ouurrre OUT!" Sparky trills polysyllabically, and with that he is out the door himself, cackling maniacally in the clubhouse.
Four witnesses exit wheezing before one of them can finally speak. "We are blessed," says a Tiger beat writer, shaking his head. A cynical old scribe like the rest of us in this racket, and he actually says that. By George, "We are blessed."
PHOTO
WALTER IOOSS JR. (ANDERSON)
PHOTO
KEYSTONE (STENGEL)
THREE PHOTOS
CHUCK SOLOMON
After filling out the lineup card for his smokin' Tigers, Anderson schmoozes both the big (Detroit's Cecil Fielder) and the small.
PHOTO
DAVID LIAM KYLE
Anderson claims he's an introvert, but he becomes rather extroverted when pointing out to umpires their visual deficiencies.
PHOTO
HERB SCHARFMAN
Young George was a star at Dorsey High, but as a big leaguer in Philadelphia, he fell flat.
PHOTO
[See caption above.]
PHOTO
Anderson was surrounded by stars in Cincinnati in the '70s and by delirious fans-and tickertape—in Detroit after the '84 Series.
PHOTO
JOHN IACONO
[See caption above.]
PHOTO
CHUCK SOLOMON
The ballpark is "home" to Sparky, so that's where he lays his head.
"I've got my faults, but living" in the past isn't one of them—-there's no future in it."
"Oh, god! If I was umpiring,' I'd be in your dugout! Yooo-ooo-ourrre OUT!"
"When you win, you sleep better, everything's better, and that's a true fact."
"Don't feel sorry for me. In fact, root against me. I've had too many good seasons."