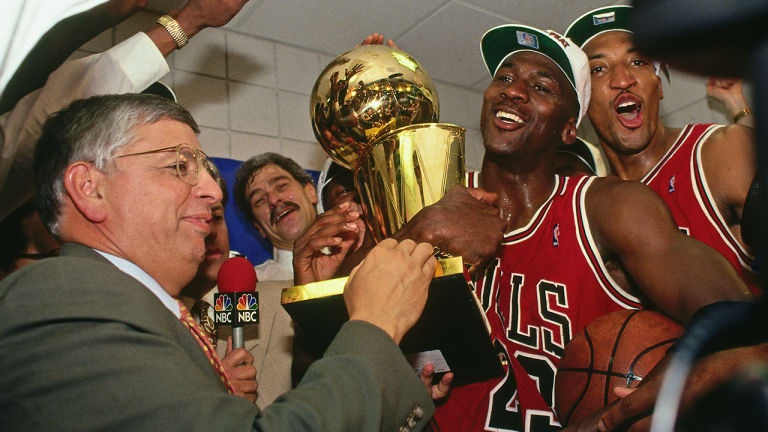 They're History
In a truly memorable series the Bulls defeated the Suns for their third straight title and joined the NBA's elite
Forget for a moment that he ever played a high-stakes Nassau. Pretend that he went to visit George Bush two years ago at that beautiful 19th hole on Pennsylvania Avenue. Don't ask him to be as glib, as personable, as irrepressible as his good buddy Charles Barkley. Stop expecting him to live up to the Captain America image created by his commercials. Now, consider this: Is Michael Jeffrey Jordan simply the best basketball player in the history of the planet?
No matter what you think of Jordan as a person, as a role model, as a shoe salesman or even as a high-stakes gambler, you know the answer to that question: yes. A resounding yes.
That was proved beyond a doubt on Sunday night when the Chicago Bulls concluded their long and arduous drive to a third straight NBA championship by staggering across the finish line in Phoenix with a thrilling 99-98 victory over the surprisingly resilient Suns in Game 6 of the playoff Finals. In winning an unprecedented third straight Finals MVP award, Jordan loomed over the series from start to finish, just as he had in both of the Bulls' previous title runs. Three-peat? Without Jordan the Bulls don't even peat. His performance in Sunday's clincher was typical—a game-high 33 points, eight rebounds and a team-high seven assists in 44 minutes. The most astonishing thing about the victory was that John Paxson, not Jordan, took—and made—the winning shot, a dead-eye three-pointer with 3.9 seconds remaining (box, page 18).
Indeed, as the game drew to its unlikely conclusion, Jordan seemed to be playing, more than ever, as a solo act, a tranquil island in a bubbling sea of confusion and nerves. "I don't know what it was," said Jordan after the game, "but everybody was hyper." Well, maybe it had something to do with the situation. The Bulls, who led the series three to two but were reeling after having lost two of the three previous games, were ahead 87-79 going into the final 12 minutes of Game 6. Then they allowed the Suns to open the period with a 5-0 run, at which point Chicago coach Phil Jackson decided to give Jordan a rest. Shaky would not be the word to describe the Bulls' next two possessions—try tortured—which resulted in a 24-second violation and a frantic miss as the shot clock was about to blare once again.
And so Jordan, Chicago's one-man M*A*S*H unit, quickly checked back in and instructed his teammates that he would take the shots from now on, thank you very much. Over the next eight minutes he was the only Bull to score, and his rebound and ensuing unimpeded coast-to-coast layup drew Chicago to 98-96 with 38.1 seconds remaining.
The Suns had a shot to regain a four-point edge, but Dan Majerle air-balled a short jumper, and the Bulls got the ball back with 14.1 seconds left. After a timeout, a betting man (which number 23 most assuredly is) could have gotten 100-to-1 odds that Jordan would take the final shot. The ball was indeed inbounded to Jordan, but he soon passed to Scottie Pippen in the frontcourt. Jordan then cut past Pippen, hoping for a return pass. But Jordan was too closely covered by Phoenix guard Kevin Johnson, so Pippen spun and charged toward the basket, only to find his path blocked by Sun center Mark West. That forced Pippen to dish the ball to Horace Grant along the left baseline. Considering that he had missed his last nine shots, including an uncontested layup, Grant wisely chucked the ball back to Paxson, who was hovering quietly behind the three-point line "just in case they needed me." Paxson took his two pitty-pat steps, released a shot that "I've taken hundreds of thousands of times" and watched. "It seemed like the ball was in the air for about an hour," said Phoenix coach Paul Westphal. Then it dropped through.
The Suns still had those 3.9 seconds in which to try to win the game, but Grant blocked Johnson's driving juniper to preserve the win and put the Bulls in the history books as only the third team to win three straight titles, the Minneapolis Lakers having done it from 1952 through '54 and the Boston Celtics having won eight straight from '59 through '66.
Jordan, his presence of mind extending even beyond the final buzzer, immediately chased down the historic game ball before joining his celebrating teammates.
To a man the Suns seemed stunned by the final turn of events. It had taken a while, but with two victories, 129-121 in triple overtime in Game 3 and 108-98 in Game 5, at Chicago Stadium, Phoenix had established itself as a team of character and heart. Along the way the Suns made the significant discovery that champions have to play tough and tenacious defense, which they did in Game 5 and for long stretches in Game 6. Indeed, Phoenix should be the preseason favorite for the 1994 title—as long as Barkley doesn't follow through on his postgame musings concerning his possible retirement.
Sir Charles's departure would be a shame because he has clearly surpassed Jordan as the NBA's premier "personality." Before the Suns' Game 5 win, Barkley (registered in Chicago's Westin Hotel under the name of Quinn Buckner) received a call from Walt Disney chairman Michael Eisner, who asked whether, win or lose, Barkley would deliver the company's famous "I'm going to Disney World" message after the series. (He turned him down.) In contrast to the dread with which the Bulls approached their three-peat task, Barkley continually reminded us that a dominating player can actually have fun on the court.
Though he wouldn't admit it—"I don't want to say any basketball player is better than I am," he said early in the series—Barkley knows in his heart that his bald-headed homeboy, the guy he described as "the one player I'll accept losing to if I have to lose," is clearly the best man between the lines.
Perhaps the most amazing thing about Jordan is the huge gap in sheer ability between him and his contemporaries. True, Barkley won this year's regular-season MVP award, breaking Jordan's bid at a three-peat in that category, too, but it's doubtful that he would have gotten a single vote had the voting occurred after the playoffs. Jordan's postseason run was nothing short of magnificent, especially considering the off-court distractions with which he had to deal. His buzzer-beating shot in Game 4 of the Bulls' Eastern Conference semifinal against the Cleveland Cavaliers did not just complete a sweep, it also shook up the franchise. Longtime Cav coach Lenny Wilkens resigned seven days after the series ended, and Mike Fratello was hired last week to pick up the pieces of a team psyche that has been shattered time and time again by Michael Miracle. That's power.
Then came the Eastern finals and the New York Knicks, who were plenty tough. Making things tougher for Jordan were the revelations of his late-night foray to an Atlantic City casino before Game 2 and the allegations of his high-stakes gambling in Richard Esquinas's book, which cropped up before Game 6. During that series Jordan stopped talking publicly and then ripped oil 54 points in Game 4 and steady 29- and 25-point performances in Games 5 and 6, respectively. Run silent, run deep.
Finally, against Phoenix, Jordan had to overcome a dizzying array of defenders (Johnson. Majerle and Richard Dumas all guarded him from time to time) as well as the hard reality that his team—dare we use Jordan's favorite description of "supporting cast"?—was disappearing before his very eyes. All you need to know about Jordan's work in the six-game series, during which he averaged 41 points (a Finals record), 8.5 rebounds and 6.3 assists a game, was that he scored his average in Game 5 and the Suns were overjoyed with the defensive job they had done on him. That's because he had bopped them for 55 in Game 4, a 111-105 Chicago win.
"I think Michael would like to have been right there in the thick of it with me and Larry," Magic Johnson said before Game 5 in Chicago. "See, with us, we didn't have to look for motivation all the time. We knew right where it was—in Boston for me, in L.A. for Larry. But Michael doesn't have the benefit of that."
Indeed, there is no foil for Jordan, not even the shining Sun—for all of Barkley's belligerent brilliance, he was still out-scored by Jordan by an average of 14 points per game in the Finals. One can only wonder what at all is left for a man who has won seven straight scoring titles while being named to the all-defensive team six straight years. How much better can he get? Which basketball ghosts is he chasing on his way to the Hall of Fame?
There would seem to be four players with whom realistically to compare Jordan: Magic and Bird, both of whom were three-time regular-season MVPs; Bill Russell, the ultimate winner, who led the Celtics to 11 championships in 13 seasons; and Oscar Robertson, whose versatility, leadership and coldhearted competitiveness during 13 seasons make him closest to Jordan in playing style.
The first two players are picked off by the simple fact that Jordan has guided an average team to three titles, while Magic and Bird made already good teams great. It's indisputable: Jordan never had an Abdul-Jabbar, a Worthy, a Mel laic, a Parish. He had a Pippen, an All-Star, to be sure, and turned him into a Dream Teamer.
Comparisons made across the ages are often unfair, but they are most judiciously made by players from the distant eras who have seen both generations. And Jordan gets overwhelming support from two such men, Willis Reed and Bob Cousy, perceptive observers then and now.
"There's no question in my mind that Jordan is the best," says former Knick star Reed, now general manager of the New Jersey Nets. "Bill Russell won all those championships, so you can't take anything away from him. But if you take all the aspects of the game, you have to say Michael is the best. The guy wins scoring titles, and he's one of the best defensive players of all time. That says it all."
Cousy, a centerpiece of Celtic lore, once selected Bird as his alltime best, but not anymore. "As far as I'm concerned, Michael is Nureyev against a bunch of Hulk Hogans," says Cousy. "His talent is that far above everyone else's. Russell was the most productive center I've ever seen, and he complemented the talent we had. But you can say that he wasn't as good a shooter as some other people. Jordan doesn't have any area like that."
Robertson? Well, the Big O's feat of averaging a triple double over the course of a season (30.8 points, 12.5 rebounds and 11.3 assists in 1961-62) will probably never be matched, not even by Jordan. But night in and night out, he did not play Jordan's brand of defense, which on the ball is hard-nosed and off it is a gambling, sneak-into-the-passing-lanes nuisance.
"Oscar was great defensively when he wanted to be," says 68-year-old Bull assistant Johnny Bach. "But Michael is the Tasmanian devil."
Perhaps the most sincere, and succinct, vote for Jordan comes from the Atlanta Hawks' Dominique Wilkins, who was asked before Game 6 to assess Jordan's place in history. Said Wilkins, "Can't nobody have done better."
It's not just the obvious that makes Jordan special. Dave Twardzik, the Charlotte Hornets' vice-president of personnel, says that the most incredible thing about Jordan is his stamina—he averaged nearly 40 minutes a game during the regular season, which increased to more than 45 in the championship series. "It was a long time ago when the best players used to play 45 to 48 minutes a game," says Twardzik, "and that was when the game was a lot slower."
Paxson is most impressed by Jordan's steadfastness in accepting responsibility. "Night after night, year after year, he just carries this team," Paxson said before Game 6. "He never avoids it, never shirks it." Incredibly, the Bulls have not lost three games in a row since the beginning of the 1990-91 season, a statistic that is directly attributable to Jordan's competitiveness and drive.
Then, too, Jordan simply adds a distinctive style, an èlan that only a few players in NBA history could have matched (Connie Hawkins, Earl Monroe, George Gervin, Pete Maravich and Julius Erving come to mind). Jordan captured our imagination, of course, with his aerial acrobatics—the spectacular dunks, the knifing between defenders, the switching of the ball from one hand to the other in midair. The most distinctive facet of his game these days, however, is his ability to create space for his jump shot. Typically, he puts on the brakes after a full-bore dribble toward the hoop, often literally skidding to a stop, like the Road Runner about to befuddle Wile E. Coyote, then sweeps the ball across his body and heads in another direction before firing away with a nearly unobstructed view of the rim.
"The main thing to remember about Michael," says Bach, "is that God only made the one."
But "the one," as we all know, seems to have grown less and less content over the years. Does it matter that in this series Barkley clearly beat Jordan in the ancillary contests of Mister Congeniality and Mister Popularity, just as Magic had beaten him in the 1991 Finals? Sure, it matters. Gone is much of the spontaneous joy that Jordan brought to the game in 1984, when he entered the league with a head of hair, a pair of North Carolina shorts beneath his Bull uniform and a boyish appetite for fame and glory. But somewhere amid all the adulation and pressure, a spark went out of Jordan—one that, it seems, will never return.
Not long after Game 6, Jordan sat in a quiet room in the America West Arena, having just completed an interview with ESPN. He held a bottle of champagne and an unlighted cigar. "O.K. if I just sit here a minute?" he asked ESPN's Dan Patrick. "It's crazy out there."
And when he finally left the room, it was indeed crazy again, with reporters, fans, photographers, family members, even a man with a monkey clamoring for his time and attention.
"Hey, Michael, just one picture," said the monkey man. Jordan obliged him, glancing at the creature that was clinging to the man's shoulder. "Hey, look, it's Charles," said Jordan.
It was nice to see the world's greatest player, at the moment of his greatest triumph, able to make a joke. Can't nobody have done better.
PHOTO
JOHN W.
MCDONOUGH
Amid the pandemonium of the postgame celebration, Jordan (partially obscured between two Bulls at right) charged toward a prized memento: the game ball.
PHOTO
MANNY
MILLAN
Against the Suns, Jordan had 8.5 rebounds a game to go with his record 41-point average.
PHOTO
ANDREW D. BERNSTEIN/NBA
PHOTOS
After making the game-winning assist, Grant blocked KJ's attempt at last-second glory.
PHOTO
JOHN W. MCDONOUGH
[See caption above.]
TWO
PHOTOS
ANDREW
D. BERNSTEIN/NBA
PHOTOS
A downcast Barkley still doesn't have a ring, but Jordan has three—and is still counting.