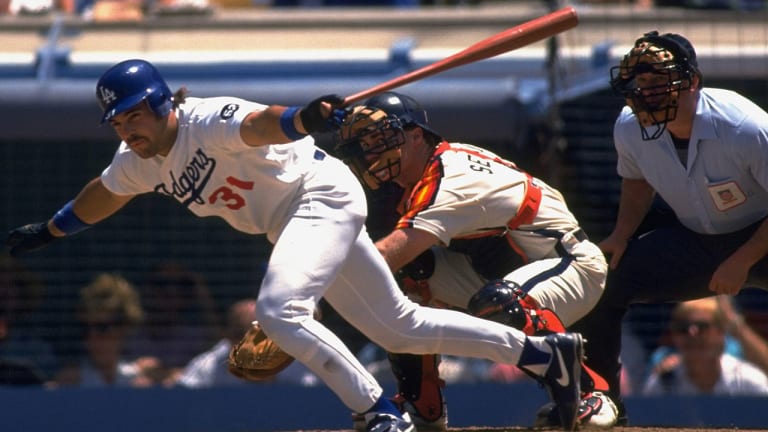 A Piazza With Everything
Rookie catcher Mike Piazza brings a hot bat, a fiery intensity and a touch of the paisano to Tommy Lasorda's lineup
Tommy Lasorda is on his feet, pontificating again. As he watches an old movie on the big-screen TV in his office, changes out of his sweaty batting practice T-shirt and eats simultaneously from two of the largest bowls of salad ever tossed, Lasorda spews superlatives—and shreds of lettuce—about the Los Angeles Dodgers' latest lock to win a National League Rookie of the Year award, catcher Mike Piazza.
"Michael will be a marquee player for us, an impact player," says Lasorda, the Dodgers' manager for 17 years. "People will come from all over the country to see him play." That might sound like typical Dodger Blue bluster, but there is good reason to take every Lasorda mouthful as gospel. He has been right about Piazza before.
A distant relative of Lasorda's and a son of the manager's closest friend, Vincent Piazza, Mike was a courtesy pick in the 62nd round of the 1988 free-agent amateur draft. "I asked the Dodgers to draft him as a favor," Lasorda says. "And, thank God, they did."
When L.A. didn't re-sign 13-year veteran Mike Scioscia in the off-season, the Dodgers opened spring training this year without a regular catcher. But Piazza, with all of 21 big league games under his belt, made short work of the four-man fight for the job by swinging a hot bat from the outset. He hit .478 and four home runs in the spring, and he hasn't cooled off since.
At week's end Piazza was ranked among the top 10 players in the National League in five offensive categories, with a .331 average, 15 home runs, 52 RBIs, a .556 slugging percentage and 143 total bases. What's more, the 24-year-old rookie had led the Dodgers—a team coming off its worst finish, last in the National League West, since 1905—into third place, with 11 game-winning RBIs.
"He is a very good mistake hitter," says Atlanta Brave pitcher Greg Maddux, whom Piazza has tagged for three hits in four at bats. "I hung a changeup to him, and he hit it out of the park. He's one of the better hitters in the game right now; he has tremendous bat speed. A lot of people have trouble in their second or third year after a really good first season, but I would be really surprised if he did."
Piazza has already hit as many home runs as Johnny Bench did in his Rookie of the Year season with the Cincinnati Reds (1968), and he could wind up as the first rookie catcher to hit .300 since Benito Santiago did it with the San Diego Padres in '87. Piazza is making headlines 40 years after Roy Campanella had the greatest season ever by a Dodger catcher: Campy hit .312, with 41 home runs and 142 RBIs, in 1953. Piazza says Campanella, who was a fixture at Dodger Stadium until his death last Saturday night (POINT AFTER, page 70), "was very inspirational to me and helped me out a lot."
Barring a total collapse at the plate, Piazza is in line to become the sixth Dodger to be named Rookie of the Year in the last 15 seasons, joining Rick Sutcliffe (1979), Steve Howe ('80), Fernando Valenzuela ('81), Steve Sax ('82) and Eric Karros ('92). Now it's hard to tell who did the favor for whom. Sure, Lasorda opened a door for him, but Piazza has blown it off its hinges.
"Sometimes I look around, and I think, 'What the hell am I doing here?' " Piazza says. "Someday someone is going to drag me away and put me in a Looney Tune."
His improbable story began not when he sneaked into professional baseball through the back door but when he was 11, playing in his backyard. At an age when most boys are building forts and tree houses, Piazza and his father were assembling a big league pitching machine and erecting a makeshift batting cage behind their modest house in the Philadelphia suburb of Phoenixville. From then on, South Spring Lane echoed with the ping of aluminum on leather, no matter what the season or time of day.
In the winter Mike would shovel the snow out of the cage, heat the baseballs on the stove and wrap pipe insulation around the bat handle so his hands wouldn't sting. "I was out there every day," he says. "I would come home from school, get a snack, watch cartoons and then hit. Every spring I would see that I was hitting the ball farther and farther."
Eventually Vince enclosed the batting cage by adding a roof and paneling, along with a heater. "It was such an ugly thing; I can't believe the neighbors didn't complain," he says. "Actually the zoning board came by once to investigate. When they asked what it was, I told them it was my son's ticket to the major leagues."
Vince had grown up a few blocks from Lasorda in Norristown, Pa., and he had idolized Tommy, who was six years older and the town's best ballplayer. "I was his little buddy," Vince says. "We were inseparable—like family. Actually my mother and his mother were fourth cousins."
Years later, when Vince, who parlayed a used-car dealership into a string of successful businesses, and Tommy, who went from being a mediocre minor league player to manager of a world champion, got together in the off-season, they would half-kiddingly kick around the prospect of Mike's one day wearing Dodger Blue. "It's something we had hoped would happen," says Lasorda.
Still, who could have known that this kid—the batboy who worked the Dodger games when the team played in Philly—would someday grow into a major league uniform of his own? None other than Ted Williams, that's who.
It just so happened that Williams was a friend of a friend of Vince's, and it just so happened that the Hall of Famer had a few hours to spare one Saturday morning in 1984 before making an appearance at a card show near the Piazzas' home. Breakfast that morning was followed by some cuts in the cage and a little batting instruction for 16-year-old Mike from an expert—an event the family videotaped. "I couldn't even talk because I was so nervous," says Piazza.
Williams filled the gaps with his usual deft touch. "Mike hits it harder than I did when I was 16," he says on the tape. "I guarantee you, this kid will hit the ball. I never saw anybody who looked better at his age." And no wonder. When Williams asked Mike, "Son, do you have my book on hitting?" the kid smiled. Fie had memorized it.
As a senior in 1986 Piazza broke the Phoenixville High career home run record (previously held by major leaguer Andre Thornton), but big league scouts didn't show much interest in him. He played first base and hit over .400, but he lumbered along the base paths as if they were made of quicksand. "I have talked to a lot of scouts since then who said they didn't like anything about me," says Piazza. "They said that I couldn't run or hit."
So Lasorda made a phone call to a good friend, Ron Fraser, then the University of Miami baseball coach. "I got Mike into Miami," Lasorda says. But Piazza was in over his head at Miami. As a backup first baseman his freshman year, he had one hit in just nine at bats and quit the Hurricanes at the end of the season. Piazza then transferred to Miami-Dade North Community College for his sophomore year and hit .364 playing for another one of Lasorda's cronies, Demie Mainieri. To help attract scholarship offers from four-year schools, Lasorda arranged for Piazza to be drafted by the Dodgers.
He was L.A.'s final pick, the 1,389th player chosen overall, and the news arrived in the form of a mailgram that read like a Publisher's Clearing House sweepstakes: "Congratulations! You have been...." No one takes courtesy picks seriously, so it wasn't until two months later, in early August 1988, that a Dodger scout finally got around to calling Piazza—and when he did, it was to find out which school Piazza would be attending that fall. Piazza responded with a request for a try-out instead.
With Lasorda and Ben Wade, then the club's scouting director, looking on at Dodger Stadium, Piazza says, "I just hammered balls into the blue seats."
Lasorda turned to Wade and asked, "If he was a shortstop who could hit balls into the scats like that, would you sign him?"
"Yes," said Wade.
"If he was a catcher who could hit balls into the seats like that, would you sign him?" Lasorda asked.
"Yes," said Wade without hesitation.
"Then he's a catcher."
"No he's not, he's a first baseman," Wade protested before giving in. "O.K., O.K. Let me see him throw."
"I threw as hard as I could," says Piazza. "I think my arm is still hurting from that day." Wade offered him a $15,000 signing bonus. "If he would have said, 'You have to pay me $15,000,' " says Piazza, "I would have said, 'Well, let's see. I have 10 grand in the bank and...." I said yes before he said 'thousand.' He could have said $15, and it wouldn't have mattered."
Piazza spent his rookie league season in 1989 learning his new position, then he volunteered to sharpen his skills at Campo Las Palmas, the Dodgers' baseball academy for Latin prospects, in the Dominican Republic. No American player had ever requested such an assignment. And no wonder. For nearly three months he dined on the same fare—"For breakfast, two poached eggs and something I think was ham; for lunch, chicken broth and two ham sandwiches; and for dinner, beans and rice, a little bit of beef and sugarcane juice"—struggled with a language barrier and shared his bunk with tarantulas. But when he returned to the U.S., he was trim, knew a little Spanish, was slightly arachnephobic and, best of all, had become a better catcher.
Last season was Piazza's best in the minors—he hit .377 and had seven home runs in 31 games at Double A San Antonio, and .341 and 16 homers in 94 games at Triple A Albuquerque—and it earned the righthanded slugger a call-up to the Dodgers in September. He hit .232 and one home run in 69 at bats against major league pitching and handled himself well enough behind the plate to get a shot at making the L.A. roster this spring.
Obviously Piazza's powerful batting stroke has been his greatest asset this season—Lasorda compares his swing to Ralph Kiner's—but he has also been a pleasant surprise on defense. He quickly gained the confidence of the Dodger pitching staff, and he started the year by nailing 11 of 15 base runners attempting to steal (he was 33 of 87 through Sunday).
Piazza has been called Snapper by some teammates because of his emotional outbursts and intensity on the field. In a May 31 game against the St. Louis Cardinals, with Tom Candiotti on the mound for L.A., Piazza lunged for a low knuckle-ball and threw off balance to second, trying to catch Ozzie Smith stealing. But the ball hit Candiotti square on the butt. Laughter broke out on the field, but Piazza was embarrassed and angry. "He takes everything so seriously," says Karros, who shares a Manhattan Beach house with Piazza and two other friends. "When he hit Candiotti, we were winning 5-0, so who cares? He was screaming and cursing. Jeez! It was funny."
The next day the entire L.A. pitching staff showed up in the dugout with targets stuck to the seats of their pants. "He still felt pretty bad about it," says Candiotti. "He said to me, 'What if I had hit you in the arm?' Catching is not a casual thing for him. If I lose a game, he feels like he let me down."
Away from the game Piazza is surprisingly laid-back. "Some people expect me to be just like Tommy," he says. "Everyone recognizes him as the Slim-Fast guy, a great speaker and a great motivator, but I'm so low-key. The comparisons come with the territory. The time will come when it's not important anymore, and it will be swept under the carpet."
Piazza could have used some of that housekeeping last September, when his major league debut was overshadowed by his father's involvement with a group of investors who were trying to buy the San Francisco Giants and move them to St. Petersburg, Fla. Instead of asking Piazza about his 3-for-3 performance in his first game as a Dodger, on Sept. 1, reporters were more interested in quizzing him on whether Lasorda would become the manager in St. Petersburg.
Nine days later major league owners rejected the group's application for ownership, reportedly because two partners failed a background security check. Three months later Vince filed a discrimination suit against Major League Baseball; the suit is still pending.
There was some more commotion this spring when reporters were led to believe that Lasorda was Piazza's godfather. Neither man bothered to set the record straight until recently—the youngest of the five Piazza boys, 11-year-old Tommy, is, in fact, Lasorda's godson—so questions of nepotism continually surfaced throughout spring training. They still come up on occasion, and all Piazza can do is throw his hands up in frustration.
"Like I don't deserve to be here?" he asks. "Like Tommy's doing me a favor by letting me on the team? Like all of this was done with mirrors?" Like chill out, Mike. You're probably headed for the All-Star Game in a few weeks.
"Through endless hours of practice you can achieve your goal," Lasorda says while shoveling lettuce into his mouth. "The difference between possibility and impossibility lies in a man's determination. Michael had a mission to prove everybody wrong."
Lasorda pauses, digests the sheer improbability of Piazza's story, and then he continues, "I stayed at his parents' house back East before the season started, and late at night I would hear Pow! Pow! Pow! At 1 a.m. he would be down there in the batting cage practicing. Just practicing...."
PHOTO
V.J.
LOVEROPHOTOSTEPHENGREENAlways a slugger, Piazza had to become a respectable catcher to make the big leagues.PHOTOV.J. LOVEROSince he was a boy, Piazza has been able to count on family friend Lasorda in a pinch.