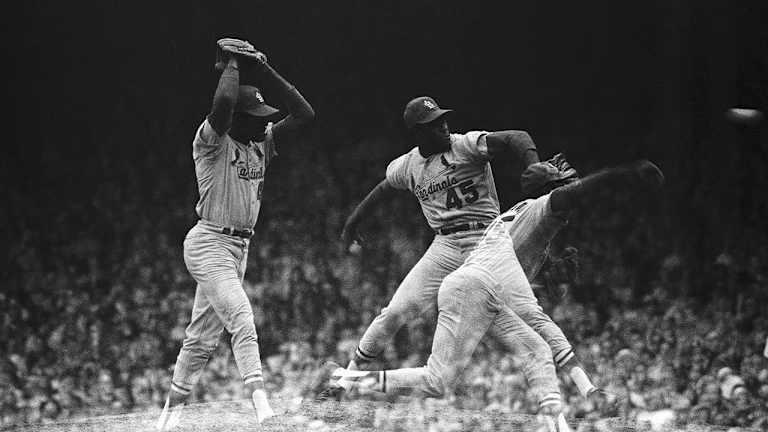 The Season of High Heat
In the tumultuous summer of 1968, pitchers Denny McLain and Bob Gibson set baseball ablaze
That Wednesday witnessed the rare alignment of two American spectacles. It was both Opening Day and Oscar Night. The Cardinals opened against the Atlanta Braves in St. Louis, the Tigers opened against the Boston Red Sox in Detroit and an opened envelope in Los Angeles revealed the portentous name of the year's Best Picture: In the Heat of the Night.
This was in 1968, a profoundly terrible year, white-hot and pitch-black, much like the movie's title. On Jan. 30, the beginning of the Tet holiday in Vietnam, the Viet Cong launched an offensive that would mean thousands of casualties. Amid escalating disenchantment with the war, Lyndon Johnson ended his televised address to the nation one Sunday night in late March by dropping this bulletin from out of the blue: "I shall not seek and I will not accept, the nomination of my party for another term as your President." The bombshell was still whistling eight days later, when the baseball season was scheduled to begin, bringing with it relief from the roil of real life. But the games were forestalled for 48 hours, moved from Monday, April 8 to Wednesday, April 10, to accommodate a funeral on the Tuesday in between. At the Ebenezer Baptist Church in Atlanta, the congregation gathered to bury its pastor, the Reverend Dr. Martin Luther King Jr.
"I always turn to the sports section first," the Chief Justice of the Supreme Court of the United States of America once said. "The sports page records people's accomplishments; the front page has nothing but man's failures."
The Honorable Earl Warren spoke those words sometime before the Democratic Convention in Chicago and after the assassination of Robert F. Kennedy in Los Angeles, in the summer of 1968.
Dennis Dale McLain stands out sharply, a single paisley page in a year papered with bad tidings. His was the one story Chief Justice Warren could turn to every day, a wildly entertaining summerlong diversion of epic accomplishment in which a 24-year-old righthanded pitcher for the Detroit Tigers attempted to become the first to win 30 games in the major leagues since 1934. He was oblivious, impervious, victorious.
"I remember a game, I think it was against Washington, when he was ahead 3-0 in the ninth," says Jim Northrup, the Tiger rightfielder in 1968. "Denny's first pitch was a fastball hit for a home run. His second pitch was a fastball hit for a home run. Then he struck the next three batters out on fastballs. I went to him and said, 'Denny, did it ever occur to you to throw anything but a fastball?' He said, 'Why? When was the last time you saw anyone hit three home runs in a row?' "
Those Washington Senators had opened at home against the Minnesota Twins, with riot-ready National Guardsmen bivouacked in the ballpark in the nation's capital, anticipating more of the violence that had erupted in cities across America in the wake of the King assassination. Nineteen sixty-eight was a profoundly terrible year, white-hot and pitch-black, but the words white and hot and pitch and black also evoke the summer's one enduring sweet memory—of impossibly hot pitchers, and the white of a ball on the black of the plate.
But even in the Year of the Pitcher—in which 339 shutouts were thrown, in which 82 games ended in scores of 1-0, in which Los Angeles Dodger pitcher Don Drysdale threw a record six consecutive shutouts, in which seven pitchers had ERAs under 2.00, in which all but one man in the American League hit under .300, in which Gaylord Perry of the San Francisco Giants and Ray Washburn of the St. Louis Cardinals threw no-hitters on consecutive days against each other's teams—even in that season, two pitchers were transcendent, and Denny McLain was one of them.
They say he pitched on three days' rest. "There wasn't a lot of rest," McLain remembers. "The days began at 7:30 in the morning. And they never ended."
In his pursuit of 30 wins, McLain zoomed about in Lear jets, played Hammond organs, swigged Pepsi-Colas, schmoozed with Steve Allen, Bob Hope, Ed Sullivan, Joey Bishop, Glen Campbell and the Smothers Brothers, changed his hair color, appeared on the covers of TIME and SPORTS ILLUSTRATED, recorded an album, gave organ lessons out of his home to two dozen students at $3.50 an hour and got himself booked in advance into the Riviera in Vegas, the Detroit Auto Show, Disneyland and a hundred other places to play electric keyboard with his band come winter.
Correction: McLain recorded two albums on Capitol Records in 1968: Denny McLain at the Organ, of course, and another one, Denny McLain in Las Vegas, recorded live. ("If you'd like to hear it," says McLain of the second, "I can sell you a couple thousand copies.")
All the while, he was laying down a third, unbreakable, modern-day record of 31 wins in a season. "He just won every time out," recalls former Tiger infielder Dick Tracewski. "It seemed like he pitched every day and won every day." Sometimes McLain chose simply not to return to the ballpark at all between starts. "When you're doing well," he says today, "certain liberties are extended to you." He was doing very well in the summer of '68, and Tiger management extended more liberties than the Bill of Rights.
Aflame in the heat of a St. Louis summer, in the stifling cream and cardinal-red flannels of that city's baseball team, Bob Gibson cut an equally laughable figure that season. The figure was 1.12. It was his ERA, the lowest ever by a big league pitcher with more than 300 innings pitched. A quarter century later, men who are themselves Hall of Fame pitchers have expressed awe at his performance. Drysdale, speaking just a few weeks before his recent death, shook his head as he said, "Bob Gibson with a 1.12 ERA. That's almost obscene."
In one span of 92 innings in June and July, Gibson allowed two runs. One was driven in by a hitter with a full count who fouled off three pitches before hitting a double that landed on the foul line. The other run scored on a wild pitch.
Gibson made 34 starts in 1968: He finished 28 of them and was lifted for a pinch hitter in the other six, which means he was never removed from the mound all season. Just as well: Given Gibson's menacing personality, a manager would have had to wear oven mitts to remove him. And it was a demeanor even meaner to opposing players. "You wouldn't see him talk to the other players at all," says former Cardinal manager Red Schoendienst. "It seemed like he just hated them. He said. 'I ain't going to get friendly with anybody.' "
"He was a nasty guy," says McLain. "Nasty. He was antisocial. We did the Bob Hope show together that year and the——guy barely spoke to me.... He's a thousand percent better now, but he's still intimidating."
How fierce was the competitive urge in this man? Consider the kind of atrocities that were required to knock Gibson out of the box. This is the pitcher whose world championship season of 1967 was only briefly abridged by a broken leg he suffered from a Roberto Clemente line drive that left a vapor trail on its way to fracturing the righthander's right leg just above the ankle. Before being trundled off the field that day, Gibson pitched to the next three batters. Again: On a broken leg.
"Nothing that has ever been said about Bob Gibson and his talent has ever been overstated," says Tim McCarver, his catcher for 10 years in St. Louis. "Everybody embellishes, but with Gibson, there is no way to do so out of the realm of fact."
Thus, there is no reason to doubt former Cardinal leftfielder Lou Brock when he says flatly of Gibson: "As I recall, he didn't make one bad pitch over the plate that year."
Not one. "That whole season," continues McCarver, "he could hit an area six inches by six inches right above the hitters' knees. We'd call it the cock box. He could put it in that box whenever he wanted to. At will."
So we have these two characters, Denny McLain and Bob Gibson, white and black, a Garrulous Gus and an ornery cuss, at the opposite poles of personality. They were an irresistible force and an immovable object, both Cy Young and MVP winners, hurtling toward each other and October through the last pure baseball season, while the game was still undiluted by the divisional play and four-way expansion that awaited in 1969.
To most major league pitchers, three strikes meant an out. To McLain, three strikes meant a turkey. "I tell you what it was," he says, putting a thick finger on the reason for his success in '68. "I really believe this. I'd always been an avid bowler. And that winter [of '67-68], I bowled 60, 70, 80 lines every day. And because of that exercise routine, I got stronger. I really believe that bowling had more to do with me winning 30 than anything else."
Eighty lines? Perhaps he said 18 lines. But even if it would require 16 of every 24 hours to bowl 80 lines a day, well, nothing was too inane for McLain in the multicolored summer of '68. In the year in which the Beatles released their "White Album," McLain wore one tinted contact lens and one untinted contact lens while his hair color changed that spring in mystifying fashion, from blond to red and back again.
By May 10 a musical called Hair was completing its second week at the Biltmore Theater in New York City, Catfish Hunter of the Oakland A's had already thrown a perfect game, the United States and North Vietnam were about to begin peace talks in Paris, and McLain was 5-0, having already been quoted (misquoted, he would insist) calling Detroit fans "front-runners and the world's worst."
"If people go along with us and stay off our backs," he added, "we'll win this thing."
Gibson, meanwhile, saw his record slip to 3-5 on May 28 with a four-hit loss to the Giants. In those five losses, the Cardinals scored a total of four runs.
In an even graver baseball injustice, the day before Gibson's fifth loss, National League owners voted to award new franchises, at an admission price of $10 million apiece, to San Diego and Montreal. Montreal! Seven U.S. congressmen protested the idea of a franchise in Canada, and is it any wonder? Baseball was America's last best hope of harbor that summer, the national pastime in a nation eager to make time pass.
On the evening of Tuesday, June 4, Don Drysdale beat the Pirates in Los Angeles for his record sixth consecutive shutout; 10 minutes from Dodger Stadium, at the Ambassador Hotel downtown, Robert F. Kennedy celebrated his victory in California's Democratic presidential primary.
In his speech to supporters, the senator congratulated Drysdale on his historic win that night. The two men were casual friends, and it had been only recently that Drysdale and actor Chuck Connors, the Rifleman and ex-Dodger, had visited Kennedy at his Hickory Hill home in Virginia.
As Drysdale drove home from Dodger Stadium late that night, he did so with a happy buzz in his head. He turned on his car radio and heard a replay of Kennedy's speech, heard his own name mentioned and heard the announcer say that en route from the victory rally to a press conference, in the kitchen passageway of the Ambassador Hotel, at 12:16 a.m., Senator Robert F. Kennedy had been shot. Jesus Christ! Drysdale thought. Could this he happening? God Almighty!...
"You just get through hearing him mention your name," Drysdale said recently, "and then bang!"
Later that day, Wednesday, June 5, Kennedy lay in a coma at Good Samaritan Hospital in Los Angeles: that night in Detroit, McLain beat the Red Sox to run his record to 9-1. At 1:44 a.m. on Thursday, June 6, Senator Kennedy was pronounced dead; in Houston that night, Gibson threw a three-hitter against the Astros to even his record at 5-5. Two days later, Kennedy's body was borne by train from his funeral at St. Patrick's Cathedral in New York City to Washington, D.C., for burial at Arlington National Cemetery. The second story on the news that evening was of the arrest of the suspected assassin of Martin Luther King Jr.—James Earl Ray had been picked up by Scotland Yard at Heathrow Airport in London.
Not that it mattered, but Drysdale's scoreless streak ended that night against the Philadelphia Phillies at 58⅖ consecutive innings, a record that would stand for two decades. For the rest of his life, he kept a tape of Kennedy's victory speech.
Anyone will tell you: Never mix organs and airplanes, Bach and Mach, the first two loves of Denny McLain. "Aviation and keyboards," he likes to say. "The two bugs that bit me in the ass."
The Tigers and the Cardinals had 9½- and 10-game leads, respectively, at the All-Star break. Gibson had won eight consecutive games, including live straight shutouts, and was 11-5. McLain was 16-2. His road roommate was Ray Oyler, who asked McLain at the All-Star break if he could win 30 games.
"Book it," said McLain, who could have then done just that, in the gaming capital of the world. The Tigers finished the first half of the season in Detroit, whereupon McLain enjoyed this itinerary: After beating the A's on Sunday, he chartered a jet to Las Vegas for Monday, flew to Houston and pitched two scoreless innings in the All-Star Game on Tuesday (it was, fittingly, a 1-0 contest), returned to Vegas (perhaps to book an off-season engagement at the Riviera for his band) on Wednesday, then flew on to Minnesota to rejoin the Tigers for their game against the Twins on Thursday.
Which reminds us: McLain was in Minneapolis to play an organ gig sometime before the '68 season. Suddenly, he remembered an engagement scheduled for that same afternoon at a music store in Detroit. So he flew to the Motor City and hustled to the store and was startled to find it virtually empty.
"Isn't Denny McLain supposed to be playing the organ here?" McLain asked the store manager.
"Yes," said the manager. "Next Saturday."
"Thank you," said McLain, who left the store, returned to the airport and caught the next flight back to Minneapolis.
The two men were oddly emblematic of their time. When Bob Gibson, who grew up in Omaha without a father but with asthma, rickets and a rheumatic heart, was asked after his fifth straight shutout that summer whether he felt pressure to break Drysdale's record, he responded: "I face more pressure every day just being a Negro."
When Denny McLain, whose family was South Side Chicago Irish, visited Comiskey Park with the Tigers late that summer, he saw relatives who were, naturally, cogs in Mayor Richard J. Daley's political machine. The Democratic convention had been held in sweltering Chicago the last week of August, and the mayor had turned his cops loose on all the hippies and Yippies who were occupying the city.
"I had three uncles on the police force," says McLain. "Our family was as political as any family making under $10,000 could be. I remember one of my uncles, who went about six-five, 1,000 pounds. I was in town to play the White Sox after the convention and I remember him telling me what a great thrill it was to beat on people legally. You weren't allowed to be different in Chicago in those days."
But New York was another story. There, on Aug. 19, Farrar, Straus & Giroux was publishing The Electric Kool-Aid Acid Test while McLain was sitting in the Cottage Room of the Hampshire House hotel, working the three-deck keyboard of the X-77 Hammond organ as a throng of reporters recorded the event. "Hammond," McLain recalls, "installed an organ everywhere I went that summer." And McLain would always oblige an audience with a number or two, especially where an endorsement was involved. The man, after all, had a dog named Pepsi.
That same day the gathering storm that was Bob Gibson two-hit the Phillies for his 15th consecutive win, his 18th overall, his 10th shutout. Within 48 hours, 200,000 troops led by the Red Army would be rolling over Czechoslovakia. But in the U.S., with the political conventions finished and the presidential election still distant, there were two baseball questions to consider as September cooled the simmering country. In regard to Gibson and his ERA: How low could he go? In regard to McLain and his victory total and just about everything else in his life: How high would he fly?
On Sept. 2, Gibson won his 20th game, 1-0 over Cincinnati in 10 innings. It was his 12th shutout, and his ERA was reduced to 0.99. It is no secret that he despised opposing teams and, it seems, just about everyone else, and now he was obstinately refusing to grant so much as a single run. Things were getting ridiculous.
Ri-dic-ulous. On Sept. 10, McLain won his 29th game, against the California Angels in Anaheim. He went 3 for 4 with a triple, went out for drinks with Glen Campbell afterward, went to sleep (perhaps), went to Disneyland the next morning to arrange an off-season booking, went to Capitol Records to pose for publicity stills, went a little farther down Vine Street to tape The Steve Allen Show, for which he played the organ and played catch with Allen and Pat Harrington Jr., and then went back to the Big A for the Tigers' game. When the team flew back to Detroit sometime after 1 a.m., McLain was in the copilot's seat of the 727, the same seat he was sitting in when the plane landed at 7:30 a.m.
On Sept. 13, he appeared on the cover of TIME.
On Sept. 14, a Saturday afternoon, he won his 30th game, 5-4, against the A's and Chuck Dobson. It happened before a nonsellout crowd of 44,087 at Tiger Stadium and a national audience watching on NBC. "It was a blur," McLain says of the season. "There are very few games I recall. The only reason I remember the 30th win is because Chuck Dobson was wearing a sign taped to his back that said GOING FOR WIN NUMBER 12."
Interviewed afterward by NBC's Sandy Koufax and by Dizzy Dean, who had been the last 30-game winner in the major leagues, McLain called Tiger fans—you'll enjoy this—"the world's greatest."
On Sept. 16, Capitol released Denny McLain at the Organ, but McLain's thunder was stolen that night when Republican presidential nominee Richard Nixon opened Rowan & Martin's Laugh-In by saying, "Sock it to me?"
On Sept. 19, McLain won his 31st game. He had a 6-1 lead against the New York Yankees in the eighth inning when Mickey Mantle stepped to the plate for his final appearance ever at Tiger Stadium. Waves of applause washed down from the seats, which had been emptied in favor of a standing ovation for the Mick, who needed but one home run to pass Jimmie Foxx for third place on the alltime tater list. Even McLain was getting moist as the fans began clapping rhythmically, so he motioned to Mantle that the first pitch would be grooved directly over the plate.
"We told him what we were going to do," says McLain. "When he took the first two pitches, that's when I knew I wasn't dealing with a Rhodes scholar here. Finally he asked for one about belt-high, and I threw it there. But he still had to hit the home run."
Mantle hit a home run to Hamtramck, and grinned broadly at McLain as he rounded third. "How about that guy?" a bewildered Mantle said afterward. "Just laying it in there for me."
On Sept. 27, Gibson beat the Astros 1-0. It was his final start of the regular season. It was his 13th shutout. He finished with a record of 22-9 and an ERA of 1.12.
On Sept. 28, McLain started his final regular-season game, against the Senators in Tiger Stadium. With a victory he would become the first pitcher to win 32 games since Grover Cleveland Alexander in 1916; McLain had a 1-0 lead after seven innings when Tiger manager Mayo Smith approached him in the dugout and said, "You've pitched enough. You need the rest."
"I had pitched 1,000 innings that year!" says McLain, who actually pitched only slightly fewer (336). "Now he tells me I need the rest? I was ticked. I was ticked! I broke all the light bulbs in the tunnel. Don McMahon came in to pitch, and before you know it we lost 2-1. 'You need the rest,' he told me. Now he wants to become a manager? In the last week of the season?"
Well, there was this small matter of the World Series, which would begin in four days in St. Louis. Perhaps Smith was saving McLain for that, for Game 1: Bob Gibson vs. Denny McLain.
As Gibson was lying down to sleep at a proper hour on the eve of Game 1, McLain was in the throbbing lounge of the Sheraton-Jefferson Hotel in downtown St. Loo. There was an organ, there was an audience. Long after Tuesday slipped into Wednesday, McLain remained in the Gaslight Room, taking requests, making dedications, sending Sweet Georgia Brown out to an ex-Harlem Globetrotter, Bob Gibson. Gibson had played for the Trotters during one minor league off-season, but the team's clowning—and patsy opponents—didn't wear well on a man so zealous about winning. Needless to say, he would have derived little mirth from McLain's musical tribute.
As 54,692 fans filed into Busch Stadium on the afternoon of Oct. 2, a few slogans on display in the Cardinal clubhouse spoke volumes about Gibson and the game that lay ahead. The clipping on the bulletin board was headlined WE'LL HUMILIATE CARDINALS—MCLAIN. A button above Gibson's locker read, I'M NOT PREJUDICED; I HATE, EVERYBODY. And a sign taped to a stuffed tiger in his locker bore the legend A TIGER'S A 500-POUND PUSSY. Gibson, the gathering storm, had arrived.
"It was something you knew you had to face," ex-Tiger Tracewski says today. "And you faced it like a man."
Through the eighth inning, Gibson had struck out 14 Tigers. When he struck out Norm Cash for his 16th K in the ninth, McCarver stood and gestured toward the scoreboard. "Gimme the ball!" Gibson screamed at his catcher. "Gimme the goddam ball!" He then saw the scoreboard, which bore the news that Gibson had just broken Sandy Koufax's World Series record, and for one brief shining moment, with the Cardinals' 4-0 win all but assured, Bob Gibson...well, he did not exactly smile, but, in McCarver's words, "He looked less fierce."
McLain had been removed from the game after five innings, but he duly admired his opponent's masterpiece. "It was," says McLain, "the single greatest pitching performance I have ever seen."
Gibson faced McLain again in Game 4 in Detroit, a contest preceded by Jose Feliciano's...interesting interpretation of the national anthem. With the Cardinals leading 4-0 in the third inning, the game was interrupted by rain for an hour and 14 minutes, which Gibson spent eating ice cream bars in the dugout. When play resumed, McLain did not; but Gibson returned to hit a home run in the fourth, to strike out 10 Tigers, to pitch his seventh consecutive complete-game World Series win. The Cardinals had a three-games-to-one lead in the Series. "And we knew if we went to seven games," says McCarver, "we had an ace in the hole." Gibson could not lose.
McLain's right arm was a side of beef, shot up with cortisone and Xylocaine to ease the muscle inflammation in his shoulder, but he pitched all nine innings of Game 6, which the Tigers won 13-1 to even the Series at three games each. The Cardinals were saving Gibson for Game 7 in St. Louis. Mickey Lolich would start for Detroit, and though Lolich had heroically thrown two complete-game victories already in the Series, the Tigers were not exactly overconfident.
"We had a helluva year," Smith told his Tigers before the decisive game, before addressing the matter of Gibson. "This guy is not Superman. He's beatable. But even if we don't win, we've had a helluva year."
"Mayo," announced Tiger first baseman Norm Cash. "I don't know about him not being Superman. He's dressing in a phone booth over there."
Gibson and Lolich would both go the distance. But Cardinal centerfielder Curt Flood misjudged Northrup's line drive in the seventh inning. The result was a two-run, go-ahead triple and a 4-1 win for the Tigers, world champions of 1968. "And of course," says McLain, "those were still the days when you didn't break into stores or burn squad cars to celebrate a championship." Imagine that.
"Do you still speak to Flood?" an old lady asked Gibson in an airport one week after the Series.
"How can you ask that?" Gibson, aghast, wanted to know.
Back in his native Nebraska, 57-year-old Bob Gibson is not exactly a recluse, but he still does not suffer questions comfortably. Try to reach him through the Cardinals, and you're told that is impossible because "he maintains no relationship with the team." "I might have a number for him," says McLain, "if you don't tell him where you got it."
Someone else gives you what is said to be his home number—and the warning, "You didn't get it from me"—but when you call and ask for Bob Gibson, you're told, "You got the wrong number."
"I caught Gibby in the '65 All-Star Game at Minnesota and he wouldn't talk to me," says Joe Torre, who is Gibson's best friend. "Tony Oliva was at bat, and I said to make sure the ball was up and in, and not down and in. He acted like I wasn't even there."
"He's mellowed some," continues Torre, the current Cardinal manager. "Now he can play old-timers' games and not be upset that they're hitting him. When he first started those old-timers' games, he really had a problem with that. I said, 'Gibby, they don't come out here to watch you strike people out.' "
That is evidently what the guardians of the game thought 25 years ago too: Fans don't come to watch Bob Gibson—or any other pitcher—strike people out. In December of 1968, the rules committee of major league baseball voted to shrink the strike zone and lower the pitcher's mound, beginning with the 1969 season.
Where Gibson is private, McLain, 49, holds the most public of jobs in the 1990s: He hosts a radio call-in show in Detroit, discoursing during morning drive time on everything from the state legislature to the state of the world.
"It all means a lot more to me today than it did 25 years ago," he says while seated in a small cubicle at station WXYT alter his show one recent morning. "There is a great degree of satisfaction in being the only living person in this country to have done one particular thing. In a nation of 260 million, I'm the only one who has won 30 games in a season."
McLain pauses to examine a phone message just handed to him on a pink square of paper. The pink squares have arrived every three minutes during his conversation, but they are clearly not an interruption. On the contrary. McLain continues speaking, his knees banging together as he sits, his legs pumping furiously back and forth. Denny McLain still works fast.
"Again I have to tell you," he says, repeating something he has already mentioned twice. "Nineteen sixty-eight has given me everything I have today. The good things. There have been bad things that I created on my own. But everything that is good in my life was made possible by what happened in 1968."
The bad things in his life have been painfully public. He was bankrupt and out of the big leagues by 1972. His 1968 Cy Young and MVP awards, the magazine covers and scrapbooks, everything he owned, in fact, perished in a fire that consumed his home, in Lakeland, Fla., in 1978. In 1985 and 1986, he served 29½ months in prison on racketeering and cocaine-possession charges. His has not been an easy life. McLain's oldest daughter, Kristin McLain Sutherland, was killed in a ear accident last year at the age of 26.
On the other hand, he will have been married to his wife, Sharyn, for 30 years come October. He receives 500 pieces of mail each week. He is frequently pursued as an after-dinner speaker, just as he is by autograph seekers, who still walk right up and ring his doorbell. He has just opened a restaurant in Detroit. He hosts a Sunday-morning sports show on local TV. And earlier this morning, a woman happily stayed on hold for an hour simply to talk on the radio to Denny McLain.
A year that was a bad memory for so many has given McLain everything he has today, and that includes happiness. "I got to do in my life what very few people get to do but should," he says. "I played professionally on the organ and piano. I've flown my own airplanes. And I've won a World Series. Every one in the world should be entitled to a 1968 once in their life. To experience it once and be able to savor it forever."
It is true what they say. Life begins at 30.