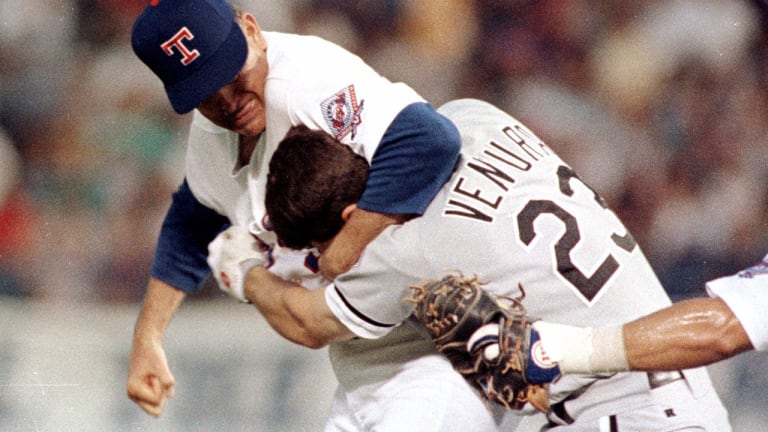 Basebrawl
Nolan Ryan's pummeling of Robin Ventura epitomizes a season marred by bench-clearing incidents
Available at Toy Stores Everywhere is a battery-powered game called Nolan Ryan's Strike Zone Baseball, in which you throw a soft baseball at a cardboard catcher squatting next to a cardboard batter and the voice of a computer-chip announcer tells you the result of your pitch: ball, strike, single, double play, home run. The game is fairly realistic, except for the part that calls for you to hit one of the fictional batters. "Knox is hit by the pitch," says the voice. "He takes his base."
Now if Cap Toys Inc., the manufacturers of Nolan Ryan baseball, wanted to make its game more like the actual one, it would have Knox charge the mound so that you could pretend to fight him. After all, that's what happened on Aug. 4, when the real Nolan Ryan of the Texas Rangers hit the batter, in this case, Robin Ventura of the Chicago White Sox. Ventura started to walk to first, changed his mind and charged Ryan, the 46-year-old alltime strikeout and no-hitter leader, who proceeded to take matters—and Ventura's head—into his own hands by socking the Sock six times before the two were engulfed by teammates.
That fight between Statman and Robin was hardly out of the norm for the last two weeks or for the season. Since July 28 baseball has had no fewer than seven bench-clearing incidents, all of which have had to do with inside pitches or hit batsmen. Says Oakland A's pitching coach Dave Duncan, "There have always been incidents, but now they're on a daily basis." Colorado Rocky third base coach Don Zimmer, now in his 44th year in pro ball, has a more conservative estimate: "It seems like every fourth day, somebody's at it."
"We've only had three significant altercations this year," says lame duck American League president Bobby Brown, who seems to be counting his days left in office more carefully than he's counting his significant altercations. Starting with a March 5 preseason game in which a pitch by Mike Jackson of the San Francisco Giants broke the left hand of Ryne Sandberg of the Chicago Cubs and brought out players from both dugouts, baseball has had 18 such confrontations in 1993, eight in the American League, eight in the National League and two in friendly spring training exhibitions. "It's getting out of hand," says St. Louis Cardinal centerfielder Ray Lankford. "This is baseball, not boxing."
Indeed, in a season in which John Olerud is hitting close to .400, in which the Giants and the Philadelphia Phillies have made amazing turnarounds, in which Barry Bonds, Ken Griffey Jr. and Juan Gonzalez are knocking down the fences, these are some of the brawls and strikes that will linger:
•On June 6, after Baltimore Oriole pitcher Mike Mussina hit Seattle Mariner catcher Bill Haselman with a pitch, Haselman charged the mound, and a vicious, 20-minute BCI—bench-clearing incident—ensued. "There were some real licks," said home plate umpire Durwood Merrill. "I just kept telling the guys, 'Hey, fellas, Jesus Christ wouldn't do this.' That didn't seem to work very well." Seven players and Seattle Mariner manager Lou Piniella were ejected and fined and/or suspended. More significant, Seattle pitcher Chris Bosio injured his collarbone, and Oriole shortstop Cal Ripken hurt his right knee so badly in the melee that he actually considered not playing the next day.
•On June 15 in Colorado, the Rockies and the Los Angeles Dodgers fought a doubleheader. After Rocky Andres Galarraga slid hard into second and kicked Dodger Jody Reed, L.A. hurler Ramon Martinez hit Charlie Hayes in the back with the next pitch. Hayes then charged the mound and started a BCI. In the eighth, Rocky pitcher Keith Shepherd, a former amateur boxer who fought as the Apache Kid, threw behind Cory Snyder, grazing his back, and shouted, "Come on, come on." Several Dodgers took him up on the offer, causing BCI II, from which Shepherd emerged in need of a cut man.
•On July 29, one day after Ranger manager Kevin Kennedy had threatened Kansas City Royal manager Hal McRae with retaliation for K.C.'s plunking of first baseman Rafael Palmeiro, Ranger pitcher Bob Patterson nailed Royal centerfielder Brian McRae, who is Hal's son. Ignoring custom, Brian charged not Patterson but Kennedy, who was in the Texas dugout. "I actually admired Brian's courage," said Andy Van Slyke of the Pittsburgh Pirates, who, like many, watched a tape of the charge on ESPN. "He was like the first guy out of the foxhole. However, the first guy out of the foxhole is usually dead." McRae, however, was uninjured.
•On Aug. 2, one day after they were involved in two BCIs against the Phillies, the Pirates found themselves in one against the Cubs. Following his home runs in the first and fifth, Pittsburgh's Carlos Garcia was hit by Chicago pitcher Bob Scanlan in the sixth. In the bottom of the inning Pittsburgh reliever Blas Minor buzzed Chicago's Mark Grace twice. After the second pitch Cub outfielder Sammy Sosa charged out of the dugout, and a melee ensued. Minor, Scanlan and Pirate outfielder Al Martin were thrown out. But the ill will lingered as Chicago pitcher Jose Bautista made another Pirate, Lonnie Smith, walk the plunk. On participating in back-to-back brawls, Pittsburgh third base coach Rich Donnelly said, "I spent more time in fair territory in those two days than I did in my whole career as a player."
•On Aug. 4, Ryan quite literally punched out Ventura. First, though, he hit him with a pitch. Ryan ended up at the bottom of the pileup that followed, but protecting him, according to some sources, was none other than Chicago White Sox DH (and fellow Nike spokesman) Bo Jackson.
At first glance the punches would appear to be Ventura's sentence for the sin of sacrilege. "Going after Nolan," said Cleveland Indian manager Mike Hargrove, "is like going after the Lincoln Memorial." And there was a good deal of George Foremanesque cheering for the old guy, especially after he shut down the White Sox offense in the ensuing four innings. "Ryan's six-punch KO of Ventura was a thing of beauty," wrote Neil Hohlfeld in the Houston Chronicle. "A middle-aged legend met a 26-year-old upstart head-on and provided all middle-aged men with yet another reason to love Nolan."
But some in the American League were cheering for Ventura, who said not only that he would do it again but also that the six punches amounted to "noogies" and nothing more. "Nolan Ryan is no angel," said California manager Buck Rodgers. "He's a hard-nosed, knock-you-on-your-ass type of pitcher. That was no brushback pitch to Ventura. Legend has nothing to do with it. Whether it's Cy Young or Anthony Young, it's pride, and you've got to do something."
White Sox ace Jack McDowell was even more outspoken about Ryan. "The whole world stops when that guy pitches, like he's a god or something," said McDowell. "He's been throwing at batters forever, and people are gutless to do anything about it. You can bet if it had been me out there, I would have been run."
Ryan vs. Ventura has been the main event in a season with a busy undercard. What's going on? There are any number of factors at work and any number of people to blame. Try these people on for fall guys: Marvin Miller, the late Charley Lau, Dr. Spock, Charles Barkley, Linda Cohn, Peter Ueberroth. We'll explain:
Hitters don't hit the way they used to. "Nowadays," says Pirate pitching coach Ray Miller, "you've got so many hitters standing over the plate, diving for that outside pitch. It's that Charley Lau school of hitting. A few years ago we'd go over a scouting report, and we'd have two guys on the other team who went the other way. Now there are maybe two guys on the other team who pull the ball. When you have that many hitters leaning over the plate, there are bound to be more hit batsmen. Heck, I see strikes hitting batters now."
Pitchers don't pitch the way they used to. Many pitchers coming up through the college ranks don't throw inside because they gave up too many bloop singles on inside pitches to aluminum bats. Consequently those pitchers have given up a few inches of inside territory, and hitters are digging in.
Umpires don't umpire the way they used to. "The strike zone is shrinking," says Texas pitching coach Claude Osteen. "Pitchers rarely get the inside strike, so the hitters are leaning over the plate. When the pitcher tries to reclaim his territory, accidents happen."
They make too much money. Thanks to the riches brought to them by Marvin Miller and free agency, the players have too much at stake to stand by and let somebody hit them. "With the higher salaries," says Smith, "guys hate to see their careers being damaged."
They watch too much TV. Every fight nowadays is replayed on ESPN's Sports-Center, with Linda Cohn, Keith Olbermann el al., and on Baseball Tonight. "There probably hasn't been a bench-clearing episode that hasn't been replayed countless times," says former Royal pitcher and current Royal broadcaster Paul Splittorff. "That breeds other incidents. If you're a hitter and you've seen 10 or 12 guys going after pitchers, you start to think, Am I required to go out there?"
They are too sensitive. "Batters are too sensitive about inside pitches today," says Giant first baseman Will Clark. "Throwing inside is part of the game."
They have no manners. Baseball's code of conduct is breaking down. "I was taught not to show up the other guy," says Van Slyke. "If you hit a home run, you ran around the bases, head down. It's different now. When a rookie stares down a veteran or argues with an ump or takes an hour to get around the bases, he's liable to get flipped."
Baseball players love the other game. The young players see Charles Barkley woof and John Starks tweet, and they think that it should be Showtime in baseball. "They should really institute a no-taunting rule," says Ray Miller. "That's how a lot of this stuff starts."
Subtraction by expansion. This latest round of expansion, encouraged by Peter Ueberroth, has considerably thinned out the pitching corps. As more homers are hit, pitchers have more reasons to retaliate. This strikes some pitchers, such as Bill Swift of the Giants, as silly. "I gave up back-to-back homers in San Diego," says Swift, "but that was no reason to take out my frustration on somebody else." Swift, though, is probably in the minority.
The times, they are a-changin'. "Some of the problem is societal," says Pirate coach Bill Virdon. "Kids today show less respect and take less responsibility." Many coaches and managers echo Virdon's thoughts, and while none of them blamed Benjamin Spock by name, they made it clear that some of their younger charges were probably in need of a good spanking.
Other reasons were given. Rodgers thinks that because batting helmets are so good, they make hitters fearless. American League umpire Tim Tschida blames the heat of both the summer and the divisional races.
Another cause is stupidity. This reason is perhaps best personified by the White Sox television broadcast team of Tom Paciorek and Ken Harrelson. After some Chicago hitters were brushed back by Milwaukee Brewer pitchers a few weeks ago, Paciorek and Harrelson urged retaliation from the safety of their broadcast booth. Milwaukee manager Phil Garner rightfully took umbrage. He might also have pointed out to Harrelson that the Hawk became a folk hero in Boston after he was signed to replace Tony Conigliaro, who had been horribly beaned by Jack Hamilton.
So what, besides hiring Dr. Ferdie Pacheco for Baseball Tonight, can be done about the pugilization of baseball? Pittsburgh manager Jim Leyland says, "I had a talk with [National League president] Bill White, and I told him if they really want to stop this, they can. Just put a security guard—a big one, like a bouncer at a bar—in each dugout. When two guys get into it, the guards go out and break it up. And then do what they do in hockey. The third guy in gets ejected. Give him live days with no pay. It may sound farfetched, but I think it will work. But they have to make sure they have two big guys who could handle someone the size of Dave Parker or Cecil Fielder."
Seriously, the baseball commissioner—oh, that's right, there isn't one. Well, then, the executive committee should first revise the rules now applied by umpires. As it stands, if an ump thinks that a pitcher is throwing at a hitter, he can warn or eject that pitcher and his manager. "That rule," says Van Slyke, "is a road to hell, paved with good intentions. It just keeps the problem festering."
To help the umpires, baseball should combine the third-man rule of the NHL with the draconian fines now being handed down for fighting in the NBA. Then again, maybe baseball owners shouldn't do anything at all if they want to increase their fan base. Here's a letter published in the Aug. 8 Dallas Morning News, written by David Tippets of Colleyville, Texas:
"I've never had much regard for baseball. Nolan Ryan has changed my opinion. His pummeling of Robin Ventura epitomizes what baseball needs, because in general, the long, tiresome games lack the excitement the average American seeks.... More slugfests would not only alter my current apathetic attitude toward baseball, but they would also increase my attendance.... More fights will help restore society's faith that baseball is indeed America's national pastime."
Ah, yes, the sights and sounds of our national pastime. The image of Nolan Ryan connecting with an uppercut. The crack of the helmet as it meets the ball.
PHOTO
AP PHOTO/LINDA
KAYE
In one of the games ugliest moments, in 1965, the Giants' Juan Marichal (27) took a bat to Dodger Catcher John Roseboro.
PHOTO
NEIL LEIFER
[See caption above.]
PHOTO
AL
TIELEMANS
Phillie Mariano Duncan (above) felt the pain of a plunk, and a Ranger took a bite out of Bo (above right), but Martin (28) was able to head off Scanlan.
PHOTO
AP PHOTO/ERIC GAY
[See caption above.]
PHOTO
SCOTT
OLSON/REUTER
[See caption above.]
PHOTO
JERRY
WACHTER
In June an ugly 20-minute melee between the O's and the Mariners led to eight ejections.
PHOTO
BRAD LOPER/THE ARLINGTON
NEWS
Ranger first base coach Mickey Hatcher was bloodied in a sockfest with the White Sox.