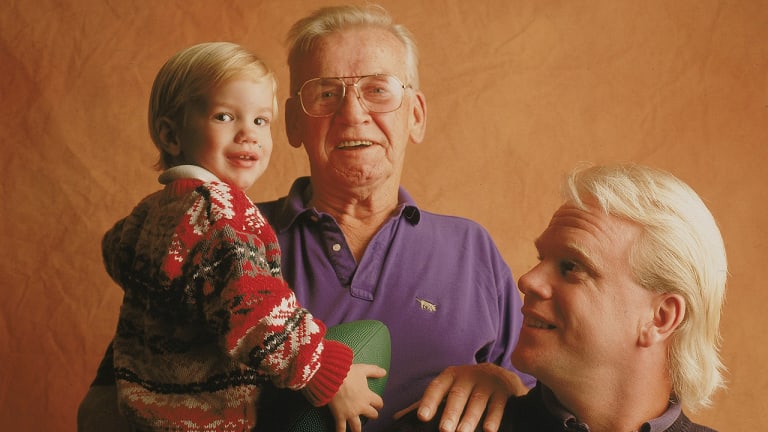 'We're Going to Beat This Thing'
Boomer Esiason, the rejuvenated quarterback of the New York Jets, is confronting a new opponent—a disease that has invaded his family
There was quiet in the New York Jets' locker room, the quiet of men awaiting violence. A few players stared at their playbooks. Some talked to God. Some wrapped earphones around their heads and waited for the music to take them away.
They took turns walking into a side room, emerging with thick white crusts of tape around their arms and knees and ankles in preparation for all the collisions and twists. Their quarterback, Boomer Esiason, needed the tape for something else. He carried it to his locker, unzipped his black shoulder bag and pulled out a photograph of a 2½-year-old boy with a blue cap tugged over his blond hair. Boomer taped the picture of his son to the back of his locker and sat on his stool.
In earlier years he often spent this hour remembering insults from the media, opponents or fans, working himself into the state of mind he needed to stand calmly at the heart of the violence. Now all that seemed almost silly. Now he stared at the photograph and thought of how sweetly this boy lay upon the sloped board twice each day, how willingly he let his loved ones beat on his back and chest and sides to dislodge from his lungs the mucus that could kill him. And the feeling seemed to surge up inside the quarterback. They could beat on him today all they wanted. But no one could touch him.
There was silence on the Jets' practice field, the silence of men trapped inside helmets and pads in the third week of two-a-day practices under a killing sun. They looked over to the long row of pine trees that lined the field. There he was again, the old man with the black shoes and white socks, sitting alone in his lawn chair among the pinecones. The old man with the St. John's Redmen cap pulled down to his sunglasses, little leather tool holder hooked on his belt, pack of Tareytons tucked inside his sleeve.
Every practice he sat there. At the end of the morning session he drove 40 minutes to his home in East Islip, Long Island, and then climbed right back into his truck two hours later and drove 40 minutes back for the afternoon workout. "The man in the lawn chair," some called the 70-year-old man. Many players had no idea he was the quarterback's dad. Boomer looked over to the shade and gave a little wave.
Somehow life had washed Boomer back to the place where he had grown up, where he had been hurt and healed. The little boy whose mother had died of lymphoma, who had looked over to see his dad on the sidelines every year, every practice, every game . . . was now the adult, the father of a little boy with cystic fibrosis, the object of whispers that his arm was dead, looking over and seeing his dad, every day, once again.
He never said a word, the old man, about who you have to be for your children, how much of your life you have to give away. He never had to say it. He just sat there each practice under the pine trees. The man in the lawn chair.
God, Cheryl," Boomer said to his wife. "You wouldn't believe how many times I thought about G Man today." That was what he always called his son, Gunnar. It was a Sunday night 2½ weeks ago, hours after the Jets had shocked the Dolphins in Miami, 24-14, and Cheryl had come to meet Boomer at the airport in New York. He stared out at the traffic, euphoric and woozy at once, and shook his head. "The whole day, G Man was right there with me."
Right there in the photograph in his locker. Right there on the field in Joe Robbie Stadium when the temperature hit 100° and all the water in Boomer's body was running in rivulets down his back and legs, and the Dolphin defensive line was driving its helmets into his ribs. Right there, most of all, when dehydration overcame Boomer on the flight home, when he blanched and vomited and watched two intravenous needles going into his arm. How could he not think of G Man and that day last May in the hospital when the boy was vomiting mucus, lying wan and pale with the IV in his arm and the oxygen tube up his nose, unaware that the doctor had just told his parents that their son had cystic fibrosis?
On first hearing the diagnosis, Boomer had decided to retire from football and to always be with the boy. But now he was off at war again, and somehow it was the boy, instead, who was always with him. After his first three games as a Jet, Boomer was 68 for 94, for 909 yards and five touchdowns, leading the National Football League in completion percentage and average gain per completion, posting the same kind of glaring numbers that had made him the league's MVP in 1988. Every pass he completed was a spiral hurled into the future, a message his son would read one day: NEVER GIVE UP! Every touchdown he threw meant another microphone to speak into and tell the world about the disease that afflicts 55,000 people, another chance to explain about the mutated gene that causes so much thick mucus to clog the lung walls that they become a haven for infection, limiting the average CF patient to a life of 29 years and killing three people every day. "I am going to be the biggest enemy that this disease has ever had," Boomer said. "We're going to beat this thing. I know beyond a shadow of a doubt that we're going to beat it."
Funny. Everything about Boomer was Boomer, his voice, his size, his shocking white hair, his life. He had more friends—not the artificial, slap-your-back kind of friends, but real friends—than any man on earth. He had a three-year contract with the Jets worth $2.7 million a year, a string of commercial deals on the side, a weekly radio show, a fleet of big vehicles and big, big TVs. . . . But his real name was Norman, the same as the man sitting quietly in the lawn chair under the pines. Now that Boomer had a little son in trouble, now that Boomer was back home on Long Island, driving the same streets as he had long ago, walking into the same stores, bumping into the same people, he had this feeling . . . almost as if he might turn the next corner and see himself as a boy. And the question that kept going through his mind was, God, how did my dad ever do it?
Norman—that was who Boomer had to find inside himself now. The man who had kept ack-acking away at Messer-schmitts while his buddies bled puddles around his ankles in the Battle of the Bulge, and who never told a soul about it when he came home. The man who had taken charge when one of Boomer's friends was struck dead by a car and when cancer took Boomer's mom.
Norman never laid eyes on another female after Irene died; forget it, what was the point? Tall woman, big voice, long rippling blonde hair, runner-up (that was a rip-off) in the Miss Lake Ronkonkoma beauty pageant back in the '50s. Before Norman knew it, she had him by the hand each Saturday night, first on the dance floor at the cafes and bars, those long poodle skirts she loved to wear pluming as they jitterbugged. Or he would look up and see her bouncing onto the stage to join the five-piece combo, one hand flying across the organ keys, the other across the piano, pounding out a Sam Cooke or Chuck Berry song. "Run, children, run!" Irene would shout when the heels of her children and nieces and nephews clickety-clacked across the brick patio behind the Esiasons' home. "I love that sound!" She would scoop up the little boy whose nickname came from the kicks he had delivered inside her belly, beam at him like the sun and ask everyone the same question: "Isn't he special?"
And then one day when Irene and Norman were sledding in the Poconos, she said her neck hurt. Six months later she was dead, and Norman Esiason was a 44-year-old man alone with two teenage daughters and a six-year-old son. A few years later Norman's own dad, Henning—slowly wasting away from emphysema—would move in with them too.
No one ever saw Norman cry, not even at Irene's funeral. No one saw the little boy cry, cither. All they noticed was that he never, never wanted to be alone. At night Boomer would appear at the foot of his oldest sister's bed, his blanket stuffed under his arm. "Can I sleep here, Robin?" he would ask. It wasn't until six months after his mother's death, when Fawnie, the family dog, went berserk in the basement and died of a stroke, that some of the grief spilled out of Boomer. "How come?" he sobbed. "How come everybody's leaving me?"
The girls were just about old enough to fend for themselves, thank god, because Norman didn't quite know what a man could do to help a pair of grieving teenage girls. For the boy, though, he knew exactly. The boy became Norman's life. The old man woke up each morning at 4:45, then burrowed through the dark on the hour-and-10-minute train commute to his job as a safety engineer for Continental Insurance in Manhattan. Up onto the steel girders 40 floors high, across the collarbones of skyscrapers, to check the welding . . . down into the tunnels when construction crews were about to blast within inches of a gas line, making sure every safety precaution was being taken on the big jobs his company insured. "You don't build on rock, Norman," the underwriters would protest when he tried to persuade them to insure the mammoth apartment complexes going up on the Palisades in New Jersey. "You do build on rock," he would argue. "You cement all the fissures, you build fences to catch the falling pieces, you stay on 'cm like a hawk, and you build on rock." He knew. He was rock. He could easily have been talking about himself and his motherless children.
Home he would race, finishing his paperwork on the train back to East Islip, yanking off his tie and changing into sneakers in the car to go watch his boy play baseball, basketball, football. "I've never seen a father like him," says Sal Ciampi, Boomer's high school football and baseball coach. "Never interfered, never complained, never missed a day."
Home to play catch with Boomer, or to pick him up, turn around and take that hour-and-10-minute train ride back to the city to Madison Square Garden or Shea Stadium to catch a game. Or home to turn on the TV and radio to simultaneously watch the New York Rangers and listen to the New York Mets, the old man sprawled on the couch, the boy lying right on top of his chest, then both of them erupting—Norman in a way he could never let himself do in public—when a Ranger scoooooored! or a Met hit one outahere! or a Giant broke free at the 30 . . . he's at the 20 . . . the 10 . . . touchdowwwn, New York!
Imagine Grandpa Henning each time the TV room exploded. Imagine the bewilderment of the old glassblower, his lungs giving way from all the dust he had inhaled working beside the blast furnace in Philadelphia. Henning had refused to sign Norman's scholarship offer to play football at Georgetown University. Henning had refused to attend a single game during Norman's years as a three-sport athlete at Olney High in Philly. Every night the family ate dinner at six; nearly every night Norman would be late because of practice and trudge to his room, waiting with a hollow gut for his mother to sneak him dinner. Henning wasn't a bad guy. He was just off the boat from a little town in Norway. He just didn't understand.
But Norman was not going to raise his son that way. This was Scandinavian rebellion: slow . . . patient . . . noiseless . . . relentless. Picture this: Boomer is 11 or 12. Boomer's already a real piece of work. Boomer calls up Commack Arena, home of the local minor league ice hockey team, the Long Island Ducks, and rents the place so he and his buddies can play hockey. Only it's not available until 2 a.m., and it's a school night, and the parents of the other nine kids Boomer has involved in the scheme are furious, and the kids are a couple of tens shy of the money they need to rent the arena, and Boomer's old man has to be up for work at 4:45 a.m. So what does Norman do? Antes up the rest of the cash, drives the kids to the arena, watches them run around like a bunch of lunatics for an hour—Boomer never had a clue how to skate. Yes, Norman was resolute. Norman was Norwegian winter.
Funny, but he never once clobbered Boomer, no matter how many times the kid tried to climb over the glass and join the fights at Ranger games. No matter how long Boomer grew that shocking white hair, no matter how much swagger and how little patience he had, how many number-7 decals he plastered on the windows and bumpers of his candy-red convertible Olds in case someone out there didn't realize it belonged to the QB at East Islip High . . . no matter how opposite to Norman he grew. All the old man ever had to do was lift his right fist and growl, "Which do you want: the convincer"—then his left fist—"or the convincer's helper?" Norman, back then, was 6'2", 280. But more than anything, Boomer just hated to let the old man down.
There was such dignity in the old man, especially under stress. Boomer could never forget the day in ninth grade when Norman was coaching Boomer's Senior League baseball team and the boys were playing pepper before a game, and one of Boomer's teammates darted across the road to retrieve a ball. All at once there was a screech of rubber, a boy dead in the road and a man a mile from a telephone. A man surrounded by 15 kids, half of them hysterical with grief, the other half, including Boomer, threatening to take off the head of the woman driver. Norman sent someone to find a phone, covered the body with a blanket from his car, herded his team away from the woman and went from boy to boy, putting his arm around each one's shoulders and saying over and over, "Remember the good moments in his life. . . . Don't look over there, that's not him. . . . Remember the good times."
From a distance, people looking at Boomer saw a tall kid with ice-white hair and too little self-doubt. He walked out of the locker room after a high school basketball game one Friday evening and found all four tires on his candy-red convertible slashed. But up close you couldn't miss the sensitivity to hurt and fear, the understanding of what lurked just behind the manicured hedges and aluminum siding, the thin peel of Long Island suburbia. Boomer was the kid who beat up the bullies.
He became the quarterback—of his block, of his friends as well as of his teams. A quarterback, unlike those who played the other positions in life, could always make sure there was a plan, a group, a movement. A quarterback could always make sure the silent house he came home to at 3:30 p.m. would be hopping by four. The Esiasons' house became headquarters, the place for Boomer's boys to plot and sleep over and wake up to the old man's jelly crepes. Even on summer vacation trips, Boomer made sure he took three or four friends along. "Between his father, his sisters, all his aunts and uncles and grandparents and friends, he was surrounded by this bottomless pit of love," says his old friend Michael Dooley.
And then Boomer got a scholarship to the University of Maryland, said goodbye to his father, left the love pit. Suddenly he was a seventh-stringer in a strange land, flunking half his classes, watching all his dorm mates go home on weekends to get their laundry done and dinner cooked by Mom. Suddenly there was silence. He was about to quit school and go home. He was sure he would leave after that night when 25 upperclassmen on his team cornered him, tied him up, dumped him in an elevator alone and pushed the button, echoes of their laughter following him up and down the shaft.
But just when he was about to give up, he would look over during practice to the sideline. Arthritic left knee stiff from the five-hour drive, there would be the man in the lawn chair.
Boomer set 17 records at the University of Maryland, was a consensus All-America his senior year, became the Cincinnati Bengals' starting quarterback his second season. His life gathered momentum, grew wider each year. Boomer loved big . . . but he preferred gigantic. Jacked-up monster trucks with tinted windows. TV screens that took up a quarter of a wall, orbited by slightly smaller screens in case anybody dropped by with a hankering to watch four games simultaneously. An 8,000-square-foot house with four beers on tap at the bar, an electronic board flashing up-to-the-minute scores from the NFL, NBA, NHL and major leagues, a swimming pool Cheryl laughingly called a "polar bear pit," and a basketball court.
It was all for sharing, not for lording over. Boomer's friends became like family; his family kept growing larger. Every home game, 15 to 30 of them would fly in to Cincinnati and camp at Boomer's. On New Year's Eve and the Fourth of July, 60 or 70 people would respond to his call—friends from Long Island, from the University of Maryland, from Cincinnati. You would walk in Boomer's door and be handed a party bag containing a T-shirt that said HOTEL ESIASON, FOURTH OF JULY, MOTHER OF ALL PARTIES, inscribed sunglasses and a plastic drink container. You would see the refrigerator shellacked with a couple of dozen stick-on notes giving flight numbers and arrival times so Boomer could arrange rides from the airport for his guests, and a sign-up list so you could volunteer to prepare meals in shifts of 10. You would play killer pickup basketball, darts and Ping-Pong, then go in buses Boomer had chartered to a riverboat or a restaurant he had rented for the night with a live band. Or perhaps eat in, a pig roast by his backyard pool, and then everyone would end up sprawled on beds, pull-out couches and sleeping bags, some farmed out to next-door neighbors.
"Let's keep it simple this year, honey," Cheryl, the woman he had met at Maryland and married, would say. "That's no fun," Boomer would reply, thumbing through his monster Rolodex. Somehow, no matter how last-minute the plan, Boomer always pulled it off. And Cheryl, a wry, philosophical sort who loved to sit back and observe the human pageant that Boomer emceed, would shrug, grin and go with it.
There was such zest and innocence to it, you couldn't get in its way. Boomer was a boat pulling an ever-widening wake—one of those rare people who fused all the phases of his life, who grew big without devouring the small. Sitting at your table, the one Boomer assigned you at the restaurant he had rented, might be Boomer's Pro Bowl guard and his wife, Boomer's cleaning lady and her husband, Boomer's high school coach and his wife, and the guys who sold him his satellite dish and did his kitchen cabinets. Some of them started having babies, and that made it even better. "It's a lunatic asylum," Boomer would say. "I love it. It's life." The doorbell would ring a half dozen times, neighbors' kids asking, as if he were eight years old, "Can Boomer come out and play?" Likely as not, he would.
Boomer babies—sure, why not four or five? For years Boomer had this snapshot in his mind, a gaggle of little blondes in pigtails following him everywhere, adoring everything he did, the way most women seemed to. A boy . . . well, he never talked about that. A duty came with that. Nobody knew that like Norman Esiason's son.
He went to the airport in Cincinnati one Sunday afternoon in 1987, before they had any children, to pick up Cheryl. The NFL was on strike that autumn, and Boomer, quarterback to the bone, had stepped out front to lead his teammates against management. He and 30 others had sat in front of a bus that team officials had arranged for replacement players to use; he had lent money to players buckling under the financial strain of going without paychecks; and that very Sunday, an hour before the first "scab" game, he had stood and begged for calm between a mob of strike-supporting Kentucky coal miners and a mob of antistrike fans who wanted at each others' throats. Boomer had become the lightning rod for criticism in one of the most antiunion cities in America.
As he drove to the airport, his head still throbbing from the confrontation outside Riverfront Stadium, he flicked on the radio. The host of the local sports talk show was "breaking" a story that Boomer had ordered the Bengals' wives, in deference to the strike, to boycott the fund-raising fashion show they had organized to benefit Cincinnati's Children's Hospital. Radio callers were in a frenzy. The story was untrue. Few athletes anywhere gave as much time to charities as Boomer did—in a public way, raising $700,000 for the Arthritis Foundation and the Caring Program for Children, and in a private way, making frequent visits to kids with leukemia and cystic fibrosis at Children's Hospital.
"Turn it off," Boomer told Cheryl as they headed home from the airport. "You don't want to hear this."
"Leave it on," she said.
A male caller was on the air. "You know what I hope?" the man said. "I hope the Esiasons have a child that has something wrong with it someday and Children's Hospital turns them away."
Cheryl and Boomer looked at each other, the air sucked out of them. "That's unspeakable," said Cheryl. "My god, that's. . . ."
Boomer went from the villain of Cincinnati in '87 to its hero in '88—life happens that way in movies and sports. He led the AFC in passer ratings and touchdown passes in '88 and '89, was voted to his second and third Pro Bowls, whipped the Bengals to the '89 Super Bowl, appeared in his underwear for a Hanes ad, played Goldilocks in a Diet Coke commercial and made a zillion appearances for corporations and charities. He had such presence on the field, such command and camaraderie in his voice, you felt as easy in his huddle as you did in his house. Hell, the Bengals decided, who even needed a huddle? Let Boomer organize everything, just like one of his Fourth of July reunions—last second, seat of his pants, hut, hut, hut! Hadn't Boomer always felt best amid a swirl?
Cheryl got pregnant. The moment Boomer found out it was a boy, pictures of his own past, warm and wonderful black and whites, began to flash in his mind. If he could have called an 800 number that day and ordered tickets for all the hockey, basketball, baseball and football games he planned to take his son to, he would have. But Cheryl was determined: This baby would not get swept up in the public whirl of her husband's life. "Baby Sub Rosa," she called the child in her womb. It was a Latin term for everything Boomer was not: private, confidential, secret.
After Gunnar came home from the hospital in April 1991, Boomer would lie on the rug holding the baby on his chest. A remarkable thing was happening. Boomer sometimes lay there for hours, just staring in wonder at the boy. He fell asleep like that. "It was the first time," says Cheryl, "that I ever saw Boomer stay still."
Gunnar kept getting sick. Earaches. Three-week colds. Pneumonia. Diarrhea. Barely ate. Asthma, the doctors said. God, it was almost scary how similar Gunnar's problems were to those of the little girl with cystic fibrosis, Sarah, with whom Boomer had fallen in love at Children's Hospital . . . how alike in look and smell and sound they were, how even Gunnar's personality was that same achingly sweet, accepting personality that all those CF kids Boomer had hugged seemed to have. Asthma, the doctors said. Asthma.
Something was happening, meanwhile, to Boomer's no-huddle, no-prisoners offense. Some blamed the deterioration of his offensive line. Some blamed the Bengal defense, which had grown so porous that Boomer always seemed to be digging himself out of a hole. Some blamed Boomer's left arm. Sometimes Boomer wanted so badly to make a football game do what he wished it to do, he tried to take what wasn't his, what wasn't there. In his last 41 starts for the Bengals, he threw 53 interceptions.
The fourth game last season was at home against Minnesota. Gunnar had never been to a game, but he was six months shy of his second birthday, and, for a change, he wasn't sick. It wouldn't be quite the same as when Boomer was a boy, sitting knee-to-knee in the stands with Dad. But the snapshot in Boomer's mind was, in many ways, even more magical: little boy watching Dad evade the Viking rush; Dad cranking up and hurling the 50-yard bomb . . . he's at the 20 . . . the 10 . . . the crowd going berserk.
The crowd went berserk. The ferocity of the boos that day, the insults, the filth. . . . Boomer threw four interceptions; the Bengals lost 42-7. In the third quarter he stepped away from his teammates on the sidelines and turned to the crowd, searching for his wife and child, frantically waving: Go home, go home! Cheryl wouldn't budge.
He stood half bent in the shower afterward, looking as if he were about to cry. For the first time in his life, he couldn't go back to the crowd of friends awaiting him at home. He drove in circles that night and talked to Cheryl about quitting. His snapshot of a father and a boy and a ball game had been ruined.
The Bengals benched him with four games left in the season. Gunnar couldn't sleep, couldn't eat, could barely breathe. Some nights at 4 a.m. Boomer would drive in loops around Riverfront Stadium with his son in the car, trying to get Gunnar to drop off to sleep, numb to what was happening inside those concrete walls and ramps on Sundays, just scared about his boy. A test for cystic fibrosis six months earlier had come back negative, so Boomer and Cheryl kept giving Gunnar cough suppressants, unaware that mucus was the enemy, that the boy needed to couch to live.
The trade came on March 17, 1993. Few teams lusted for Boomer Esiason anymore. The Jets got him for a third-round draft pick in '93 and a conditional second-round selection in '94 that hinges on Boomer's performance. "He hung up the phone after he found out," recalls his business assistant, Tami Amaker, "and he let out this whoop. He shouted, 'Tami, I'm going home, I'm going home!' The way he said that word, home . . . he said it like Dorothy in The Wizard of Oz."
They called him off the field during the Jets' minicamp in May. Cheryl was at Children's Hospital in Cincinnati. Gunnar had pneumonia, again. The doctors were retesting him for cystic fibrosis.
Boomer rushed back to Cincinnati. The doctor walked into the hospital room with the test results. The boy had it: The disease that clogs the lungs with bacteria-trapping phlegm, leaving parents to wonder which invisible particle in the air might be the end of their child. The disease that shuts off the work of the pancreas, making it impossible for the body to absorb most foods unless enzyme pills are ingested before each meal. The disease that often makes males sterile.
Boomer asked the physician to leave. He and Cheryl looked at each other, the air rushing out of the room, the thought in both of their minds the same. The radio caller that day six years ago . . . nothing to do with this, of course not, but . . . god, the sickness of it all. They walked over to the crib, stared down at the sleeping two-year-old with the tubes in his arm and his nose, the child to whom they had passed the mutated gene without ever dreaming they both were carriers. They cried. "We're sorry, Gunnar," they both kept telling the sleeping boy. "We love you. We'll always be here for you. We're sorry, we're sorry."
Then they looked at each other again. Everything would have to change now. All the film study, practice sessions, football games, appearances, commercials, interviews, reunions, laughs—the life Boomer had filled with people and plans and had kept spinning, faster and faster, ever since his mother had died—it would have to end. All the time and energy it took to be Boomer would have to go to the little boy. Wasn't that the legacy of the man in the lawn chair? "I'm going to retire," Boomer told Cheryl.
He drove past Riverfront Stadium on the way from the hospital to their home in Villa Hills, Ky. He still couldn't believe it—his body, a Pro Bowl quarterback's body, had betrayed him, betrayed his son. A sad song was playing on the radio. He kept looking at the stadium. It just didn't feel right, turning inward to fight this war, becoming smaller.
He snapped off the sad song. "No," he decided. "I'm not going to quit. They won't listen to me if I quit or have a bad year. I'm going to have a great year. I'm going to go on a crusade. They'll listen to me if I have a great year. They'll have to listen. They'll have to."
On a Friday night, 41 hours before Boomer Esiason's first regular-season game as the Jet quarterback, there were 30 people and five pieces of furniture in his new house in suburban Long Island. Little kids scrambling up and down stairs still sticky with polyurethane, laughing and screaming. Buddies searching for a corkscrew for the wine. Wives tearing open cardboard boxes, searching for pillowcases and sheets. Bare-chested construction workers painting rooms, sticking tiles to the kitchen wall, carrying beds and mattresses to the upstairs bedrooms. From room to room walked Boomer, hair askew, belt unbuckled, playbook under his arm, looking futilely for a toilet with a seat. "Isn't this great?" he said. "I love it."
He could ask his friends to stay home if they or their children had colds. He could eliminate dust and plants and animals from his home. But not people.
At 9 p.m. he pulled out the sloped board covered with black vinyl. He pulled Gunnar away from his train set, away from the swirl. "Ready for P.T., G Man?" he boomed.
"Ready for P.T., Daddy," said Gunnar. His voice rasped. That was the only clue. He grinned and thumped his father on the back—if he had to be pounded for 20 minutes twice every day, two sessions of physical therapy, so did everyone else in the world.
First Gunnar sat on the bed for 15 minutes wearing a mask, inhaling a mixture of two vaporized drugs designed to open the breathing passages. Then Boomer laid him on the board—feet up, head angled down—cupped his hand and began to beat on Gunnar's back. "Woooooo," went Gunnar. "A-wooooooooo."
"Where are we, G-Man?"
"Big Appaw."
"Who does Daddy play for?"
"Jets . . . a-wooooo."
"What position does Daddy play?"
"Cowbark."
"What do you think of the Bengals?"
"Bengals stink."
"Thumbs-up, by Jove?"
"Thumbs-up, by Jove."
"All right, G Man. Now cough. That's it. Cough."
"It's over, Daddy."
"Not yet, G Man. Big cough this time. Now turn over."
"It's over, Daddy . . . it's over."
On that Sunday, Boomer completed 29 of 40 pass attempts for 371 yards and two touchdowns in his first game of the season, a 26-20 loss to the Denver Broncos. There were 68,130 people in Giants Stadium, 70 of them in the Boomer Esiason party. Norman sat on the 40.
"I'm sick and tired of losing," Boomer said in the locker room afterward. He was pulling his son's photograph off the locker wall, balling up the tape that had framed it, tucking it back into his bag for the next game. "No one in this locker room should sleep tonight. No one."
He drove home, his mind churning as always. Next Sunday, the Dolphins, at Miami. Two days later the press conference to announce the NFL Properties-sponsored fund-raising campaign to fight cystic fibrosis, then the Good Morning America show with Gunnar on his lap, followed by Regis and Kathie Lee. Goodbye, Baby Sub Rosa. Hello, CF Poster Child. Anything the Cystic Fibrosis Foundation needed, anything Boomer could possibly do, he was going to.
But all the cameras and microphones would go away if the Jets didn't start winning, Boomer knew, and all the radio talk-show listeners would start gnashing their teeth. The clock was ticking, and there were still millions of people who didn't know that scientists were closing in on the cure, that they had pinpointed the gene on the seventh chromosome that caused the disease and had even found a way to manufacture a healthy gene, but until they found a way to get the healthy genes everywhere they needed to go, children by the thousands would continue to die.
He walked into his house. He kissed Sydney, his one-year-old daughter, who has tested negative for the disease. He picked up Gunnar. He sat in the reclining chair in front of the six-foot TV screen, turned on the Sunday night football game and laid the little boy on his chest to watch with him.
The game ended. They both yawned. Boomer carried the boy past the kids' room. He laid the boy in his own bed, snuggled against him and fell asleep.