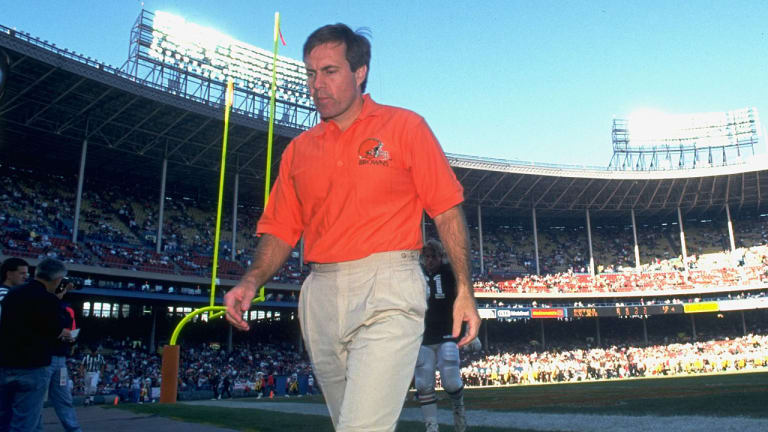 The Last Straw
The Browns' cold-fish coach, Bill Belichick, is unpopular in Cleveland, where he did the unthinkable—he cut Bernie Kosar
Nobody ever said you had to be fun. Where in the contract does it stipulate that a coach has to exchange witticisms with the media and banter with the local boosters and lead rounds of Kumbaya on the team charter? Nowhere, that's where. But it never stops, this incessant droning about how you never lighten up, about how you have all the panache of a toaster oven, about how you're not, as they say in the NFL, "a player's coach."
Which is weird because, for one thing, this is the league whose legendary coaches—Landry, Lombardi, Halas—were not exactly the first guys you would invite over to gather around the piano for an evening of show tunes. This is the No Fun League, the one that fines players for wearing their socks incorrectly, for dancing after touchdowns, for...well, for just having fun. It's also weird because your Cleveland Browns just happened to be riding atop the AFC Central while enduring an excruciating quarterback controversy that died only when Vinny Testaverde's throwing shoulder did.
Or so it seemed. On Nov. 8 the Browns' coach, Bill Belichick, went and did the weirdest thing of all: With Testaverde out indefinitely because of a separated shoulder, Belichick unceremoniously waived quarterback Bernie Kosar, the most revered Cleveland player since Jim Brown and a special favorite of the fans because of his Ohio roots. Kosar's departure left the Brown offense in the green hands of a fellow named Todd Philcox, heretofore known around town as the Guy with the Clipboard. To the Brown faithful, particularly those given to public displays of bone waving, the move took its place beside the Rocky Colavito-for-Harvey Kuenn trade, the Paul Brown firing and the Paul Warfield trade as one of the darkest moments in Cleveland sports history. Kosar was signed by the Dallas Cowboys two days later, and his new team was flooded with calls from Brown fans ordering Kosar jerseys to wear in the Dawg Pound. In Cleveland one fan burned his season tickets for the benefit of the local media, which have given the story more coverage than they have NAFTA.
Belichick knows it's all weird, but there's a catch: He doesn't care. That's just the way he is. Take him or leave him. This is football, and in football there's no room for hand-wringing and squishy psychoanalysis. "You prepare a team as best you can," he says. "You put them on the field, and you do your very best to win. The rest hardly matters. I may look at the paper every now and then, but come on. I've got other things to worry about."
At least he's consistent. He spends much of an interview at the Browns' training complex explaining how much he hates doing interviews. He would rather chew aluminum foil for an hour than be interviewed. He is by turns dour, suspicious and ornery, although in an unfailingly polite sort of way. If Bill Belichick: The Movie were ever made, Belichick would be played by Harrison Ford: aloof, rumpled, preoccupied by things the rest of us will never fully understand. His hair is all over the place, as is his hopeless sweater, which sports the Browns' unfashionable team colors of brown and orange. "He doesn't exactly look comfortable in a suit," explains defensive tackle Jerry Ball, who otherwise admires Belichick.
But the criticism of Belichick goes beyond whether he should switch to double-breasteds. Ever since he replaced the fired Bud Carson in 1991, radio talk shows in Cleveland have devolved into Belichick floggings. His offense stinks, both hosts and listeners complain. They say that he needs an offensive coordinator; that he's too caught up in plodding. New York Giant-style football; and that he was always anti-Kosar, which, in Cleveland, is like being anti-organized labor. Above all, everyone agrees that Belichick has a serious communication deficit. "He's not a great personality person," says Giant general manager George Young, recalling Belichick's days as New York's defensive coordinator. "He can be pretty tight sometimes," says Brown linebacker Pepper Johnson. "The man's not Rodney Dangerfield."
"He's had difficulty with people," says Cleveland owner Art Modell. "He's nervous, shy, withdrawn. He won't be master of ceremonies at many banquets."
Unlike many of his counterparts, Belichick never played professional football, and he didn't major in Theory of Sports or Beer Technology at State U. He is the closet intellectual of NFL coaches and spent his formative years at the exclusive Phillips Academy, in Andover, Mass. Belichick lined up at center there and played well, albeit not against the sort of players who come out of Pennsylvania steel towns or the west Texas plains. It was pretty much the same at Wesleyan University, where he played tight end and center and majored in economics. He was so good that he was avidly recruited—by Fortune 500 companies, not NFL teams.
He doesn't like talking about all this (what else is new?), and in fact, he presents himself as something of an anti-intellectual, as if being smart and well-read is an indication of weakness. "I don't read much," he insists almost plaintively. "I haven't read many books at all." But he cannot disguise his intelligence. Throw out a simple question, of the how-well-is-your-defense-playing variety, and he responds, "Relative to what?" Ask a stupid question, get a metaphysical answer. He lightens up every once in a while, especially with his family and his close friends, who include another coach lacking in interpersonal skills, Bob Knight.
After Wesleyan, Belichick's white-collar future seemed assured. But, again, he just didn't care. Business could wait. It happened that young Belichick had an alter ego, a sort of evil twin who kept whispering "defense" into his ear. His name was...Belichick, as in longtime Navy special teams coach Steve Belichick, who also happened to be Bill's father.
When Bill was growing up in Annapolis, Md., his parents only had two complaints about him. He would lock his bedroom door and blast rock music; and when he wasn't playing air guitar upstairs—there's an image to treasure—he would head for the basement, where he would spend hours snapping a football against the wall. The family would sit down to eat. Thud. They would flick on the TV. Thud. "He was a center," says Steve. "That's all he wanted to do."
With a hand from his dad, young Belichick convinced Baltimore Colt coach Ted Marchibroda to hire him in 1975 as a low-paid coach/serf. He was eventually lured away by the Detroit Lions as assistant special teams coach because that job included the use of a Ford Thunderbird and $15,000 for the season. There was a stop in Denver as a defensive and special teams assistant before Belichick, by then known throughout the league as the wunderkind with the film fetish, was hired by Giant coach Ray Perkins in 1979 as his special teams coach. When Bill Parcells took over the Giants in '83, the 31-year-old Belichick was elevated to defensive coordinator. That connection can't be stressed enough, for Belichick is nothing if not a Parcel's disciple. "He's not a buddy-buddy kind of guy," says Testaverde, "because he's so busy preparing all the time."
In the days surrounding the Giants' 1991 Super Bowl win, Belichick's name was at the top of Modell's wish list to replace Carson, who had been dumped just one day after he benched Kosar in favor of journeyman Mike Pagel during an embarrassing loss to the Buffalo Bills two months earlier. The Giants had a lot of defense, and the Browns had very little. It made sense at the time.
And yet Belichick has been on the defensive ever since. He had fashioned a 13-19 record with the Browns coming into this season, and for the most part, the Cleveland offense during that time had been something close to miserable. Part of that had to do with Kosar's ever-deteriorating throwing elbow. But the running game had also been virtually nonexistent, which, to the dismay of his critics, didn't for a moment cause Belichick to abandon the conservative, bang-that-baby-up-the-middle game plan he had learned from Parcells. "There are always going to be critics who say that stuff," Belichick says, waving his hand dismissively. "When I was with the Giants, we were 10 and 0, and people were saying, 'You've got no passing, no rush, no quarterback, too many old players.' We're 10 and 0, and they're hitching. It's ludicrous."
What's really ludicrous, the critics say, is that Belichick has 15 assistant coaches but no offensive coordinator. One Cleveland columnist calculated that 75% of the Brown season-ticket holders would like to see Belichick canned—an assertion that moves the fellow being fitted for the guillotine to a rare laugh. "When I first got here, there were plenty of empty seats," Belichick says, "but I don't see many now." He's not finished. "As for the coordinator business, all the coaches pitch in. We all know how to play offense."
But let's be honest. This unpleasantness is less about offensive schemes than it is about Belichick's personality, or lack thereof. Several recently departed Browns—Brian Brennan, Paul Farren, Webster Slaughter—have blasted their former boss for being an automaton who offers no positive motivation and sees players only as faceless cogs. Last summer defensive tackle Michael Dean Perry finally had enough and briefly boycotted Belichick's practices. Then, last month, receiver Michael Jackson upped the ante by fairly eviscerating Belichick during a meeting of the Ashland County Browns Backers, who are to the Cleveland brass what the UAW is to the Democratic Party. "If you question Bill, you're out of line." Jackson reportedly said. "He can't relate to the players." Tight end Scott Galbraith, cut earlier this season by Belichick and picked up last week by the Cowboys, calls Belichick's coaching "bully-ball" and draws comparisons to Napoleon.
He just doesn't care. That's the underlying message again, but maybe it's a stretch. In fact, Belichick's greatest problem may be that he cares way too much about the minutiae of football; minutiae are his life. Although the Giants generally revered him, some players would sprinkle ice on their faces during meetings in order to stay awake as Belichick droned on about tendencies and weaknesses and blind spots. "One day Bill came to me and asked what he could do to improve his coaching," recalls Young. "We decided that he should take some courses [in communication]."
Johnson, who played under Belichick with the Giants, thinks that the problem with the Browns goes beyond one man's personality. "In New York the coaches walked through the locker room, the meeting rooms, everything," he says. "We had to run into each other. But they don't do that here in our facility. To have any kind of relationship, you have to rub elbows." Johnson also suggests that some of his current teammates had been "breast-fed" by other, less demanding coaches and now resent a little discipline. And Ball insists that this whole communication thing is inaccurate: "When Bill's upset, he can definitely express himself." More significantly, Ball has gotten along well with Belichick—a whole lot better than Ball did with the coach at his last stop, the Lions' Wayne Fontes, widely known as the consummate player's coach.
But back to the quarterback mess. By now everyone knows the story line: Kosar struggles, there are squabbles over play-calling, Belichick benches Kosar for Testaverde, Belichick is demonized by the media, Belichick gives Kosar another shot, Kosar is benched again, Belichick is demonized again. Never mind that in his two games as a starter, Testaverde had clearly outplayed Kosar, passing crisply and confusing defenses, or that Kosar is one of the few quarterbacks whom Testaverde can actually outrun. In Cleveland you don't mess with Bernie, particularly when the replacement has spent much of his career looking good in a baseball cap. Add to that Modell's once close relationship with Kosar, and it appeared that Belichick was ready for the Bud Carson treatment.
But on Oct. 22, nearly a week after Testaverde's first start, Modell signed Belichick to a two-year contract extension. "I've never interfered in a personnel matter," says Modell, who gingerly supported Kosar's release. "With all the criticism floating around, I wanted to show that I stand completely by Bill."
An affable fellow, Kosar tried to play the good soldier this year. But those around him say he was puzzled and hurt by his benching, and most Browns figured that either he or Belichick would be history at the end of the season. Still, few players expected last week's development, and when it happened, few were supportive of the decision to release Kosar. "It's just very frustrating," said cornerback Terry Taylor, "because there's nothing we can do about it as players."
Added running back Leroy Hoard, "I don't think [Kosar] has lost his skills. I don't think this is about diminishing skills: this is about Bill wanting to go a certain way, and so that's what he chose to do."
The bottom line is that Kosar refused to follow Belichick's offensive script. Kosar is a cerebral quarterback who needs to have the freedom to switch plays at the line in order to be effective, and Belichick viewed Kosar's audibles as an affront to his authority. Some Brown players have said that even when Kosar's play selection worked, Belichick would scream at him to stick to his instructions.
Belichick won't discuss Berniegate in detail, but he says, "I've even heard that I sat Bernie because I don't like him," he says. "Anyone who thinks I'd do all this work and then sit some guy because I don't like him—that's insane."
The insanity has been nurtured by much of the Cleveland media, with whom Belichick has been at war almost since day one. Not surprisingly, Belichick has popped off, Parcells-style, at a few reporters. Beat writers even joke that management has bugged the Browns' press room or has a double-agent sportswriter feeding the team information. ("Hmmm," says team publicist Kevin Byrne, "that's not a bad idea.")
"I don't have anything against the media," Belichick says. "I answer their questions every day. I'll talk about the game, but the rest of the stuff isn't what I get paid for." Fair enough. In the NFL you get paid to win. Put up or shut up. Obviously, Belichick grasps this. "It's just better to do your talking on the field," he says. Then, all done talking, he heads back to the sanctuary of his office.
PHOTO
GUS CHAN/THE PLAIN
DEALERPHOTOPHILHUBERPHOTOPHOTOKosar (18) was the wrong man for Belichick's system, but he won right away in Dallas.PHOTOJOHN BIEVEREven his admirers concede that Belichick's personality does not endear him to his players.PHOTODAMIANSTROHMEYERTo Belichick, Kosar (above) was too slow afoot, but Testaverde is only a step faster.PHOTOPETER READ MILLER[See caption above.]