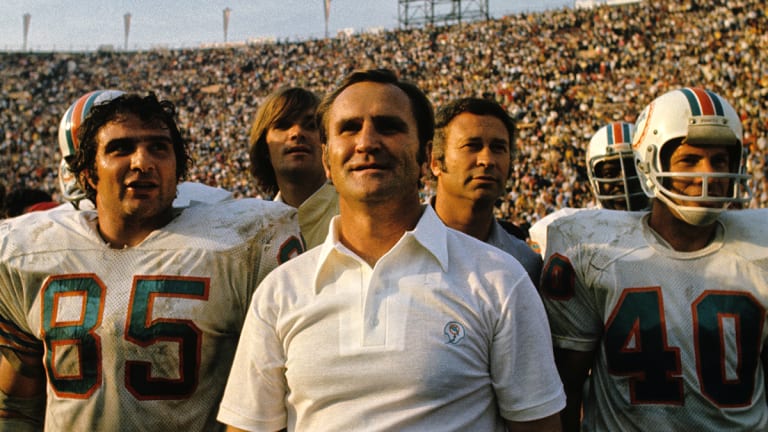 Sportsman of the Year: Don Shula
SI salutes the most successful NFL coach in history, a man whose mastery of the game spans four decades.
This article originally appeared in the Dec. 20, 1993 issue of SPORTS ILLUSTRATED.
It sits there like a fortress, a massive pile of khaki folders. The Shula File. Storm it if you dare. Hundreds of pages of clippings, in-depth features, throwaways, you name it. Armies of writers trying to capture on the printed page the 30-year coaching career of Don Shula, the most successful run anyone has ever had in the National Football League—the more ambitious trying to capture the man himself.
So you find a sturdy chair and light a cigar and open a window and sit down to read the Shula File. In its entirety. You spread 64 years of a man's life in front of you—the relentless drive of a kid from Grand River, Ohio, to be the best in the world at what he always wanted to do—and the experience is rather numbing. When you finish, you are left with a "yes ... but" feeling.
Yes, it's all there—the achievement, the unwavering dedication, the accolades, even the occasional rips from people whose agendas couldn't keep pace with Shula's hard, rough drive to success. But is this really the man you've known for 25 years, the guy who once stuck his finger in your chest and blistered you because you had taken a mindless shot at his quarterback, the man who bit your head off because you once hinted that his team had lost its direction but who was always straight with you?
Hard to say. This you know, though: For nearly 31 years, first as coach of the Baltimore Colts and for the last 24 years at the helm of the Miami Dolphins, Shula has thrived in a world of pressure so intense that it has burned out even those who have succeeded at the highest level, or close to it. Joe Gibbs, 12 years and out. Health reasons, family reasons. Bill Walsh, 10 years. Trapped at the top, crushed by the pressure to stay there. Dick Vermeil, haunted by the vision of what he had become, a robot consumed and almost destroyed by the game. John Robinson, Don Coryell, John Madden—the list is long. Even Lou Holtz. He needed only 13 games to find out that the NFL was too tough a course, yet he has achieved great success at the college level.
Through it all, year after year, watching them burn out and drop out all around him, Shula marches on. On Nov. 14, when the Dolphins beat the Philadelphia Eagles 19–14, he got career win number 325 to pass George Halas as the winningest coach in pro football history. It is for this unparalleled success and pursuit of excellence that SI has chosen Shula as Sportsman of the Year.
Even now Shula's Dolphins are Super Bowl contenders despite being on their fourth quarterback of the season. Dan Marino goes down, plug in Scott Mitchell. Mitchell goes down, plug in Doug Pederson, a third-stringer in the World League, and Pederson becomes the pitcher of record in the historic victory over the Eagles. Afterward Shula announces in that flat, matter-of-fact voice, "We'll start getting Steve DeBerg ready."
The oldest player in the league at 39, discarded by the Tampa Bay Buccaneers, DeBerg, with the Miami formations and terminology still fuzzy in his brain, led the Dolphins on that blood-and-guts final drive that beat the Dallas Cowboys in the sleet and snow on Thanksgiving Day. So what's the big deal? Didn't Shula rescue 34-year-old Earl Morrall from the junk heap 25 years ago and give him nine more years of NFL life? Didn't he once create a quarterback out of a halfback, sending in Tom Matte, with eight plays written on his wristband, to call signals? And didn't Matte beat the Los Angeles Rams and almost beat the Green Bay Packers in the playoffs? That was 28 years ago, and I can hear Shula now: "We'll have Matte ready to go Sunday. He's a competitor. He'll be O.K."
You get the feeling that when it comes to football, Shula does not become haunted by the terrors of the night, and if he ever did, he would keep his feelings well hidden. The coaching miseries that have unhinged so many haven't found room on his crowded schedule.
"I never even heard the term burnout until Dick Vermeil left," says Shula. "Dick was so high-strung, so sensitive; he put so much into it that it just ate him up. Not that other people don't put a lot into it, or me either, for that matter. I just don't carry things away with me like others might. You can't let it influence the way you live your life."
One can't help but feel that perhaps there's too much in the Shula File, too much explanation, too much analysis, that the real path to understanding this man and his remarkable achievements lies in economy, stripping things down, paring away the extraneous and reducing the matter to the man's most elemental concerns: Is what I am doing helping or hurting us? Is there a better way to do things? Does it matter that a guy wears a beard or an earring or that he does a dance after scoring a touchdown, as long as he is willing to work hard enough to get there in the first place? Does the personality of the coach really mean a damn thing when you tally up the won-lost at the end—as long as he's consistent and straight with people?
I remember covering the 1973 Super Bowl for the New York Post, when Shula's unbeaten Dolphins were playing George Allen's Washington Redskins (who were favored, incidentally), and I had this idea for a midweek piece. I would ask both coaches to capsule themselves in one paragraph, how they would like to be remembered. I thought they might tell me to take a hike—can't be bothered with this kind of foolishness—but, no, they took my request seriously.
"Put down," Allen said, "that I wanted to win so badly that I'd give a year of my life to be a winner."
There was a pause. "You mean in this game or overall?" I asked him.
"I mean just to be a winner," Allen said.
Shula's response was equally blunt. "Didn't lie to anyone," he said, "didn't screw anybody, traveled first-class."
I've thought about that. The first two were self-explanatory. The last one was a bit puzzling. Glitter—wealth, ostentation, the things commonly associated with first-class travel—was never his style. It took a while to figure out that by first-class he meant the rejection of the tawdry and banal and mean-spirited, all the things that conspire to lower a person.
Harvey Greene, the Dolphins' media-relations director, says one of the things Shula takes the most pride in is that he has been part of the overall development of the game, through his 18 years as a member of the NFL Competition Committee. At times, though, the young Shula was an official's nightmare on the sidelines. ESPN's Beano Cook, who was once the Dolphins' publicist, remembers Shula in front of the bench, livid, fists clenched, screaming at an official, "You're ruining my life! You're ruining my life!" It was during an exhibition game.
For years writers have been trying to present a new Shula, more mellow, more toned down. Sport magazine did a piece called "Shula Pride," with a subhead that read "Once a hot-tempered dictator, Don Shula of the Miami Dolphins has mellowed in becoming the NFL's winningest coach." The story appeared 15 years ago.
"Mellow? Mellow?" says Stu Weinstein, the Dolphins' director of security. "I've been here nine years, and I've yet to see the mellow. Consistent, yes, but mellow is not the adjective I'd use."
Going through that Mount Rushmore of a clipping file, you are struck by the occasional inconsistencies. One story quotes his brother, Jim, describing young Don as a playground Sir Galahad: "Don was always strong. He was the one stopping lights. He was the realist."
Another piece, written three days earlier, describes him as a "pugnacious lad with an appetite for schoolyard scraps."
"I don't think I ever started a fight," Shula says. "But I had a short fuse."
Then there are the stories—legends, actually—that march through the file like soldiers, following him through the years: didn't allow water on the practice field when he started coaching; forbade his players to have sex after Tuesday during game week. That one was a little much. For Shula, too.
"Oh, hell," he says. "No water during practice was one of those outdated ideas. Everyone believed it. It was supposed to give you cramps or something, just like weightlifting supposedly made you muscle-bound. So many strange things in those days. Remember that exercise everyone had to do, the duck waddle, walking around with your knees bent? Later it turned out it was absolutely the worst thing for your legs.
"The no-sex-after-Tuesday thing was just something to kid about. When I played for Cleveland, Paul Brown used to talk about it in the meetings, and everyone would laugh and tell jokes. I mean, how would they check?"
The first time I saw Shula close up, during the 1969 Super Bowl week, as his Colts prepared to meet the New York Jets, his reputation had preceded him and given all of the writers material for midweek stories. The contrast between the two teams was a convenient angle: the circus atmosphere surrounding Weeb Ewbank's Jets versus Shula's buttoned-up and businesslike Colts, the players a mirror of the rather ferocious character who coached them. His first press conference set that right.
Someone asked him about the near fight early in the week between Joe Namath and Shula's kicker and former defensive end, Lou Michaels, in a Fort Lauderdale restaurant. I turned to the guy next to me and said, "Oh, boy, now we're in for it," fully expecting some tirade about confining our inquiries to football.
"Joe's the 837th guy Louis has threatened to death," Shula said, laughing, "and if he'd punched him, he'd have been the 30th guy he'd decked."
I didn't know it at the time, but when Shula was a defensive back with the Colts from 1953 to '56, he was hardly a goody-goody. He hung around with the rougher elements on the team—Gino Marchetti, Artie Donovan, Don Joyce, Bill Pellington—and choirboys didn't survive in that company. "We'd be drinking in Baltimore, and we'd have to drive back to camp, in Westminster, Maryland, to beat the curfew," Shula says. "One night I said, 'C'mon, I'll drive us back,' because I was the one who was sober. One guy grabbed the keys out of my hand and said, 'We ain't going anywhere.' And we weren't—until they were good and ready. When I finally got us back, we'd missed bed check by five minutes, and the whole bunch of us got fined.
"Some rough guys there, but you know, you could learn a lot from some of those old players," Shula continues. "Gino Marchetti revolutionized defensive-end play. Most of them were bull rushers in those days, but Gino was a grabber and thrower, a guy with moves who'd blow by the tackle so fast sometimes that he'd never touch him. There were guys who'd play against Gino and say, 'Joyce is much tougher. Look, my uniform isn't even dirty.' But Gino got a lot of quarterbacks and running backs dirty."
What was Shula like as a player? When he came to the Colts, after two seasons with the Browns, he was the only defensive halfback (they didn't call them cornerbacks then) in the league to call defensive signals. John Steadman, now a Baltimore columnist, who was the Colts' publicist in Shula's playing clays, remembers him as being "one of the finest tacklers in the game. If you wanted to run a clinic on how to tackle, you'd get Don Shula." His Colt teammates thought enough of him to award him a game ball—when he was sitting in the stands.
"It was the week after I'd been cut in '57 and right before the Redskins picked me up for my final season," Shula says. "The guy who replaced me—Henry Moore, I think—got beat for a touchdown, and afterward the players gave me a game ball."
What do I remember about Shula's playing days? He is the only player who got an NFL rule changed while he was still active. I reminded him about it last month: Colts against the Rams, the first game of the 1954 season, Ewbank's coaching debut in Baltimore. On the first play of the game Los Angeles lined up with 10 men and then, just before the snap, sneaked Volney (Skeet) Quinlan off the bench and onto the field to catch Norm Van Brocklin's bomb. The old Hideout Play. The defensive back beaten was Shula. The following day Bert Bell, the NFL commissioner, changed the rule, and the Hideout Play was henceforth illegal.
"Damn right I remember it," Shula says. "I remember thinking, Where in hell is the Dutchman throwing the ball?"
Two weeks after this reminiscence I saw Shula in Miami. The first words out of his mouth were "Bobby Boyd." Say what?
"It was Bobby Boyd who caught that pass," he said. "The track guy they used to bring in as a third wideout. Not Quinlan."
It must have bugged him the entire two weeks. Dolphin beat writers say that Shula reads everything written about the team and never forgets a thing. A few seasons ago, when Miami was on its way to a 12-4 season, Shula fielded a question during a media session and then looked at the reporter and said, "Eleven times you've picked us to lose. Do you really think we're that bad?" The guy tried to explain that he was doing a handicapping column and that he'd been picking the Dolphins to fail to cover the spread.
"Eleven times," Shula said, shaking his head. "Eleven."
Have I ever felt Shula's wrath? Oh, brother, let me count the ways. When Miami drafted Marino, I was one of the TV analysts for ESPN. I issued one of those mindless pronouncements some scout had told me, that Marino's mechanics were wrong, that he pushed the ball.
The next time I saw Shula, he stuck his finger in my chest and said, "Pusher, huh? Pusher? What do you think of my pusher now?" He stayed on me for two years, while Marino was putting up all those outasight numbers: "Here's the guy who said I've got a pusher for a quarterback."
Do not—repeat, do not—challenge Shula on a football matter unless you're on very firm ground. Naturally, I repeated my mistakes. When the Dolphins traveled to Foxboro, Mass., to play the New England Patriots in 1986, Miami was struggling and things were sensitive, although I wasn't bright enough to figure that out. Shula and I took a walk near the team hotel. The New England foliage was in full color. It was one of those mellow moments when you feel you can say just about anything. Yeah, sure.
I said that I had the feeling he wasn't comfortable with the kind of team he was coaching, all that passing, not much running, that things were much better in the '70s, when he had those machines that would crank out 250 yards on the ground and throw the ball 15 times a game. I was too caught up in my own thought to notice the rage that was building. Finally it exploded.
"What would you do if you had a quarterback like Marino?" he snapped. "Have him hand the ball off 50 times a game? Geez, these experts."
Did I ever win one with him? I think I did, but I'm not quite sure. Jets versus Dolphins, 1970, at the Orange Bowl. I was a beat writer covering the Jets, who were on their way to a 4-10 season. They should never have been in it against Miami, but they were, right down to the end, when Miami won by six. Late in the fourth quarter Shula had to make some kind of decision—go for a field goal, go for a first down, I can't really remember. Afterward the New York coaches were all talking about how Shula had made the wrong decision.
So during Shula's press conference I asked him about the call. "It was the right one, anybody knows that," said Shula. I waited for the next round of questions to subside and started again: "But don't you think that in a situation like that...." I never got the chance to finish.
"I already answered that question," he said. "Who the hell is this guy?"
I left. I had a late deadline. I didn't have to write my story until I got back to New York. I was thinking about it all the way home. Dammit, it was the wrong decision, he knew it, and he blustered his way through it. When I got back to the office, I fired off this real Sieg Heil letter to Shula about how a lot of people in this world don't give a damn about football and none of you guys are finding a cure for cancer, etc. I didn't write a line about the whole thing in my story.
I never got an answer, but the next time I saw Shula, he went out of his way to be warm and friendly. I think he appreciated a guy who had shown some genuine rage but didn't go hide behind a typewriter and put it in a story.
"Coach Shula's changed in very subtle ways," says Bob Kuechenberg, a Dolphin guard of the '70s and one of Shula's alltime favorites. "Maybe the death of his wife, Dorothy, a couple of years ago had something to do with it, the slow and tragic way it happened. I saw him at a dinner after that. He hugged me. He said, 'I love you, Bob.' When he walked away, I said to my wife, 'Did you just hear what I think I heard?' It's something he never would have said in the old days. The Lombardi in him wouldn't have let him. Now he can say something like that. He isn't afraid to show that kind of emotion."
Not long ago Mercury Morris, a Pro Bowl halfback for Shula in the '70s, was in line for a job as a sports-talk-show host in Miami. He asked Shula to be his guest for the audition broadcast. It's something Shula rarely does, but he told Morris that he would do it for him. Morris, who'd been having a rough time of it lately, who had done time in the mid-'80s for cocaine trafficking, got the job.
You have to understand the background here. Back in 1974 Morris was so upset with Shula that he put a voodoo curse on him. He had been unhappy about splitting time with Jim Kiick at halfback. He had ripped Shula in the papers. The Dolphins would end the '74 regular season against the Patriots and then face the Oakland Raiders in the first round of the playoffs. Morris had been out with a bad knee. Shula and the team doctor said he was ready to play. Morris said he wasn't. There was a bitter exchange, and after the Patriot game Morris, who didn't play, put the voodoo on the coach.
"I went to see this Haitian root man, King Solomon, on 54th and 12th," Morris says. "I told him, 'Shula's trying to kill me. I don't want him hurt, but I want him off me.' I see that you're laughing, but believe me, you'd go down to his place, and you'd see lawyers there and people like that waiting for him to put some roots on somebody.
"The night before we left for Oakland, I was out in the backyard at 2 a.m., saying chants. I made a Shula doll and put it in a box and buried it. Before the game I was chewing roots on the field. In my shoe I had a piece of paper with a spider web on it, and written underneath was the word confused.
"During the game our starting cornerback, Tim Foley, got hurt, and they put in Henry Stuckey, the third-stringer, instead of Lloyd Mumphord, the regular backup. Cliff Branch ran by Stuckey for a 72-yard touchdown. On the bench everyone's asking our defensive coordinator, Vince Costello, 'Why is Stuckey in there?' Then someone said, 'He must be confused.'
"That was the game where Clarence Davis caught the pass that beat us in the last minute. Afterward our left tackle Wayne Moore, who knew what I'd done, said to me, 'Damn, baby, you should have waited till next week so we could have gotten another check.' "
Why, pray tell, would a player do that to his own coach, his own team? "Because I was 27 and wild and crazy," Morris says. "I'm a grown man now. Sport does not provide you with away to grow up, just to grow old. You grow up after football, and it was only after growing up that I understood Don Shula and saw the contribution he has made to the game."
Recently the story of the voodoo curse was relayed to Shula. He'd never heard it. He listened to it in its entirety without a trace of a smile. "Confused?" he said. "Merc said we were confused? I guess he didn't know that Mumphord was hurt, that he couldn't have gone in."
Bring on the powers of darkness, but do not ever question Shula's football knowledge. You don't remain so high, for so long, by being confused.