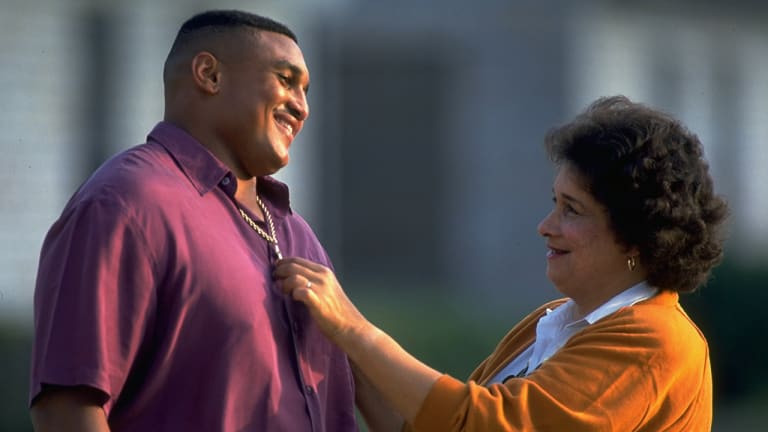 Publish date:
Educating Willie
Willie Roaf's mother wanted him to be a star student, but instead he became a star athlete
I was naive," says Andree Roaf. It's cool outside, a late-October night in Arkansas. She's barefoot, age 52, an attorney-at-law. She puffs on her cigar and regards the plume of smoke. "I assumed," she says. "I assumed my child would be like me."
She rises wearily. She carries a book with her. She always does. Tonight it's The Fountainhead, by Ayn Rand. She walks to the framed photographs that cover the top of the piano. Heads. Suits. Ties. Smiles. They are the prologue to her tale. They must be revealed first.
She points to her grandfather, who won a scholarship to Yale in the early 1900s, graduated and became a teacher and the executive director of the Norfolk, Va., YMCA. Then to her other grandfather, a college graduate, superintendent of a school for orphans and wayward children.
There's her mother, Phoebe. Top five in her high school class, scholarship to Talladega (Ala.) College, honors graduate, master's degree from Michigan State.
And her father, William: master's degree from Fisk, director of equal employment opportunity for the Federal Reserve System, local executive director in the Urban League, poet, thespian, community leader.
Here's her sister Mary. Honor student, master's degree from New York University, former assistant postmaster general, now director of communications for the Child Welfare League of America. Next, her late sister Serena, honor student, Michigan State grad, clarinet player, advertising copywriter.
Over here is Andree's husband, Cliff, co-valedictorian of his high school class, degree in dentistry from Howard, member of the school board in Pine Bluff, Ark., for 21 years and the Arkansas State Board of Higher Education for 15.
Next to him there's Andree herself: honor student, Michigan State grad, law review, second in her law class at the University of Arkansas at Little Rock, with a 3.78 grade point average, partner in a law firm.
Look, there's Andree's oldest child, Phoebe. Presidential scholar, cum laude graduate of Harvard, master's degree from Princeton, research officer for a nonprofit organization designing programs for disadvantaged youths. And Andree's second child, Mary: honor student, winner of two state oratory contests, graduate of Georgetown, seventh-grade teacher at an inner-city school in Washington, D.C.
And then . . . then there's Andree's third child, Willie. She sighs. "I had to learn to accept him," she says. "How? I just gave up, that's how. I mean, I loved him, always loved him. But I still don't totally respect what he does as a way to make a living. I guess there are some people you just have to understand . . . you just have to tolerate. . . ."
She shakes her head and runs her finger over the picture of the 6'5", 305-pound millionaire who seems destined to become one of the greatest offensive tackles in the history of the National Football League.
Yes. this is a sad tale.
Best young tackle I've seen come into the league in my 31 years.
—CHUCK KNOX
Coach, Los Angeles Rams
Every parent's nightmare.
The best I've ever been around. He could be the best tackle ever.
—PAUL BOUDREAU
Assistant coach, Now Orleans Saints
A mother's cross to bear.
I really believe he will be a 10-time Pro Bowler.
—ERIC CURRY
Defensive end, Tampa Bay Buccaneers
Read on, if you can bear it.
Son, you better be glad I'm not God, because I would wave a wand over you, and football would be history. You would be a nuclear physicist instead.
—ANDREE ROAF
Willie Roaf's mother
It could happen to you.
To think how innocent it all seemed. How benignly it began. A lovely spring Saturday in 1961 at Michigan State. A blind date for Cliff Roaf and Andree Layton, arranged by the girlfriend of Cliff's teammate Herb Adderly. Andree, a knockout—that was the scouting report. A little quirky, perhaps. Rarely went to parties. Never had a boyfriend. Burned a hole clean through her sheet and mattress pad at age 11 with a hot light bulb while reading under the blanket at midnight so her parents wouldn't know.
A knockout bookworm, a wonderful anomaly. Cliff was intrigued. Never mind his right knee, which burned like dripping candle wax from his collision with another player that afternoon in the annual Green-White intrasquad game. Never mind the assistant coach's order that Cliff, a sophomore backup defensive lineman for the Spartans, go to the campus hospital that night. A knockout bookworm. Besides, if they said the knee needed surgery, it would mean weeks of missed classes, certain failure in physics and chemistry, no college degree for a young man whose family had no money, none, to pay for an extra semester once his four-year academic-athletic scholarship ran out. Cliff was going to get a college degree. He found a cane. He hobbled through the date with Andree. They talked ideas. They talked books. His eyes kept growing bigger. So did his knee. It was a mango in the morning.
The knee would never recover. Duffy Daugherty, the Michigan State coach at the time, made the pain worse, burying Cliff in the depth chart for insubordination. All in one day Cliff lost a football career and gained a wife.
"They went into my living room at home and read—that's how they dated," recalls Andree's father, William Layton, a Renaissance man who loved writing and reading and acting and dancing and singing. "Oh, I smelled that boy right away. He smelled good."
But what was happening to Cliff? He had grown up as one of nine children crammed into a four-room house in Pine Bluff, son of a common laborer, a man who loaded railroad freight, worked fields, sawed wood and pushed mops to survive . . . and here Cliff sat, feeling almost intoxicated, in the Michigan home of a black family that discussed theater, listened to opera, used one fork for salads and another for meat.
Sure, he had been his high school's co-valedictorian, but sports had always been his true love. He had spent Friday nights playing football and Saturday mornings picking cotton, and he had become an all-state defensive lineman talented enough to do what was virtually unheard-of for a black teenager in Arkansas in the '50s—win a scholarship to a Big Ten school. But here he was, a year and a half after that blind date, hobbling through his senior year on a kneeful of mush, teaching freshman linemen how to pass-rush, no longer even on the roster.
That autumn of '62, Cliff and Andree had tickets for the big one, Michigan State-Michigan. He and Andree stood outside the stadium, talking. There was still time before kickoff. They decided to take a little walk alone the banks of the Red Cedar River, which cuts across the Michigan State campus. They heard the roar of the crowd behind them. Cliff, that was kickoff. They heard the thunder of the band. Cliff, that was halftime. They talked books. Cliff, snap out of it! They talked ideas. Good god, man! They talked marriage, talked children, talked dreams. That was it, Cliff! Ball game's over.
"Football players?" says Grandpa William. "Football players weren't Andree's idols. Eggheads were her idols." William Layton has a wonderful cackle.
Yes, one could almost hear God cracking his knuckles at the wedding, rubbing his palms, rolling up his sleeves, dice-shaking chromosomes. Andree was a woman with visions of how the world and the people in it should be, and her visions died slow, painful deaths. When she was seven, she discovered that her father was about to perform in a play in which he would kiss the teenage girl who was acting the part of his daughter. "You're a married man with children, Dad!" little Andree cried. "You shouldn't be kissing anyone but us!" On opening night her mother dressed Andree and her two sisters in yellow, blue and pink with bows in their hair. Andree made it out to the porch, then sat down, rocking furiously, refusing to budge as the rest of the family climbed into the car and pulled away to go watch Daddy kiss a stranger.
Now she was 24, working in a lab for the Food and Drug Administration in Washington, D.C., supporting her husband through dental school, sometimes plowing through a book a night . . . pregnant. Out came Phoebe, a verbal phenom. Reading, thanks to Andree's tutelage, at age four, polishing oil Love Story at seven, pulling mostly A's in school. Chip off the old bookshelf. Confirmation of Andree's vision. Another pregnancy. Another word hound. Mary was reading at four, then winning essay contests, speech competitions, teachers' hosannas. "I knew how to raise daughters," says Andree with a cock of her eye.
Andree, meet Willie. He's the little guy pulling your earlobes, tugging your hair, yanking the air-tip Murillos right out of your mouth while you're trying to finish the last chapter of The Dirty Dozen.
"I was shocked," says Andree. Holes in the walls. Busted lamps. Shattered chandeliers. "I was astonished," says Andree. She had had no brothers. She had had no clue. One day Willie put on his sneakers and stuck his foot under a lawn mower. The lawn mower was on. The tip of his toe was all but off. "I wanted to see what would happen," he said as his parents mopped up the blood.
Years later, when Willie would sign a $5.5 million contract as the first offensive lineman chosen in the '93 NFL draft, the people working in his agent's office would call him Taz. As in Tasmanian devil. "He'd come into a room when we were kids and bug you, tease you, poke you," recalls his sister Mary. "He'd unravel everything and leave. I had to get out the butcher knife a few times."
The family, by then, had moved to Pine Bluff, Cliff's hometown, and had a fourth child, Andrew. Willie's mom had bought a blue-eyed, gray-furred Siamese cat and named it Ho Chi Minh. The neighbors, black working-class, still close enough to the dirt to know all the old folk tales about Siamese cats, were terrified of Ho. Ho had a voice like a human, it was whispered, stole meat right off the barbecue grill, could even suck the life out of you if he caught you napping. The Roaf's got a call one Christmas morning from a horrified neighbor with a life-sized Nativity scene in the yard. Come get that cat! We're not goin' near it! He's in the manger! Ho Chi Minh slept with Baby Jesus!
Yes . . . the perfect pussycat for Andree Roaf. She walked against the wind, sniffed at conformity, lived by her own compass. "If I hadn't married and had children," she muses, looking off into space, "I could have been very eccentric."
"Headmistress of a convent," suggests her daughter Mary.
Andree curled up each night with her book, her cigars and the disintegrating feather pillow she had had for decades, the one she loved to knead and pinch, snapping the feathers' quills one by one. Ahhhhh. Uh-oh. Willie's home. She steeled herself. She read harder. Sometimes she fled. Sometimes she ended up bent over her book in the bathroom, the door locked; exactly how many times could a kid scream "Mama!" before he lost heart?
In the end he usually won. Willie was irresistible. He was Andree turned inside out—playful, outgoing, needy, physical. "You're spoiling him," her two daughters admonished her. "You're babying him. He's your favorite."
"He's just so sweet," Andree would say. "So good at heart." The Roafs visited New York City when Willie was 12. A homeless man, drunk and wrapped in tattered clothes, slumbered on the sidewalk near their car, soaking up the water trickling from a nearby pipe. "We have to do something!" cried Willie.
"There's nothing we can do," said his parents.
"Then let's leave some money next to him."
"We can't. Someone else will take it." Everyone climbed into the car and forgot about it. Not Willie. He burst into tears.
Andree entered law school when Willie was five and Andrew was three. Four children, a husband, and two hours in the car each day, round-trip, to the University of Arkansas at Little Rock. It beat reading in the bathroom. Truth is, Andree had no real affinity for law.
"But I had to get another degree of some kind," she says. "In my family, if you only have a B.A., you feel like a dropout." She became a partner in the firm of Walker, Roaf, Campbell, Ivory and Dunklin.
The Roaf boys, by then, had heard the legend of their father's high school football days. They pestered him to come out and play with them, but Cliff refused.
"Play with your buddies," he would say. He wasn't going to push the sport, not with Andree watching through the kitchen window, not with the sting of his wounded amour for the game still sharp, not with the memory of how swiftly a young man's dream could be shattered. Besides, he was too busy for children's games, too busy burning away the guilt he had felt since that day when a group of MSU students who were freedom riders had started recruiting students to go south and challenge the segregation laws. One of the riders had recognized him as he bicycled to class—Cliff Roaf! Come back! Come join us!—but he had pedaled away, ears aflame, pretending not to hear. He would redeem himself for that day. He ended up a permanent fixture on the school board, the Arkansas State Board of Higher Education, the local boards of Easter Seals, United Way and Red Cross, rushing from molars to meetings and then to knock on doors for every one of Bill Clinton's gubernatorial campaigns.
But Cliff couldn't help noticing, when Willie started playing peewee and junior high football, what the kid did to anyone across the line of scrimmage from him. Cliff couldn't help acting like a lunatic in the stands, screaming so loudly that sometimes Andree had to walk away from this stranger she had married, this quiet, dignified community bastion turned banshee. On a couple of Friday nights Cliff had to quarantine himself in his own house, where he could sit by the radio, listen to his son's high school games, scream at the walls, and live out his lopped-off dream. "I'll tell you," Cliff told his wife one day, "if this kid keeps growing and improving, he could be a pro football player. He has what it takes."
Andree scoffed. But like it or not, if her child was going to play a football game, she was going to be there—with a book in her lap to thumb open whenever Willie wasn't on the field—an instinctive loner compelled to act according to her own mother's first commandment: Family, family, family. Shhhh, want to know a secret? Part of Andree was grateful. All those football practices kept Willie out of her hair. Out of her chandelier.
His grades, decent in his early years, deteriorated in high school. People reminded him how brilliant his sisters were. "I knew I could never match them," he says. He was far from dumb, but not from lazy. Andree couldn't bear it. She sat over him and his homework at the dining table. She corrected every bit of bungled grammar when he was talking with his homeboys in the kitchen. She yanked him off the basketball team in his junior year, overriding the coach's pleas, so he could concentrate ' on studies. She dangled rewards. She had her grandfather's scholarship to Yale framed and nailed to Willie's bedroom wall, hoping it might rub off. "Four generations of this family have gotten college degrees!" she cried one day. "You can't be the one to break the chain."
Sports books. Maybe they were the ticket. Maybe they would entice him to read. Andree laid them on his pillow. They ended up on the bedroom floor—"I don't think he's read a book cover to cover in his life," she says, "unless Spiderman counts"—lost in the snowdrifts of clothes, clean and dirty ones mixed. A sniff in the morning was how Willie selected his attire. He would race out of the house 15 minutes late for school, half unbuttoned, all wrinkled, shirttail Happing, collar stained (another bad sniff job) and return at dusk, peeling off his wardrobe as he went, jacket in one room, sweater in the next, then shoes, socks, wallet. "Like an animal dropping his spoor," snorts Andree. "You know, that's what I don't understand. Is he really as great in football as everyone says? It amazes me. He has no work ethic. Whenever I see him, he's lying around the house eating pizza and watching videos. Does he just do that here, to bug me?"
He weighed 230 coming out of high school. Only two local universities offered him scholarships. He chose Louisiana Tech. On the day he committed, Andree sat on the blue sofa in coach Joe Raymond Peace's office, "crying her heart out," recalls Peace, "because she was giving up her baby."
"Giving up my baby?" says Andree. "I don't think that was it. Believe me, if I'd been dropping him off at Harvard that day, I wouldn't have been crying."
Willie? Willie Roaf? In jail?
Andree tumbled out of bed, threw on her clothes, jumped into her car and bolted to the Pine Bluff police station. Willie had never given anyone a lick of trouble; he was just a big ol' teddy bear, deaf to the howl of the streets. She walked inside and stopped. Both her boys, Willie and Andrew, were standing in a holding cell.
Willie blinked, still trying to piece it all together himself. Just a few days earlier Schrick Brown, a cousin who had been almost a brother to Willie when they were growing up, had been murdered as a result of a long-running feud. All Willie had planned to do the night he was arrested was go to the airport and pick up Andrew, who had flown in from the naval base in San Diego for Schrick's funeral. Suddenly, on the ride home, Andrew, also a close buddy of Schrick's and privy to the feud, spotted a friend of the shooting suspect's driving past.
"Follow him!" shouted Andrew. And all at once Willie, overcome by rage and grief for his cousin, was roaring down the road, ripping around corners, following the car—where? Directly into the parking lot of the Pine Bluff police! The youths in the other car leaped out and raced into the building, screaming, "The Roaf boys are gonna kill us! They got a gun!" and before Willie could squeak out a word, a wall of policemen was charging at him, shouting, "Get on the ground! Where's the gun?" and he was facedown on the asphalt with his arm wrenched behind his back.
There was no gun. Finally Andree untangled it all—it doesn't hurt to have a lawyer for a mom—and the police later .dropped the disorderly conduct charge, but Willie couldn't shake Schrick's death and his own arrest. After that the video store was as far as he wanted to go on weekend nights. "Never know who has a gun anymore," he told friends. On Fridays he would come home from college and sleep on the sofa just outside his parents' bedroom door, too spooked to sleep alone in the room that he and Schrick had shared. He ground his teeth so hard in his sleep that his father had to construct a plastic mouth guard.
Andree would close her book at 2 a.m. and look over at her son on the sofa. My god, he was growing mammoth lifting those weights at Louisiana Tech, slabbing on 15 to 20 pounds of muscle a year.
My god, he was walking funny these days. High school football coaches had told him he could build up his leg muscles and run faster if he walked on the balls of his feet, a habit that had somehow run amok when Willie's torso turned enormous and his calves remained thin. He moved like a very large Hindu walking across hot coals, hips swiveling, bulk rolling from side to side and then landing almost daintily on the fronts of his feet. Some friends called him Zig Zag. A girlfriend would notice a resemblance between his walk and her pet iguana's gait and name the lizard after Willie.
It occurred to Andree that big, sweet, naive lugs like her son were the men her society venerated. Not men like her father and husband, the readers and thinkers, the community leaders. "I can't understand it," she would say, another vision dying hard. "I mean, I know that the average man doesn't fight in wars or hunt for dinner anymore, and so our athletes, in a way, are doing it for all of us. I realize that they're our modern-day gladiators. But still, the way we've exalted them . . . explain it to me."
Her gladiator, by his junior year, was almost flunking out of Louisiana Tech. He had stunned scouts by running the 40 in 4.82, allowing only a couple of sacks per season and, on videotape, always driving his man clean off the TV screen. "I'm gonna quit school," he told his mother. "Declare early for the draft—they say I can go third or fourth round."
Whoa! What? Andree mobilized. She talked him into taking a full load of summer courses. She talked him into seeing how much more money he could make by waiting a year and being drafted in a higher round. She talked Lloyds of London into providing a $250,000 insurance policy, assuring Willie some recompense if he were injured badly in his senior year, and she paid the premiums.
She made Willie Roaf a couple of million dollars. On Sept. 26, 1992, in Willie's senior season, Alabama came to Tech with Eric Curry, a certain first-round pick, probably the finest collegiate defensive lineman in the land.
Some scouts were still wondering about the temperature in Willie's furnace. Those bookwormish eyeglasses he wore on the sideline, they made him look . . . well, almost like someone who might want to get a master's degree or something. His offensive line coach, Petey Perot, breathed fire into Willie's ear all week. This is your chance, Willie. This is where you prove it.
Willie smothered Curry that day. Competition brought something out in him that his mother never glimpsed around the house. On third-and-nine in the second quarter, Tech quarterback Sam Hughes dropped back into his own end zone to pass, and Curry came like a bull. Willie stood him up stiff with his forearms, found his hand in Curry's helmet, ripped it off and let it fly. Curry was speechless. Curry was sack-less. Curry never even made a tackle that day. "Curry," said Willie, "you're going to have to deal with this for the next eight or nine years." Willie himself could hardly believe what he had just done and said.
Word spread across the land, across newspapers and computers and NFL front offices. Andree Roaf's baby was baaaaaaaaaaaad.
It has all been a blur since then. Postseason all-star games, draft rumors, agents calling, reporters calling, Willie telling everyone, "Talk to my mom," Andree being dragged into a world she had never dreamed she would be part of. Andree quizzing general managers for references on agents, reading books and innumerable articles about them. Then interviewing scores of them and grilling financial advisers as well, until she compiled a short list for her son to choose from. Andree getting so excited she could hardly concentrate at the office.
All the Roaf eggheads converging on New York to watch Willie go in the first round of the draft. Andree asking that the world call her son William. Willie winning a job that usually takes two or three years to master, getting it a few weeks into training camp when the Saints cut veteran offensive tackle Tootie Robbins. Willie shrugging and telling the reporter, "I didn't have nothing to do with it." Andree reading the quote in the paper and pouncing on him for using a double negative.
Andree, the loner, sitting in stadiums and screaming with 60,000 people. ("Good for her!" cries Grandpa William. "It's opened her up some, got her nose out of a book. She's too serious.") Andree getting so nervous watching Willie play that she felt as if she were hyperventilating, "worried sick they'd run over him and make him look like a fool."
Willie throttling the Packers' Reggie White in the third exhibition game, going five regular-season games without permitting a sack, until finally, after being burned for two by the Steelers in Game 6, Willie walking to the sideline, getting barked at by his line coach and astonishing the coach by crying.
Willie calling his mom every day, sometimes twice, for advice. Willie falling hard for a beautiful New Orleans schoolteacher, an honest, efficient woman who organized him—funny, almost like his mother.
Willie falling hard for a '93 Pathfinder and a '93 BMW 850, ignoring another plea from his mom. "I urged him to keep his '83 Ford and make a statement," says Andree. "I'm preaching to him that material things don't mean a hill of beans. It's character. It's how you live up to your responsibilities, how you treat people. Society is going down the tubes. Who's going to raise productive citizens in this country? I want him to learn to live by his own values, to ignore peer pressure—that earring in his ear, why does he wear it? Because Michael Jordan wears one. He's not strong enough yet, but I'm hoping he's going to give off these signals to the people who look up to him. I know he's got a brain in there somewhere, and he's going to use it someday."
And, yes, Willie looking around the Saints' locker room, realizing how different the pressures on him are from those on other black athletes—no one in his family expecting money or cars or houses from him, but asking instead for something larger and deeper, something that may cost him even more.
"If we who have lived the black experience can't relate to those still trapped by it," asks his father, "who in America can? I want Willie to take this on, because the problems among black teenagers are so severe, so pernicious, that if we don't turn a large number of them around in the next 20 years, I don't know what our future will be. I'm an optimist, and I'm frightened. If Willie can reach out to the lost, to the trapped, that will be a living legacy."
But first, of course, there is one small matter to clean up, the 12 credits Willie must complete to receive his college degree. "He'll never hear the end of it if he doesn't," vows Andree's mother, Phoebe. "From all of us. It's the minimum."
"I'll do it," pledges Willie. "I'll start on it this spring. I know how lucky I am to have a family like I have."
Everywhere there were signs of the cultural exchange occurring in the Roaf family. The eggheads were placing Saint pennants in their windows, Saint bumper stickers on their cars, Saint towels on their bathroom racks. And Willie, god bless him, was actually quoted early this season using a five-syllable word.
"Whoooooeeeee!" Grandfather William cackled. "Spon-ta-ne-i-ty. I called him to congratulate him. Where'd that rascal get that word?"
Andree grins. She has no choice. She "can't keep fighting it. A 305-pound body is a terrible thing to waste.