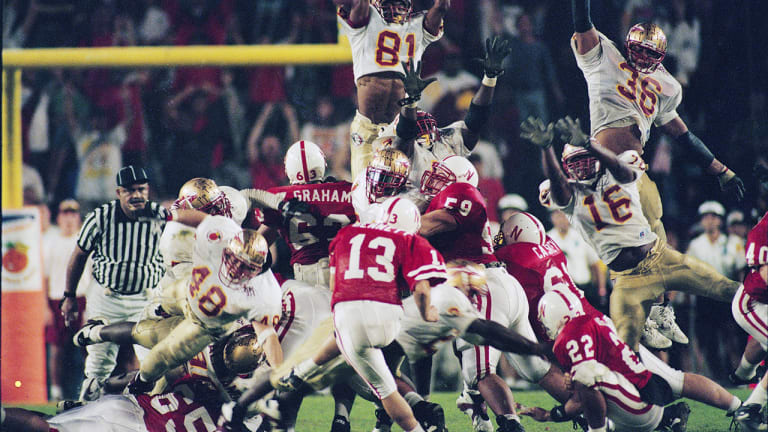 Wide Left
Florida State claimed the national title with a down-to-the-wire win over Nebraska
You think Florida State is the national champion. And maybe it should be. Cripes, the Seminoles had only one loss, and they beat the No. 1 team in the coaches' poll in a hair-puller in the Orange Bowl on New Year's night. But Florida State can't be the national champion. How can you give the title to a team that went to Notre Dame in November to prove itself the greatest bunch in the land and came back with a hatful of nothing? And nobody outside Omaha thought Nebraska was really No. 1, or else how did Florida State come up a monster 17½-point favorite? Of course, the odds-makers turned out to be right—about the half-point part. As for the rest of it, the Seminoles got outplayed and outcoached and won 18-16 thanks only to Wide Left. Even coach Bobby Bowden, who had to wait 28 years for this moment, said, "Nebraska played as good or better than us." A team that plays like chunky soup every other outing is No. 1? Wrong.
You think Notre Dame is the national champion. And maybe it should be. The Irish had only one loss, and for crying out loud, before New Year's Day they had already won the national-championship game when they beat Florida State mano a mano in South Bend. Not only that, but the Irish went and won the Cotton Bowl over a Texas A&M team that was as stubborn as cockroaches. But Notre Dame can't be the national champion. How can you give the title to a team that had the championship framed in gold and hung majestically over its fireplace and then threw a jar of Ragu all over it the next week? Right after defeating the Seminoles, the Irish allowed Boston College to come into South Bend and tweak the nose of Touchdown Jesus himself; Notre Dame gave up 41 large points and got its butt beat. Then, with a chance on Jan. 1 to redeem themselves, the Irish gummed Texas A&M to death, 24-21. A team that loses at home to the 17th-ranked team in the country and can't whip a dadburned Southwest Conference school is No. 1? Also wrong.
You think Nebraska is the national champion. And maybe it should be. Chrissakes, the Cornhuskers had only one ref-aided, two-point-conversion-missing loss, to Florida State, and that was in the Orange Bowl, the Seminoles' de facto home stadium. If Florida State can say it's No. 1 because it lost only one game to a great team on that team's home turf, then why can't Nebraska say the same thing? But Nebraska can't be the national champion. How can you give the title to a team whose regular-season opponents were the Osteopathic Nurses' College and International Harvester and who then went to a bowl and got beat by a Seminole team that looked like it couldn't score if it were locked with Heidi Fleiss in a Motel 6 for a three-day weekend? Florida State was 1 for 12 on third-down conversions. Nebraska is a very nice team. A good-looking, hard-studying, polite-to-the-scoutmasters team. But please. A team that hasn't beaten a higher-ranked opponent since 1985 is No. 1? Wronger than wrong.
You think Auburn is the national champion. And maybe it should be. The Tigers had no losses while playing in the nation's toughest conference. Auburn is the only big school—other than Penn—that went undefeated. And if Auburn had played Penn, there would be nothing left but smudge marks and laptop remnants. Auburn may well be the best football team in the country. But Auburn can't be the national champion. How are you going to give the title to a team whose payroll exceeds the NCAA salary cap? Quadruple wrong.
And so, ladies and gentlemen, here and now we present the undisputed champion of college football, the team that proved itself to be far and away the best in the land, a squad that truly deserves to be etched in history as the finest of 1993....
Nobody.
It's no disgrace. Happens all the time. Some weeks nobody wins the lottery. Every now and then, no one is deemed worthy of a Pulitzer or a Nobel Prize. Lots of trials end in hung juries. Why shouldn't it be the same in college football?
Forcing the football world to pick a national champion this year is like asking a woman to choose her favorite Baldwin brother. They are all lovely to look at but far too alike to tell apart. The football polls weren't that helpful. Florida State won the Associated Press poll comfortably (46-12 was the margin in No. 1 votes), but the USA Today/CNN coaches' poll was a closer call (36-25). If you stand up and say "We are the national champions" because you won the polls by those margins, you will not go straight into history alongside the Four Horsemen.
Not that Bowden should care one little bit. Bowden figures that after 28 years, he deserves any national championship he had to win twice.
Exactly 26 minutes into the second day of January 1994, Bowden was sure he had finally won, as he says, "the big 'un." The clock read zero. The victory ice bath soaked his back. ESPN was in his face for the instant interview. The delirious hand grabbers and shoulder clappers and Nikon flashers smothered the Seminole coach. The thunder of it all knocked the spectacles from his 64-year-old face and the monkey from his tired back. The dulcet taste of a national title was finally in his mouth.
And then time suddenly started spinning backward.
"This game is not over," the stadium announcer yelled. Suddenly, the Seminoles' 18-16 win was not so definite. Destiny took a mulligan. The officials decided that on the last play, the ball carrier, Nebraska tight end Trumane Bell, had touched a knee down with one second left, so the refs returned that second to the clock. The victory soak was called back. The revelers were pushed to the sidelines. ESPN was hauled away. When all was cleared, the referees were standing at the Florida State 34. Way too far out for a Nebraska field goal, right?
"Thirty-four plus seven plus 10," Bowden said later. "That's 64 at Florida State. Least that's what my my boys told me."
It would be a 51-yard field goal try—but into the wind. Make it? Not on this planet. The title was safe again. But now the head referee was on the P.A. system saying, "Hello? Can I have a stat man up there? I need a stat man up there." And now they were checking the videotape to see where Bell had really put that knee down, and now they were taking the ball and marching it six yards closer to the goalposts. And now Nebraska's Byron Bennett ran onto the field to kick not a 51-yarder but a 45-yarder and end 21 years of close calls and near misses for his coach, Tom Osborne.
And now a fear colder than his soaked shirt gripped Bowden around the windpipe. "It seemed like some kind of cruel joke to me," Bowden said later. "Really, the crudest joke ever played on me." In the stands his wife, Ann, was nearly in tears. How could this be? she thought. And yet there stood Bennett and his right shoe, 45 yards from giving Bobby Bowden a very bad case of heartburn.
My lord, wasn't it enough, what the man had been through already? He had finished second in the polls twice in the last six years. If he came in second one more time, they would have to bury him in a silver coffin. He had gone undefeated in 11 straight bowl games, and yet this one meant more than all the others combined. All week in his Miami Airport Hilton suite, Bowden had surrounded himself with his six kids, all their spouses, his 15 grandchildren and two baby-sitters, as if to make a bunker of chaos that worry couldn't penetrate. But it did. He was not himself. "He kind of goes back in his private room and watches TV," Ann said.
The night before the game, Bowden had done another curious thing. He had shown his players a videotape of some of the great upsets in recent sports history, including Buster Douglas's knockout of Mike Tyson in 1990, Duke's win over UNLV in the 1991 NCAA college basketball tournament and Notre Dame's victory over the Seminoles this year. It was like getting a group of parachutists together the night before a huge jump and showing them great airline disasters.
But then New Year's Day broke lucky for Bowden. In Dallas the Irish barely beat the Aggies—and largely because of a goat who made good. Notre Dame's loss to Boston College six weeks before had somehow settled on the shoulder pads of linebacker Pete Bercich. His drop of an easy interception in the last minutes of the game allowed the Eagles to win that day. At the Cotton Bowl, though, Bercich held on to an interception. Later he watched gleefully as Notre Dame marched down and kicked the winning field goal with 2:17 left. "I can probably sleep at night now," the poor fellow said.
And when the game was over, Irish coach Lou Holtz got ready for the most important play of the season—the traditional Postgame Plea to the Voters. "Let's remember that the two teams who are competing for Number One have already played on the field, and it's been ascertained who won that game," Holtz said wryly. He also pointed out that in 1989, the cleat was on the other shoe. Notre Dame was 12-1 compared with Miami's 11-1, but the Hurricanes had beaten the Irish head-to-head, so the poll voters picked Miami. Holtz was hoping for a little karmic justice.
In New Orleans, Florida was about to play Deliverance with West Virginia, turning the Mountaineers' national-championship joyride into a nightmare of zigzagged Gator touchdowns and humiliating celebratory spikes. The undefeated Mountaineers were stomped 41-7. Florida tailback Errict Rhett was gone with the wind, running for 105 yards, three touchdowns and the game's MVP hardware. "They're on the Vanderbilt level," he said of West Virginia. "With all due respect to Vanderbilt. The SEC is just entirely too hard for them."
So, by 8 p.m. eastern, things were coming up Seminole. And that's when Florida State's offensive line went out and played like large lumps of Limburger cheese. Quarterback Charlie Ward was in danger of continuing the glorious tradition of the last four Heisman Trophy winners who played for the national championship—Miami's Gino Torretta and Vinny Testaverde, Nebraska's Mike Rozier and Georgia's Herschel Walker—all of whom lost. "N...B...A!" shouted Nebraska fans joyfully as Ward, who will now resume his duties as the Seminoles' point guard, took hard charges from the Nebraska defense. All week he had his own police officer protecting him everywhere he went, but where was that guy now? Ward was sacked four times in the first half alone, twice by Nebraska's ornery linebacker Trev Alberts.
By halftime Nebraska had a 7-6 advantage, its first lead in a bowl game in four years. Still, things could have been better for the Cornhuskers. Their quicksilver punt returner, Corey Dixon, ran back a ball 71 yards for a touchdown, but the officials called a clip on Nebraska. Lots of witnesses disagreed, including NBC announcer Bob Trumpy, who thought the refs had mistakenly called the clip on Cornhusker cornerback Tyrone Williams. "The officials obviously don't have the benefit of instant replay," NBC spokesman Vince Wladika told The Miami Herald, "but none of our replays show a conclusive clip. We looked at it four or five times from different angles and could not find a clip." Well, they looked in the wrong place. Williams didn't clip anyone—fullback Lance Gray did.
Then again, things could have been worse. Nebraska's only touchdown was lucky. A pass from quarterback Tommie Frazier bounced off the hands of Florida State safety Devin Bush and into those of Cornhusker split end Reggie Baul, a backup who hadn't made a catch in five games. Baul's jersey number? Seven.
By the end of the third quarter, the Seminoles were ahead 15-7 thanks to a third field goal by Scott Bentley and a one-yard, did-he-fumble-or-not touchdown by fullback William Floyd, but nobody thought the game was over. The Cornhuskers were just starting to roll with a freshman back named Lawrence Phillips, a man who so overwhelmed the Nebraska football program that he had to share his number (1) with a teammate and was somehow omitted from the Cornhusker depth chart, which went 99 deep. Phillips would score from 12 yards out on the prettiest little draw play you ever saw to make it 15-13, and Osborne, as he had done 10 years earlier in the Orange Bowl against Miami, went for two.
As Frazier rolled right, he somehow did not see his tight end, Gerald Armstrong, wide open in the corner. The quarterback tried to run the ball in but was bumped out-of-bounds at the one. Later, when the game was over, Frazier would hold back tears as he was consoled by Turner Gill, the ex-Nebraska quarterback who had thrown the pass on the two-point attempt in 1984 that was batted down, along with the Cornhuskers' national-title hopes. At Nebraska, disappointment is a legacy.
And still the Cornhuskers refused to lose. With four minutes to go Frazier drove them downfield again, and Bennett kicked a 27-yard field goal that seemed to wash all those years of Nebraska frustration out of that hexed stadium. The Cornhuskers led 16-15.
One minute and 16 seconds to play. Florida State ball on the Seminole 35. Well, Charlie?
"Everybody was looking at me," Ward said of that first huddle. "I got no problem with that. I know I'm going to have to make a play sooner or later." He began sooner. He hit his roommate, Warrick Dunn, with two passes, the cruncher coming on a little down-and-out route and going for 21 yards. And when Nebraska's Barron Miles hit Dunn two feet out-of-bounds, a yellow fabric swatch flew. Fifteen more yards. Two plays later Florida State wideout Kez McCorvey beat Nebraska cornerback Toby Wright so badly that all Wright could do was tackle him before the ball arrived or give up a touchdown. Another three fabric swatches, and the Seminoles had the ball on the Nebraska three.
But that is when Bowden's brain left to beat the traffic. He ran one play, then called timeout with 24 seconds left to set up a 22-yard field goal. What he should have done was let the clock run down at least another 10 seconds and then call timeout. "We weren't organized," Bowden later admitted. "Tom [Osborne] did a better job than I did."
Now all eyes turned toward Bentley, the anti-Phillips, a freshman with more interview time under his belt than many news anchors. Bentley, the Rolls-Royce of recruits. The kid who stiffed Lou Holtz and Notre Dame at the last minute.
"It was like everyone expected me to miss," said Bentley, whose season had not lived up to the hype. "It's like, If it comes down to Bentley, he'll miss it." In the stands his father chose to sit while all around him stood screaming. His mother just felt sick. And now the kick was up. Bentley's brother, a junior at Creighton, tends bar in Omaha. Tips will be very low in 1994. Bentley kicked it perfectly. Florida State, 18-16.
In Dallas, Notre Dame players, back in their hotel, were so convinced that a Seminole win would give the Irish the top ranking in at least one of the polls that they leaped to their feet and cheered when Bentley's kick soared through the uprights. You don't see that often: People cheering at their own funeral.
And still, incredibly, the game wasn't over. Back came undauntable Nebraska. The pass to Bell. The knee going down. The clock drifting to nothing. The jubilation, with Florida State players wearing their national-championship hats and waving their national-championship T-shirts and bulging their national-championship eyes. Somebody held up a sign saying IT'S A BOWD-EN TIME. Somebody else held up a sign saying GREAT SCOTT!
But that's when time started backing up—right into the stomach of Nebraska's kicker, Bennett. A sudden, unbelievable 45-yard chance at never having to pay for a round in Nebraska again. Just my luck, Bennett said to himself. "I have to reprove myself a few minutes later."
With deep penetration by the Seminoles, Bennett had to hurry the kick. It sailed too far left. Now it really was over, and in the tumult only one thing in the whole spectrum of college football was clear: Nobody in the free world is 17½ points better than Nebraska.
"I don't know if anybody eats any crow these days," said Osborne. "They just conveniently forget what they said."
Back in Dallas, Lou Holtz's karma failed him. The voters turned thumbs-down on the Irish. "I didn't think there was any possibility that we wouldn't win it," Holtz said glumly Sunday morning in a poll pall. "I guess [the Irish win over Florida State] didn't count for anything. Everybody said it was the Game of the Century. I guess it's only the Game of the Century if the right team wins it."
Bowden was nonetheless proud of what he had finally accomplished.
"Men," he said, "you got to look at the season overall. Can't just look at one game."
We looked. We analyzed. Our jury is hung.
PHOTO
DAMIAN
STROHMEYER
The Seminoles were sky-high even before Bennett's last-second kick missed the mark.
PHOTO
JIM
GUND
The Irish outgrappled the Aggies, but Holtz still came up empty-handed with the voters.
PHOTO
PETER READ MILLER
[See caption above.]
PHOTO
JOHN
BIEVER
Floyd had butterfingers, but the Seminoles were credited with their only TD on his one-yard plunge.
PHOTO
JOHN
BIEVER
Bone-rattling tackles were the rule, jarring, among others, an upended Bell (left) and Ward (17).
PHOTO
AL
TIELEMANS
[See caption above.]
PHOTO
JOHN
BIEVER
Frazier's earlier schmoozing with an official didn't prevent Miles from getting penalized for his late hit on Dunn.
PHOTO
BILL FRAKES
[See caption above.]
PHOTO
DAMIAN
STROHMEYER
His game-winning kick made Bentley (3) a hero and gave Bowden (at left, with Osborne, in bottom photo) a national title at last.
PHOTO
BILL FRAKES
[See caption above.]