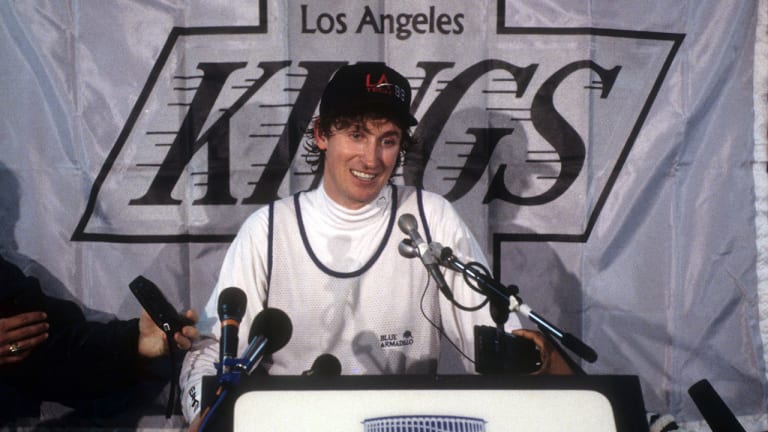 The Greatest, And Howe!
Wayne Gretzky is close to surpassing Gordie Howe as the NHL's all-time goal scorer
Driving through the black Alberta night, Mike Barnett let his curiosity get the best of him. "You scored on the short side, but there was no short side," Barnett, a player agent, said to his client and passenger, Wayne Gretzky.
That was the winter of 1985 or '86, Barnett recalls, back when the Great One was also the Yellow One when it came to air travel. So Glen Sather, coach of the Edmonton Oilers, would let Gretzky drive the 180 miles to and from Calgary for games against the Flames. It was on the return leg one night that Gretzky found himself being grilled by his driver.
Earlier that evening, as Gretzky cocked his stick for a slap shot from 20 feet, Flame goalie Reggie Lemelin hugged one of the pipes, presumably taking away the short side. Yet that was precisely where Gretzky had put the puck for a goal.
"How did you do it?" Barnett asked.
"Well," replied Gretzky, "I had to turn the puck on its side."
Eight or so years later Barnett is asked. Was he serious?
"I wasn't going to ask him," says Barnett.
When you arc on your way to becoming the most prolific goal scorer in NHL history, you get the benefit of the doubt.
Hockey's most celebrated player, however, did not begin his NHL career auspiciously. Nearly three full games into his first season, 1979-80, the alleged prodigy from Brantford, Ont., had yet to score a goal. Then, with two minutes to play in a game against Vancouver, Stan Smyl of the Canucks took a tripping penalty. On the ensuing power play, the 18-year-old Gretzky carried the puck out from behind the Vancouver net, faked Canuck goalie Glen Hanlon onto his back and roofed goal number 1.
Final score: 4-4. Date: Oct. 14, 1979. Says Gretzky, "I remember thinking, Wow, even if I never play in the NHL again, at least I scored a goal."
Fourteen years and 60 NHL records later, Gretzky is close to bagging the last significant offensive mark not already his. At week's end he needed four goals to eclipse Gordie Howe's NHL record of 801 career goals. It took Mr. Hockey 1,767 NHL games to reach 801; the Great One will catch him in about 1,120. Gretzky's milestone is the hockey equivalent of Hank Aaron surpassing Babe Ruth's home run record...but doing it in roughly two thirds the time. Yet Gretzky has hardly been obsessed in pursuit of Howe's mark.
"I never really said, 'I gotta get two goals tonight,' or 'I gotta score tonight,' or 'I gotta get three,' " says Gretzky, who turned 33 in January and through Sunday had 33 goals and a league-leading 111 points. "I've never ever felt that way."
Gretzky's feat is all the more remarkable when one considers everything he lacks: size, speed, a hard shot—"You could wear driving gloves and catch one of his shots, and it wouldn't hurt," says former NHL goaltender Chico Resch—the ability to finish breakaways, a selfish bone in his body.
Correctly anticipating that he would be asked to reminisce about Gretzky's first goal, Hanlon, now Vancouver's goalie coach, obligingly obtained and reviewed a videotape of it more than a year ago. Why, then, his refusal to return SI's calls? "He's gone over it so many times now," a Canuck spokesperson says, "it's become a sore point."
Certainly Hanlon has nothing to be ashamed of. He gave up a mere dozen goals to Gretzky, putting him 14th on the list of the Great One's most-victimized masked men. The distinction of being 99's most frequently burned netminder is shared by former Canuck Richard (the King) Brodeur and Mike Liut, who played for three NHL teams. Each surrendered 29 goals to Gretzky. This fact comes from the "Wayne Gretzky All Time Goals Overview," a 27-page, single-spaced document recently released by the NHL. It makes some of the most interesting hockey reading since Ken Dryden wrote The Game.
The overview informs us that 78 of Gretzky's goals have won games, 178 have come on the power play, 72 with his team a man down. It breaks his goals down by foe (Gretzky has scored 75 goals against the Winnipeg Jets, his favorite opponent) and facilitator. The list of those assisting on Gretzky goals now includes 99 names, ranging from the obvious (Jari Kurri, who has assisted Gretzky 193 times), to the curious (goaltenders have set up 21 of Gretzky's goals) to the obscure: Where have you gone, Brett Callighen (29 assists) and Gord Sherven (1)?
Riffling ahead, we find the Goaltenders Scored Upon section, which tells a talc of serial humiliation. Gretzky has scored on 140 backstops. He has humbled an Astro (Hardy Astrom, twice) and an Espo (Tony Esposito, six times), beaten a Bunny (Larocque, three times) and mauled a mallard (Clint Malarchuk, nine times). He has victimized three Chevys: Alain Chevrier (six times), Tim Cheveldae (four) and Frank Caprice (three). He has dinged Ing (Peter) and Pang (Darren) thrice apiece, while tallying 46 ENGs—empty-net goals.
The goaltenders, of course, sing Gretzky's praises, but his masked victims also draw comfort from reminding themselves of his mortality. "I remember during the 1980 Stanley Cup playoffs, he came down on a breakaway and shot the puck over the glass," says Resell, who played for four NHL teams and allowed Gretzky 10 goals.
"On breakaways, Wayne was not the best," says Liut.
"Far from it," agrees Don Edwards, a netminder for three teams who yielded 18 goals to Gretzky.
"Early in his career he did a lot of talking," says Brodeur. "He had a reputation as a crybaby."
Back then Gretzky could afford to yap a little: He had muscle-bound enforcer Dave Semenko playing on his line. But the six-foot, 170-pound Gretzky also fought his own battles—in a different way. "If a guy ran him, Wayne would embarrass that guy," says Lee Fogolin, the former Oiler who is now in the construction business in Edmonton. "He'd score six or seven points on him. I saw him do it night after night."
On the first day of training camp in 1979, Fogolin, who had been acquired from the Buffalo Sabres in the off-season, asked a member of the Oiler staff to introduce him to this kid everyone was talking about, this Gretzky. "He's in high school," came the reply. "He'll be here for the afternoon practice."
"I'm thinking, This is who they're going to build the team around, a high school kid?" says Fogolin. "It took me about two days to see how special he was. This is not an ordinary superstar we're talking about. This is the greatest player ever to put on a pair of skates."
One of the few knocks on Gretzky is that he sometimes overpasses. "I've been criticized by coaches and teammates for not shooting enough," he says. "Maybe they have a point. Goaltenders have fatter pads now than in the early '80s, which give up more rebounds. And the goal comes off its moorings more easily than it used to, so players can drive to the net harder now to pick up those rebounds. Maybe I'll have to adjust my game a little bit. But I like to think that throughout my career, it's been O.K., playing the way I play, so I haven't really changed my style. Know what I mean?"
Brodeur surely does. That he yielded 29 to 99 seems understandable. As Smythe Division neighbors, the Canucks and Oilers played each other as many as eight times per season. So familiar were these two antagonists, in fact, that they kept up a running dialogue on the ice. "When I made a save against him, I'd say something like 'Not this time!' " recalls Brodeur. "And he'd yell, 'I'll be back!' "
Less comprehensible is the success Gretzky had against Liut, who played for the St. Louis Blues, the Hartford Whalers and the Washington Capitals. "It was luck, more than anything," says Gretzky. "I scored some real lucky goals on Mike—from behind the net, off the face-off. It was just one of those things."
The goals that Liut most vividly remembers Gretzky scoring against him were on Feb. 18, 1981. Liut, then with St. Louis, was still basking in the glow of his MVP performance at the Feb. 10 NHL All-Star Game when he took the ice at the Northlands Coliseum.
"We were down 4-2 going into the third," says Liut, now in his second year of law school in Detroit. "Wayne already had one. About six minutes into the period, Kevin Lowe comes in on a breakaway and dekes me into the back of the net. I make the save, but I'm floundering, and Gretzky scores on the rebound. I put my head down, and I'm thinking, It's O.K., we're still in this thing. But while my head was down, I missed the draw. I look up, and here comes Gretzky on a breakaway. He puts it right through me. Nine seconds, two Gretzky goals. I got the hook."
Into the game skated Eddie Staniowski, who gave up another pair of goals to 99. That night Gretzky became the fifth NHL player ever to score four times in one period. The contest also marked the first of Gretzky's four five-goal games. The next one came 9½ months later in Philadelphia, capping one of the most astonishing scoring sprees in the annals of sports.
Going into the Spectrum on Dec. 30, 1981, Gretzky had scored 45 goals in his team's first 38 games. "I had never really played well against Philly," says Gretzky. "I did O.K., but I never really lit it up." A fluky first-period goal—an Oiler slap shot from the blue line caromed off the end-boards and back onto Gretzky's stick, allowing him to easily beat Flyer goaltender Pete Peeters—was a hint that Gretzky's fortunes against Philadelphia had changed. "I remember thinking, Wow, this could be a big night," he says.
Gretzky had four goals by the time Flyer coach Pat Quinn, his team trailing 6-5, pulled Peeters with a minute to play in the third period. In the game's final seconds, Oiler wing Glenn Anderson sent Gretzky in on a breakaway, and he scored into an open net. "I remember arguing with Pat Quinn when he pulled me," says Peeters, now a goaltending coach for the Jets. "If Wayne was going to get his 50th, I wanted him to get it against a goalie. But Pat wanted to win."
In the history of the league, only two players, Maurice (the Rocket) Richard of the Montreal Canadiens and Mike Bossy of the New York Islanders, had scored 50 goals in his team's first 50 games of the season. Both had needed all 50 games to do it. In his third NHL season, Gretzky did it in 39.
Was Peeters embarrassed by his role on that historic evening? Hardly. "Wayne got what, five that night? Believe me, it could have been nine or 10. I have vivid memories of coming out, challenging him, stopping him. And he hit at least three pipes. I can still hear them ringing."
After averaging 71.5 goals per season in his first six years in the league—in 1981-82 he scored 92 goals, breaking Phil Esposito's single-season mark of 76—Gretzky has averaged 42 over his last eight seasons (he missed 39 games in '92-93 with a herniated disk, finishing with only 16, by far his least productive year). In the second half of his career, he has devoted himself more to setting up goals than to scoring them.
Says Gretzky, "If you sat down and said, 'Name the four best goal scorers in hockey,' my name probably wouldn't come up. My playmaking has probably overshadowed my goal scoring a little bit."
How could it not? He became the NHL's alltime assist leader six years ago. Four times he could have won or tied for the league scoring title on his assists alone. In three of those seasons, he also led the league in goals.
"Some guys are just pure goal scorers,'' says Gretzky. "I don't know if I was a pure goal scorer. I didn't have a very hard shot. I still don't have a very hard shot."
What he does have is anticipation bordering on clairvoyance. "I'd direct a rebound into the corner," says Liut, "and he'd be there waiting for it—bang, right back at me. It was like he knew where I was going to send the puck before I did. How does he do that?"
"What I want to know," says Resch, "is how did he always know what the toughest play would be for the goalie to make? He was always jamming me on my glove side, shoulder high, or putting the puck eight or 10 inches off the ice on my stick side. With Wayne, there were no routine plays. Was he a goaltender once? Did Walter [Gretzky, Wayne's father] teach him that?"
Wayne takes those questions seriously. "I studied the game. I respected everyone I ever played against. And I was ready to play every night."
The night Gretzky breaks his longstanding record is not an occasion that Howe is looking forward to. He has decided not to be on hand when Gretzky erases his mark, and he reminds people of the 174 goals he scored in six World Hockey Association seasons. "Don't confuse people," Howe recently instructed The Hockey News. "Eight hundred one is an NHL record. The career [record], he has a little way to go."
Will Gretzky, who has 46 WHA goals himself, stick around long enough to claim Howe's career mark?
"I'm not ruling it out," he said on a rainy afternoon in San Jose last month, two hours before facing the Sharks. "I just plug along. The game still brings me joy. Like last night, when [King defenseman-forward] Marty McSorley scored in the first 20 seconds." In his first shift since being traded back to LA., McSorley got one off a Gretzky feed. As they embraced, Gretzky's smile lit up the Forum.
"Moments like that are more exciting for me now than they were 10 years ago," says Gretzky. "Ten years ago we used to think, This is going to happen every day, we'll do it again tomorrow. Now I really relish those moments."
He excuses himself to get dressed. The best player ever to put on skates still has a few such moments in him.
PHOTO
Wayne's World (clockwise from top left): 10-year-old prodigy; Edmonton's shooting star; a King in L.A.; with Kurri; with Espo after topping his mark; the '85 MVP.
TWO PHOTOS
PAUL KENNEDY
[See caption above.]
PHOTO
BOB
MUMMERY
[See caption above.]
PHOTO
PAUL
BERESWILL
[See caption above.]
PHOTO
DAVID
E. KLUTHO
[See caption above.]
PHOTO
GEORGE
TIEDEMANN
Some of Gretzky's big victims (clockwise from left): Brodeur (29 goals against), Liut (29), and Calgary's Mike Vernon (17).
PHOTO
DAVID
E. KLUTHO
[See caption above.]
PHOTO
PAUL
BERESWILL
[See caption above.]
PHOTO
WALTER
IOOSS JR.
Howe, who's none too happy about losing his NHL record, notes that he scored 174 goals in the WHA.
PHOTO
ROBERT
BECK
Gretzky, who already owns 60 significant NHL records, says he'll be back for a few more seasons.