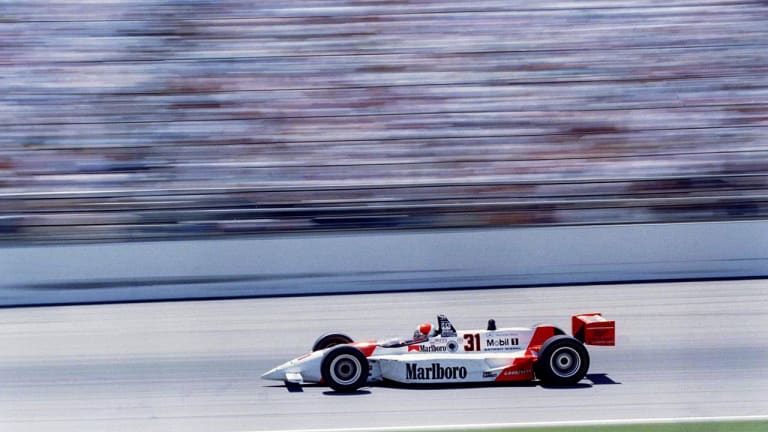 Passing It On
Armed with his dad's advice and a potent new engine, Al Unser Jr. won the Indianapolis 500
With 16 laps remaining in Sunday's Indianapolis 500, Al Unser Jr. was riding along comfortably in second place trying to figure out how he was going to explain this failure when he got back to the family motor home. Unser, his wife, Shelley, and their three children spend a month each spring camping in a giant RV parked in the Indianapolis Motor Speedway's infield, and after the 500, it's not uncommon for the relatives to drop by.
His father would be there, of course. Al Unser Sr.—Big Al—had won the Indy 500 four times before announcing his retirement from the sport two weeks before. And Big Al's brother Bobby would no doubt turn up too, yammering on about his three Indy 500 victories. Yep, Al Jr., trailing the Penske-Mercedes of teammate Emerson Fittipaldi by nearly a full lap, would have a lot of explaining to do. This is what it means to be an Unser.
"I've heard Al say that after he won the [1990 Indy Car series points] championship, his dad and uncle told him, 'You ain't nothin' until you've won Indy,' " says Paul Tracy, the third driver on the Penske team. "And then he won Indy two years ago, and they said, 'You still ain't much—we've won it seven times.' That's a lot to live up to."
In 13 seasons on the Indy Car circuit, Al Jr. had won 20 races and almost $12 million, but at 32 he remained very much Little Al. That all began to change as Unser and Fittipaldi came roaring out of the fourth turn with just 15 laps to go. "I had everything under control," Fittipaldi said after the race, which he had led for 145 laps. "The car was flying." Sensing the kill, Fittipaldi moved imperiously on Unser to put him a lap down. "When you see a heavy hitter in front of you, you do everything you can to put him a lap down," Unser acknowledged. "That would've put the final nail in my coffin."
On the same lap of last year's Indy 500, Fittipaldi had taken the lead for good by making a brilliant move on Nigel Mansell at almost exactly the same spot on the track. But this time it would cost Fittipaldi. He got caught in the turbulent air behind Unser's car, swirled out of control and hit the wall hard. With Fittipaldi out of the race, Unser's only competition was gone, and he took the checkered flag 15 laps later.
If it was astonishing to see two cars from the usually flawless Penske team courting catastrophe by racing each other with no other car within even a lap of either of them, it also made a certain amount of sense: The Mercedes-powered cars had only themselves to contend with at Indy. Clad in the reflective orange and white of a hunting party, the Penske cars stalked the field all day—a wolfpack in sheep's clothing. "I didn't see much of them," said Canadian rookie Jacques Villeneuve, who finished an impressive second. "You couldn't really race with them."
The numbing efficiency with which the Penske team went about its work required little of the bravado of past races and produced a victory that will not linger long in memory. "They'll only lose if they screw up," predicted rival owner Derrick Walker before the race, "and if they win, it will be a shallow win for the series. The rules are so slanted in favor of that engine, it makes a mockery of the race."
Penske was the only one to exploit a loophole in the rules that allowed push rod engines to develop 20% more turbo-charger boost than the more conventional overhead-cam type. Other teams insisted that this translated into about 150 more horsepower for the Penske cars. On the first lap of the race an alarmed Raul Boesel, who was starting from what was supposed to have been the middle of the front row, radioed in, "They just drove away."
One they drove away from was Mario Andretti, in his final race at the Speedway. Andretti had won the race in 1969, but in the quarter century since, he had become better known for losing Indy 500s he appeared to have won. There would be no last-minute heartbreak this time, though; Andretti retired from the race after only 23 laps with a broken fuel pressure relief valve—a $50 item.
Andretti wasn't the only driver who experienced bad luck. In addition to Fittipaldi's bump with the wall, there were six other accidents (though, fortunately, no serious injuries), two of which took place while the yellow flag was already out.
But all season it has been Unser, not Fittipaldi, who has had the best luck on the Penske team. Unser had been advised so often by his father and his uncle to follow in their tire tracks and hook on with Team Penske that, as Junior says, "all Roger had to do was breathe in my direction." Breathe he did at the end of last year, and the partnership has already produced wins at Long Beach on April 17 and now Indianapolis, where so much Unser history has been written.
Al Unser Sr.'s oldest brother, Jerry Jr., was the first member of the clan to come to the Brickyard, finishing 31st in 1958. But the very next year he rolled his car in practice and died. Little Al was too young to be at Indianapolis for his father's first two wins there, in '70 and '71, and he missed the third in 1978 when his parents left him at home in Albuquerque after catching him ditching school. So it was important to him that his father be there this time. "I've always been proud of my father to the point that I'm really happy to be known as 'son of,' " says Now-Not-So-Little Al.
The Als plotted strategy with Penske for 20 minutes on Sunday morning, and when they were finished, Sr. reminded Jr., "This race will come back to you." Then in celebration of both his retirement and his 55th birthday, Big Al took a last lap in the Penske car with which he had won his last 500, in 1987. Little Al watched him on a TV in the motor home. "There's Dad!" he chirped excitedly. "And they don't have the car set up right," he added critically when he saw his father's head bouncing around in the cockpit.
Later, as Al Sr. and Jr. circled the track in the pace car on Little Al's victory lap, they passed the spot where Fittipaldi had struck the wall. "There's Emmo," Little Al said, pointing at the black mark Fittipaldi had left like a trail marker. Then father hugged son, and both of them cried. "See," Big Al said softly in his ear, "it comes back to you at this place."
PHOTO
JOE
PICCIOLO
After Fittipaldi (2) hit the wall, Al Jr. (31) had a smooth ride to the flag and Al Sr.'s congratulations.
PHOTO
GREG ROLLER/REUTERS
[See caption above.]
PHOTO
GEORGE
TIEDEMANN
[See caption above.]