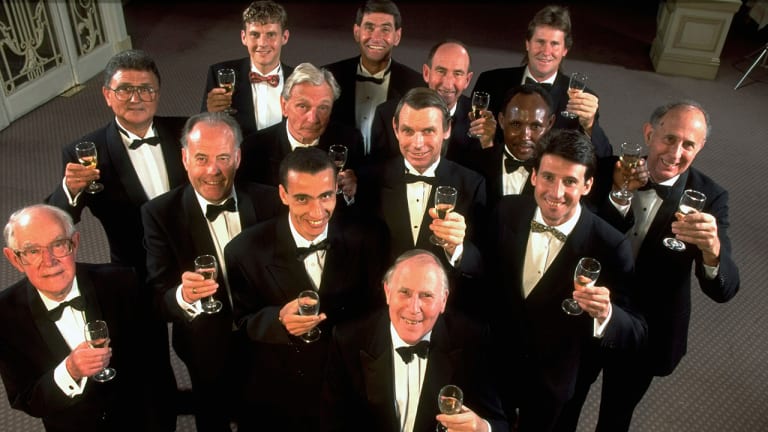 Publish date:
An Exclusive Club
Forty years after Roger Bannister broke four minutes, the brotherhood of mile record holders gathered to honor their grand obsession
Never join someone who eclipses you. Align yourself with one who increases your luster. The man who puts you in the shade because he is either more virtuous or vicious gains the greater recognition. He plays the main role, and you are relegated to support him. — Baltasar Graci, a 17th-century Jesuit philosopher
Suppose you had spent the best years of your life gasping for oxygen. Suppose you had awakened each Sunday morning knowing you must run 23 miles to feel clean, then lie on a table and hope someone could rub away the pain. Suppose you had spent nights brooding over 10ths of seconds, a decade of life under the tyranny of a clock, and finally you had what you ached for. "You're the king of the world," as one who did this said. "The fastest miler in the world." And then, a few years later—or perhaps only a few months or weeks—it was gone. Someone else was faster. Someone else was king.
Suppose that one day long after this fever had passed, one day when your hair was gray and your face was a fine web of wrinkles, you opened the mail and found an invitation. Someone wanted you to get on an airplane, fly 15 hours, or 28, in order to stand in the shade of the ones who had surpassed your sacrifice, eclipsed your glory. No appearance fee. Would you do it? What for?
"To be the world-record holder in the mile," said Herb Elliott, the 56-year-old Australian who was just that from 1958 until '62, "a man must have the arrogance it takes to believe he can run faster than anyone ever has at that distance . . . and the humility it takes to actually do it."
What becomes of all that arrogance and humility? One by one, on the 40th anniversary of the most famous mile ever run, the record holders arrived at the Grosvenor House Hotel in London on May 4. Shaking hands, smiling shyly, they stepped into each other's shade.
FILBERT BAYI: I don't have much money. But I have this: I'm among the great milers in the world. That makes me rich.
DEREK IBBOTSON: If it had been any other event, I don't think I'd be remembered now. I'd be lost.
JOHN LANDY: I was a loner, a shy young man. It opened me up to live a life I never thought I'd live.
STEVE CRAM: It becomes luggage permanently attached to your name. It matters not what else you do. You'll be introduced everywhere as world-record holder in the mile. Even after you're hurt or on the downside of your career, you'll believe you can do anything. It can create great frustration.
PETER SNELL: The anchor I have is that regardless of how good you think you are, I at least have achieved something that was world class and that can never be taken away from me.
SEBASTIAN COE: I'll say it—why not? We are members of one of the most exclusive clubs in the world.
Dawn. Damp. Cool. Windy. Herb Elliott was sitting on his bed, eyes shut, mind quiet, body still. He was meditating. Jim Ryun, the world-record holder from 1966 to 75, was rousing his four children. Noureddine Morceli, the current king, was dropping to his knees, facing Mecca, murmuring his prayers. Bayi, who reigned briefly in 1975, was cooing to his fourth-born, one-year-old Cuthbert. John Walker, who dethroned Bayi and ruled until 1979, was sleeping like a stone.
The bus awaited them outside the Grosvenor House Hotel. Soon it would take them to the Iffley Road track in Oxford, where 40 years ago—on a day not unlike this one—England's Roger Bannister astonished the world by running the first sub-four-minute mile. Four minutes was a barrier that had withstood decades of human yearning and anguish, a figure that seemed so perfectly round—four laps, four quarter miles, four-point-oh-oh minutes—that it seemed God himself had established it as man's limit, posted it as one quiet, subtle proof of Order against the howl of two world wars. The spectacle was seen by Americans watching their first televisions, by young lovers and ancients entering theaters around the world. At the time it seemed as improbable as . . . well, as 14 of the world's 16 living mile-record holders coming from Algeria, Australia, England, France, New Zealand, Sweden, Tanzania and the U.S. to celebrate it four decades later.
George Dole, a Massachusetts minister in the Swedenborgian Church who was invited to join this pilgrimage—he was one of the six runners who ran in Bannister's epic mile—climbed onto the bus before any of the record holders, full of the knowledge that perhaps no other sport had ever gathered so much of its greatness in one time and place. "Imagine," Dole said, his voice husky with reverence. "Imagine how many gallons of sweat these men represent."
Two would fail to show. Guilder Hägg, the Swede who three times set the mile record (4:06.2, 4:04.6, 4:01.4) during World War II, had not come because he was 75 years old and too wearied by life for the journey. Steve Ovett, the Brit who set mile records in 1980 and '81 and now lodges guests in a renovated mansion in Annan, Scotland, had not come either, officially because he was on holiday but mostly, several who knew him said, because he is Steve Ovett. "Pathetic," growled one of the record holders. "He cheated us all," seethed another.
Slowly the bus began to fill: Michel Jazy, the 57-year-old Frenchman who held the record from mid-1965 to mid-'66, now retired from promotional work with Perrier and Adidas but still the boulevardier in his snazzy mustard-yellow sport coat. Arne Andersson, the 76-year-old retired Swedish schoolteacher who broke the record three times during World War II, in a red, yellow and blue Reebok pullover. Bayi, the 40-year-old Tanzanian, in the blue-and-gold native robe that his wife had crafted, clutching his one-year-old. Ryun, the 47-year-old Kansan, in a preppy plaid sweater vest, his children and wife in tow. Walker, the 42-year-old New Zealander, in sneakers, jeans and a sweatshirt. Morceli, the 24-year-old Algerian, in a mod green-and-purple hooded jumpsuit. Cram, Elliott, Ibbotson, Landy, Snell. . . . Slowly, too slowly, they boarded, now a half hour past their scheduled departure time. "My god," remarked Elliott, "for world-record holders in the mile, they sure are bloody late."
BANNISTER: Each runner worries the others. The anxiety of being pressed and jostled increases; soon it will become too much for someone, and he will make an effort to break away from the field. It is this controlled tension about to break down that gives miling its great excitement. It seems to present a perfect test of judgment, speed and stamina.
LANDY: Almost every part of the mile is tactically important—you can never let down, never stop thinking, and you can be beaten at almost any point. I suppose you could say it is like life.
COE: Blink and you miss a sprint. The 10,000 meters is lap after lap of waiting. Theatrically, the mile is just the right length—beginning, middle, end, a story unfolding.
WALKER: The 800-meter record, the records in the 1,000. the 1,500, the 5,000, the relays—no one remembers them. The mile, they remember. Only the mile.
Finally the bus headed down Park Lane, into the suburbs and then the deep green-and-gold country meadows between London and Oxford, the rain clouds unable to shadow the radiance within the bus's windows or with the out. "Jesus!" Tony Ward, the British Athletic Federation official who had organized this gathering, yelped every now and then. "What a collection!" He just couldn't help it.
Mutual respect rolled up and down the aisle like marbles, ricocheted over seat backs, pinged off wives, as the bus chugged down the motorway. But even among these men there was a hierarchy of awe. Elliott, having never lost a mile or a 1,500-meter race, having demolished the world record by the largest margin ever, 2.7 seconds, and having chucked it all at 22, had earned a special rung—what more, they all wondered, might he have achieved? "A being," Jazy called him. "from another world." Ryun, having chewed 2.3 seconds off the world record on a cinder track as a skinny 19-year-old—this still made them all shake their heads. Had his training, which included clusters of 20 60-second quarter miles with almost no time for recovery, not been so "suicidal," several milers agreed. Ryun might well have gone down as the most prodigious miler of all. Snell's blowtorch finishing kick was still held in awe, as was Walker's longevity (129 sub-four-minute miles over nearly 20 years) in an event that left Bannister bathed in sweat on the night before each race and Elliott "incredibly, uncomfortably, powerfully, sickeningly nervous" even as he warmed up. Then, too, there was Morceli's 3:44.39 ravaging of the record last year at age 23, entering a realm, without a rival to push him, that even these men found almost incomprehensible.
Walker, whose career straddled track's amateur and professional eras, had to know more about Morceli. "A V-8 engine on a VW frame," he marveled. "He'll destroy so many hearts, they'll all wish they weren't born in his era. What a tough bastard." Bleary-eyed from the long flight from Auckland. Walker leaned over a seat back in the rear of the bus, trying to learn what had incubated the Algerian. Walker harbored a theory that great milers were born not on tracks but on cross-country trails, amassing heart by slogging through mud, bounding over tree roots—and yes, Morceli confirmed, that was where he, too, had begun. "What do you think of the 2,000?" Morceli wished to know, since Walker once owned that record. "I am thinking of going for that record next." The 2,000 was the son of a bitch of all races, Walker confided, the most grueling on the body.
Sir Roger Bannister, the neurologist who lives part-time in Oxford, would soon be collected and seated in the front of the bus, John Landy behind him—just as they would sit forever in track history. It was not difficult, even across the expanse of 40 years, even amid the damp fragrance of the English countryside, to catch scent of an old anguish, baked slowly to resignation. Landy, the Australian, pounding out 15-and 20-mile workouts in pursuit of the record while Bannister, the ultimate amateur, whisked off his white medical student's smock, dashed from St. Mary's Hospital in London to the tube to squeeze in 30-minute sessions at lunch. Landy, the front-runner with the lovely economy of stride of an "Inca courier," as a writer of the time described it, hurling himself again and again at Hägg's record of 4:01.4 and at the magical number that lay just beyond it, unfurling six races of 4:03 or less between December 1952 and March '54 and once groaning, "It's a brick wall. I shall not attempt it again." Landy bursting through the wall with a world-record 3:58 mile on June 21, 1954 . . . 46 days after Bannister had smashed the four-minute barrier with his May surprise, a preemptive strike on history a full month before the summer track season was rolling. Landy finally racing Bannister to settle the question two months later in the Mile of the Century at the British Empire & Commonwealth Games in Vancouver, leading Bannister as they swept into the final bend only to see the tall, stoop-shouldered Englishman un-bottle yet one more of those delirious finishes that left him all but collapsed.
"I keep rerunning that Vancouver race," said the 64-year-old Landy, "on the theory that if I rerun it a thousand times, the results will at least once be reversed . . . but it hasn't happened yet. I've asked myself many times if I should've laid back that day, not set the pace, but I knew that would make for a slow mile and be unsatisfactory to everyone, and I didn't like the feeling of running behind someone. The trouble is, you make yourself a tangible target when you front-run, and you give yourself no tangible target. We were all the kind of men who set targets and chased them down."
Having run a faster mile than any previous human, Landy mused as the bus rolled on, had helped to transform him from a bashful loner into a man unafraid to try almost anything in life. He taught science. He helped run a cattle and sheep ranch. He worked on conservation of national parks. He became manager of the agricultural research department of the biggest chemical company in Australia, chairman of the Wool Research Corporation, technical director of Melbourne's bid for the 1996 Olympics. He wrote two books on natural history, one a bestseller, and now acts as a consultant to Australia's dairy industry and serves on committees for a hospital charity and the prestigious Melbourne Cricket Club. "The hardest thing to know, once you've taken something to the limits, as we did, is when to give something up, when to stop pushing further," Landy said. "I've tried to put a three-year limit on each of my projects. I've had a rich life."
On his lap was a sheaf of crisp photocopies, reproductions of pictures of all the world-record holders blazing around tracks in their primes. Landy straightened the stack a half-dozen times, glanced at the men around him speaking French, Swahili, Swedish and English and wondered if he dared to . . . and how it would be received if he. . . .
"Michel . . . could you be so kind as to autograph these?" Landy asked. "It's not for me, of course. It's to auction them off for charity, for medical research. . . . Good on ya. . . . All for charity . . . wonderful . . . perfect."
ELLIOTT: Why did I run? I ran at first to remorselessly beat everyone I possibly could.
RYUN: I ran to get a letter jacket, a girlfriend. I ran because I was cut from the basketball and baseball teams. I ran to be accepted, to be part of a group.
JAZY: I ran so I would not have to fight the war in Algeria.
SNELL: I ran for recognition.
COE: I ran because I was meant to run.
LANDY: I loved to run because, in running, one's effort could be pinned down and quantified precisely.
IBBOTSON: I ran to prove to my father that I was better than my brother.
ELLIOTT: I ran later to prove that my spirit was the master of my body.
MORCELI: I run to be known as the greatest runner, the greatest of all time. I could not eat or sleep for a week after I lost in the [1992] Olympics. I have to win or die.
The bus pulled up to the Iffley Road track, where a battery of cameras four-dozen strong awaited the milers. Bannister's eyes rose to the white flag with the red cross, hoisted up the pole atop St. John the Evangelist Church just for this occasion—the same flag he studied 40 years ago to decide if the wind was telling him no. The starting pistol that commenced that race was laid in his hand, and the woman who fed him lunch that afternoon now stood at his side: Oh, do the Brits know how to do history. This was a celebration of the mile, not of himself, Bannister kept reminding everyone, but so much of the mile's magical dust was kicked up by Sir Roger's spikes on that long-ago day that it is no longer possible to sift one from the other.
The cinder track was gone, replaced in 1976 by a synthetic surface. Bannister, limping slightly from the car accident 19 years ago that damaged an ankle and ended his weekend jogging, walked with Morceli across the last 40 feet before the finish line, and the Algerian, perhaps emboldened by the rare air he was drawing in, confided to reporters that he planned to make attempts at records this year in the 800, 1,000, 1,500 and 5,000 meters as well as the mile and two miles. "You have to attempt this when you are young enough," he said softly, "and not let the chance go by."
It was Morceli, always with the shy grin, the bowed head—always showing a deference that few any longer expect from the young—whose presence most gratified his elders. But as sweet as Morceli was, Sir Roger couldn't help himself. His crusading cry as a runner had been that the athlete was just a sliver of the whole man, and the first chance he had, as he and Morceli posed side by side for photographs the day before, the doctor asked the professional runner, "Do you have any plans for after you retire? What will you do when you are 35?"
"I don't know," said Morceli, all smiles and shrugs. "I have no plans."
"Will you be involved in some kind of coaching?"
"Probably, yes," said Morceli, grateful for the help. "Some kind of coaching."
In the press box above the Iffley Road track, someone asked Cram—the 32-year-old who lowered the record to 3:46.32 in 1985 and recently launched his comeback from a chronic calf injury—what he and the other record holders shared. Cram thought before he spoke, for this forum was no place for pikers. At the previous day's press conference, playing toss-and-catch with the question of how much faster a human being might run a mile, the neurologist Bannister discussed the "genetic variants" that athletes from China and India would bring to the chase, the physiologist Snell discoursed on the body's "ability to transfer oxygen across lung membrane," the Puma Australia managing director Elliott noted that the "interface between the mind and the spirit and the body" was a facet of human potential so little tapped that astonishing improvements might yet be made, and the International Herald Tribune writer Ian Thomsen concluded that there was more intelligence in that one group than in all of the football locker rooms in America.
"Lineage," Cram finally said. "The men here today are part of a unique lineage." A lineage cleaner, perhaps, than any other devised by mankind, neater certainly than that of kings, who were continually muddying things by fathering imbeciles or bedding with the barren, or that of heavyweights, who in the twilights of their careers were prone to pass their crowns to bums. There were no split decisions to be argued or myopic judging to be rued. Switzerland's finest watches kept score, and no man could claim the throne until he had surpassed the performance of his predecessor on his predecessor's best day.
Next stop for the pilgrims was Vincents Club, the fabled enclave where Oxford athletes have drunk and debated for more than a hundred years, where former Australian prime minister Robert Hawke set the world record for downing a yard of ale, in 16 seconds, where Sir Roger himself was president during his college days and where some of the nicks in the photograph-covered walls are attributed to the celebration of his record mile. Bannister, his eloquence ever ready to combust, delivered a speech. A room jammed with old and new Oxford sportsmen toasted him with champagne and applause, and the Tanzanian army captain, Bayi, juggling his one-year-old and his glass, watched with wonder and a little sadness. "Other countries honor their history so much more than mine does," he said. "In Tanzania I am no one. Maybe one day people will understand. That will be maybe when I die."
In a private dining room awaiting the milers at the nearby Randolph Hotel, the commemorative menus lying upon the tables caught John Walker's eye. Plucking one, the New Zealand rancher began moving quietly from table to table, asking each of the record holders to grace the menu with his signature. Even with his three-inch pinch of midsection, Walker still radiated the air of a rugby player over a pint of black and tan. Of all the milers he still seemed the readiest to go out on the sidewalk and outrun anyone who dared to try him. If Walker was saying, "Sorry, Roger, but can I bother you for an autograph? . . . Sorry, Herb, but . . . ," then who, in this mostexclusive of clubs, could feign to be above it?
And so the free-for-all began in earnest, the greats bustling from table to table to collect each other's scribble before the potatoes and vegetables were ladled, Sir Roger begging to bother Morceli, Morceli begging to bother Elliott, and on and on and on.
"John," said Bayi, blinking at Walker, "we've never done this before."
"This is a once-in-a-lifetime event, Filbert," said John.
"Yes," said Filbert. "Once in a lifetime." And he peered down at his page full of scrawl, racking his brain to figure out whom he had missed.
Lunch concluded, the milers splintered for an hour. Walker, Cram, Landy and Andersson took a guided tour of a few Oxford colleges; the Ryun family went to explore the old haunts of the famous Christian writer C.S. Lewis; and Elliott wandered through the bookstores in search of Siddhartha, the Hermann Hesse novel of a man's spiritual journey. At 56, Elliott was circling back, ready to complete the quest he had begun as a runner.
When Elliott was 18, sitting in the stands during the 1956 Melbourne Olympics, his hunger to run had been ignited by the spectacle that unfolded in the 10,000 meters. Vladimir Kuts, a Soviet runner who had tossed incendiary bombs at German tanks during the defense of Stalingrad, kept surging away from England's Gordon Pirie, then slowing enough to engage Pirie's monstrous fighting instincts, then surging away again. "It was like watching a cat play with a half-dead mouse," recalled Elliott. "Kuts utterly steamrollered Pirie. It appealed to the basic, animal part of me, the part that wanted to grind people to dust. That's what I ran for at first. But then I realized the battle wasn't against others. It was against myself. It was in defeating my own weaknesses, in demonstrating that my spirit could master my body. It's why billions of people watch people run in circles or kick a bag of leather, isn't it? It's for those moments when we realize we're not just watching bodies, when human spirit is revealed."
Kindled by Kuts, Elliott drove to Portsea, Australia, to engage the counsel of a white-haired fanatic named Percy Cerutty, who ranted of Gandhi, Christ and Tennyson, who raised drudgery to philosophy and turned a footrace into a test not of strategy or athletic skill but of human character. He had Elliott racing up and down an 80-foot sand dune, hoisting barbells made from rusting railroad track, reading H.G. Wells's 1,200-page Outline of History in his camp bunkhouse at night. "He challenged my totality," said Elliott. "I came to realize that spirit, as much as or more than physical conditioning, had to be stored up before a race. I would avoid running on tracks because tracks were spiritually depleting. I never studied my opponents—they were an irrelevancy to me. Poetry, music, forests, ocean, solitude—they were what developed enormous spiritual strength. How do the modern professional runners today find that, when most everything they do would seem to deplete that simplicity, that spirituality? I'd like to talk to Morceli about that this week.
"Once I had satisfied myself in that question—that my spirit could dominate my body—there was no great reason to continue. People still ask me if I made a mistake in quitting so young, but they have it all wrong. To keep having to do more, to keep being dissatisfied, what kind of man would that be? He might be called a brute."
He retired, graduated from Cambridge, grew apart from Cerutty—what role could such a Svengali play in the life of a man trying to raise six children, to climb the ladder in marketing with the Shell chemical company and then in the management of Puma in Australia? "Service to your job, your family, that's all part of human experience," Elliott said, "but my life was a spiritual desert until a couple of years ago." This time it was a Catholic priest who reawakened him with tales of life in an ashram in India, and Elliott quickly sensed that his old quest had been abandoned in its infancy, that the ultimate aim of spirituality is not so much to dominate the body as to learn to let it go. So he traveled to an ashram in India last year. Now every morning at 5:30, he awakens and reads passages from the Upanishads or the Bhagavadgita, ancient Hindu treatises on the struggle for purity and wisdom, and he meditates and tries to let all the motion and memos and meetings melt away.
Just two miles from Cerutty's old oceanside camp, Elliott bought a house on the beach, and each time he walks or jogs past the cemetery where the old prophet lies at rest, he stops and acknowledges what the old man did for his life. "We've grown back together," Elliott said. "I suspect I know what I'll do with my retirement. It won't be a rest. It'll be an adventure. The object would be to totally remove yourself from body and mind, from ego. To think I could ever do that would require total arrogance, but to do it would take total humility. Yes, kind of like. . . ."
BANNISTER: I have always said that man will run the mile in 3:30—given the human body constituted as it is, with perfect training and perfect facilities, the world remaining relatively peaceful and without too many wars, famines and disasters.
SNELL: I think I've seen the fastest miler ever. I think Morceli is the guy.
MORCELI: I think I can take another two or three seconds off of it.
COE: If you start thinking there's a limit, there is one. It's almost self-defeating. It's going to keep tumbling down.
CRAM: It won't come from training harder. It won't come from science or new techniques or new surfaces. We've exhausted those possibilities. But every 10 or 20 years, the freak human being will come along. That's what will keep lowering the record.
ELLIOTT: I think I'm the only dreamer. Human beings have a huge reservoir of strength we've never tapped—we've only just begun to ply around its edges. I think there's a quantum leap there to be made. We still overprotect ourselves. It would be very unintelligent to run yourself to death . . . but I'm sure we can go a lot closer to it.
I feel silly," said Morceli. "I feel crazy." The autograph frenzy at the Randolph Hotel had achieved several things. Now all of the record holders knew one another. Now all of them had felt silly and crazy in front of each other. There was not so much to protect. They had all stepped into each other's shade.
The chatter grew louder, the quips began to fly. "Poor Morceli!" yipped Ibbotson. "He's got withdrawal symptoms—he hasn't run in two hours!"
"I'm taken aback," said Snell. "Whenever I saw Herb Elliott before, all I ever thought of was raw aggression, this ruthless killer instinct. He's so jovial now. He's actually quite gregarious!"
In Snell's hands, as the bus ferried the milers back to London, was a book with yellow pages and a cover about to disintegrate. It was a 17th-birthday gift from his parents, the first athletic book he ever received: Roger Bannister's autobiography, The Four Minute Mile. Now its opening page was covered with signatures.
The musty pages smelled of memories, of an old and quiet desperation for success, of a shy, likable, big-eared, toothy-grinned boy crushed by his father's disappointment in him. The book had been given to him in the midst of two straight years in which he had failed in boarding school, smashing the teenager's chances of entering New Zealand's rigid university system, destroying his father's plan that Peter, just like Peter's dad and older brother, would become an engineer. Running became Peter's salvation. He took the 800-meter gold medal as a long shot at the Rome Olympics in 1960, eclipsed Elliott's mile record on a grass track in New Zealand in '62 and won both the 1,500-and 800-meter gold medals at the Tokyo Games in '64.
Snell had planned to run just one more year after that, to use running as a vehicle to see the world. But as psychological fuel, travel ranked nowhere near in octane to his old petrol, the need for self-esteem. At age 26 he lost nine consecutive races in less than two months and quit, but there was one reward. He found his calling that summer, becoming fascinated by the gadgets and line of inquiry of San Diego State exercise physiologists whom he permitted to run tests on him. It took years, but he slowly screwed up the courage to junk his job in promotions for a cigarette company, sell his house, leave New Zealand and stake every cent he owned on three years of study at the University of California, Davis ("I could fail quietly there," he explained), and then four more, thanks to prize money he won in Superstars competitions in the 1970s, at Washington Slate. His father—who suffered a stroke during Peter's last year in high school, became mute and died in '62—would never live to see his son's academic redemption. Today Snell, 55, is an assistant professor doing research in exercise physiology at the University of Texas Southwestern Medical Center in Dallas.
"There was such pressure on an athlete then to be a complete man," Snell said. " 'When are you going to do something of substance?'—I got a lot of that. Now everything's changed. It's quite respectable to be just a runner. But yes, the world record did liberate me in a way. My thrust is enjoying my work now, not publishing papers or collecting more diplomas, as many of my peers do. If I hadn't proven in running that I was the best in the world, I'd be chasing that forever in academics."
A few feet away, tiny Cuthbert Bayi was emitting car-curdling shrieks, and Walker was peering again at the odd autograph he had received from Ryun. Above his name Ryun had written "Go with God" and beneath it "John" and the numbers "3:3-8." Other runners had written their world-record mile times beneath their names, but Ryun's figure was too fast for any 20th-century mile; could it be, Walker wondered, Ryun's best time in the 1,500? No, it was a passage from the Gospel According to John in which Jesus declares, "Except a man be born again, he cannot see the kingdom of God."
Several seats away sat Ryun, his old haunted look gone. He was locked in conversation with Cram, taking up the Englishman's offer to host Ryun's family at Cram's home in a week or two, agreeing how fortunate Cram was to have had countrymen Coe and Ovett drawing everyone's eyes during his years of ripening and how unlucky Ryun was to have assumed the yoke of America's hopes as a teen. Ryun is a little thicker now and wears hearing aids in both ears to correct a 50% hearing loss he suffered as a child, but the light in his eyes makes him more handsome than ever. His job, which takes him to schools for the hearing-impaired across the U.S. as a representative of a hearing-aid firm named Resound, allows him to appear in road races all over the country and also to tell the tale of his religious conversion before Christian groups.
Having twice set world records by age 20, Ryun had seen his life swirl ever downward after he lost the 1,500 to Kip Keino in the high-altitude 1968 Olympics in Mexico City. He quit in the middle of several races, was savaged by the U.S. press, stopped running altogether and finally regathered himself for atonement at the '72 Munich Games. His times, as he prepared, remained erratic, the yoke yet too heavy, the joy still not there.
"I'll never forget that day after he ran a 4:19 mile and finished last in Los Angeles in the spring of '72," said his wife, Anne. "He walked out of the stadium, slammed his spikes against a tree and started screaming. I'd never seen such rage in Jim."
Brought up by a strict father in a fundamentalist Christian church, forbidden to attend dances or movies, Ryun had grown into a young man so bound by duty to meet others' expectations that each sigh of disappointment from the world after each race in which he failed to rebreak the world record had crushed him. "And then," he said, "in May of 1972, I accepted Jesus Christ as my savior, and for the first time in my life I had the feeling that God loved me because of me, not because of my accomplishments. I felt elated. At the Olympic trials I felt so light that I threw up my arms 10 yards before the finish and had to throw them up again! Then I went to Toronto, and on a track that was like asphalt, with the closest runner 18 seconds behind me, I ran a 3:52 mile—the third-fastest mile ever. A new dimension inside of me was being tapped. For the first time I was relaxed. Everything was right. And then, in the prelim in Munich, I was tripped, and the official [on the appeals committee] who could've reinstated me for the final refused to, and that was it. I had to retire from amateur running then to work and raise my family."
Ryun needed years to overcome his bitterness, to forgive the official; he knew that he had done so only when the man's image flashed up on the big screen as Ryun sat in the stands during the 1984 Olympics, and he felt . . . nothing. "I was released," he said.
"Now he runs to spread the word of Christ," said Anne. "He has found a peace that he never felt when he was breaking world records."
ELLIOTT: When I wanted to quit in training, I used to visualize a competitor on my shoulder. And I'd think, I'd rather die than let this person beat me.
IBBOTSON: I used to picture a tall shandy. That's beer and lemonade, in case you don't know.
SNELL: I used to picture handicapped people, people with crutches and wheelchairs, and ask myself. What right do you have to complain about this pain?
JAZY: I would picture Gordon Pirie after Vladimir Kuts had destroyed him in the 10,000 meters of the 1956 Olympics and tell myself to keep going so that would never happen to me.
BAYI: I'd keep saying to myself, Break the wall. . . . There is no wall. . . . The wall is in your mind.
WALKER: A little ways before the turnoff to the road I lived on, there was a sign that said 1500 METERS. It was a three-lane highway, and each time I drove it. I'd pull into the middle lane with about 800 meters left and start passing everyone. Then with 400 to go, I'd pull to the outside lane and beat the crap out of my car. That's the image I kept using. Me pulling out in that car and then flying past everyone.
Milers!"
"Just a minute! Got to sign all these for Derek," chirped Cram, scribbling madly.
"And vice versa!" panted Ibbotson, signing a batch for Cram. "Where's Snell? Oh, If I could only get Stevie to sign. . . . I mean Peter."
"Milers, please!"
"Filbert, sign these."
"Herb, could you. . . ."
"That's it. Good on ya, mate."
"All for charity!"
"Milers!" wailed the organizer of the affair, Tony Ward. In just over an hour, 730 people in formal attire would begin entering the Great Room at the Grosvenor House for the gala dinner, and Ward needed to brief the record holders on the evening's schedule of events. But now the autograph seeking had become a raging fever. Now all the milers had stacks of the commemorative dinner programs to exchange and sign.
Ibbotson had spent the previous evening with a straight-edge and 12 pieces of paper, etching 14 rectangles on each page, with each record holder's name and time inside a rectangle to be autographed. "One complete set for each of my children, my grandchildren, my mother-in-law, father-in-law. . . ."
Ward threw up his arms. "My god," he said, "they're like schoolchildren!"
Coe, finally freed from his duties as a second-year member of the British Parliament, had joined the group—nobody had his signature yet! With the look in his eyes of a startled deer, he sagged into a chair as his brothers in the club fell upon him, and then he caught the infection too. Sydney Wooderson of England, the world's oldest living mile-record holder (4:06.4 in 1937), three months shy of 80, walked ever so slowly into the room, bringing the milers' ranks to 14. "I just can't believe how old I am," Wooderson said, shaking his head. "I just can't believe it." Elliott and Ryun went off to a quiet corner to discuss God.
Finally, after the clan had posed for the official photograph and laid plans for re-gathering later in the night to cross-sign personal copies of the photo as well, they plunged into the cocktail-sipping crowd. John Walker sighed. "Just watch what's going to happen," he said. "Seven hundred and thirty sons of bitches trying to get our autographs."
Yes, it was that, but mostly it was 730 people laughing, cheering, glowing. The big screen showed old footage of the milers breaking and rebreaking the record, one after the other, somehow building in the Great Room a cumulative power, a feeling that there was nothing not possible for humanity as long as it kept producing individuals like the 14 being honored. "Everywhere I looked all night," said Coe, "all I saw were people wearing broad grins. It was like a huge family coming together. It was the greatest sports gathering I have ever been to."
Everyone hushed when it was Bannister's turn to speak. "Old men, they say, forget," said Sir Roger. "It's true we forget the pain and the fatigue and lashing yourself to try harder next time and next, illness and injury, real and perhaps sometimes imagined, the castigations of the press and coaches—all these fade away, because memory is kind. We remember the good times, the sun on our backs, running through the beauty of the countryside, running thousands and thousands of miles. We remember laughter and friends. For us, no matter what life may bring, whatever subsequent shadows there may be, no one can strip us of these memories."
In chronological order of their achievements, each to a standing ovation, the record holders walked to the stage and shook the hands of those who had preceded them, who had pushed them to discover something wondrous in themselves. Fourteen men who had split off from the road, gone off on solitary missions, now part of a team.
"Total kinship," said Elliott. "That's what I felt up there."
"The greatest night of my life," said Morceli.
"These men could show today's athletes where sports fit into a round life," said Cram.
"The bond among us," summed up Coe, "is that which Lady Macbeth describes as a sickness: ambition, the pursuit of excellence. But you had this feeling that these were men very much at peace with themselves. That each of us realized that what we had done was neither greater nor lesser than what hail come before us or after, us, that we were all part of a human progression."
They rose together for one last ovation beneath the lights, in the brilliance of the shade.