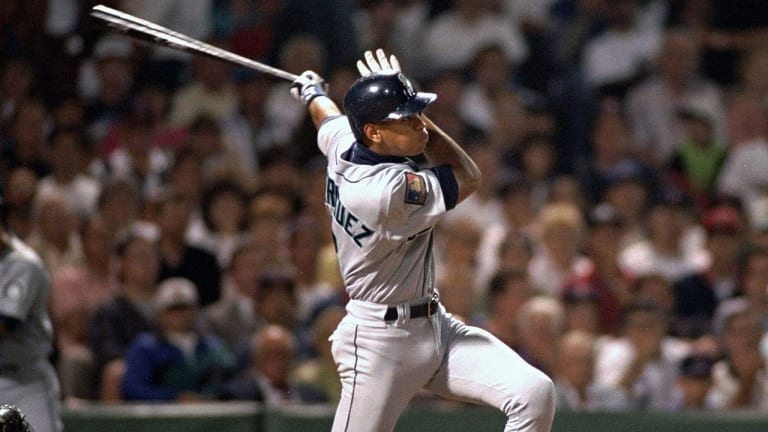 Early Riser
Teenage sensation Alex Rodriguez debuted with the Seattle Mariners
Under the fog-shrouded light towers of historic Fenway Park last Friday, the Seattle Mariners sent out as their starting shortstop a kid who was 13 months removed from his high school graduation and who shaves once a month. "If it doesn't work out," said Mariner manager Lou Piniella before the game, "I'm the one who's going to be criticized." No one could know for certain whether someone 18 years old was ready for the big leagues.
"No," said Alex Rodriguez. "I know I'm ready."
So when he took his infield position with the old stadium bursting with its usual summertime crowd, Rodriguez turned to 43-year-old teammate Rich Gossage, who was walking past him toward the rightfield bullpen, and cracked, "You nervous, kid?" Then he winked.
Empowered as much by self-assurance as by his remarkable talent, Rodriguez showed on first impression that his promotion was no rush job. Last Friday he handled all three of his chances in the field splendidly, especially the one that required a backhand stop and a long throw from the outfield grass. The next day he made an even more spectacular play; he dove headlong toward third for a smash, righted himself quickly and nearly obtained an impossible out at first base with a laser of a throw.
After going 0 for 3 in his debut, Rodriguez got his first two hits last Saturday. The first time Rodriguez reached base, Piniella gave him the green light to run at his choosing. He easily swiped second on the second pitch. But on Sunday, Rodriguez had a rough afternoon, going 0 for 4 with three strikeouts and making a wild throw for an error.
Even though Rodriguez, who will turn 19 on July 27, is the youngest player to make the major leagues since Jose Rijo joined the New York Yankees 37 days short of his 19th birthday in 1984, he carried himself like a veteran. There were only occasional lapses when he gave away his age. That happened, for example, when he told Gossage he had played Class A ball this year in Appleton, Wis. "I played there once, too," the ancient Mariner said.
"When was that? Back in '88?" Rodriguez asked.
"Uh, no, 1971," Gossage said.
"Wow," said Rodriguez. "I was born in 1975."
Seattle selected Rodriguez with the first pick of the free-agent amateur draft in June 1993 and signed him to a three-year, $1.3 million contract on Aug. 30—too late for him to play in the minors last season. This year the Mariners had planned to give him half a season at Appleton and half a season at Class AA Jacksonville before calling him up in September, as his contract stipulates. Rodriguez did play 65 games for Appleton, for which he hit .319, but he lasted only 17 games with Jacksonville, hitting .288 there, before Piniella convinced Seattle general manager Woody Woodward that he was needed immediately.
Piniella pressed hard for the move after an ugly 9-3 loss to the Baltimore Orioles on July 4 in which second baseman Rich Amaral made a critical double error. Amaral was one of four Seattle second basemen who had combined for 16 errors this season. Piniella knew that Rodriguez was a wizard on defense and that Felix Fermin, who had played solidly at shortstop but lacked range, could move to second base. When Rodriguez made his debut, the Mariners ranked 12th in the league in fielding and were 12 games under .500 (36-48).
"Let's face it," said Piniella, "if we were close to .500 and playing well, this wouldn't have happened. We thought he'd be our shortstop next year anyway, and he was going to be here in September, so we've only moved his timetable up by six or seven weeks."
Rodriguez immediately was welcomed by Ken Griffey Jr., the first pick of the 1987 draft, who reached the majors five years ago at 19. Griffey insisted that Rodriguez take a locker next to his own, whereupon he proceeded to needle the kid relentlessly. Griffey handed him coupons for McDonald's, saying, "You're making one-point-three; when you get sent down after the All-Star break, take the guys out to lunch down there."
But the 6'3" Rodriguez would appear to have staying power. "It's funny," he said. "Last year I would have paid anything to go watch a major league game. This year I'm playing in one."
PHOTO
CHUCK
SOLOMON
Rodriguez had two hits and a steal last Saturday.